Glide Lightweight Paddleboards.
Looking for a lightweight sup that can handle the real world?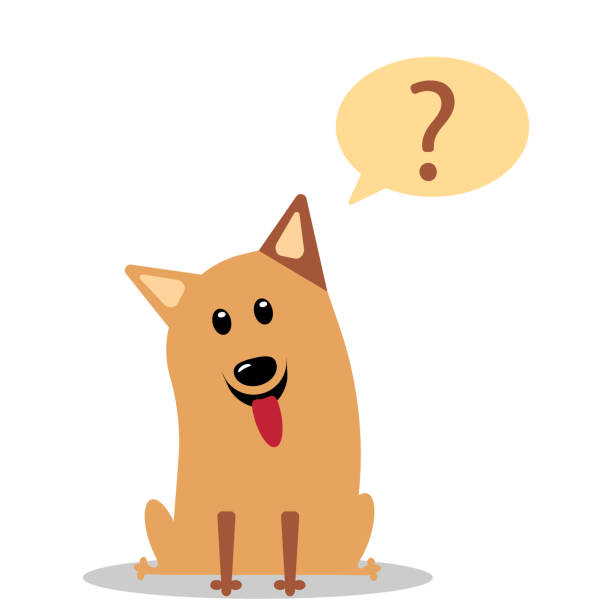 Then you have come to the right place, Glide paddle boards are the most durable lightweight inflatable paddle boards you will find. Our premium materials, dedication to the sport, and cutting-edge construction methods result in the best lightweight paddle boards on the market. What's more important than that? A board that you can actually use without being afraid it will get ruined in the real world away from a showroom. And this is why our inflatable paddle board lineup is the first choice for those wanting to go sup camping or hike into remote waterways to explore or get in a sup yoga session. Glide paddle boards will go where ever you want, sun, rain, or snow.
Glide lightweight paddle board lineup are the perfect inflatable paddle boards for the real world.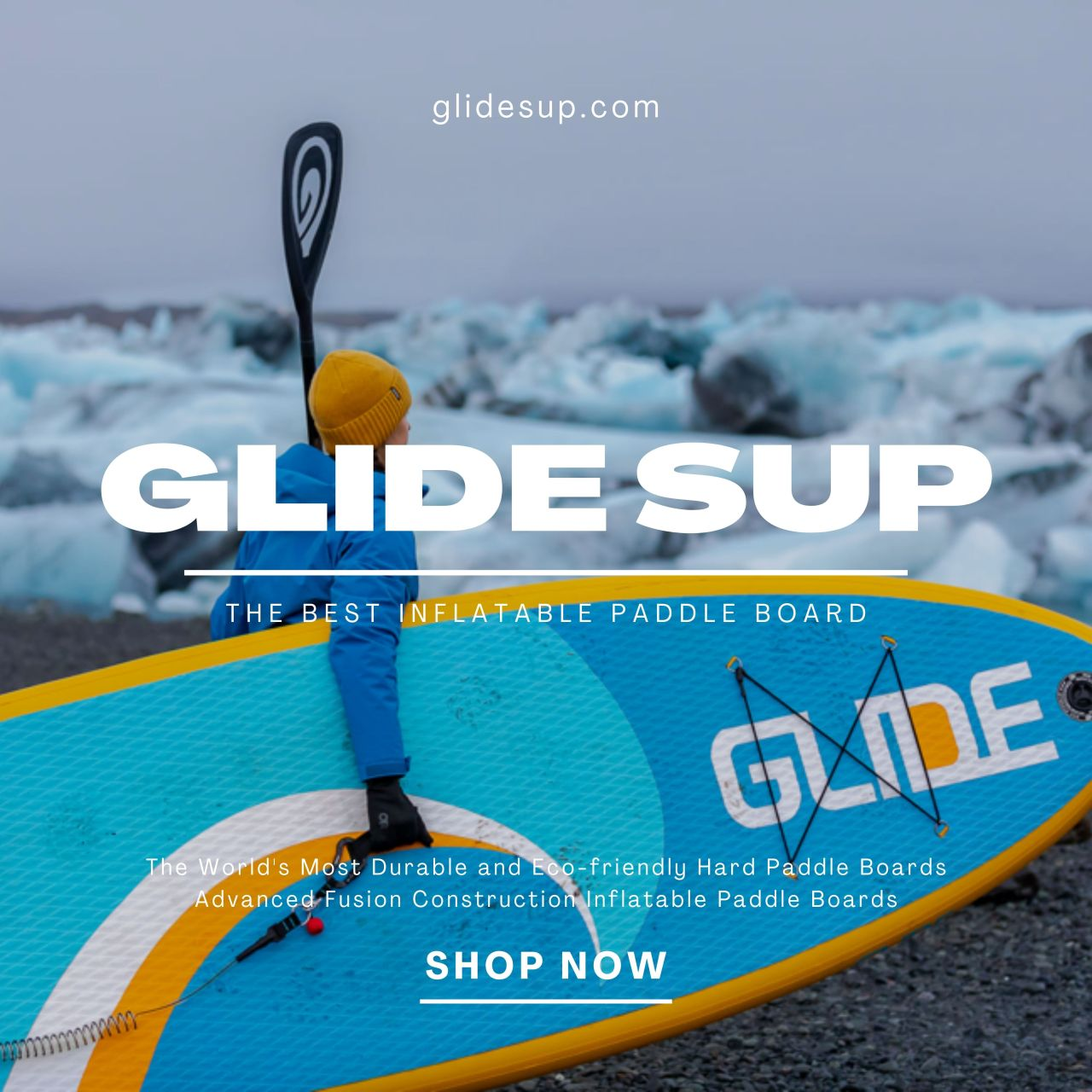 When looking for a lightweight board one should consider more than just the board weight of the stand up paddle board. They also need to consider where they will be paddle boarding and what kind of paddleboarding they want to do. If they are going to be paddle boarding in a pool then almost any lightweight sup will do.
However if they want to explore outdoors with the lightweight paddle board then they need to look beyond just the weight of the inflatable stand-up paddleboard. It is like with a tent, I have an amazing lightweight tent by Big Agness Copperspur, it is a truly amazing tent. However, it is not great in some regards such as real-world use, I have to be extremely careful where I pitch it, and would never use it when I have my puppy nephew with me. It simply lacks the durability to be the best.
This is why Glide lightweight paddle boards are considered the best lightweight paddle boards and are truly the best inflatable paddle boards you will find.
The Glide 02 Retro 10'6 all around lightweight paddle board.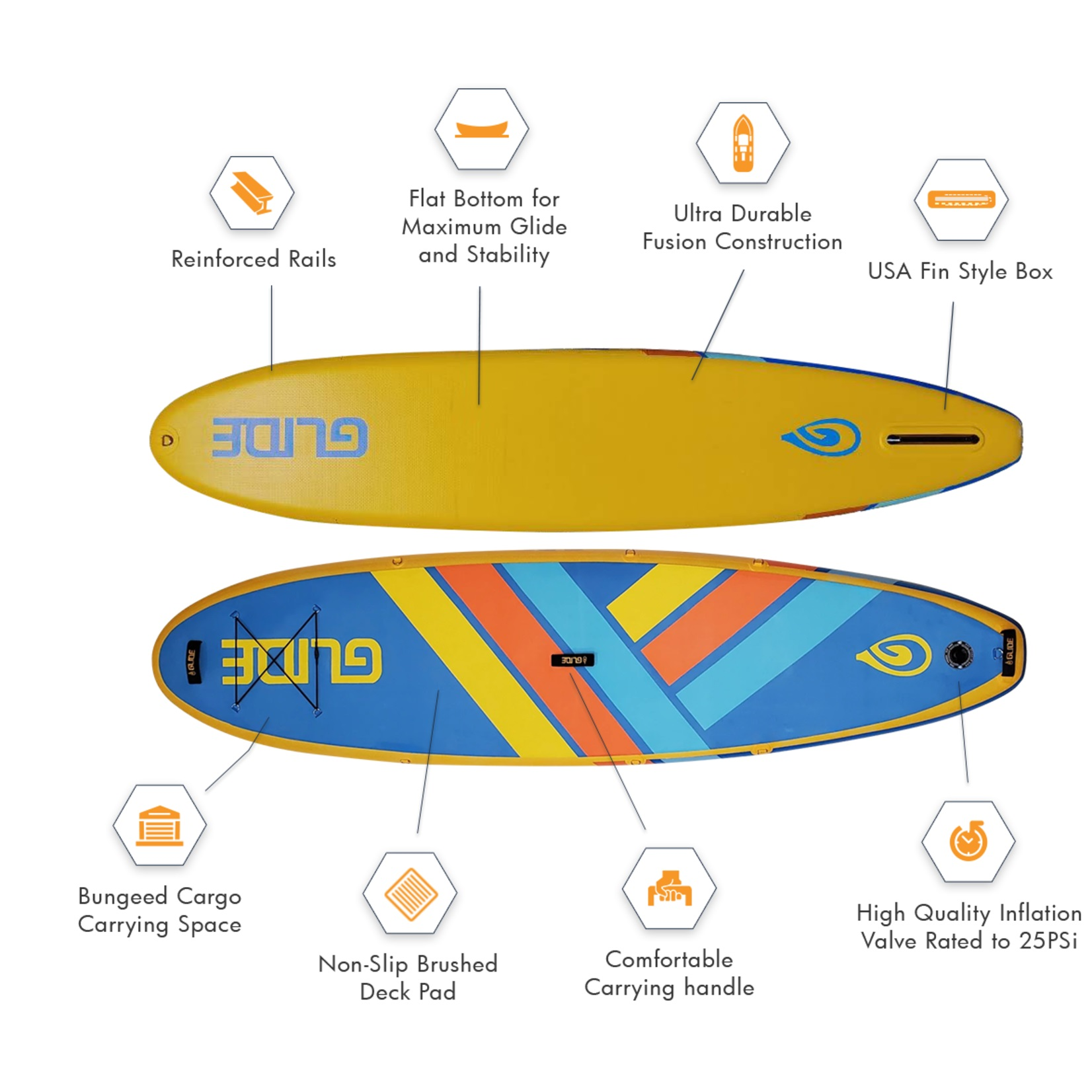 The Glide 02 Retro is our innovative all around light weight paddle board and is one of the lightest paddle board in the Glide lineup. The other lightest board is our touring board that we will cover shortly.
The 02 Retro is a lightweight inflatable stand-up paddle board that can handle anything you want to paddle board. From running rivers to catching ocean waves. This inflatable sup is also stable enough to fill in for a sup yoga session. The retro has an incredible weight capacity of 400 lbs and is one of the inflatable boards that is recommended for paddle boarding with a dog. It offers a durable full-length deck pad that is easy to maintain and offers great traction acting as a traction pad for you and your furry friend. The weight capacity makes it so this board is capable to carry both of you, and any gear you may want to bring along. Making it an ideal choice as a sup camping board.
Unlike other boards, our Glide Retro performs more like a solid board giving the performance of rigid paddle boards. This due to premium materials, and innovative construction method allowing us to use our unique Glide stiffness technique. The durable board is also made from a quadruple layer military grade PVC – woven drop stitch core.
The removable center fin is housed in a US-style finbox allowing you to swap fin shapes and sizes with ease to make it as a responsive board as you want. The stable board is great for beginner paddlers and is an inflatable board beloved by advanced and beginner paddlers.
Glide 02 Quest Lightweight touring paddle board.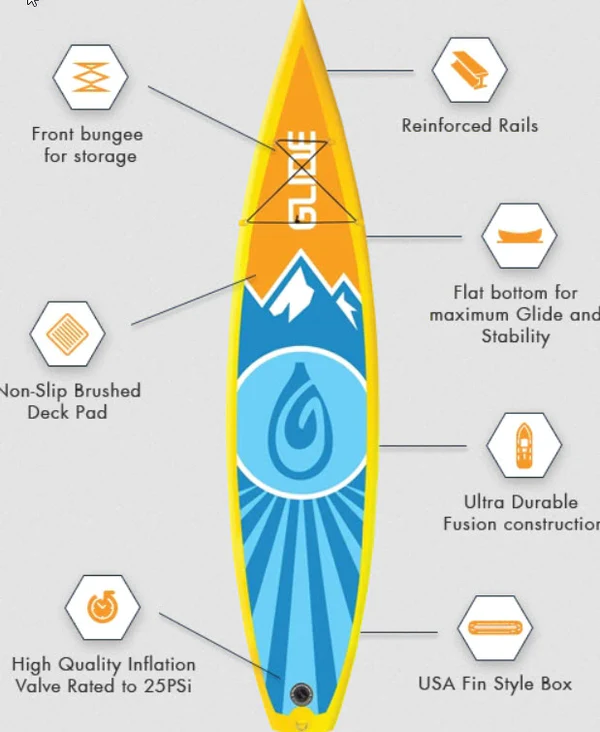 This touring paddle board is the one that resonates with those who want to explore. Constucted with quadruple layer military grade PVC – woven drop stitch core with the Glide stiffness technique this durable board is also one of the fastest boards on the market. With many intermediate paddlers and advanced paddlers using this as an amazing race sup. It features a full deck pad, carry handle, and the ability to easily outperform rigid boards and epoxy boards. If you want to cover long distances quickly and with ease this is the lightweight paddle board for you. With the stability you need when exploring with friends, gear or dogs. The narrow shape of the nose and tail will help you Glide through the water even when paddling up river.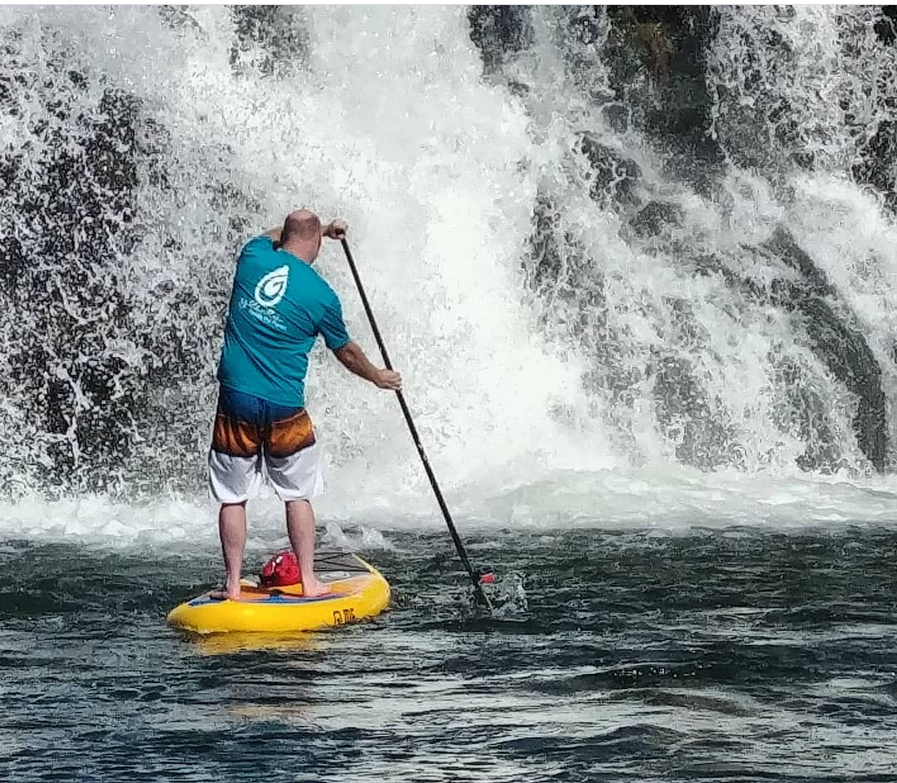 The Glide 02 Quest is a great board for anyone. If you are looking for a new board and want a touring board then this should be your only choice.
Both lightweight paddle boards include the following.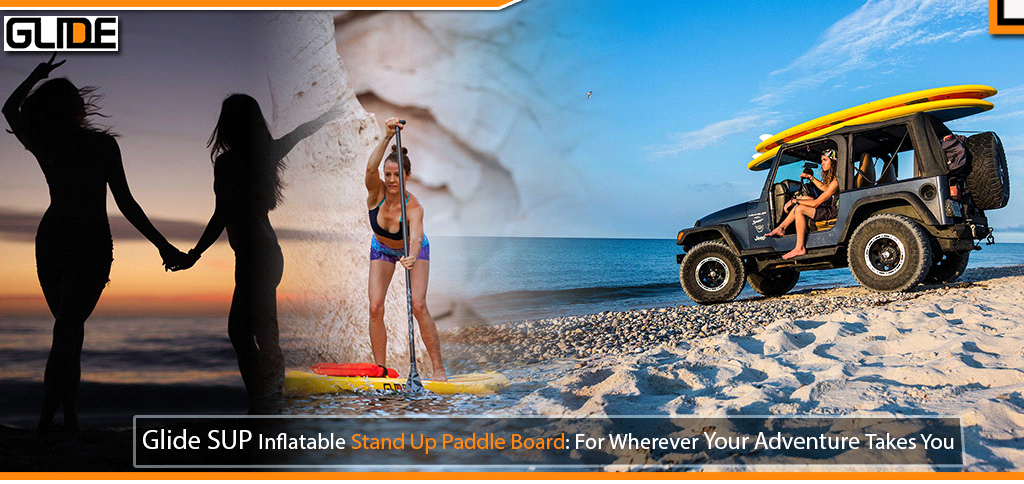 Backpack with rolling wheels for easy travel with adjustable backpack straps.
High-performance adjustable Paddle
Coil leash
High-capacity SUP pump that outperforms other boards pumps.
Removable fin setup in a US-style finbox.
Repair Kit that you will probably never use.
Kayak Seat
Carry Strap
Glide also offers other accessories from coolers to electric pumps all made with the high-quality materials you would expect from Glide.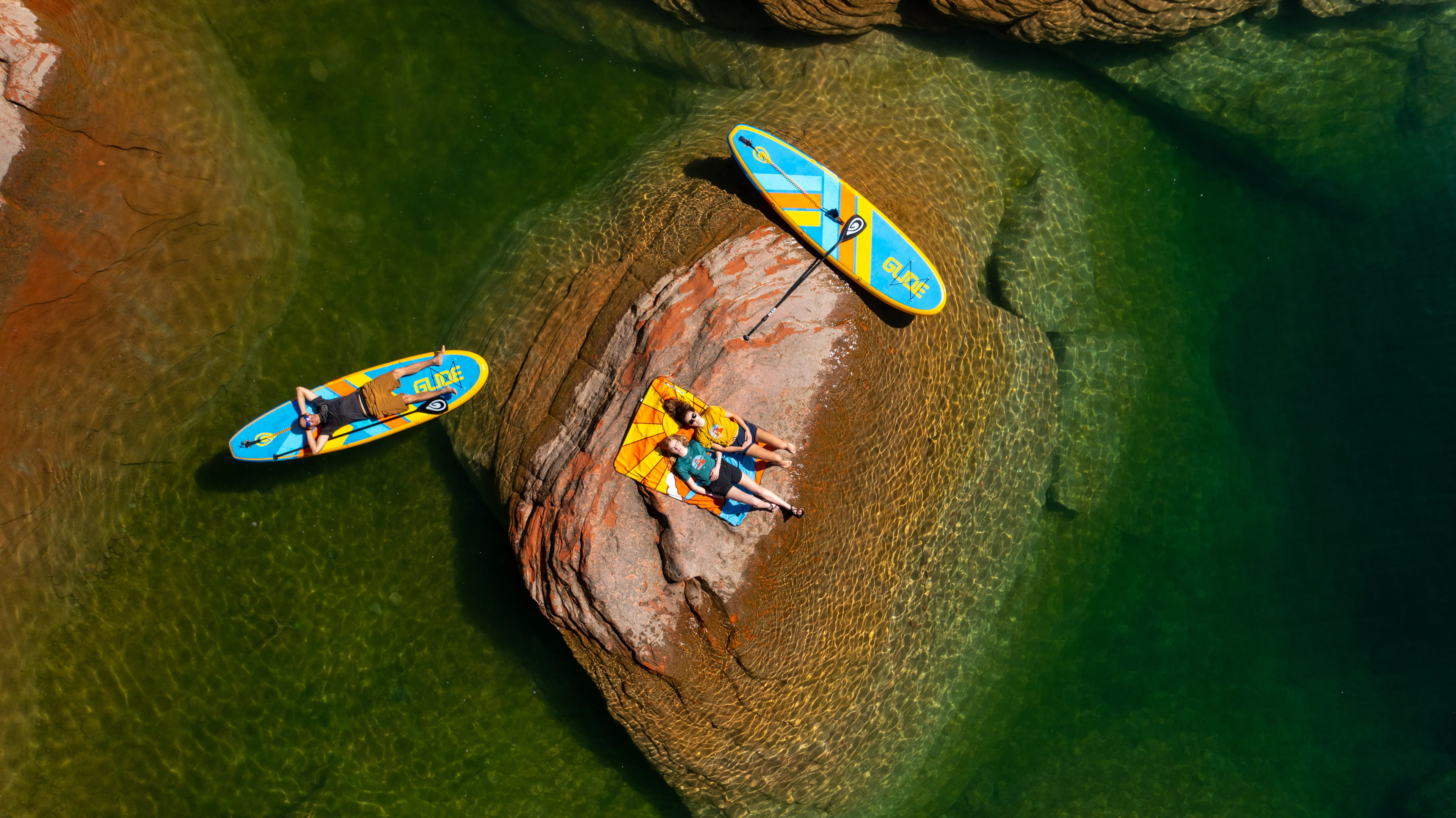 No matter what you paddle or where you paddle Glide is hoping you had an amazing time on the water. Glide on over to our Instagram and let is know at #glidesup .