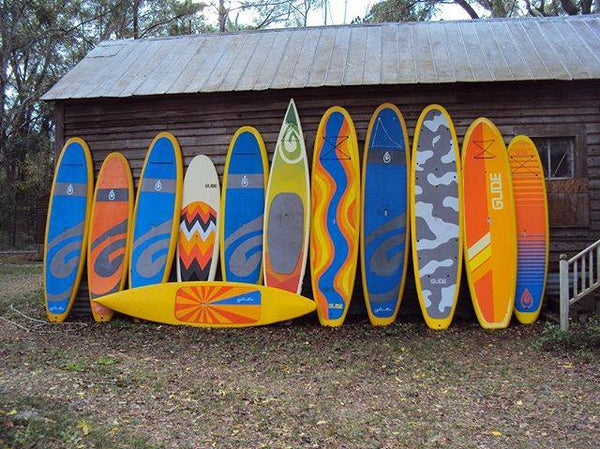 Wondering what is the best type of paddle board for you to begin with?
What is the best type of paddle board for me?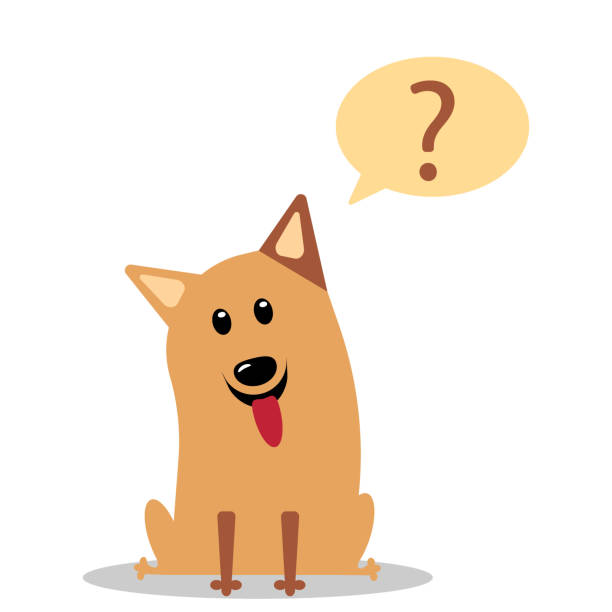 The simple answer is a Glide paddle board, they have been voted the best paddle boards for the last few years. We will look at touring boards, sup yoga boards, fishing boards, all-around paddle boards, and white water paddle boards. Which ones are great as racing boards and fitness boards.
Glide Retro all-around board lineup.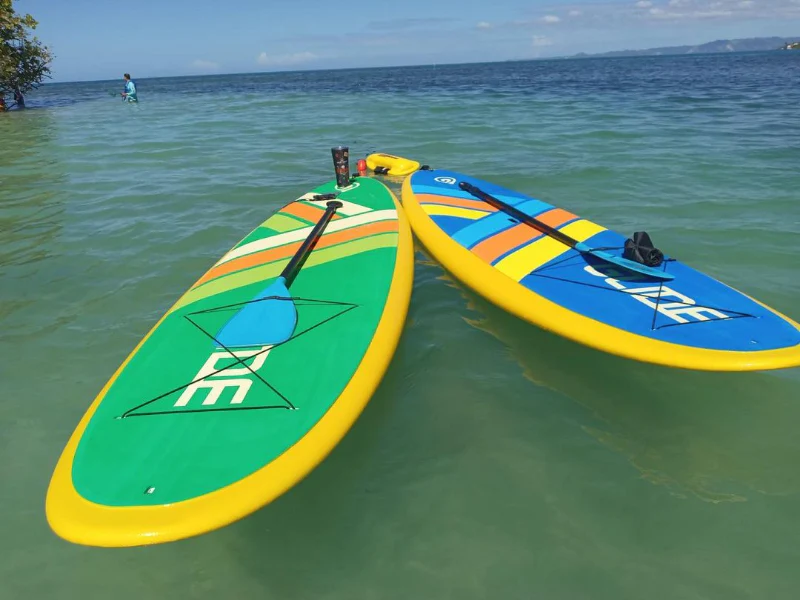 This board is the one we always recommend for beginner paddlers, not because it is a beginner board, but instead it is because this board can do anything the paddler may want to do. And is beloved by advanced paddlers to beginner paddlers.
From flatwater paddling to being used as surf paddle boards the Glide Retro line up of sup boards can be used for what ever you would like to do, river running no problem, sup fishing yep it an extremely stable paddle board. Want to try sup yoga, this board will let you go through the yoga class with confidence or perhaps you just want to relax and paddle board with your furry friend, the board is perfect for taking a dog along with you or sup camping.
The all-around board is the right board for those who want a paddle board that can do it all, or are just getting started and are not sure what aspect of the sport will end up being their favorite. Letting them have a board that can do it all lets them figure out what they prefer and then they can lock down a dedicated type of sup board.
The Retro lineup comes in options for inflatable paddle boards or solid boards. With the solid board having two board lengths a 10'6" or an 11'6" with the inflatable paddle boards board size being 10'6"
The Glide Lotus sup yoga lineup.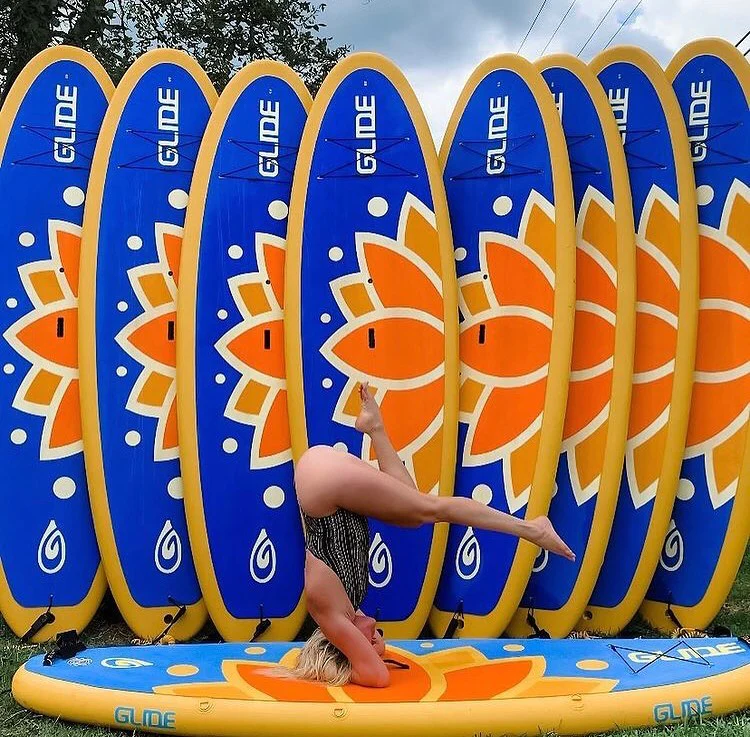 The Lotus yoga stand-up paddle board revolutionized the sup yoga industry when it was introduced, quickly becoming the go-to yoga sup board for yoga studious and practitioners worldwide. The sup boards quickly became popular as they are the best yoga boards made to date and excel as a fun option for paddle boarding adventures, not just sup yoga. They have been voted constantly year after year as the best sup yoga board and one of the best paddle boards for dogs.
The plush full-length deck pads will quickly become your favorite yoga mat. Then we had to shake things up again and introduce the Glide 02 Lotus yoga inflatable sup boards. These inflatable sup boards lived up to the reputation of the original Glide Lotus sup yoga board. These are the right paddle board for anyone wanting to practice sup yoga.
Glide Quest touring boards lineup.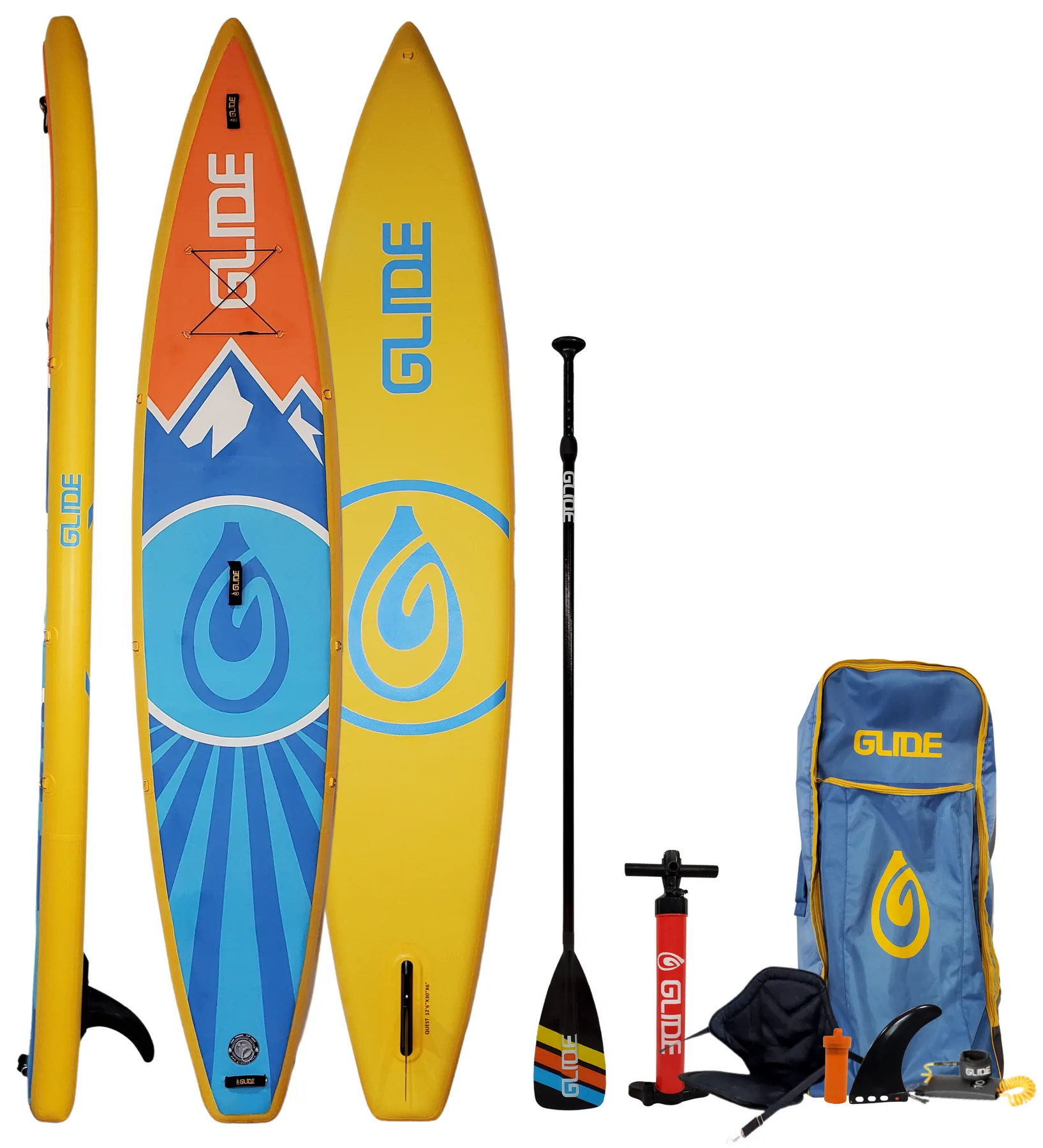 These are longer boards that are built for long-distance paddling and touring. The o2 Quest inflatable stand-up paddle board has also become one of the sup worlds favorite racing board. Both the solid board and the inflatable board length come in at 12'6"
As with all of our hard boards other than the God Speed they are an ultra-durable board as can be seen in our will it break Wednesday series. Whereas most touring boards ok no other touring boards come close to the performance or durability you get with a Glide paddle board.
Glide God Speed MK. II Racing board.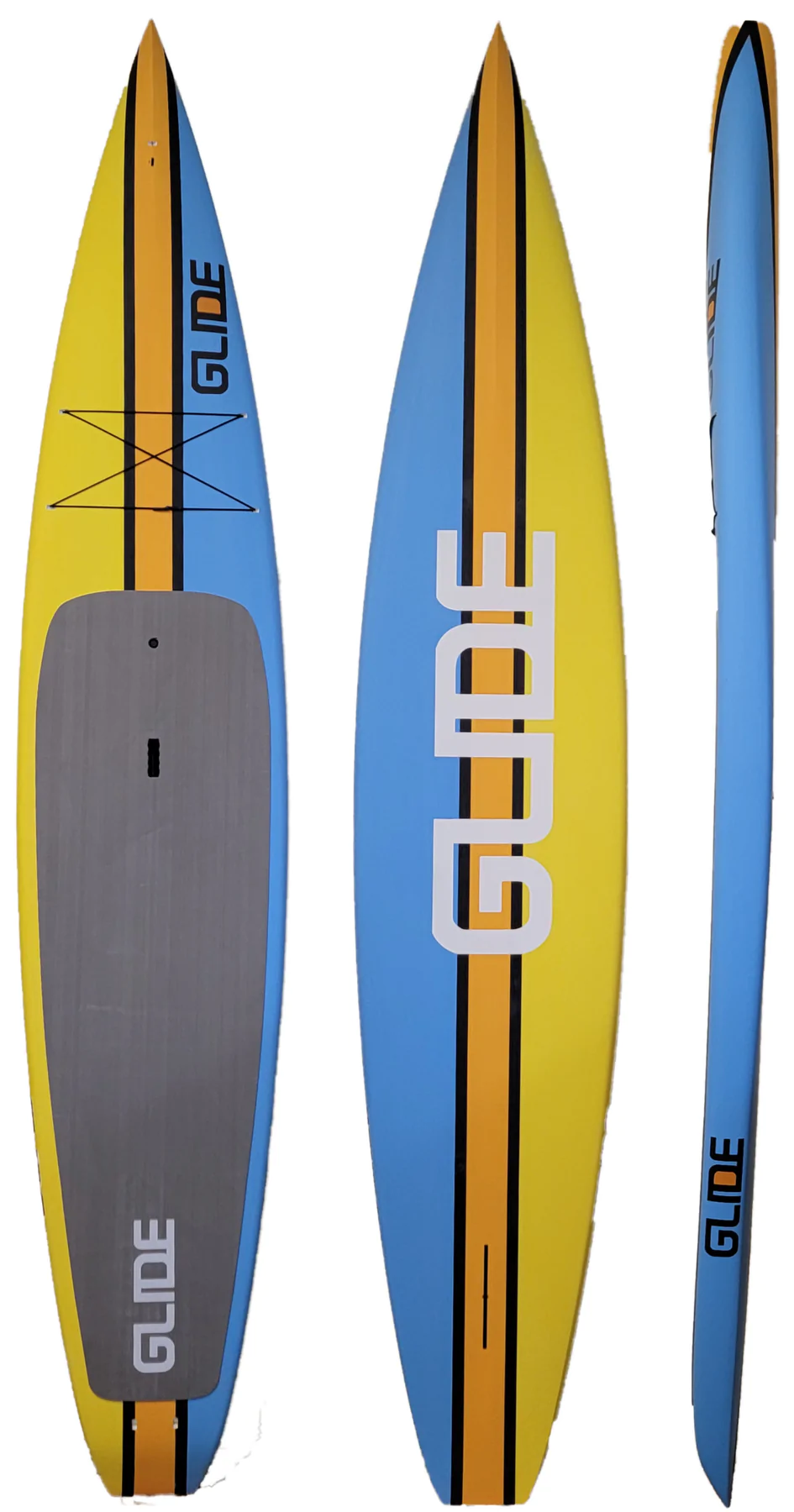 This is our dedicated racing board and is not an ultra-durable board. It is best suited for the experienced paddle boarder who wants a huge edge over the completion in sup racing.
The Godspeed glides again! Our high-performance touring/casual racer is back! If you are looking for one of our ultra-durable boards this is NOT it. If you are looking for an ultra-fast, light-weight board, look no further! We've redesigned the Godspeed to be more stable while still paddling quickly and smoothly.
The layup is "glass over a full carbon top, rails, and hull, for lightness and strength but don't try any "Will it break Wednesday?" shenanigans, please. If you are looking for an ultra-durable cruiser board, you will want to check out our Quest.
The displacement prow effortlessly slices through wet stuff and channels it into a single-V concave hull that flows into a square tail for added stability, tracking, and weight capacity.
For utility, there's a bungee tie-down for hauling light gear, a camera mount, and a racing handle.
Each Godspeed comes with a traveling bag, leash, paddle, and a high-performance touring fin.
The Godspeed Mk. II is in limited supply so don't mull the decision over for too long and snag this race board today.
Glide 02 Angler Fishing sup board.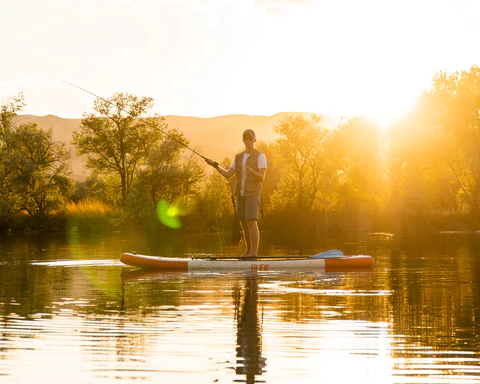 This inflatable paddle board is an amazing fishing sup board and is one of my favorite everyday paddle boards. The Glide Angler paddle boards feature a longer length with a flat bottom for increased stability. It is a wide size paddle board coming in at 36" wide. This helps creates a stable platform for sup fishing and sup fly fishing. It comes with two fishing rod holders, a durable easy-to-clean deck pad with extra d rings along with storage areas on the front and rear of the paddle board so you will never have to worry about limited storage space.
The Angler inflatable sups offer so much more than being dedicated fishing boards, they are an amazingly fun paddle board that will accommodate even the largest of dogs. The fishing sup has a weight capacity of 500 lbs. The stand up paddle board is so fun, stable and easy to paddle it is perfect as a beginner boards. There are many types of stand up paddle boarding fishing and this board excels at each of them.
There are many types of paddle boards, the right paddle board for you will depend on what you want to do.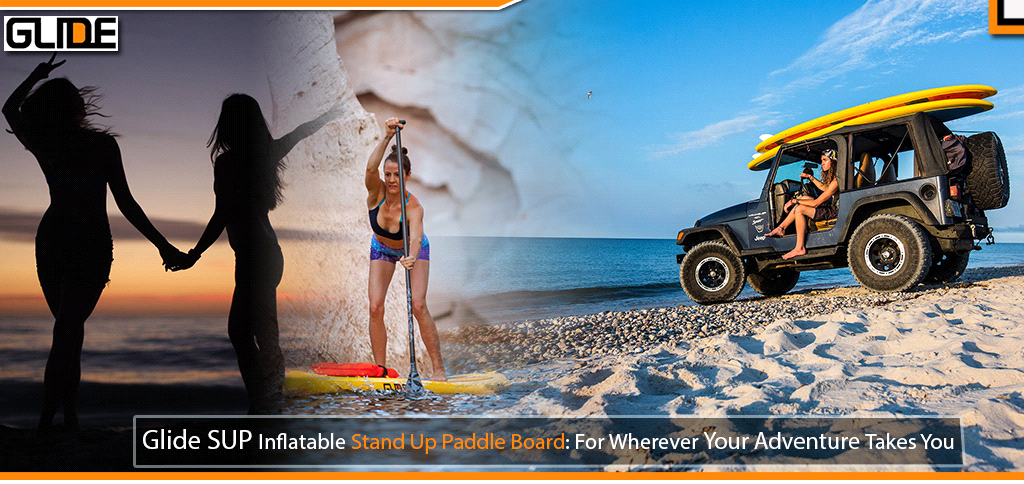 We recommend starting with the Glide Retro and once you figure out what you love to do when paddle boarding to look at a sup designed specifically for that activity. With a Glide paddle board, you will find one for every occasion from wider boards for yoga and fishing to a narrower board for long-distance touring, some with displacement hulls or a planing hull while others have flat bottoms for stability. Boards with an eps foam core, or supremely crafted inflatable boards. Our paddle board construction methods ensure the board will last for decades to come. We even have some of the lightest boards on the market for sup hiking and sup camping.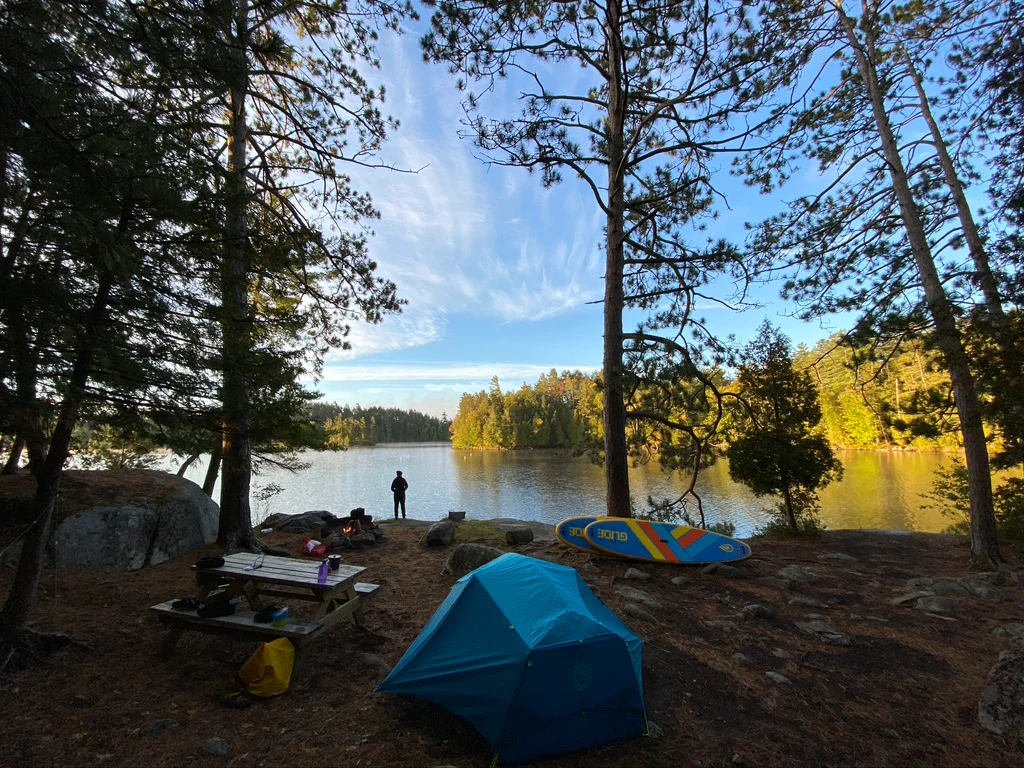 At Glide we want you to find the right paddle board for you and the type of paddle boarding you want to do and will grow into doing. We are sure that our paddle boards will be the right choice for you, no matter if you are looking for a surf sup board, a yoga board, or even wanting to conquer some whitewater with Lochsa whitewater board the Retro all-around board. You will love every paddle stroke while on a Glide Paddleboard.