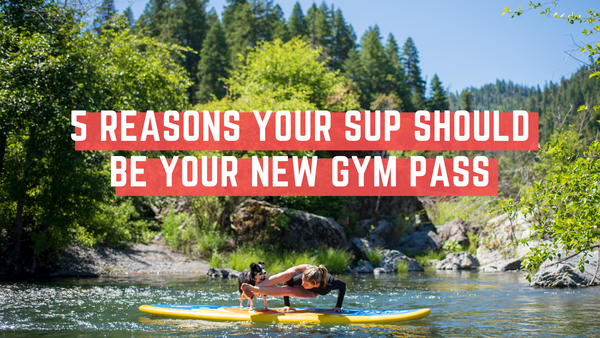 5 Reasons Your SUP Should Be Your New Gym Pass
It goes without saying that 2020 taught us a lot about keeping our bodies and our minds healthy. There is no shame in weight you put on during quarantine, but if you're like us and want to know how to grow your strength and build a connection all without having to be in a stuffy gym then we have some answers for you.
It goes without saying that 2020 taught us a lot about keeping our bodies and our minds healthy. There's more to it than just sanitizing and staying six feet apart.
It has a lot to do with staying healthy for yourself and those around you while still finding ways to connect. The outdoors has truly become a place to explore again. We're here to show you why Glide should be your first pick!
There are so many ways that stand-up paddle boarding (SUP) can benefit your mind and your body. Not to mention that we'll tell you how many calories paddle boarding burns.
1.) It Is The Most Fun Way To Burn Calories 
Did you know that just one hour of moderately paced paddle boarding on flat water makes you burn up to 430 calories? That's twice the calories you would burn walking your neighborhood.
Stand up paddleboarding is a full-body workout. Nearly every muscle will play a huge part in your paddling. Your core, back, and leg muscles are consistently maintaining your balance, while your arms, back, and shoulders are engaged in keeping your paddle in motion.
2.) It Boosts Your Serotonin 
Two things that have been proven to boost serotonin (aka the happy hormone) are exercise and bright light. 
Not only will you be getting your strengthening exercise that we just talked about, which will help build your endurance and stamina, but you will get your blood flowing and that is vital to keeping you happy, healthy, and alive!
You will also be getting full-body exposure to some Vitamin D (not to mention the fresh air) your body is desperate for after quarantining all year.
3.) Connect With Nature
Something we have all felt in the last year is a lack of connection. To our family, friends, work, and the earth. As humans, we search for things that make us happy and feel connected to ourselves or maybe even a higher being (if that's what you're into). 
That's when we find hobbies or interests! Taking time in nature can be the most rewarding experience, whether that is to exercise or to find some calming peace.
4.) Improves Your Balance
While your muscles are helping you push and pull your paddleboard, your core, and legs are working double time in maintaining your balance. You'll notice over time that this strengthening will provide you stability in many different places (ex. biking, yoga, hiking, etc.)
5.) It's Free!
For many of us, this is the biggest component. Yes, buying a paddle board is a large investment, but the good news is that with Glide paddleboards you will have all the equipment you need in your entire board purchase (aka everything is included!).
There a thousand more reasons that paddle boarding improves your life, physically, mentally, and financially that we'll dive deeper in other posts, but our best advice is to go try it for yourself! There are many rental places that you can find with a simple google search to try out paddle boarding.
So quit your gym already. They're too stuffy anyways.
Related Topic
How Paddle Boarding helps health?
Reasons for SUP Yoga's Popularity