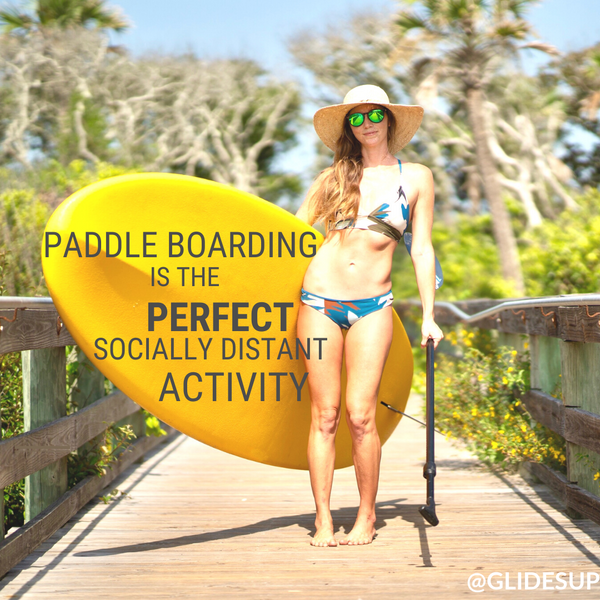 Paddle Boarding is the Perfect Socially Distant Activity
COVID has changed the world. It's made it hard to feel safe doing many summer activities. Paddleboarding is the perfect socially distant activity and here's why.
COVID-19 changed the world. 
Places we all used to feel safe in, now have an eerie feeling to them. The outdoor world stopped for a while as we sat and watched the world nearly pass us by. We are now in the state of starting to come out of that, but the fear of COVID is still real and still here. 
That being said the CDC has always stated that being outside is good not only for your mental health but also for your immune system. We've as a company have been watching as our country is slowly open again, and we thought we'd wait until everyone could safely be outside before we talked about this. 
Not to make us sound too biased, but we think paddle boarding is the perfect socially distant sport. 
But seriously, we doubt you'll find something better and here's why. 
1) If You're Sick the Last Thing You Want to do is Paddle. 
Being on a SUP is not an easy task no matter how experienced you are. Therefore if you are not feeling in tip-top shape, being on a paddleboard is the LAST place you would go.
So right there, you are eliminating a bunch of sick people. Also, if you are sick, you will also stay indoors keeping your germs to yourself. That's an all-around win for everyone involved. 
2) No One Can Get Near You 
The CDC recommends keeping 6 feet of distance between you and someone who is not in your household. When you are on a paddleboard front to back you are at least 10 feet away from anyone else.
We call this natural social distancing. If someone does get a little too close to you have a paddle just push them away to avoid falling in the water.
Look how easy it is to stay away from people, and still get an incredible view. The introvert in us loves this about paddling. You never have to worry about people coming up for a hug, or coughing on you. Now with COVID, it's just a selling point.
3) Exercise is Good for You 
To have a healthy immune system and proper working lymph nodes your body needs movement. Paddling is a full-body workout that creates movement throughout. Yoga helps participants control their breath, their mind, and focus inward on the body.
SUP Yoga is one way to still feel the normalcy of a yoga class with the breath of fresh air that outside is. If that's not enough to convince you, remember what we said above, no one is close to you. You have your own space that's floating and no one can touch you. That's a win in our book.
4) SUP's are Super Easy to Disinfect. 
Think about it, you spend most of your time standing on your feet while on a SUP. Naturally, you are touching less, but on top of that, because there are a limited amount of spaces you can touch, it's very easy to disinfect the entire process. The board, paddle, and leash can all get cleaned very simply. 
It takes about 60 seconds. Need to know how to disinfect your SUP? Read it here:
Conclusion
Once this pandemic passes as we all hope it soon will, you can still embrace the introvert in yourself and continue paddle boarding at a safe distance from your friends.
Related Topics
Things to Consider When Buying a SUP
Improving Fitness on Paddle Board
Can I Leave My Paddle Board Inflated?
Hard VS Inflatable Paddle Board