The best paddle boards ever made!
Glide inflatable paddle boards are the best inflatable paddle boards you can buy.
What makes Glide Paddle boards the best?
It is simple, our paddle boards are crafted with the highest quality materials to be ultra durable paddle boards. Our founder and those on the design team come from a lifetime of paddle experience and have been on many professional white water teams.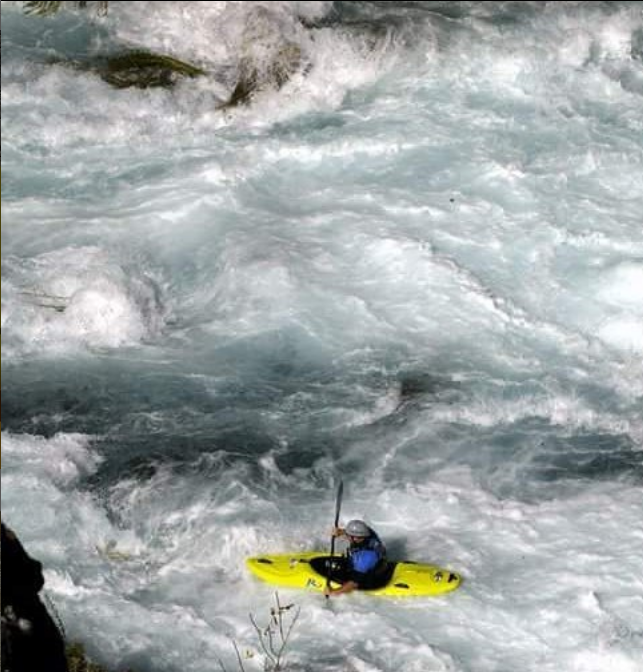 We also create paddle boards that are pretty much indestructible as proven in our will it break Wednesdays. That is eco-friendly and better for the environment, wildlife, and waterways we all depend on from drinking water, recreational use, and agriculture as some examples. This carries over to our isup lineup as well. We are committed to making the best quality inflatable paddle boards and hard boards the planet has seen. Paddle boards that you can create amazing memories with, and that will last through the years.
We are also conscientious of not only the environment but of you our customers as well. From eliminating the stress of worrying the isup may fail on you or need to be replaced or repaired often. To making a board that will be ready when you are when mental health needs a moment to recoup and recharge. As well as boards that will make you want to paddle board improving physical health. To one that is often overlooked, is your financial well-being. Other brands may have a lot of hype although that is about it, those ads you see from some of them are not cheap, and it is you the paddler who pays for those ads if you purchase one of their boards. We do not waste money on ads when the boards speak for them selfs and pass those savings on to you. Unlike the competitor, we offer more than just hype and overpriced boards. Glide offers the best inflatable paddle boards and hard boards you will find. At a price point that promotes inclusion, everyone should be able to paddle.
Glide makes the best inflatable paddle boards and hard boards on the market, with so many reasons as to what makes them the best inflatable paddle boards and hard boards this would be a long novel. National Geographic chose our boards, our boards are so durable and environmentally friendly that they can be found in aquariums and exhibits as environmental enrichment devices.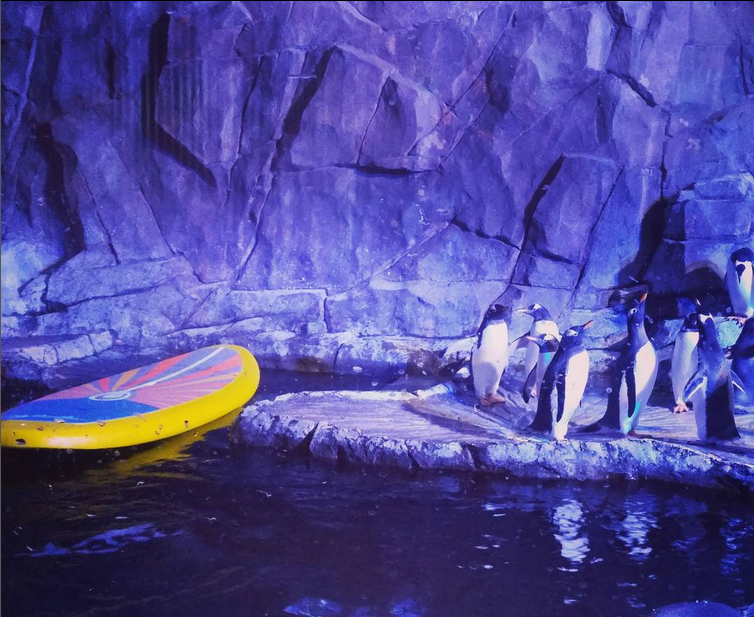 At Glide we love to paddle board, and it shows in our high-quality boards, our patent pending design techniques and cutting-edge board designs. The best way to see why a Glide board is the best inflatable paddle boards on the market is to paddle one. Our loyal customers can tell you that this is the isup you are looking for.
The best all-around board on the market is the 02 Retro.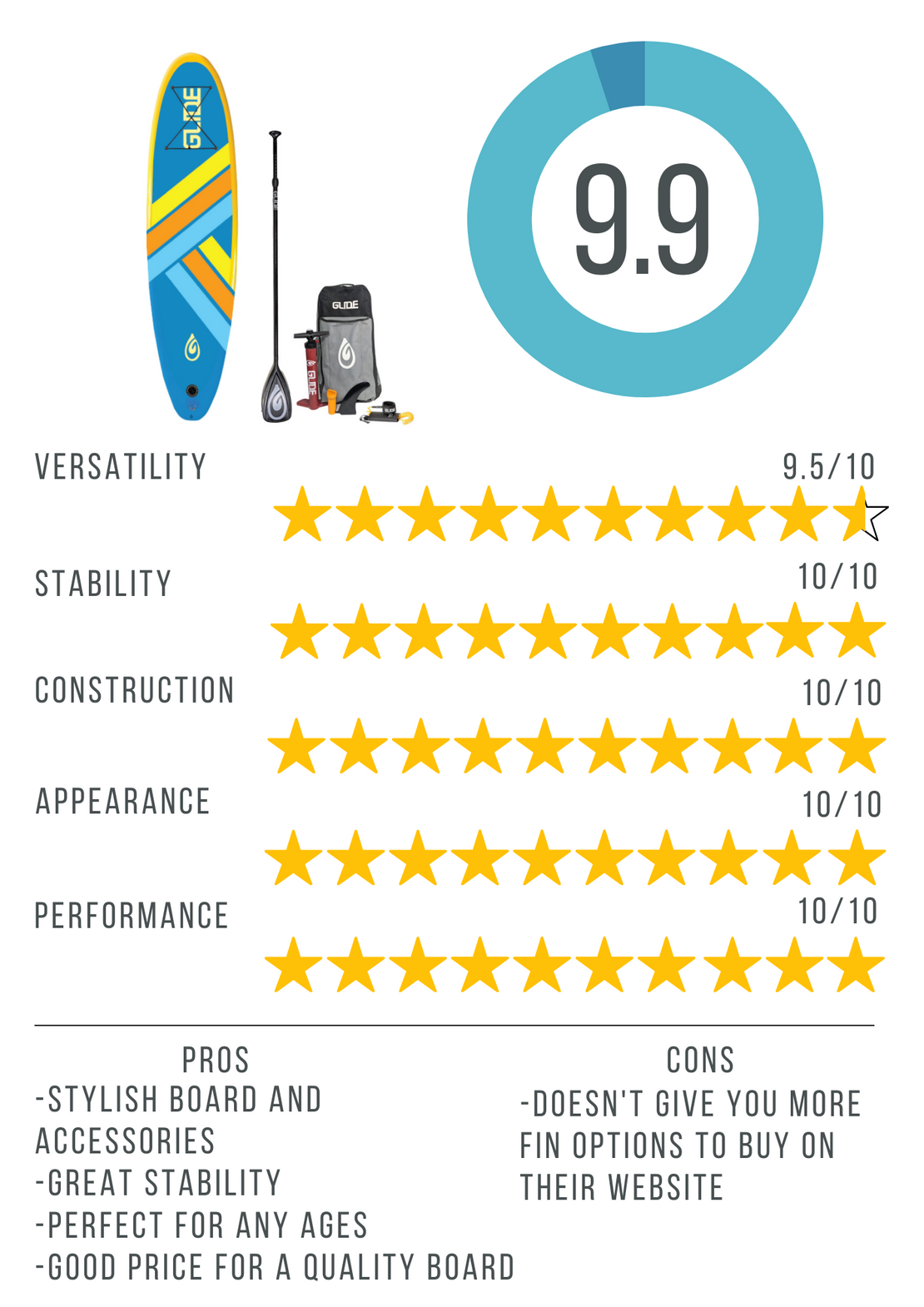 This all-around board features removable fins, high weight capacity, and a full lengths deck pad/traction pad. The Retro lineup is the best all-around recreational paddle boards on the market. Suitable for, beginner paddlers, or intermediate to advanced paddler. This amazing board will handle what ever you throw at it with ease. From carrying gear to your campsite, or running a river. It is also well suited for paddling with a dog or two, to a sup yoga board if you don't have a Glide lotus. Stable enough for ocean waves, and fishing. This all-around board can do whatever you crave.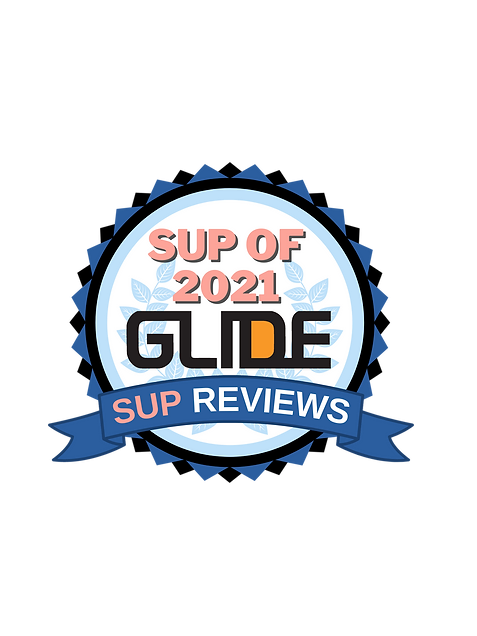 The best inflatable paddle board for touring is the 02 Quest touring board!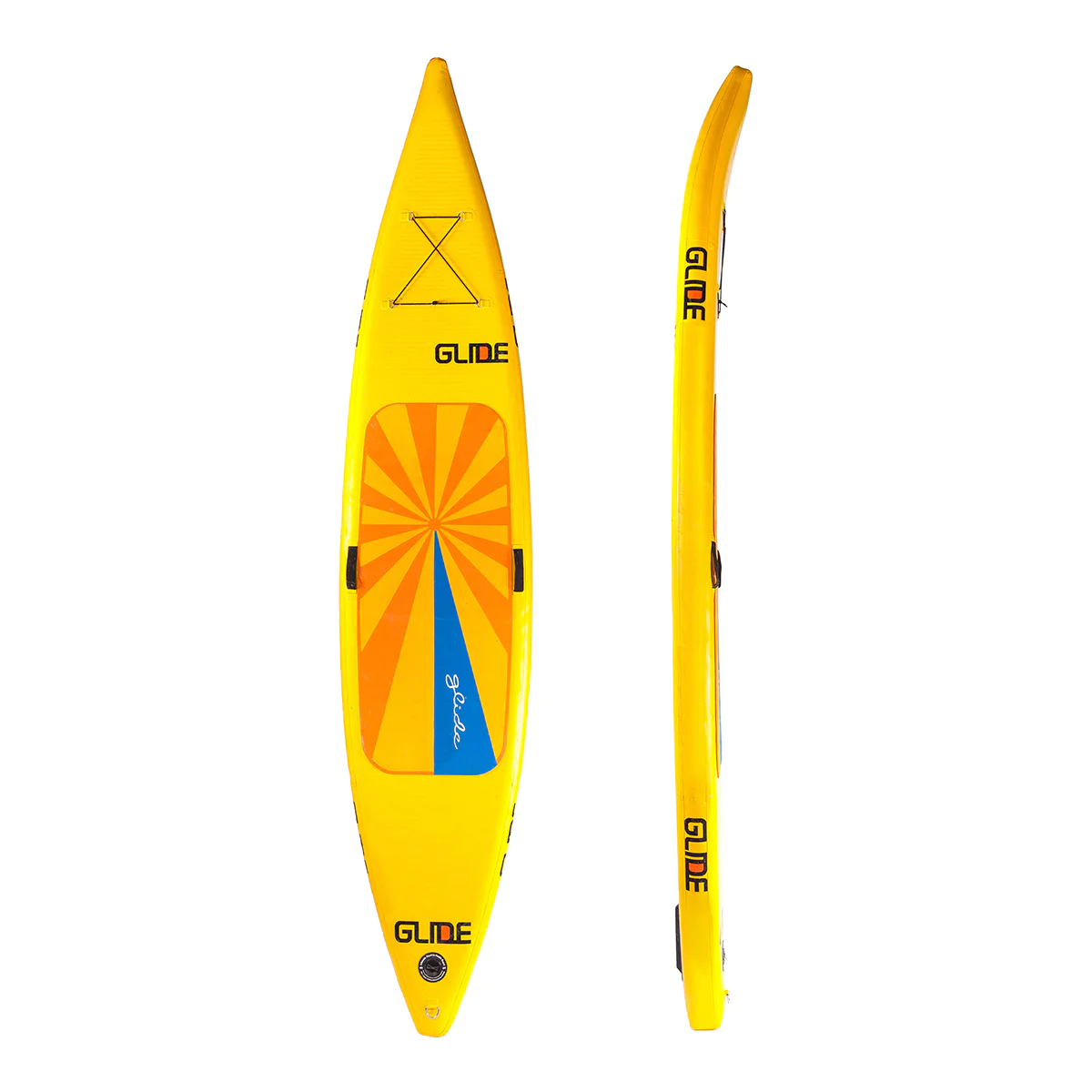 This high-quality touring board is one of the faster touring boards on the market. This is due to the quality design and meticulous construction methods Glide uses. The board features our unique Glide stiffness combined with a narrow nose and tail resulting in the best inflatable touring board. The sleek design will allow you to effortlessly cut through the water, while the pin tail will enable quick turns as well. This inflatable touring board caters to the explorer in you and will carry you long distances in a hurry. From touring to racing this is one of the best paddle boards you will find.
This lightweight board has a great weight capacity of 400 pounds, allowing this touring board to carry you and whatever accessories or gear you may want to bring along for the journey. If you are looking at touring paddle boards then 02 Quest or Quest line up are the touring paddle boards you have been dreaming about. Paddle an 02 Quest touring paddle board and see what you have been missing out on.
The best inflatable paddle board for sup yoga is the 02 Lotus sup yoga paddle board.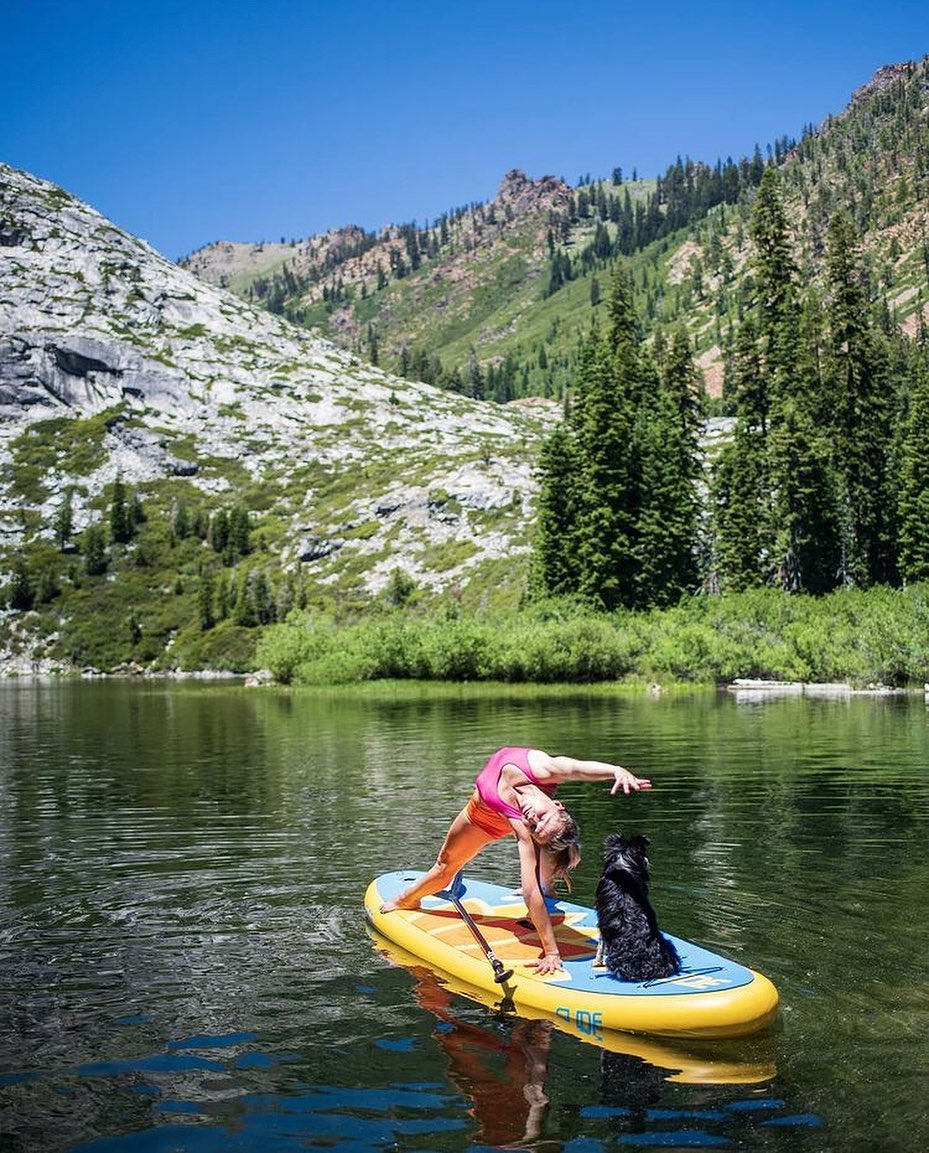 When the Glide Lotus was released we redefined the sup yoga market, and then we did it again by creating the best inflatable paddle board for sup yoga. If yoga is your scene and you have considered sup yoga then you know the Glide Lotus lineup. Hands down year after year the 02 Lotus is considered the best inflatable paddle board for sup yoga. From the full-length eva deck pad to the amazing weight capacity of the board this sup yoga board is the one to bring you inner peace. The 35-inch width gives this stable board the room and stability you want for your yoga sessions, with or without a yoga partner. The board is also an incredibly fun board to cruise on, with plenty of room for you and a furry friend and whatever you might want to bring along. This very stable board is a highly maneuverable board that will make your flat water adventures that much better. When I paddle with my puppy nephews the 02 Lotus is often my board of choice.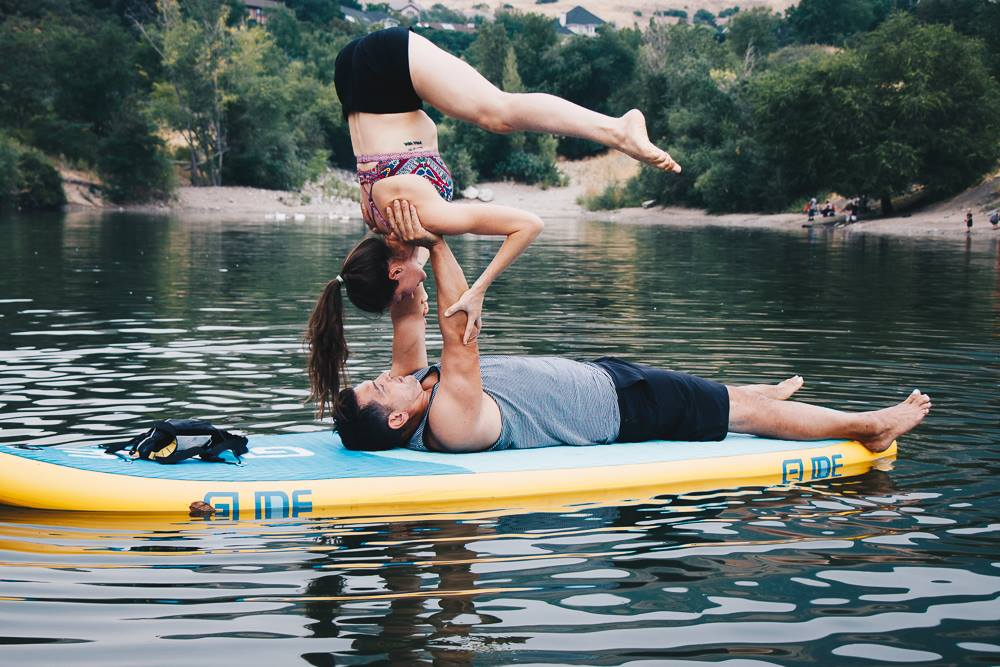 The best inflatable paddle board for sup fishing is the 02 Angler sup fishing paddle board.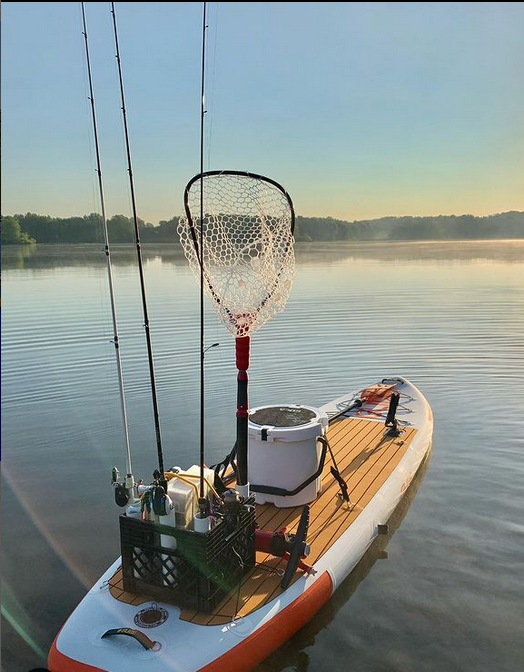 The best inflatable paddle board for sup fishing on the market is the Glide 02 Angler which is often listed as one of the best inflatable paddle boards on the market. Some of the key features that make this the best inflatable paddle board for sup fishing besides being a Glide paddle board are as follows, and is just a tiny look at what makes this fishing sup so amazing.
An outstanding 500 lb weight capacity means you, your catch the kitchen sink, and all your gear and the family dog can be carried in comfort and style on this inflatable paddle board! Another feature that put this fishing sup in the best inflatable paddle board category is its flat bottom design, allowing you to get where ever you want to be for the ultimate cast. Along with the boards extra wide body, you will have the stability you need to reel in a monstrous grouper to a small trout. Where you want to fish the 02 Angler has you covered.
The o2 angler also makes the list of best inflatable paddle boards due its value. With the inclusion of two fishing rod holders, carry straps, and a kayak seat with included adjustable paddle makes this an incredible sup board package. The board features plenty of d rings and tie downs for all your gear, from coolers to nets and rods to the dog.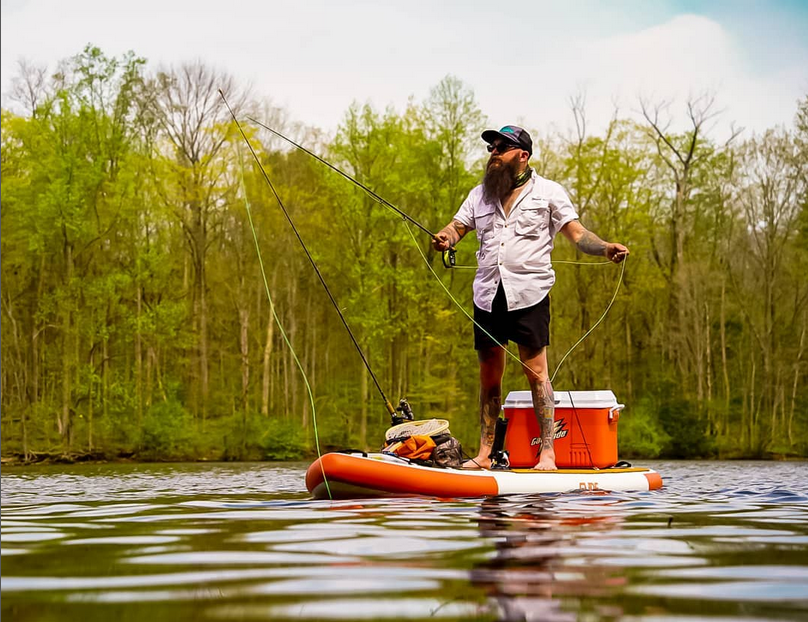 The best inflatable paddle boards for whitewater sup is the 02 Lochsa whitewater sup board.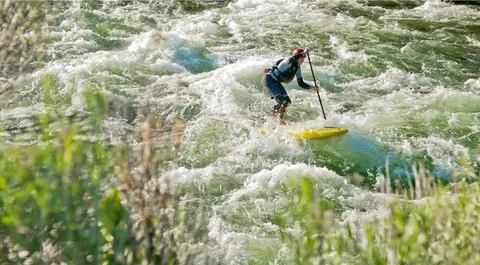 Glide has a long history of white water paddling, and we brought that love of roaring rivers with us when Glide was founded. The sense of adventure while barreling through rapids is not something we were willing to lose. The years of whitewater paddling, first descents, and adventure come to light in the best inflatable paddle boards on the planet. And for river running the best inflatable paddle board is the Glide 02 Lochsa.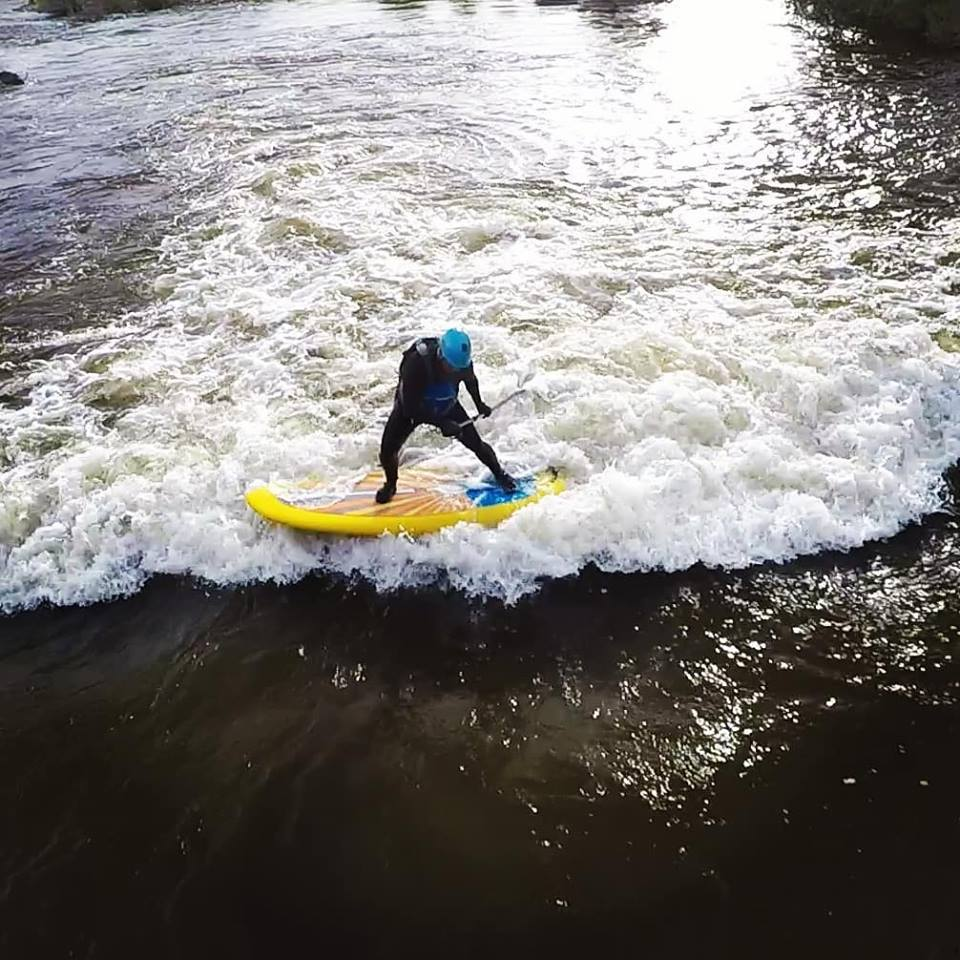 The 02 Lochsa cuts like a dream through class I, II and III rapids. With rails and rockers that were specifically designed to handle whatever the river throws at you. This lightweight board will make getting to the river a breeze, while the stable board will help you keep your footing as you shoot the rapids. This board will get you through where other boards won't. The name Lochsa comes from the Lochsa river which translates to rough water.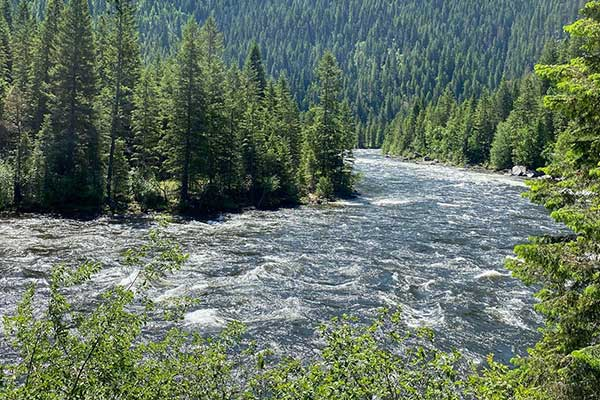 This dedicated river sup board will be the envy of any river running group and will also let you enjoy a more relaxed paddle on flat water. The river and whitewater is where this board excels although it performs admirably on the lake as well.
Glide the best inflatable paddle boards on the planet.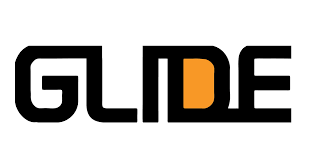 With Glide not only do you get the best inflatable paddle boards, you also get the best customer service. We also make life as easy as possible for you by using a USA-style fin box, this means you can get replacement fins easily and affordably. You will not be locked into ordering from us. From ultra-durable paddle boards to paddle boards that promote inclusion Glide makes the paddle board you want.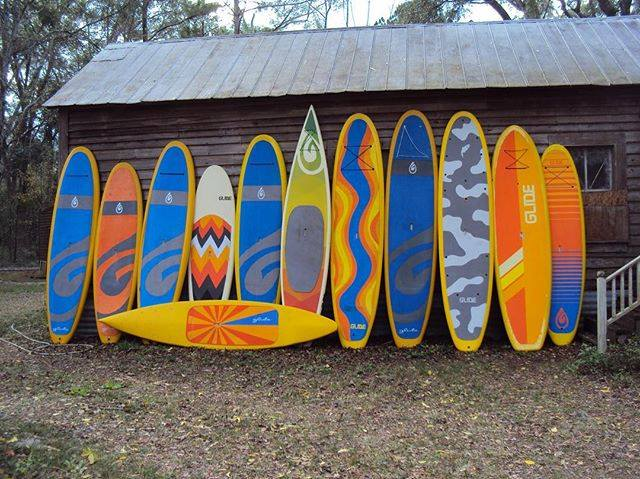 Whatever you paddle, we at Glide are hoping you have had some amazing adventures. Let us know your best memories of paddle boarding at #glidesup on Instagram.