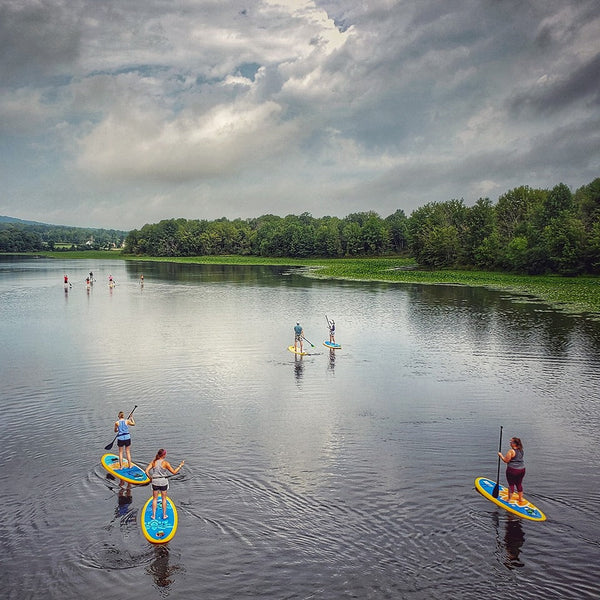 Why Your Rental SUPs Should Be Glide
We created the first rental-specific board in 2014. Our rental board was built to make first-time paddlers have a great time and success at standing and paddling, and an unbreakable, ultra-durable paddle board for you as the rental company. 
Rental Paddle Board Design
Glide rental boards are completely flat and wide under where the paddler stands which makes the initial stability very good. We then lowered the rocker in the nose and tail, this helps get the board up to speed as fast as possible. Having a little speed under the board makes it much more stable.
On the bottom of the board, the tail has a deep vee which helps keep the board going straight which can be a challenge for first-time paddlers. The board also has a full deck pad with a brushed finish. The pad is very comfortable to stand on, and the full length makes it great for taking kids along for the ride.
Paddle Boards Made For Destruction
For you, as a rental company, the boards are made with our proprietary GSS finish which makes the boards ultra-durable. Check out our Will-It-Break-Wednesday series to see exactly how durable. They also have a lock hole in the tail of the board so you can lock up the boards when you are done renting them. We made the rental board to be a maintenance freeboard that will serve your rental needs year after year.  
Summary
So to recap (or if you don't want to read paragraphs):
Why your rental fleet should be from Glide SUP 
Ultra Durable
Long-lasting (we have fleets 8 years old)
Designed specifically as a rental sup 
Stability is key
Holds weight from kids to dogs you can have it on the sup.
Lock hole in the tail of the board
Bungee cord at the top for personal goods 
Bright colors (Which makes it easier for other people to see)
Comes with a paddle and a leash
Yes! We have inflatable rentals as well. 
These boards are made with fusion technology which allows us to use commercial-grade materials to keep them up to par with durability and longevity. These boards come with a backpack for renters to easily transport, as well as a high-pressure pump, breakdown paddle, and coiled leash.
Related Topic
Paddle Boarding Accessories and Safety Tools
Buying Guide for Inflatable Paddle Board