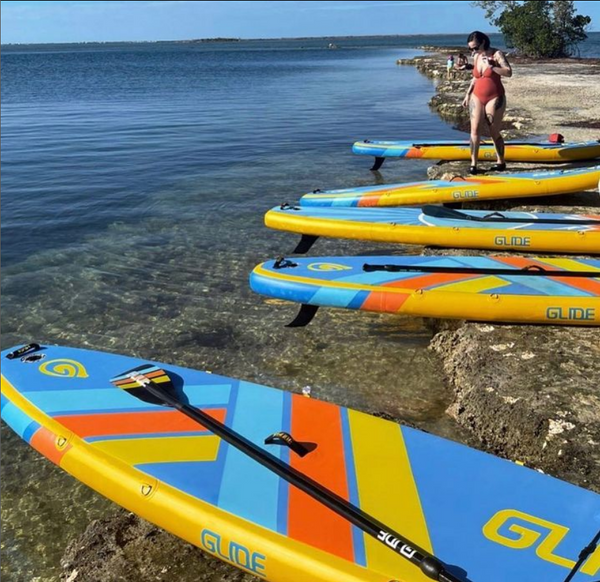 Is it worth getting an inflatable paddle board?
Paddleboarders who are looking for a convenient and portable option have found a lot of success with inflatable paddle boards, or as the kids call them iSUP's. Those who enjoy being on the water and want to make a good investment should consider purchasing an inflatable paddle board made with high-quality materials because it has several advantages.
Advantages of inflatable paddle boards.
Portability
Portability is one of the primary benefits of inflatable paddle boards. The portability of iSUPs is without a doubt the most significant benefit they offer. In contrast to hard-shell boards, which can be cumbersome to transport and store, inflatable stand-up paddleboards (iSUPs) can be deflated, rolled up, and easily stored in a backpack or the trunk of a car. Because of this, they are perfect for paddle board owners who want to bring their boards with them when they go camping, travel by car, or paddle in different bodies of water.
Backpack
It is pretty amazing that all the accessories, the paddle board, PFD, hand pump, repair kit, paddle, and leash all fit into the backpack. How nice is that everything you need for a fun day on the water is stored nicely in once place ready to go on any adventure at a moment's notice?
Durability
iSUPs are not only extremely sturdy but can also withstand harsh conditions such as rocks, shallow water, and white water paddling. Glide inflatable paddle boards are made of military-grade PVC material, which is resistant to puncturing and has the potential to last for many years if they are cared for properly and maintained. Learn why Glide iSUPS are the best on the market.
Versatility
The versatility of inflatable paddle boards lies in the fact that one can use them for a wide range of pursuits, such as yoga, fishing, touring, and recreational paddling on the water. They are available in a variety of dimensions, configurations, and styles to cater to the requirements of various users.
Stability
Glide inflatable paddle boards are built using the latest manufacturing technology, including a woven drop stitch core. The woven drop stitch core gives our inflatable paddle boards unmatched stiffness, and this stiffness combined with our board outlines makes our boards extremely stable.
Weight Capacity
Glide inflatable paddle boards are all 6" thick. This combined with the wider board outlines gives our inflatable paddle boards a ton of weight carrying capacity. Our boards will hold over 400lbs, so you can take you, your dog, some kids, the kitchen sink, or whatever else you need on your adventure.
Comfort
By nature of the inflatable design of these boards also provides a more cushioned, comfortable ride compared to hardboards, which can be rough on the knees and joints. When you are just starting out and are worried about falling, you can inflate the board to 1 or 2 psi under the recommended inflation (12psi is recommended) and that will give you a very comfortable platform in case you do fall down to your knees, or fall off the board.
Convenience
If you have an inflatable paddle board, you won't have to stress about finding a place to store it or worrying about loading a heavy board onto your vehicle. When you are finished using it, you can easily deflate it and store it away. Inflatable boards are easy to carry and store, and offer the ultimate in convenience.
Fun
Inflatable paddle boards are fun! They are a great way to get a workout, explore new places, surf small waves, participate in sup racing, or take a sup yoga class. Glide has inflatable models for first-time paddlers or advanced paddlers and as the technical attributes of iSUP's keep getting better and better they are performing as well as their hard paddle board counterparts.
Disadvantages of inflatable paddle boards
Inflating
One potential disadvantage of iSUPs is that they require more time and effort to inflate and deflate than conventional paddle boards. The length of time required for this process can range anywhere from five to fifteen minutes, depending on the kind of pump used and the dimensions of the board.
Stability
Cheap inflatable paddle boards are built with low-quality dropstich which makes the board very "floppy". And no matter how wide the board is it will not overcome the low quality core of a cheap inflatable. Glide inflatable paddle boards use woven dropstitch in all of our models which makes the board as rigid as a hard board and that in turn makes the board very stable. Remember friends don't let friends buy cheap paddle boards.
So is an inflatable paddle board worth it?
Those who enjoy being active outside and participating in water sports will find that purchasing an iSUP is a worthwhile investment. They are a practical alternative to conventional hard-shell paddle boards because of their portability, durability, and versatility, and they also offer a number of other advantages. Inflatable paddle boards are 100% worth it!
On the other hand, they do have a few drawbacks, such as the fact that they require more time and effort to inflate and deflate. In the end, whether or not purchasing an iSUP is worth the money depends on whether you think money can buy happiness, or better stated will spending your hard-earned money on inflatable paddle boards make you happy? Yes, yes it will.