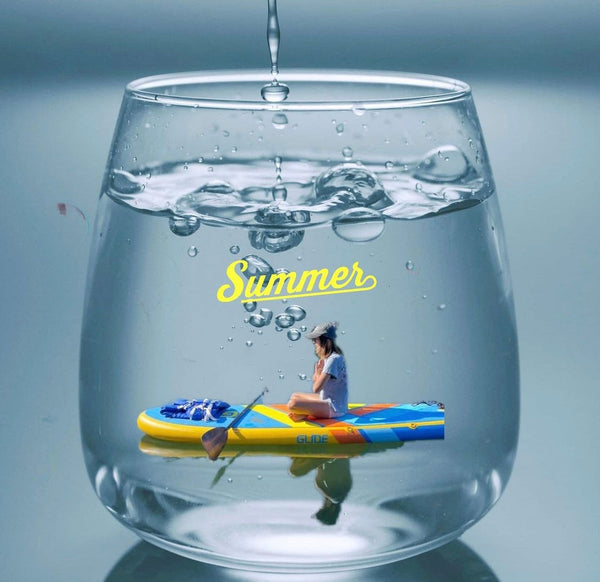 Let Your Inflatable Paddle Board Stoke Your Sense of Adventure
Inflatable paddle boards have completely changes the stand up paddle board market. Being as portable as they are, the sky's the limit on the various SUP adventures that are now available to all.
Introduction
With the introduction of inflatable paddle boards,SUP enthusiasts have been able to take their passion for paddling to the next level. As far as recreational equipment goes, the inflatable paddle board is one of the most versatile means of exploring waterways in the backcountry.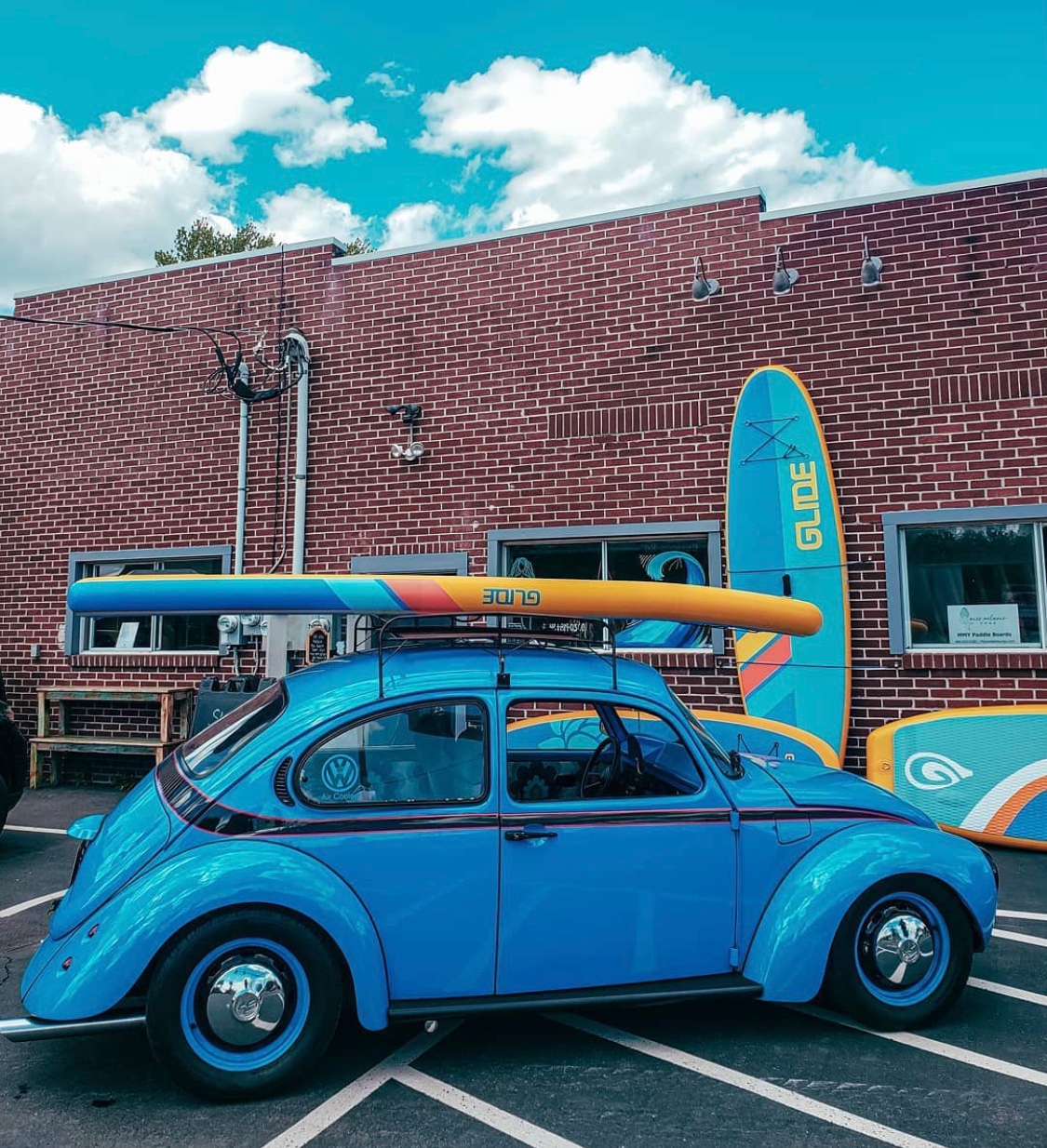 Are you looking to add more adventure to your life? Read on and let us give you some ideas for summer exploration.
Inflatable paddle boards on the river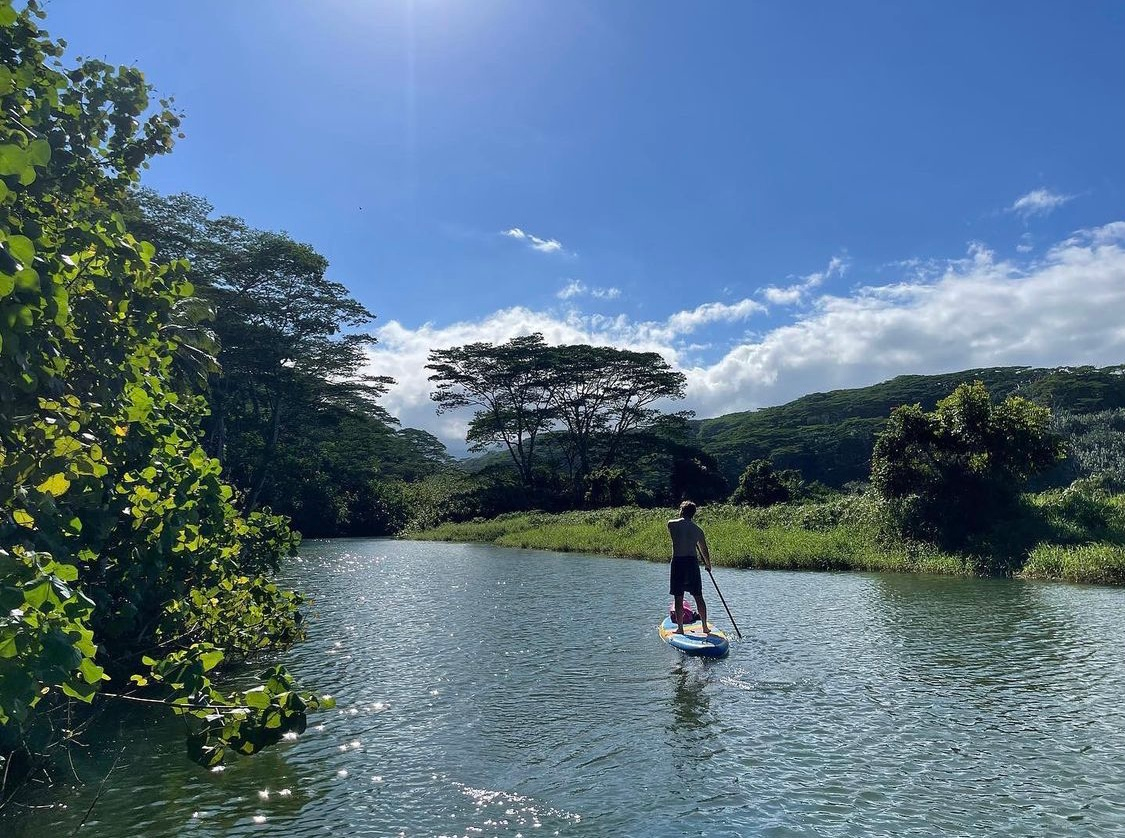 Getting your inflatable paddle board out on the river is thrilling. Whether you are considering slow moving rivers or whitewater rapids, the change of scenery from starting high up on a river and working your way down can be exciting.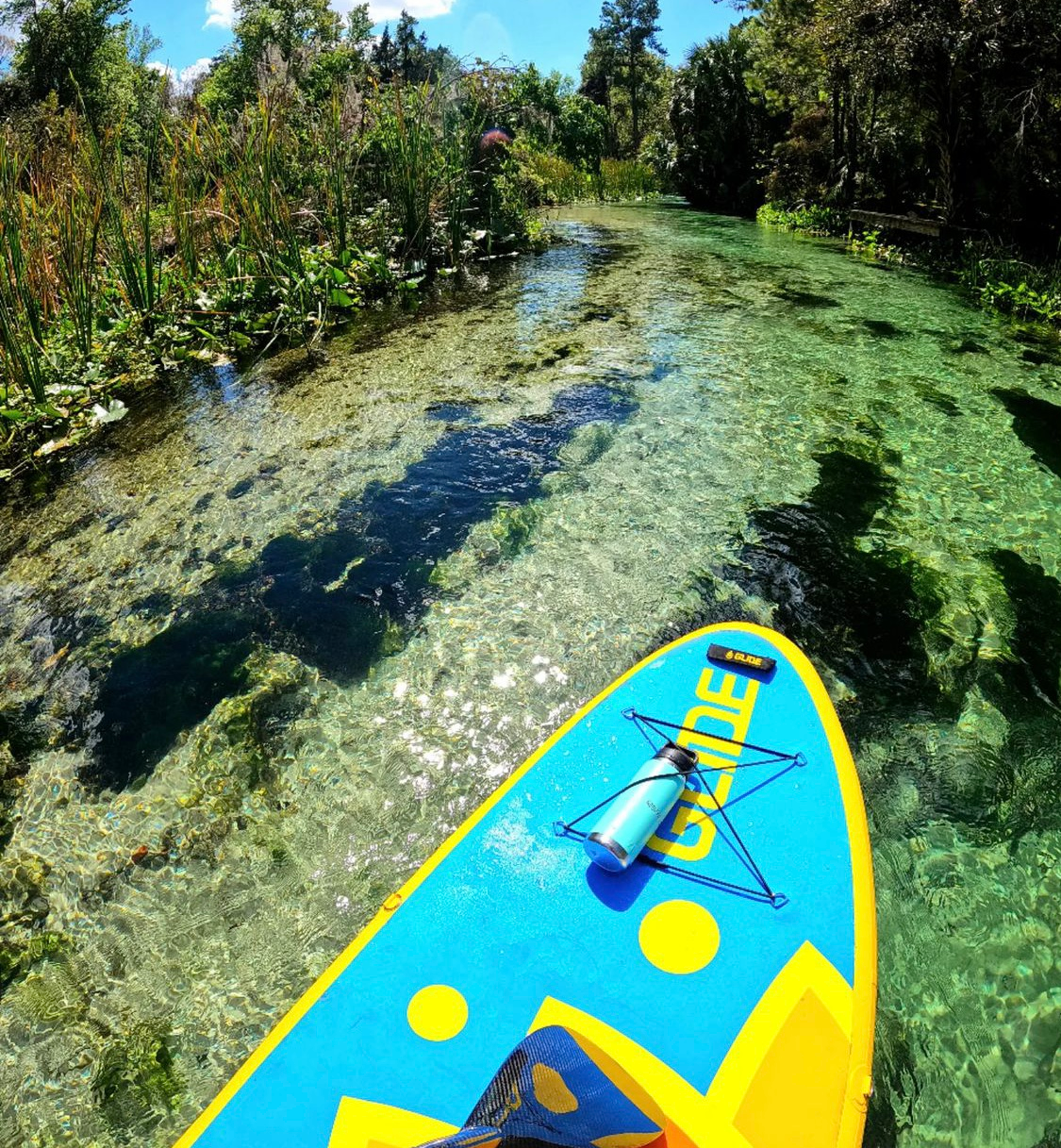 Whitewater rapids have long been the domain of rigid boards. In fact, Glide's very existence owes to the fact that our founder was obsessed with paddling through whitewater on a paddle board. When the cheaper boards that were constructed with normal hard board construction kept breaking, we created our GSS ultra durable polymer to give the boards 600 times more protection over an epoxy board.
A much more forgiving board
The beauty of an inflatable stand up paddle board on the river is that if you land on it, it is a far more forgiving landing. More importantly, though, is that you can hike it into areas of a river that may not be accessible by vehicle using the backpack that comes with it.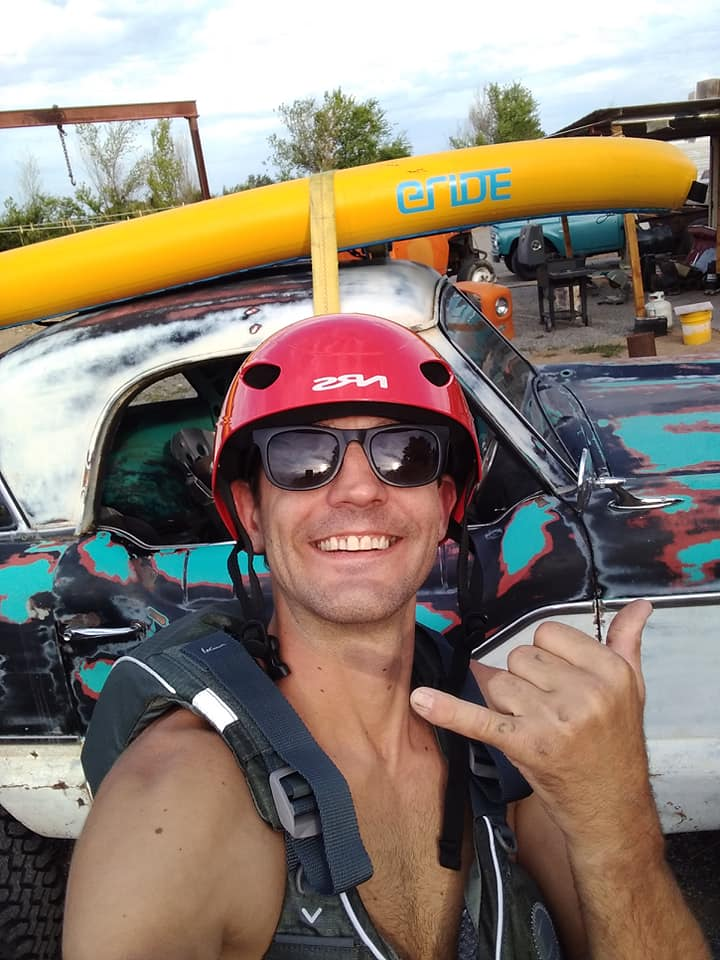 For river paddling, you can use inflatable paddle boards that are made specifically for whitewater rapids and come with a tri fin setup or all around sup boards will also do the job too.
The river specific SUP tends to be a wider board for stability. The whitewater SUP board performs quite differently than those that are made for flat water as there are many complex nuances to whitewater paddling.
Advanced paddlers only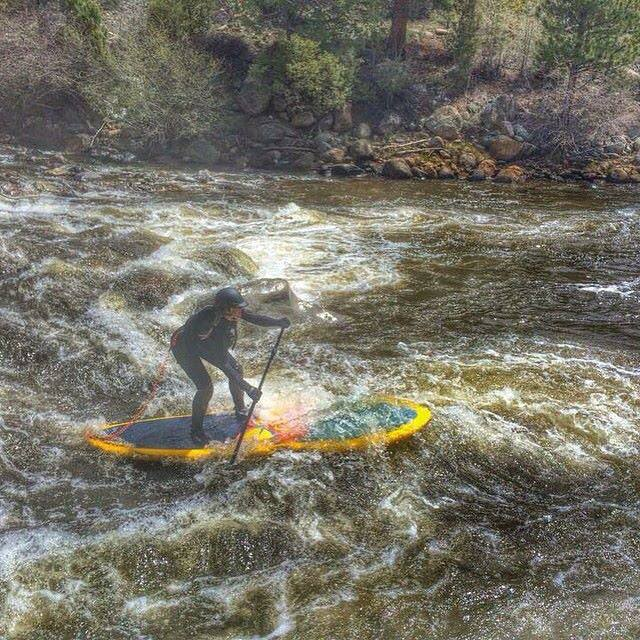 Regardless of whether you choose river specific SUP boards or all around sups, you will want to make sure to switch out the standard fins that come with the board for smaller fins so that you don't catch them on rocks and do a header off your board. You will also want to ditch your ankle leash for one that connects to your PFD and has a quick release button should you get in trouble and need to untether yourself from your SUP board.
Navigating rivers is not for paddlers of just any skill level, it is really for more advanced paddlers. You will want to get some expert advice from someone who really knows the section of river that you are planning on paddling before heading out and you will want to invest in proper safety gear as well.
Stand up paddle board fishing excursions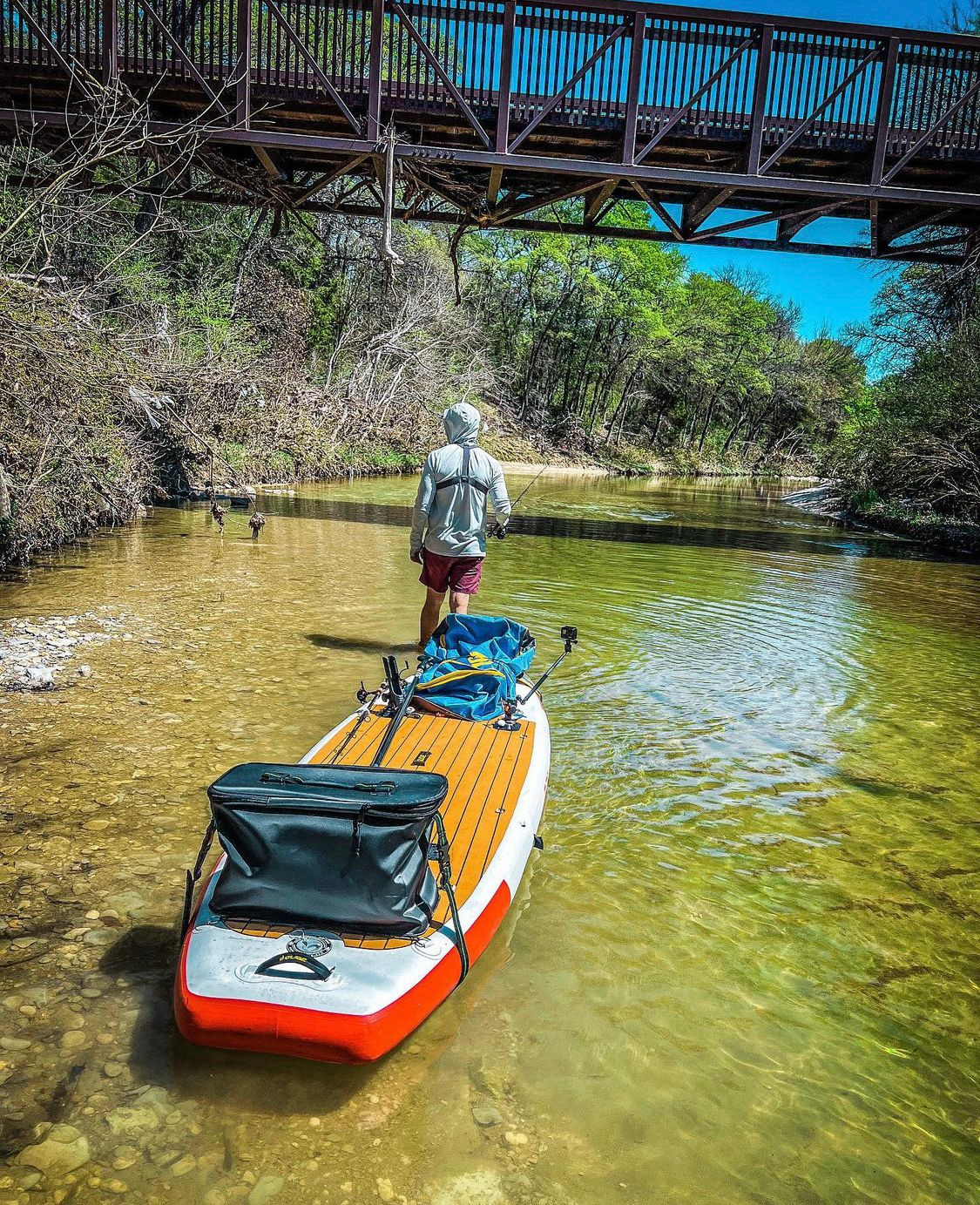 Fishing from stand up paddle boards has become wildly popular in recent years. With an easy carrying inflatable paddle board, fishing can become more of an adventure.
Being able to hike your inflatable paddle board into an alpine lake in the high mountains allows anglers to get out of their normal rut and find special spots that most will never get to visit. Once at the alpine lake, the paddle board allows them to explore parts of it that might not be reachable by land.
Make sure that you invest in a fishing SUP board with multiple attachment points that you can attach Scotty mounts to for your fishing rods, depth finder, cooler, and other accessories. All around boards can be used for fishing but you are going to be limited in terms of attachment points.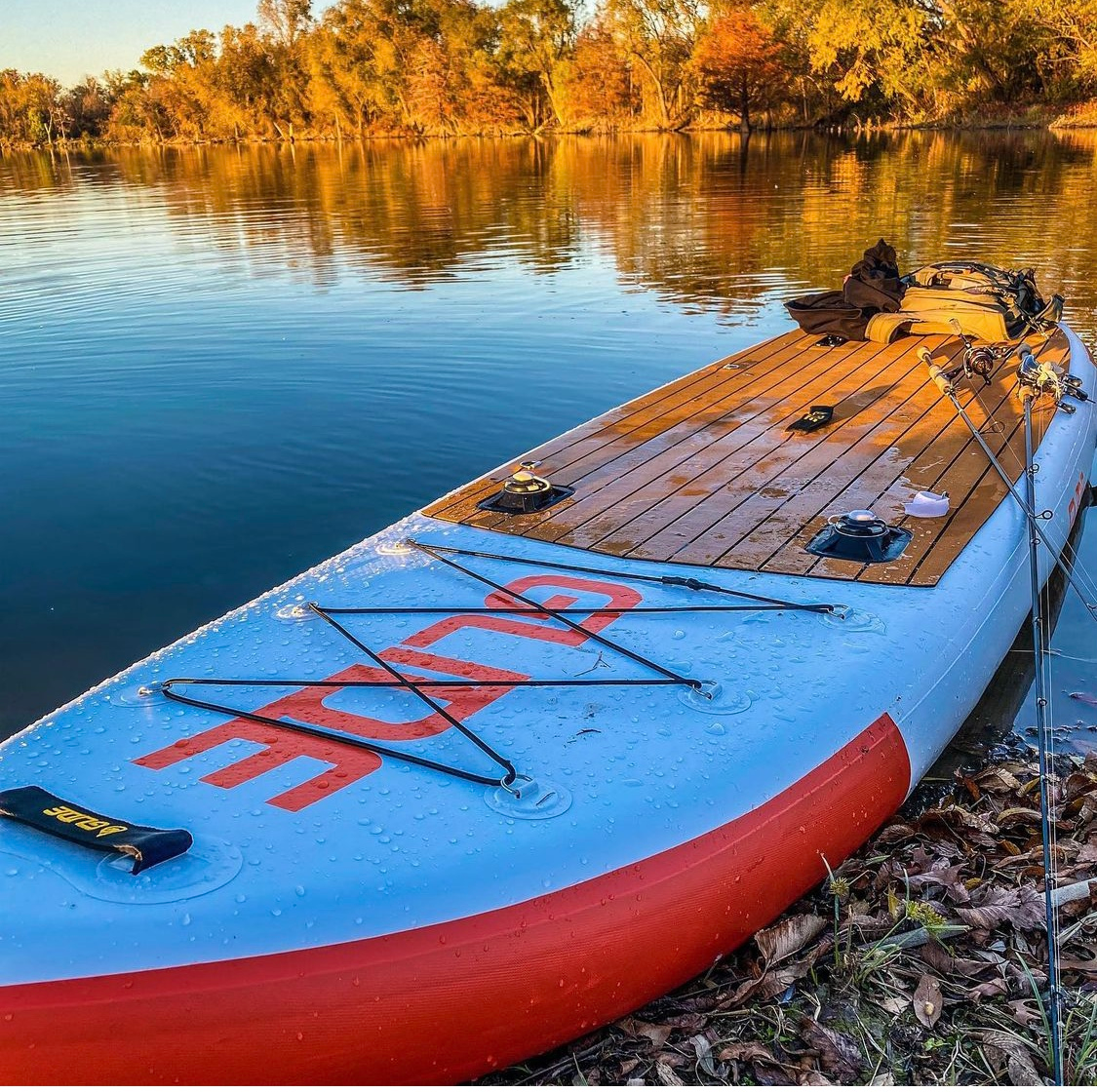 Imagine sleeping under the stars while using your inflatable SUP as a mattress (make sure you have a comfortable deck pad) after making a meal out of all the fish you caught that day. These are the kind of adventures that inflatable SUPs can take you on!
Inflatable SUP board flat water excursion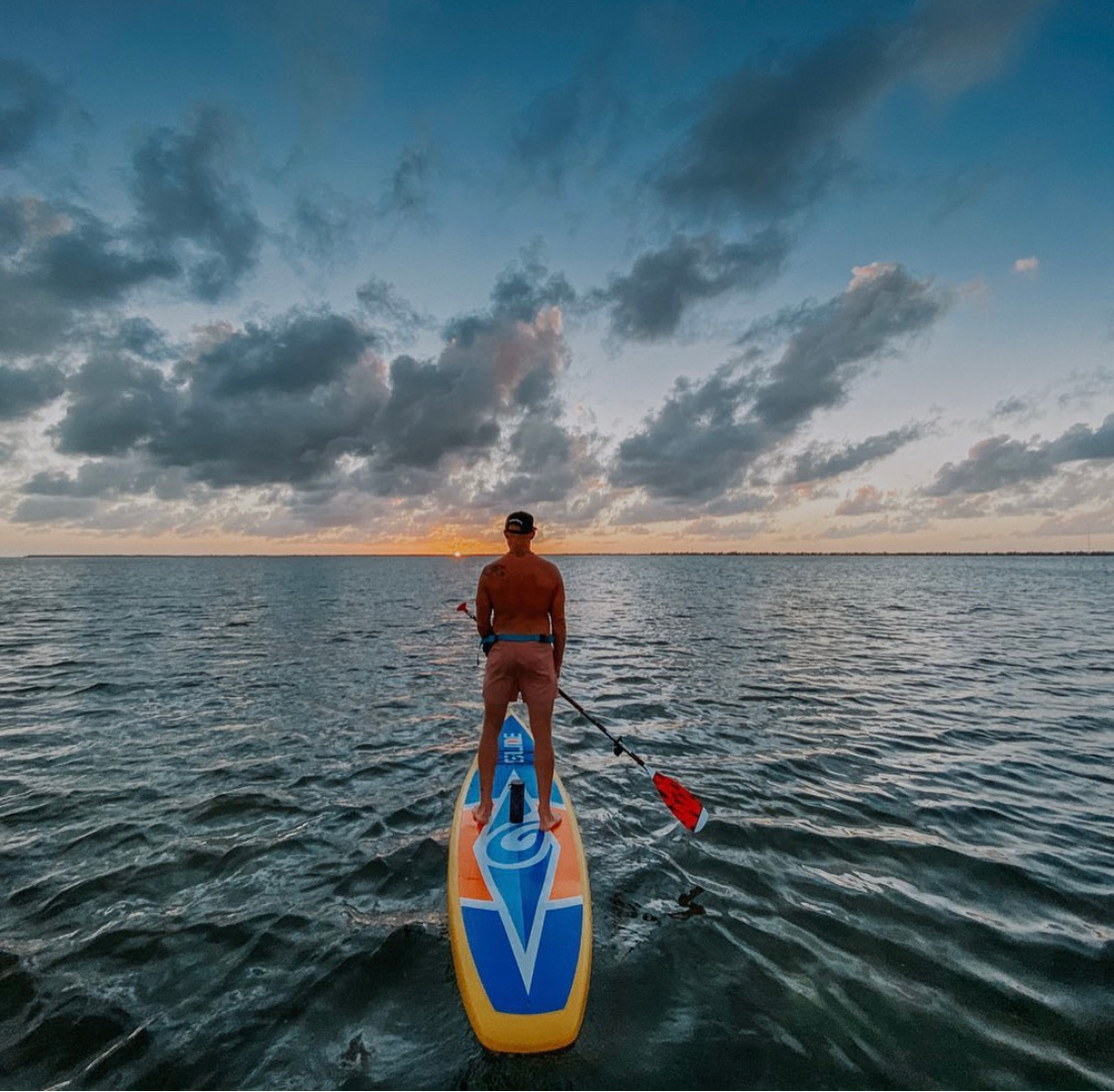 A touring inflatable paddle board excursion can be an adventure in it's own right, especially if it involves covering long distances and camping in between spots. Plotting out the trip in advance can be half the fun of this kind of adventure.
You will definitely want a longer board with a pointed nose for a stand up paddle board trip that involves long distances. You will also want to make sure that your inflatable paddle board has a high weight limit so that it can accommodate the extra weight of all of the camping gear that you are going to need for your particular needs.
The right board can carry a lot of gear
You will also want to make sure that your inflatable SUP has plenty of attachment points on the nose and tail so that you can keep the deck area that you will be standing on clear. Touring inflatable SUP boards tend to be a thicker board so that the board doesn't ride lower once you have stuffed every square inch with you recreational equipment.
You will want to take the SUP board on a trial run once you have packed all the gear that you will need to make sure that it still has a stable feel. It is also critical that your inflatable SUP board is properly inflated to give you extra stability. Flat water can turn rough if the weather changes so you will want to set yourself up for success.
Make sure that you pack your repair kit and well as an extra SUP paddle that breaks down into 3 pieces. You will also want to pack a first aid kit, water, a water filtration system and plenty of freeze dried food. Packing kayak seats isn't a bad idea in case you hit heavy winds and need to lower your center of gravity.
Surf paddle board adventure
Using your inflatable SUP to catch waves is a lot of fun and it's quite a bit easier than you can imagine. The trick is to invest in a great board that is both light weight and mimic rigid boards as much as possible.
One of the key features to look for is extra rocker in the board design. Rocker refers to the bend at the bottom of the SUP board which gives you more control when surfing your inflatable paddle board and makes turning easier.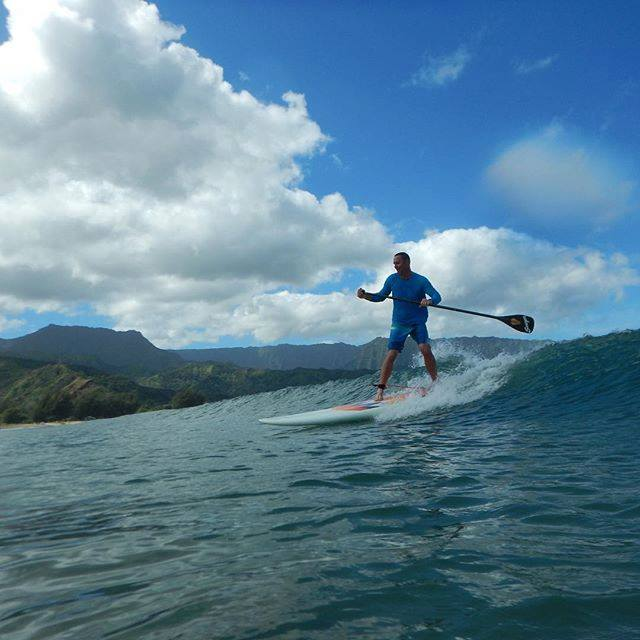 Because you are already standing on your SUP board, it is much easier to catch waves than it is when you are in a prone position that you need to be on for a traditional surfboard. It also allows you to start out with smaller waves until you get a more stable feel for your SUP board as it careens down a wave. All around boards work well to catch waves.
A beach camping trip with friends and inflatable SUPs is pretty hard to beat. Even if your friends have no interest in surfing, they can take their inflatable SUP out past the breakers and paddle in the semi flat water that is out there.
SUP yoga adventures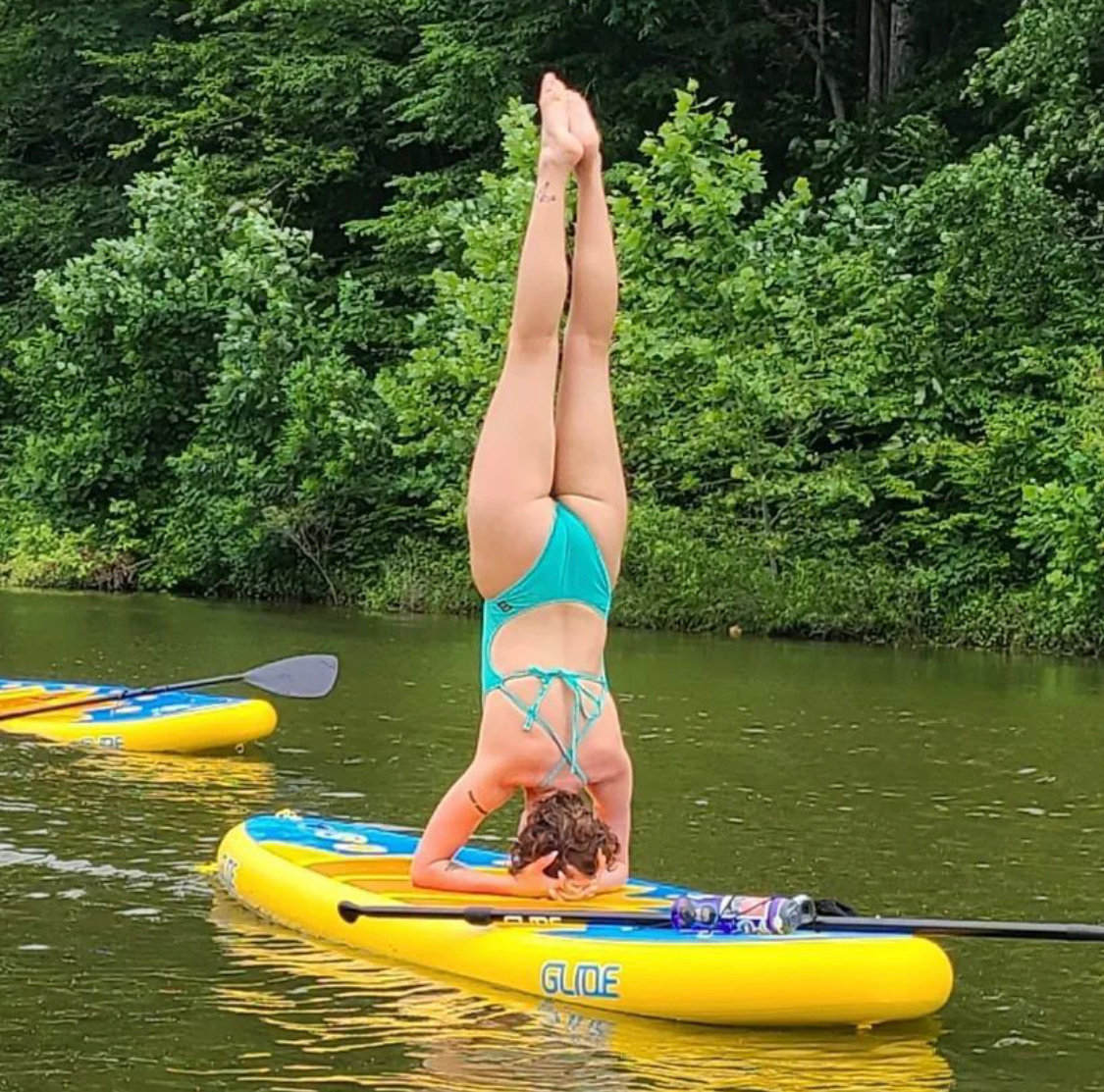 Practicing yoga on an inflatable paddle board is a challenge worth accepting. The only reason we hear that people don't want to try SUP yoga is that they are afraid of falling in the water. But that's half the fun!
The joy of SUP yogacan be found in the comradery that develops when being out in nature with others practicing yoga. We're not going to sugar coat things though: SUP yoga is far more challenging than holding poses on a stable floor is.
What makes a SUP yoga board different?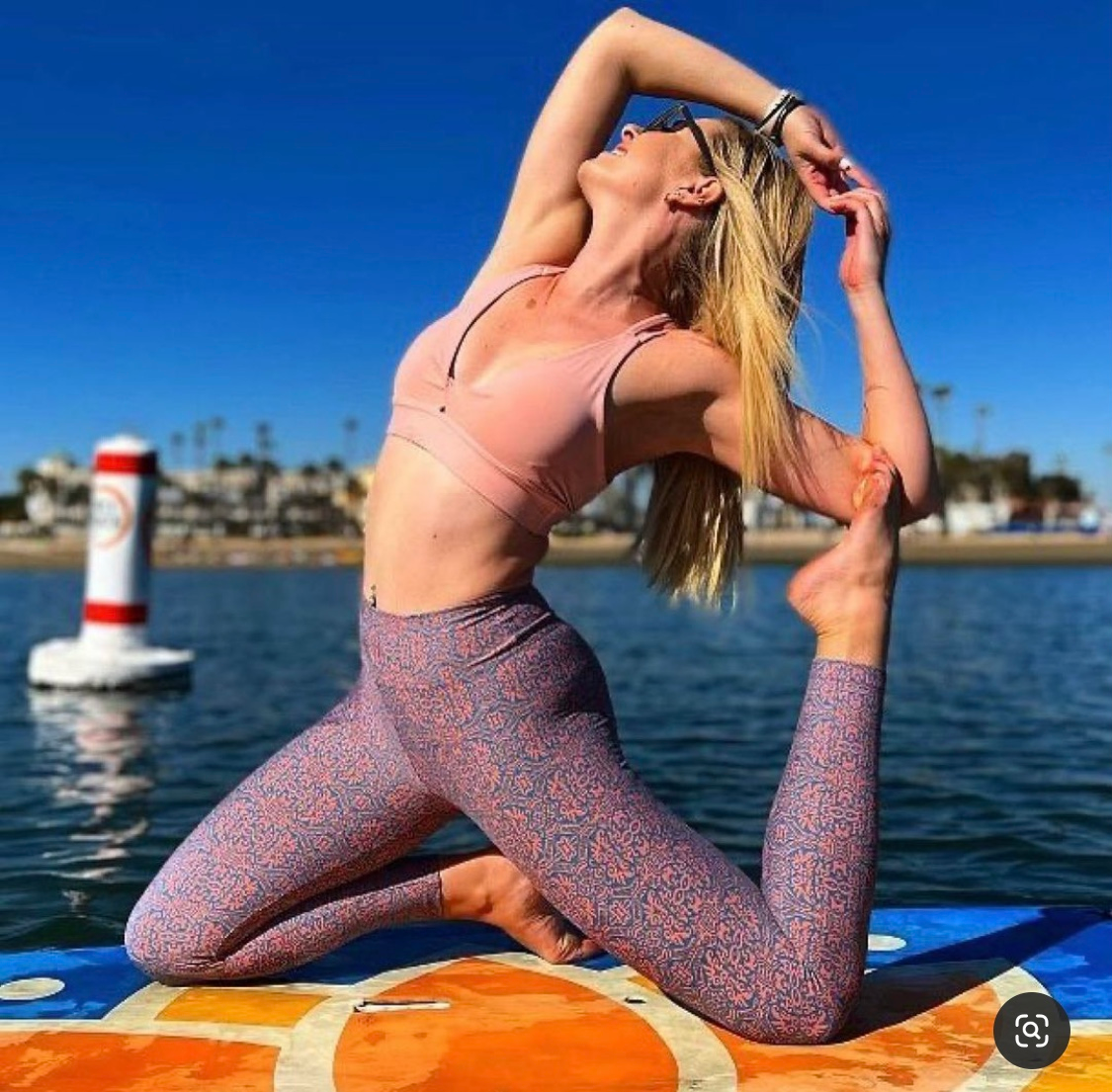 The SUP that is used for SUP yoga is different from other boards in that it is a wider board and the deck pad is usually the size of a yoga mat. Some extra features are multiple attachment points so that you can stowe your SUP paddle, water, PFD etc.
The Glide Lotus SUP board has a slightly pointed nose to help you break through lake chop as you paddle your inflatable SUP to flat water. SUP yoga boards typically have the board volume of longer boards even though they are usually only ten feet in length or so.
So for your next yoga retreat, bring some inflatable stand up paddle boards along to mix it up. You and your fellow yogis will love the challenge as well as the adventure aspect of paddling to remote parts of a waterway to practice yoga.
Conclusion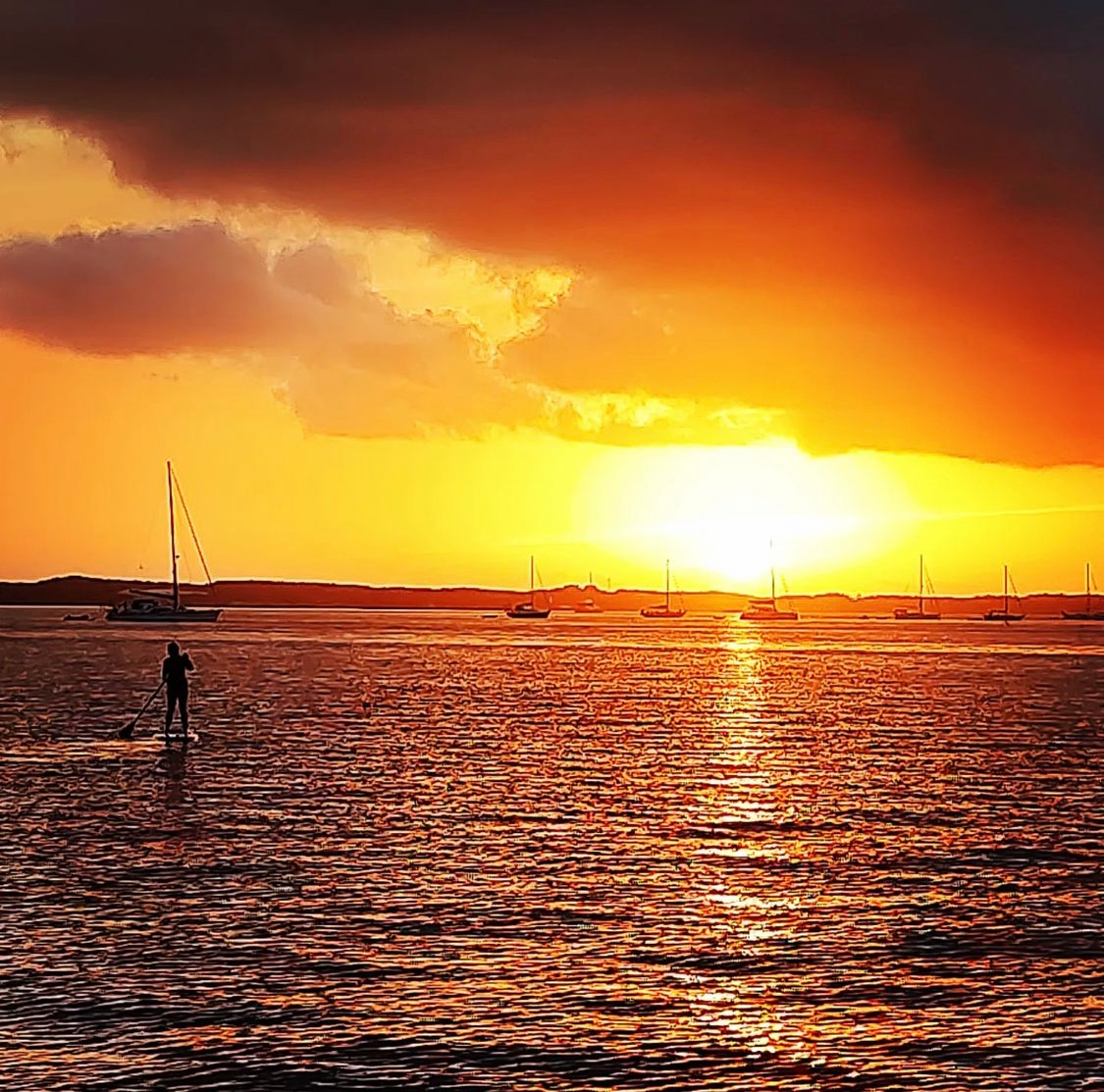 The adventure possibilities that an inflatable stand up paddle board offers are practically limitless. Because of their portability, you can truly let your imagination run wild when creating your next SUP board adventure!