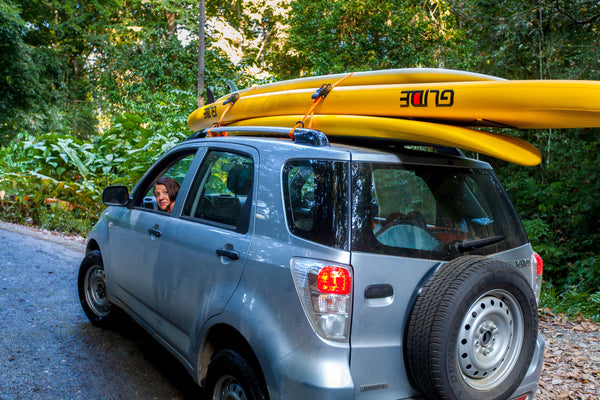 Should I Get an Inflatable or Hard Board?
We understand the confusion, coming into this new world of stand up paddle boarding and everyone has an opinion. 
Although we may be a little biased as well we're here to do a simple breakdown for which board will fit you best by answering a few questions to yourself.
Let's do this.
Choosing between the two most popular types of Stand Up Paddleboards doesn't need to be difficult. Looking at the key differences is the easiest way to make the decision clearer, so let's break it down.
Transportation
Inflatable paddleboards have a huge advantage over hard boards; you can literally throw them in your trunk.
Hard boards are either going on the roof of your vehicle, the bed of your truck or a trailer. Don't even think about taking one on a plane, whereas an inflatable SUP in its carrying case is just another checked bag. And once they're inflated, you can treat them like a hardboard if that's more convenient.
Don't want to deflate your SUP? You can still toss it in the back of a truck or strap it to the roof and you don't have to worry about damaging it if it falls on the pavement.
Carrying an inflatable from car to shore is also a no-brain exercise, but with a hard board, you need to take extra care to avoid rocks and other hazards.
Advantage: Inflatable
Storage
Again, hard to argue this one when you can throw an inflatable in the basement or closet for the winter, while a hard board is taking up precious space in the garage or awkwardly acting as an ornament leaned up against the house and getting abused by the elements.
Advantage: Inflatable
Cost
Inflatable SUPs are usually less expensive than their rigid counterparts, but go too cheap and you'll be buying a better-made replacement after a season or two. Toss in shipping and material costs, and iSUPs have a modest edge over hard boards.
Advantage: Inflatable
Board "feel"
Inflatable SUPs have a come leaps and bounds since they were first developed. The military-spec PVC and drop-stitch cloth gives them a rigidity that almost rivals a hard board. That said, stay out on the water long enough and you'll need to top off your board as the cool temps lower your inflatable paddleboard PSI.
One advantage a hard board has is that your feet don't tire as easily. There's more "give" on an iSUP, and if you aren't being mindful of your feet, you'll be unconsciously "grabbing" the deck with your toes.
This monkey-foot reflex, digging your toes into the spongy deck, can tire your feet out if you don't consciously stop yourself. Also, you'll inevitably fall onto your board. Everyone would rather do that on an inflatable, if they must.
Advantage: Hard board, but it's close.
Performance
Flatwater
Where will you be doing most of your paddling? If it's flat water, there's no clear advantage unless racing is your main priority, and then you'll likely be looking at spendier carbon fiber race/touring boards.
Put most paddlers on a lake and have them casually paddle a mile with a hard, and then inflatable SUP and there won't be a noticeable difference. We've tested this with the two versions of the Quest touring board and the difference was negligible.
Advantage: Tie
Rivers/Whitewater
If you're interested in using your SUP in rivers, especially white water, your choice is simple- inflatables beat hard-boards all day long for safety, ease of use and no-nonsense durability.
The only exception to this is when there are standing river waves that you want to surf. The performance that a hard board's rigid, well-defined rails and edges gives you while carving waves is superior the rounded surface of inflatables.
However, you'll become all too familiar with ding repairs if you enjoy taking your hard board into white water.
Advantage: Inflatable
Ocean/Surf
Speaking of surf, if you have easy ocean access, inflatables lose some of their luster afforded them by ease of transport and storage- you can surf with an inflatable paddle board but it's an inferior experience to the performance of a hard board. Surfing is all about hard edges and shaped rails, and iSUPs just simply don't have them.
For beginners, though, inflatables have one advantage in the ocean. The extra buoyancy means the iSUP rides higher on the water and that extra stability is a boon.
Advantage: Hard boards
Conclusion
Of course, this is all subjective. There are paddlers that will never touch one type of board when both are available, and there are folks that can easily go either way.
Asking yourself what you will be doing with your board most of the time and how important certain aspects are will help you make the right choice. Then again, "Why not both?" is the best answer.
Related Topics
The Ultimate Guide On Finding Places to Paddle Board Near You
Five Great Winter SUP Fishing Spots
Your Comprehensive Guide to Inflatable Stand Up Paddle Boards