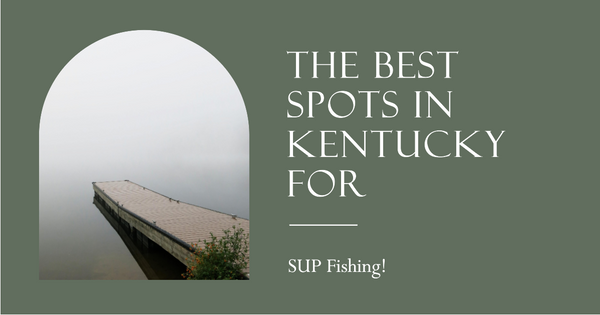 The Best Fishing Spots in Kentucky.
Home to winding rivers, massive lakes, and hidden reservoirs, Kentucky offers some of the best freshwater fishing opportunities in the country. From trophy muskies to chunky largemouth bass, there are plenty of options to catch your next big fish. Here are 20 top spots to reel in impressive catches across the Bluegrass State. Lets reel in some of the best spots for sup fishing in kentucky!
1.) Cave Run Lake.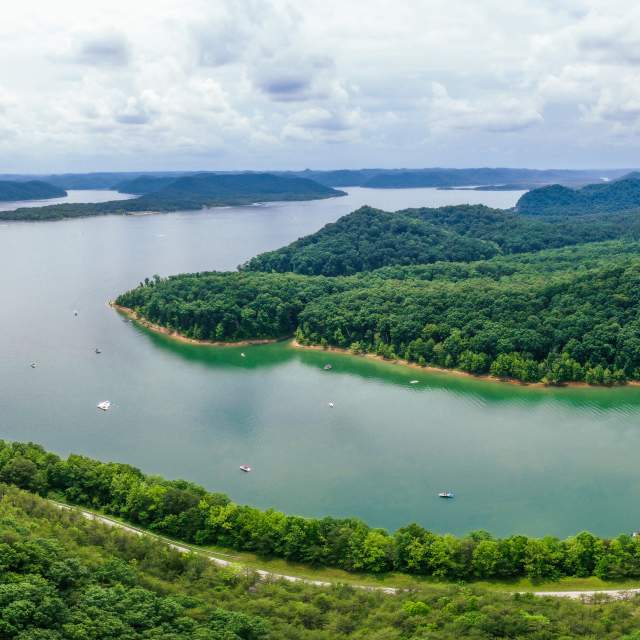 Located in eastern Kentucky near Morehead, Cave Run Lake is nationally known for its excellent muskie fishing. The clear waters of this 8,270 acre reservoir allow anglers to sight cast to muskies cruising flats and shorelines. Late fall is an excellent time to target these toothy predators as they aggressively feed before winter. Cast large crankbaits, jerkbait, and glide baits over main lake flats adjacent to deep water drop-offs. Keep an eye out for surface boils and swirls indicating active fish. The lake record stands at 45 pounds, caught in 1999.
2.) Lake Barkley.
Straddling the Kentucky-Tennessee border, massive Lake Barkley offers some of the best hybrid striper fishing in the region. These hard fighting fish love to congregate and feed on shad schools along the main lake drop-offs and creek channels. To catch them, use planer boards to troll large crankbaits that mimic shad along these ledges, particularly in the summer months. Focus on the mouths of larger creek arms and the lower end of the lake below the 68 bridge. The current lake record stands at 20.3 pounds, caught in 2021.
3.) Lake Cumberland.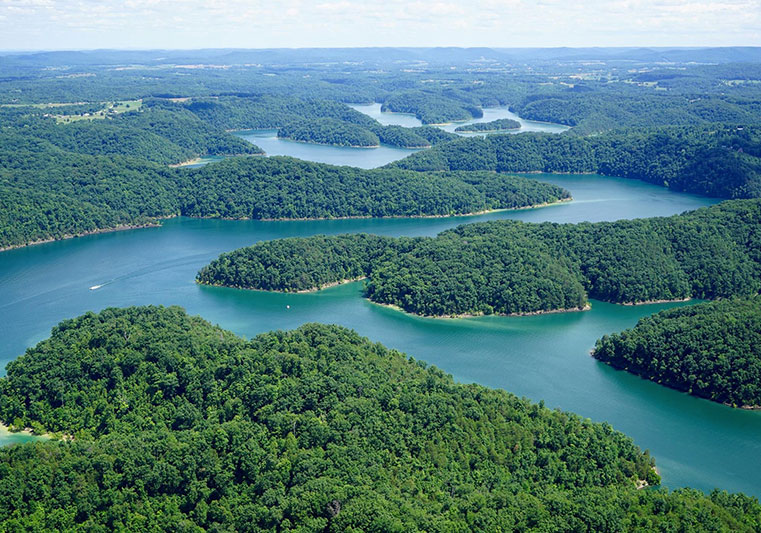 Surrounded by forested hills and rock bluffs, Lake Cumberland near Somerset offers smallmouth fishermen over 1,200 miles of rocky shoreline habitat. From March through May, target smallmouths migrating into the creek arms to spawn. Cast suspending jerkbaits, crankbaits, and jigs around chunk rock banks, emerging weedlines, isolated wood cover, and main lake points. Look for smallmouths to be concentrated in the Big South Fork, Beaver Creek, and Wolf Creek areas. Lake Cumberland's smallmouth record stands at 11 pounds, 15 ounces.
4.) Green River.
Meandering through Mammoth Cave National Park in south central Kentucky, the Green River provides a scenic fishery loaded with chunky largemouth bass. Focus efforts along calm pool areas with wood cover and around the mouths of larger feeder creeks. Flip creature baits or bulky jigs around laydowns and submerged timber. Cast crankbaits and vibrating jigs around isolated stumps and along current breaks. Largemouths over 8 pounds are common, with the river record being a 10.8 pound fish caught in 2020.
5.) Kentucky Lake.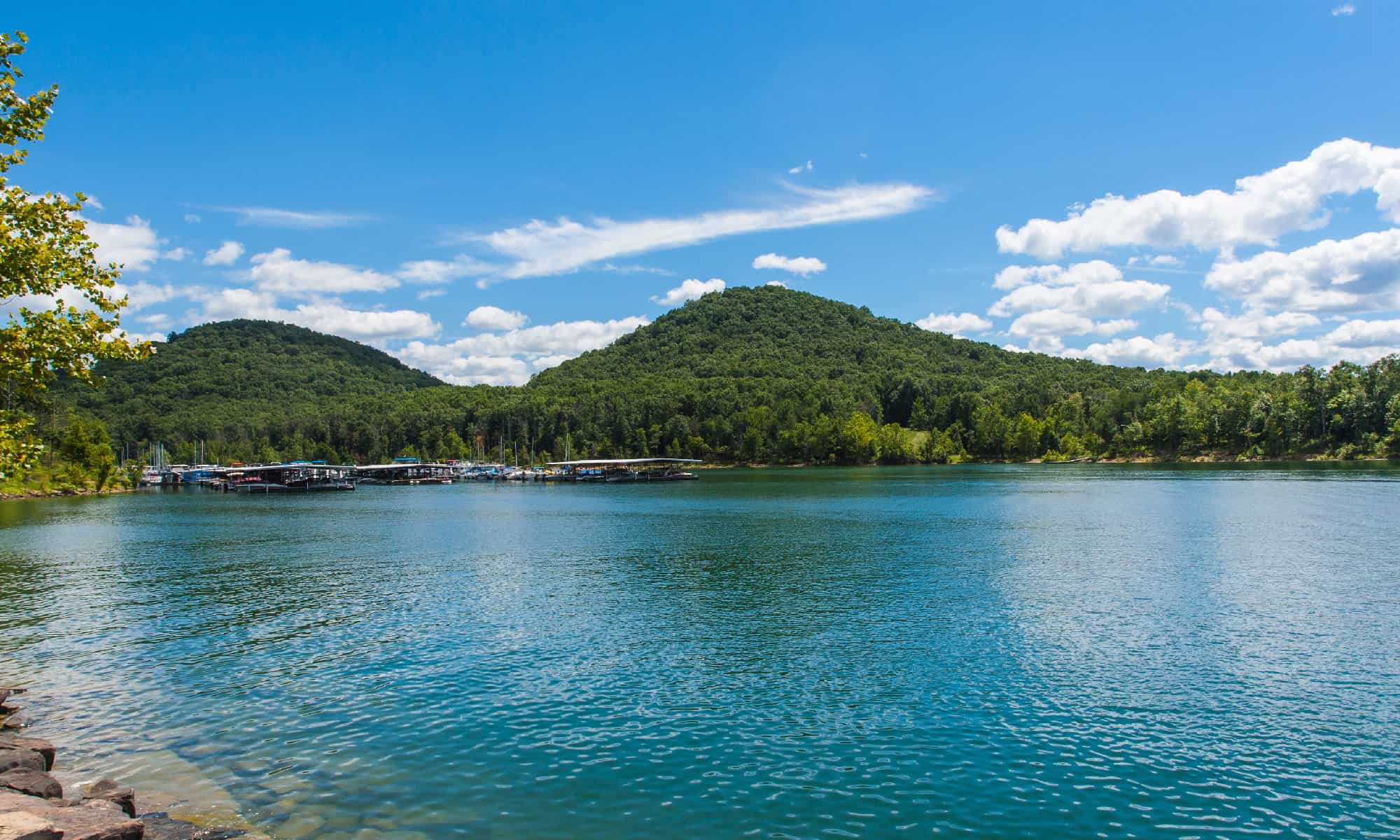 As the largest reservoir in the eastern United States, Kentucky Lake has gained a reputation as one of the premier trophy largemouth fisheries in the region. Fish offshore structure such as ledges, humps, and creek channels during the post-spawn in early summer when big females are feeding. Use big 10+ inch plastic worms, jigs, and deep diving crankbaits in these areas to catch chunky 5-10 pound fish. Anglers also have success flipping shallow docks and wood cover, particularly during lowlight periods. The lake record largemouth was caught in 2019 and weighed 15.2 pounds.
6.) Dale Hollow Lake.
Known for its clear water and rocky banks, Dale Hollow Lake produces some of the best smallmouth bass fishing in the country. From late winter through early spring, fish main lake points and creek channels using suspending jerkbaits, swim jigs, and crawfish imitating crankbaits. Focus on transitional bank areas between gravel and rock where smallmouths stage before moving shallow. Anglers regularly catch fish over 5 pounds, with the lake record being a massive 11 pound, 15 ounce smallmouth.
7.) Herrington Lake.
Surrounded by forested hills, Herrington Lake offers anglers a variety of fishing opportunities only 20 minutes south of Lexington. The lake boasts an excellent population of largemouth bass that aggressively take topwater lures over the abundant shallow brush and wood cover. Focus your efforts on main lake points, shoreline laydowns, and boat docks during low light periods and at night during the summer. Herrington Lake's record largemouth tipped the scales at 14.5 pounds.
8.) Lake Malone.
Tucked away in western Kentucky near Dunmor, Lake Malone is an underappreciated 825 acre reservoir holding chunky largemouth bass. Anglers regularly report catches of 6-8 pound fish, with many double digit fish caught each year. Work the flooded timber and brush fields in the backs of coves using big creature baits and jigs. Focus your efforts in the early spring before pleasure boat traffic picks up. The lake record largemouth is 14.5 pounds.
9.) Elkhorn Creek.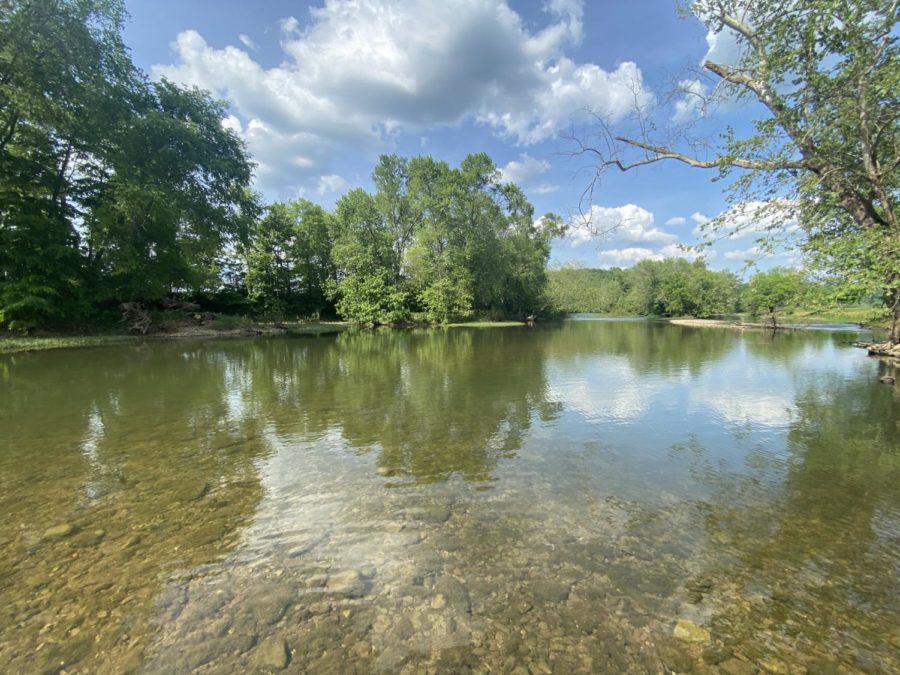 Flowing through the heart of Kentucky's bluegrass region, Elkhorn Creek holds a quality population of smallmouth bass amid its limestone banks and riffles. Wade fishing allows anglers to stealthily present Roostertail spinners, small crankbaits, and tube jigs around current breaks and eddies. Access is best through Elkhorn Creek Park near Frankfort. Most fish range 1-3 pounds.
10.) Barren River Lake.
Impounding the Barren River in south central Kentucky, Barren River Lake spans over 10,000 acres and is a regular stop for regional tournaments. The lake has an abundance of bass holding cover such as stump flats, humps, ledges, and weedlines. Focus efforts in the spring around shallow flats and pockets, and then target deeper structure and boat docks in the summer. Baits like spinnerbaits, crankbaits, and big swim jigs work well for enticing bites. Fish over 8 pounds are common.
11.)Rough River Lake.
Surrounded by forested hills, Rough River Lake near Leitchfield provides over 5,500 acres of fishing opportunities in two river channels. Target post-spawn largemouth bass cruising the backs of calm coves and shallow flats looking for easy meals. Buzz frog-imitating lures over grass and cast weightless soft plastics around boat docks and submerged wood cover. The afternoon bite is best during the summer before boat traffic picks up.
12.) Greenbo Lake.
Located just north of Greenup along the Ohio River, this 300 acre state owned lake consistently produces largemouth bass over 8 pounds, with double digit fish caught each year. Focus on fishing jigs and creature baits around the standing timber and overhanging trees throughout the lake from mid-spring through early summer. The lake record stands at 14.5 pounds for largemouth bass.
13.) Lake Reba.
Conveniently located in Madison County just minutes from downtown Richmond, Lake Reba's 210 acres offer area anglers quick access to good largemouth fishing close to home. Work the numerous boat docks and shoreline structure using shaky head worms and ned rigs. Surface action peaks in the evening hours, with buzz baits, frogs, and walking bait producing explosive strikes. Most fish caught here range 2-5 pounds.
14.) Guist Creek Lake.
Found within Guist Creek Park in Shelby County, this surprising 825 acre lake holds nice sized largemouth bass and hard fighting striped bass. Focus on main lake points, submerged humps, and creek channel ledges where fish hold tight to cover. Big swimbaits, crankbaits, and umbrella rigs allow anglers to cover water and entice reaction strikes from big fish. The lake record for striped bass is 34.2 pounds.
15.) Laurel River Lake.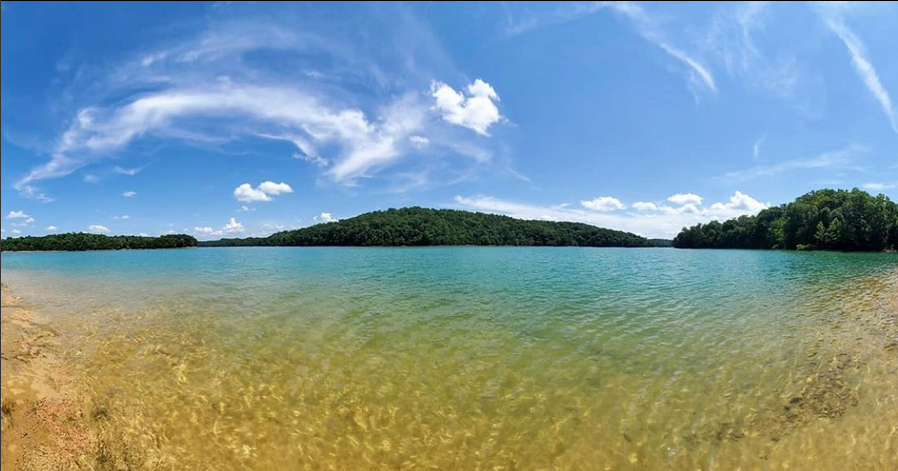 Set within the Daniel Boone National Forest, this deep, clear 6,600 acre reservoir contains a robust population of spotted bass that feed on the abundant blueback herring. Target the lower section of the lake in the spring focusing on main lake pockets and points. Use finesse tactics such as shaky heads, drop shots, and ned rigs in these areas. The upper lake and river arms hold quality largemouth bass around docks and wood cover.
16.) Dewey Lake.
Easily accessible from shore, Dewey Lake spans over 1,000 acres nestled in the hills near Prestonsburg. Its calm protected coves and ample shallow cover provide great shoreline largemouth fishing. Focus efforts around laydowns, submerged brush, and boat docks using soft plastic craws, creatures, and jigs. The early spring and fall are best here before summer boat traffic picks up. Most catches are in the 2-5 pound range.
17.) Cedar Creek Lake.
A deep, clear 300 acre lake located in Lincoln County, Cedar Creek Lake is known for its trophy smallmouth bass that roam the rocky banks, points, and offshore structure. Vertical jigging blades and tubes along steep rocky points and treelines is highly effective. Prime times to fish are spring and fall when smallmouths are more concentrated. Fish over 5 pounds are common.
In summary, Kentucky's abundance of lakes, reservoirs, and rivers provide a diversity of excellent fishing opportunities. whether targeting bass, striped bass, muskie or panfish, there are plenty of places in the state to catch your next memorable fish. With so many options, make sure to get out and explore the variety of waters Kentucky has to offer.
Glide Paddle Boards SUP Fishing Tips.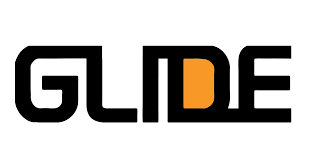 Paddle Board Fishing: A Comprehensive Guide.
Learn all about paddle board fishing with our comprehensive guide. Whether you're a beginner or an experienced angler, we've got sup fishing tips for bass and much more. Discover the perfect fishing sup board for your next adventure with the Glide O2 Angler.. Glide offers a range of paddle boards suitable for all your paddle boarding needs.
New to sup fishing? Don't worry, we've got you covered with beginner tips from Glide. Find out if you can fish from a sup and learn the best techniques for landing fish while SUP fishing. Our article on Fishing from a Paddle Board provides tips, tricks, and insights for a successful fishing experience will help make the most of your sup fishing adventure.
Curious about what a fishing sup is? We've got the answer! Discover everything you need to start sup fishing, from the equipment to the techniques. Our Beginner's Guide to Spring SUP Fishing will help you get started on the right foot.
If you're interested in wildlife tips, be sure to check out our blog. We also have an informative article on the Beginners Guide To Bird Watching. For those who enjoy stand-up paddle boarding and wildlife encounters, don't miss our article on Stand Up Paddle Boarding and Wildlife Encounters.
Looking for the best paddle boarding spots in the United States? We've got you covered with The best places to paddle board in the United States a state by state tour of where to paddle board with Glide Paddle Boards. Explore our recommended locations and make the most of your paddle boarding adventures.
If you're in search of international paddle boarding spots, we've got two articles to help you out. Our Check out the ultimate guide on finding places to paddle board near you provides tips and tricks for discovering exciting new locations. For a global perspective, check out Epic Spots Globally To Paddle Board.