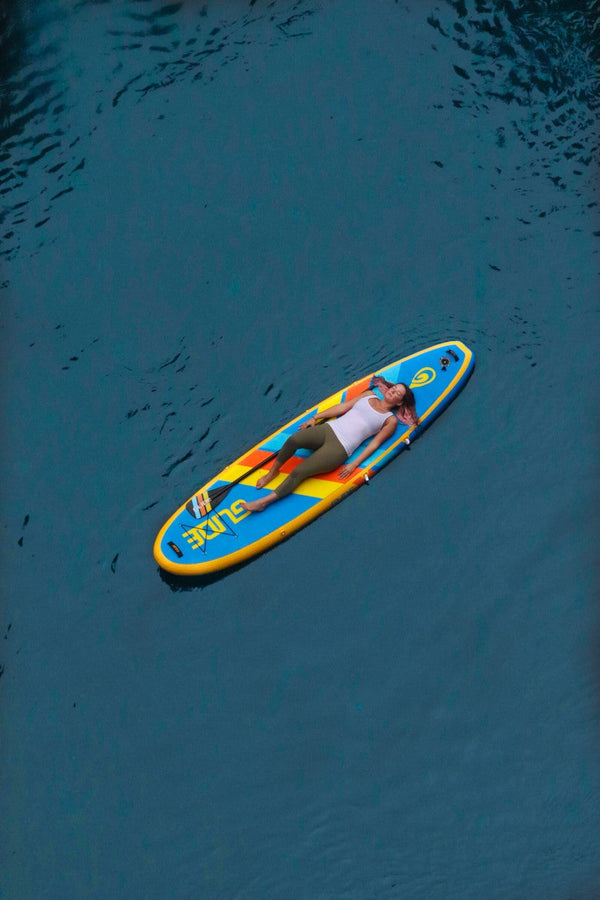 Best Books on Stand up Paddle Boarding
Are winter conditions forcing you to keep your SUP on the storage rack? While these books won't take the place of getting out on the water to find your Zen, they make for an acceptable substitute.
Since we're in the winter months and many are taking a SUP break, we thought we would put together a list of our favorite books on paddle boarding that will get you inspired and prepared for paddle weather.
The Paddleboard Bible: The complete guide to stand-up paddleboarding by David Price
Dave price is a certified instructor at one of the U.K.'s premier watersports centers and has written a serious tome to SUP.  It is well written and easy to understand and delivers on its promise to be a complete resource for all things paddle boarding.
Dave takes the reader through picking out the right SUP and basic board care and maintenance.  He also discusses basic stroke techniques before pivoting to ways that more experienced paddlers can appreciate the sport more. 
One of the more surprising and interesting sections was the chapter that explored the various flora and fauna that one will experience while out on their paddle board.
Most readers will find the sections on safety and managing weather conditions particularly useful.
You can buy it on Amazon here.
The Art of Sand Up Paddling by Ben Marcus
Ben has quite a bit of experience in the SUP and surf world.  He has worked as an editor at Surfer Magazine for 10 years and has 13 published books.  Ben has also worked for a paddle board shop in Sammamish, WA and for a SUP manufacturer so he really knows his way around the subject matter.  
The book begins with the history of stand up paddle boarding which most SUP enthusiasts will find very interesting.  The updated version of the book also offers an entire chapter on SUP yoga to compliment his other chapters on the various SUP disciplines.  
The book does offer a tutorial on various SUP techniques but probably isn't ideal for someone who is looking for the basics.  However, for the established paddle board enthusiasts the passion that Ben writes with as well as the gorgeous pictures he includes will get you stoked for SUP season!
 You can find order this book on Amazon.
How to Increase Your Stand Up Paddling Performance by Suzie Cooney
 Suzie Cooney has been one of the premier trainers in the watersports industry and an ambassador for the sport of stand up paddle boarding for years.  She also offers SUP training from her Suzie Trains Maui website via videoconferencing.  
Her book which came out in 2015 is considered the "Bible of SUP Training" for many.  This book is exactly what it is billed to be; a means to increase your performance on a paddle board which will be especially valuable to those looking to compete in SUP racing. 
Suzie covers techniques for improving balance, fueling correctly, increasing paddle power, and building more body and water confidence. The pictures in the book give step-by-step instructions and are quite easy to follow.
If you want to train with one of the premier SUP trainers in the world, this book is for you.
You can find that book here on Amazon.
SUP: Spiritual Understanding & Prayer on a Stand Up Paddleboard by Lori Bumgarner 
If you're interest in Stand Up Paddle Boarding is more spiritual and less performance based, this is the book for you.  
Lori comes at paddle boarding from a fresh and unique perspective as she first started paddle boarding in 2014 when she was questioning where her career and business were heading. 
As a career coach, she has been published in the Wall Street Journal blog, The Huffington Port, The Daily Positive, and INC magazine.  She is the author of several insightful books including "Advance your Image" which was a number 1 bestseller on Amazon.  
In this book there are lots of Biblical insights that are woven in with paddle board vignettes.  As a career coach who helps others find their passion, Lori uses this book as a vehicle to help paddlers find a passion for deeper meaning in their lives.
 You can order that on Amazon today!
How to Read Water by Tristan Gooley
While not a book specific to paddle boarding, this is a must read for anyone that SUPs, surfs, boats, or swims in our waterways.
Tristan provides the means for paddlers to decipher wave patterns on beaches, spot treacherous water in the dark, forecast the weather from waves, decode the colors of ponds and find True North using puddles.
In other words, this book could save your life! It essentially is a compilation of wisdom of the ancients whether it's the knowledge passed down from the Polynesians to medieval Arabic sea faring texts.  
Not only does the book give practical navigation and safety tips but Tristan gives the reader a Zen-like commitment to understanding water for its own sake.
The book is both fascinating and fact-filled but is also extremely readable.  We promise that you will never look at water the same way again. 
You can find that on Amazon here. 
Diaries of The Unbalanced Paddleboarder: Crash and RISE
Mike Shoreman was a former professional SUP coach until a neurological condition called Ramsay Hunt Syndrome forced him to retire at which point, he made the transition to consulting and speaking where he has been able to share his life lessons.
He is the winner of the 2020 SUP Man of the Year Award and the International People's Choice Paddleboarder of the year award.  This is his memoir and it's a poignant account of the emotional chaos that follows a life-changing diagnosis, but it is also at turns funny, thrilling and heart wrenching.
Mike takes us on quite an emotional ride but ultimately watching his resurrection from conquered to conqueror is incredibly inspiring and heartwarming.
You can order that from Amazon today. 
Ignore the Fear by Fiona Quinn 
Fiona Quinn is an author, keynote speaker, endurance adventurer and entrepreneur.  Without any kind of paddle board training and lacking a support boat and crew as well as funding she somehow was able to overcome her fear of the sea and become the first woman to SUP the 800 miles across the Irish Sea. 
During this same period, she was also able to paddle board the length of Britain on an inflatable SUP.  To complete her personal trifecta, she was also the first woman to complete a leg of the Britain triathlon on a SUP by paddle boarding from Land's End to John O'Groats after having walked and cycled the other lengths.  
Fiona's tale is an inspiring adventure story from start to finish.
You can listen to the audio book here on Amazon. 
Conclusion 
For those of you living in harsh winter weather but jonesing to get out on your paddle board, these books should help manage your cravings over the next month or two.
If you want a paddle board of your own to read any of the books on then check out our Glide Inflatable Collection!
Related Topics
The Ultimate Guide On Finding Places to Paddle Board Near You
Improving Fitness on Paddle Board
Essential SUP Apps For Paddle Boarders
Hard VS Inflatable Paddle Board