Inflatable Paddle Board Packages Including Paddle, Seat and Pump
INFLATABLE SUP
TECHNOLOGY VARIES
Lots of companies that make inflatable paddle boards will dazzle you with marketing fluff. Many boards will claim to have the same technology as a Glide inflatable paddle board but we use the highest quality materials available and most of them don't. We'll give you a primer on what to look for with these stand up paddle boards.
MULTIPLE LAYERS OF PVC
All inflatable SUP's are not created equal. Glide uses only the most advanced manufacturing processes and materials available to make our inflatable SUP boards. All Glide inflatable boards are crafted using ground-breaking Fusion military-grade PVC construction for the shells.
The Glide Fusion process gives our inflatable paddle boards a 1300 denier thickness rating on our shell making our inflatable boards stiffer and more durable than other inflatable SUPs on the market. The fusion technology removes 30% of the extra weight that the extra layers add.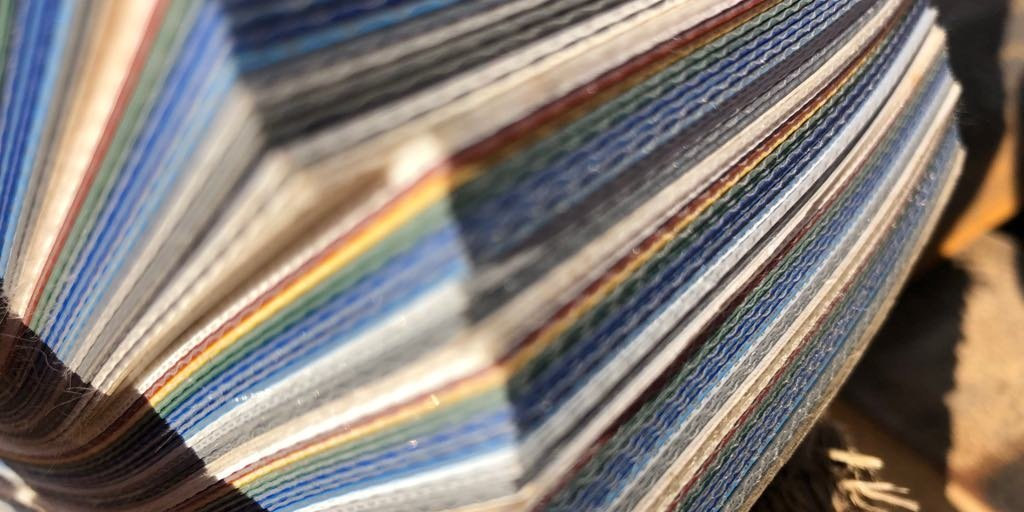 WOVEN DROP STITCH MAKE FOR A WELL BUILT BOARD
Our inflatable paddle boards are also built with "woven drop stitch" technology vs the legacy "knitted drop stitch" tech that many manufacturers have used for years. Because knitted construction creates extra air space between the links (picture the last badly knitted sweater your aunt made for you), knitted tech inflatable boards tend to be springier and bouncier than a weave tech SUP board. "Springy and Bouncy" are not characteristics anyone wants in an inflatable paddle board. Glide's revolutionary weave tech not only allows our inflatable SUPs to perform like a thicker board but also shaved roughly 3.5 lbs from the weight of the inflatable stand up paddle board. Light weight paddle boards are easier to accelerate, maneuver, and are easy carrying. Overall they make for the best inflatable experience overall.
Due to the density of our woven drop stitch, our core is stiffer at lower PSI (pounds per square inch) than other brands. This premium core allows our inflatable SUPs to be properly inflated to a max of 25 PSI but our recommended PSI is only 12 to 15 PSI for the best performance.
Our production specs are 3300g/per square meter with the quantities of thread being 144pcs/per square decimeter. The high-pressure, heat-pressed seam creates an airtight seal, which is then covered by an additional layer of military-grade PVC to insure an impermeable and durable seam. You would never know all this technology is inside because a Glide board will lay flat when deflated.
This means that a Glide inflatable board is one of the top brands with twice the durability as most of the cheaper boards on the market and will last twice as long. This all adds up to being a great value for the consumer. You are unlikely to need the repair kit that comes with your inflatable paddle board when you buy Glide. Many boards will fudge on their specs but it's pretty easy to see that they are faking it if their PSI is in the 10 to 12 range when fully inflated. This means that you are not going to get the best inflatable value available.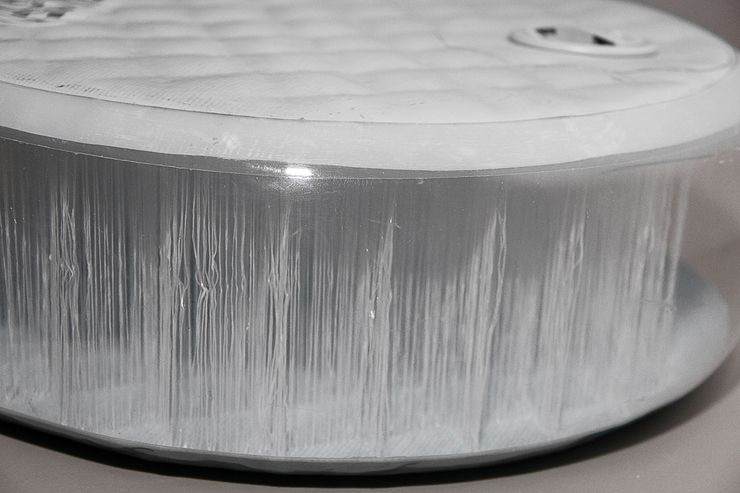 DECK PAD FOR OUR INFLATABLE SUP
Our premium, UV stable, brushed EVA pad covers the full length of the inflatable boards, rather than just the deck area. Our pads are not screen printed, we die-cut our EVA pad to ensure the colors stay true and will not wear off like a screen-printed pad tends to do.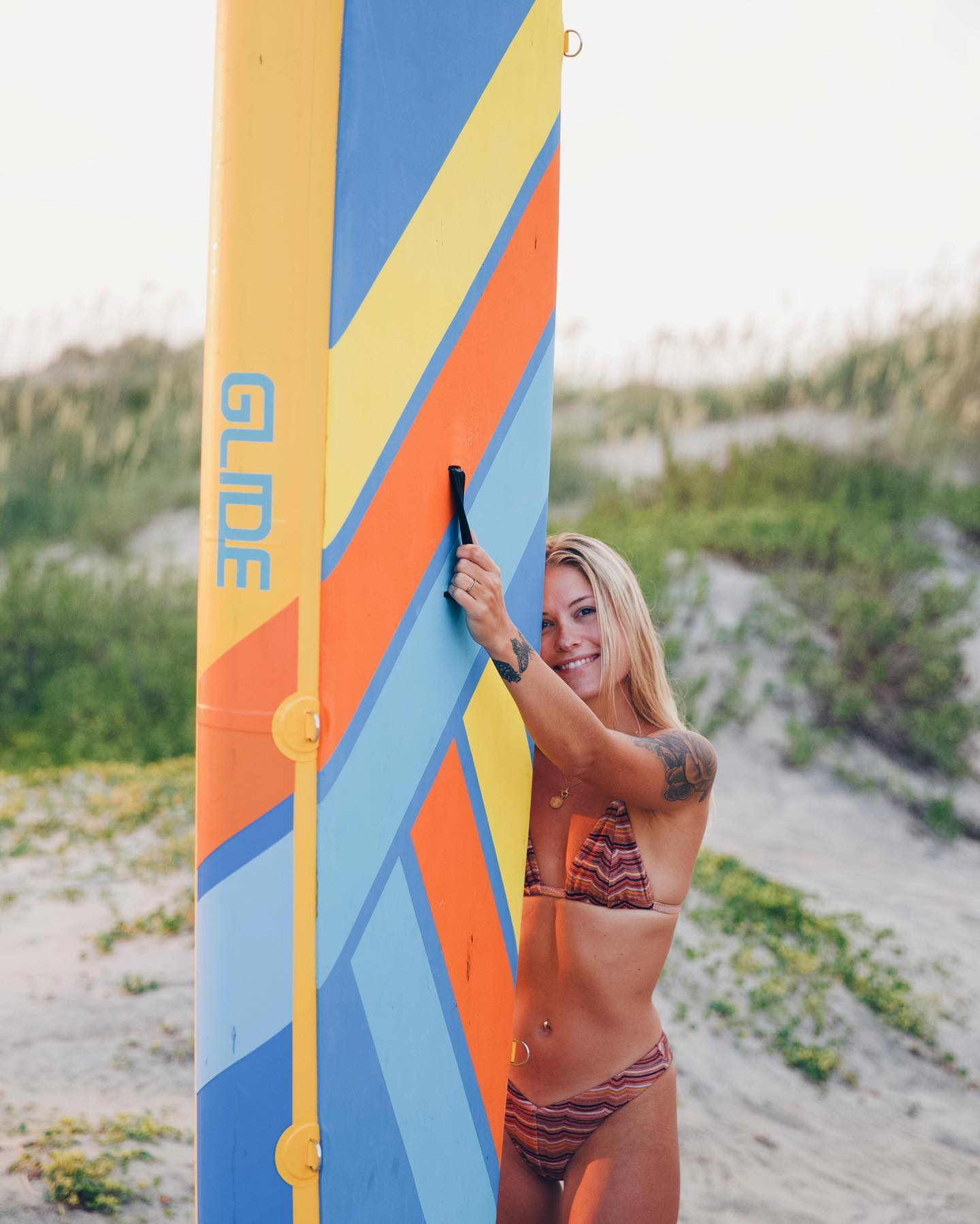 PROPER FIN SETUP
All Glide O2 series inflatable SUP's - as well as our rigid boards - use a standard USA-style fin box. This fin box has been used in the surfing industry for over 50 years and is the standard fin box for almost all longboards and hard paddle boards.
This means users will not have to purchase priority fins that other inflatable paddle board brands use but can instead use any standard fin on the market. This flexibility allows the user to customize the fin setup for whatever conditions they will be using their inflatable SUPs in.
Our inflatable SUP's come with a large center fin which is a great all-around fin and is suitable for all types of paddling. Some of them even come with three fins - 1 large single fin and 2 shorter fins. Removable fins mean you can customize them to the multiple conditions that you will encounter on your board. It's recommended to have two sets of fins on hand as they tend to break when they hit hard objects as most people will at some point.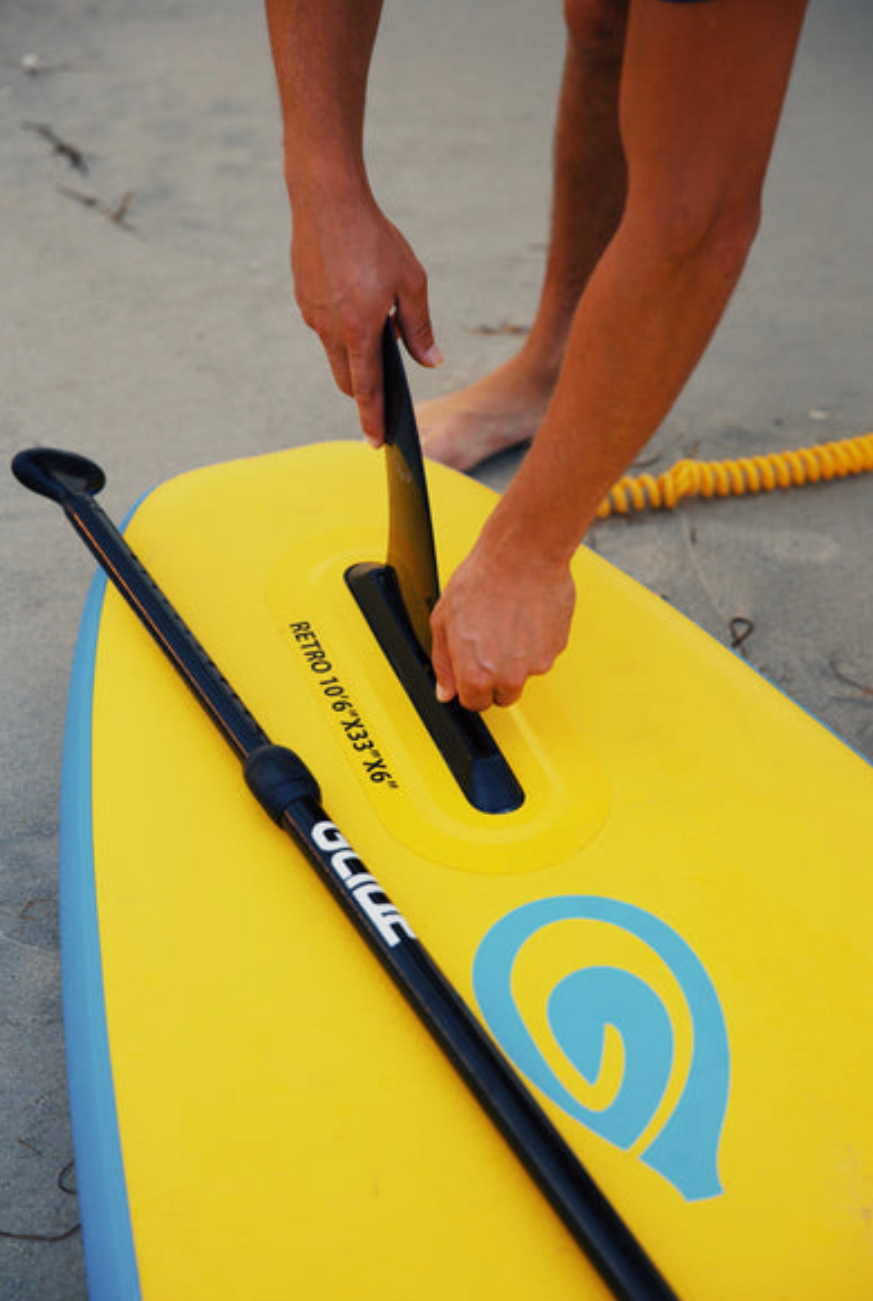 WE'VE GOT THE RIGHT BOARD FOR EVERY SKILL LEVEL
What does all of this mean for you as a potential Glide inflatable SUP customer? First and foremost, it means that you have invested in serious recreational equipment (as opposed to pool toys) that will last you a very long time and is backed by a company that stands behind every board that leaves its shelves. No matter how you intend to use your board, Glide has a SUP for you.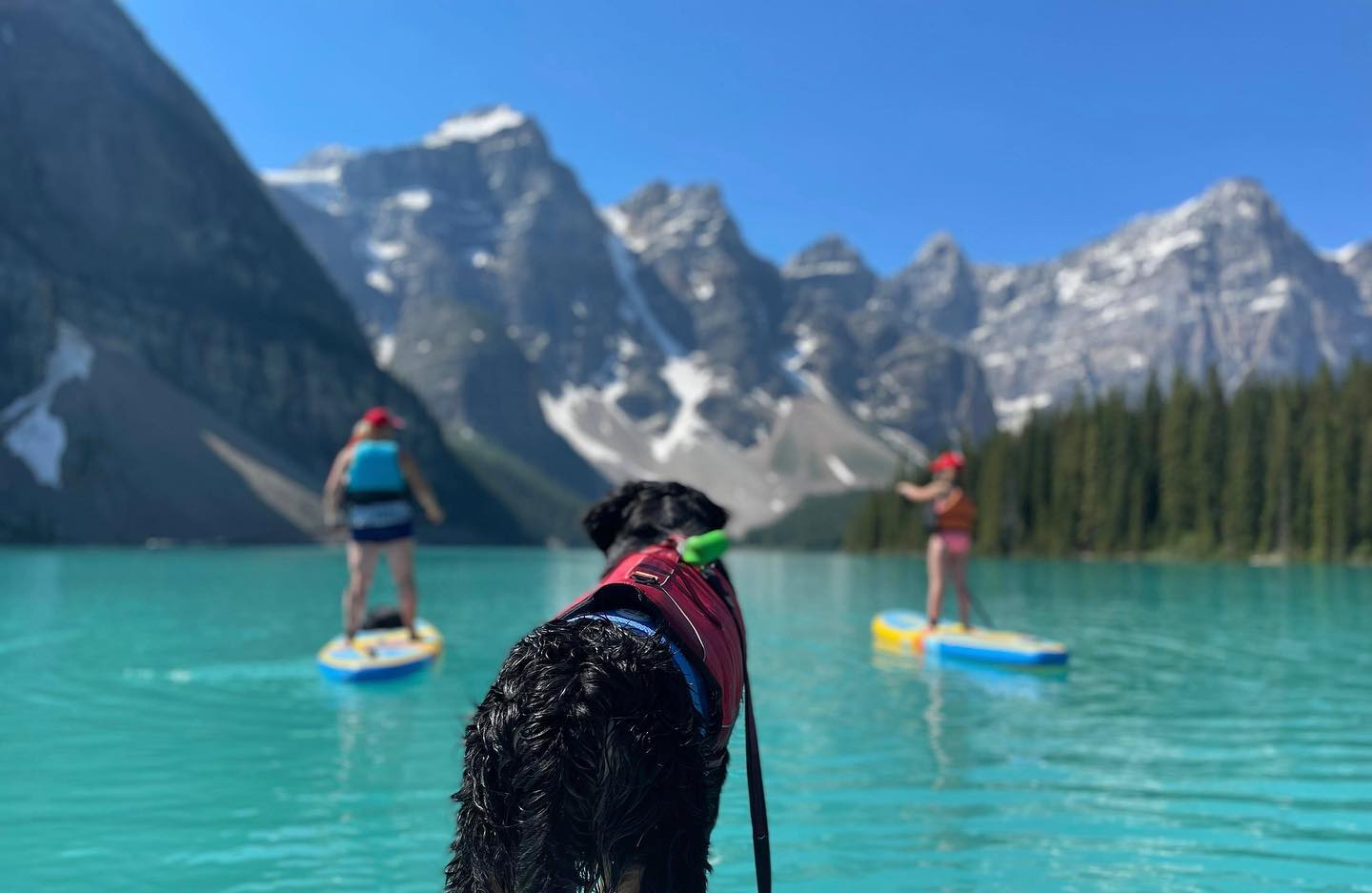 THE CONVENIENCE OF INFLATABLE SUP's
It also means that you can have all of the convenience of an inflatable paddle board: easy to transport in the trunk of your car or roof rack, put it in the high-end backpack that we include with your purchase and hike it into an alpine lake or river. It also won't take up much storage space in your apartment or loft because when deflated, it's no bigger than a piece of luggage. They are also easy carrying but have the performance of a hard board.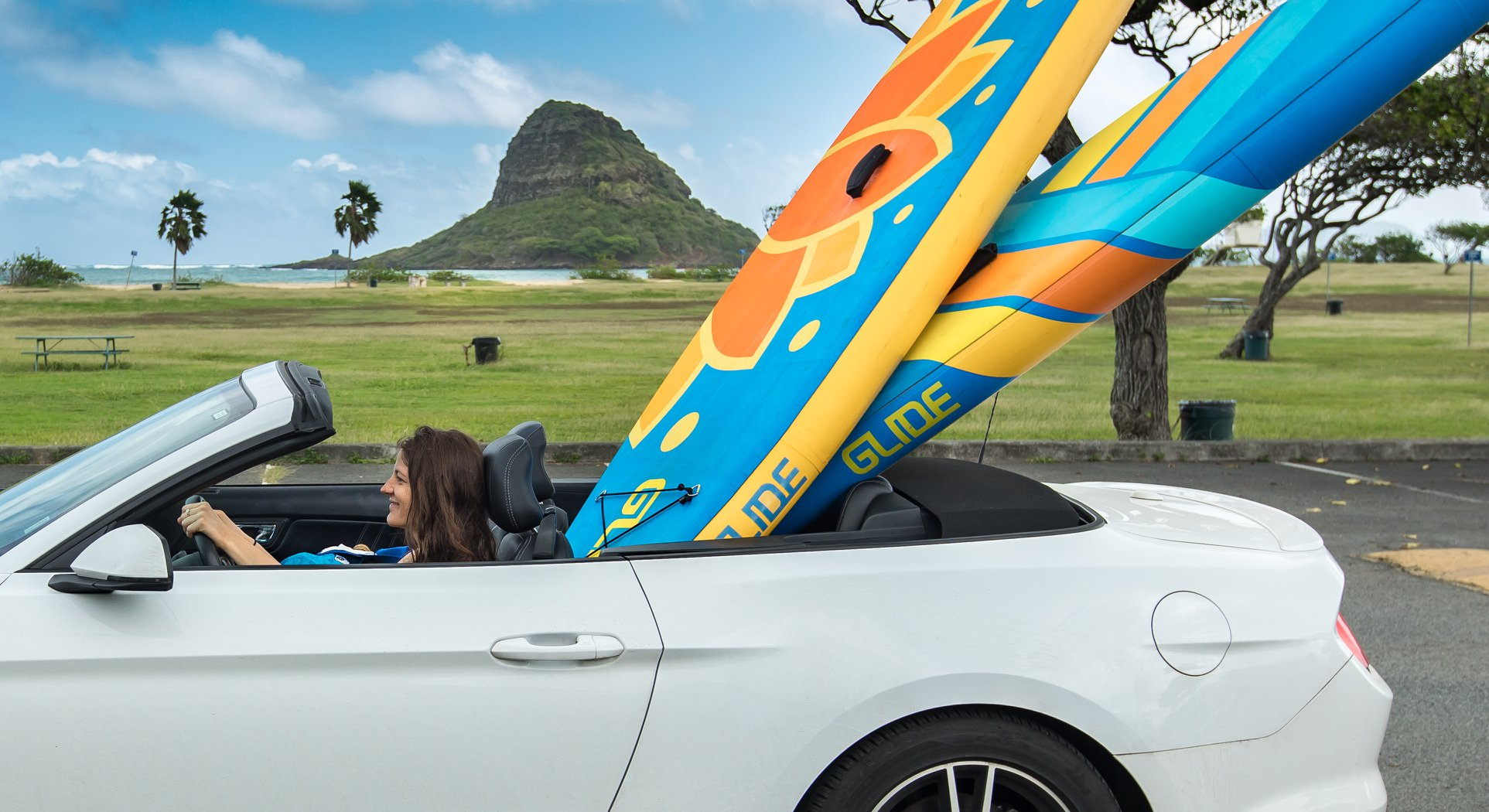 YOU DON'T WANT A BOUNCY INFLATABLE STAND UP PADDLE BOARD
Most boards on the market today utilize technology that belongs in one of those "bouncy houses" that you rent for your child's birthday. The last thing you want in your inflatable SUP's is that springy sensation that comes from a single layer of PVC and a knitted drop stitch core.
Imagine you are paddling your all around SUP boards at your local lake, and you spy a boat wake coming your way, you should not have to fear that your inflatable stand up paddle board is going to catapult you into the ether once it encounters the wake! Other inflatable brands may offer a good paddle board but you want an excellent board!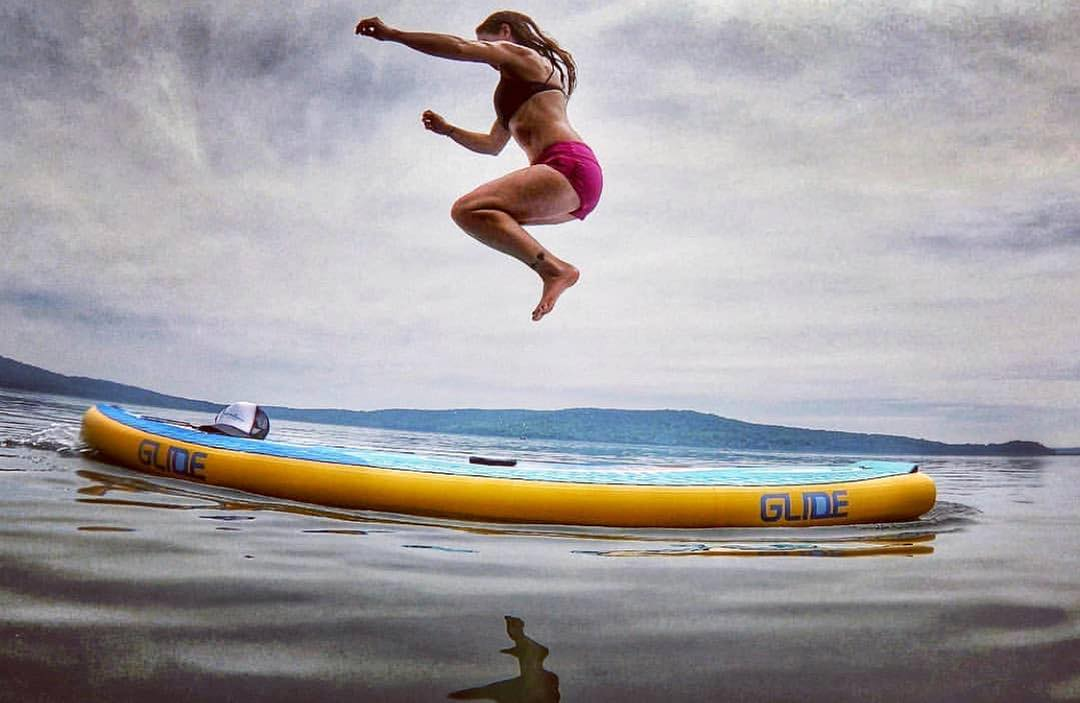 INFLATABLE SUP's WITH EXTRA STABILITY FOR RIVERS
Generally speaking the same concept holds true if you are navigating the whitewater of a rushing river - or slow moving rivers for that matter. Your paddle board should have as little "give" as possible or you are going to spend more time swimming than river running.
Standing on an inflatable stand up paddle board that is careening down a river is difficult enough without that paddle board working against you. We include smaller fins with these shorter boards to give you great stability as you are paddling over rocks that are close to the surface. Our Lochsa is designed specifically for whitewater and is just the right length to get you through those tricky sections.
Keep in mind that whitewater rapids are better tackled by advanced paddlers and even they should get some expert advice on the river they plan on paddling before heading out.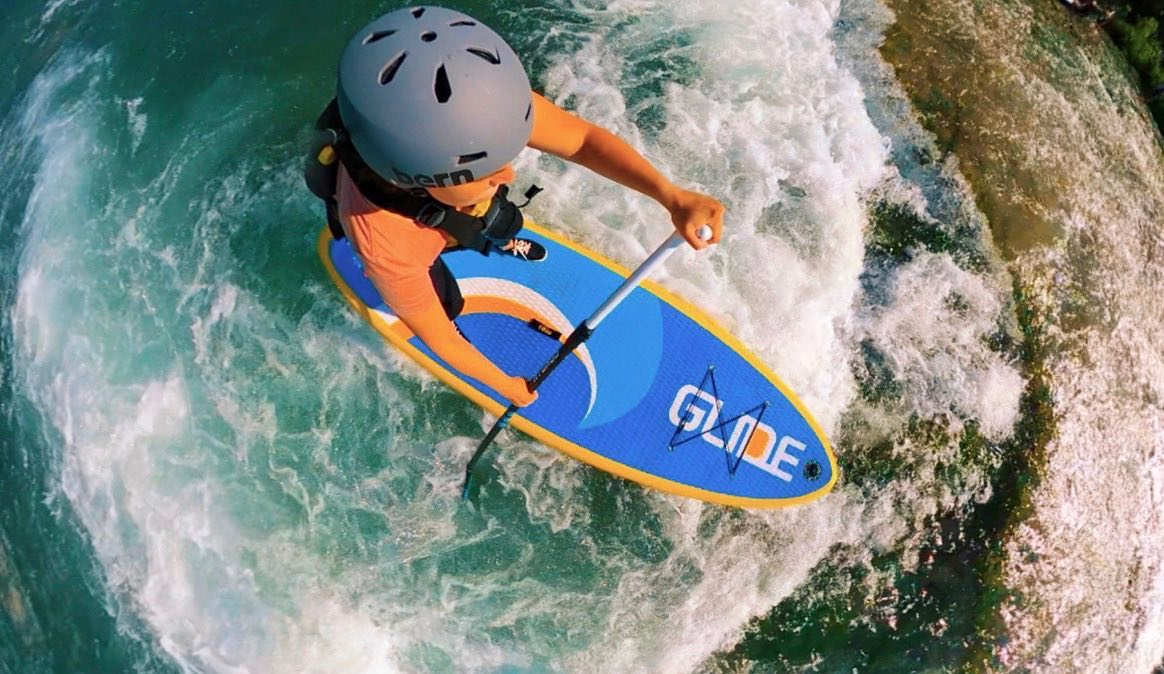 SURFING STAND UP PADDLE BOARDS
SUP surfing also suffers mightily when you are riding floppy inflatable paddle boards. The more rigid your inflatable, the easier it is to catch waves. Once you are in oceans waves, springy inflatables are nearly impossible to turn so you will most likely be ragdolled in spectacular fashion by those waves. Our all around SUPs like the Glide Retro are the best paddleboards for surfing.
The last thing you want is your paddle board lower than the water line - as to ride lower surely means a nose dive in your near future. Our planing hull helps keep the board from nose diving as planing hulls keep the nose of the board skimming along the top of the water. Our all rounder Retro board performs like a solid board which just doesn't happen with budget boards. Just make sure that you are wearing the ankle leash that we include with your inflatable SUP.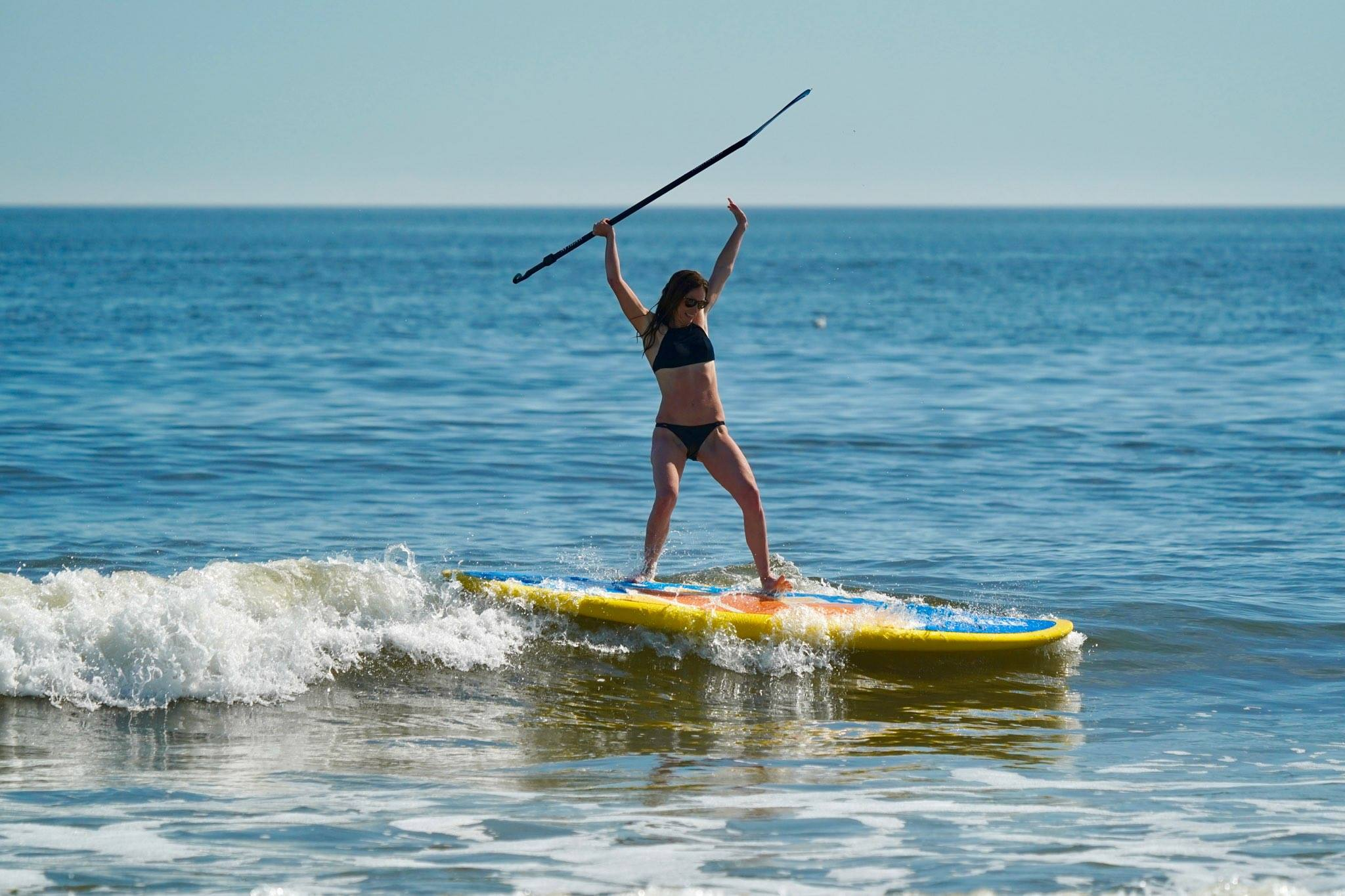 YOGA BOARDS FROM THE PIONEERS OF THE PRACTICE
Glide was one of the early pioneers of paddle board yoga which means practicing yoga on a paddle board. Paddle board yoga has become all the rage in recent years as has yoga itself. Our Lotus yoga board is a wider board with key features like multiple attachment points to secure your SUP paddle, water bottle, sweat towel, etc.
The plush deck pad on our yoga inflatable SUP's is the same length and width of a yoga mat so that you have plenty of room for your poses. The weight capacity of the Lotus inflatable SUP is quite high to accommodate the extra weight from your extra yoga recreational equipment. It's a very stable board but it will turbocharge your yoga practice or your fitness paddling. The super stable nature of the board makes it a great choice for beginner paddlers as well.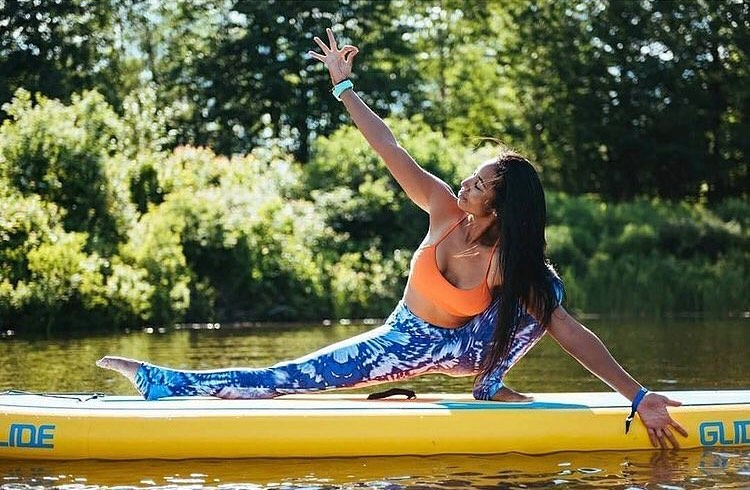 TOURING INFLATABLE SUP BOARDS
For long distances on flat water, you are going to want a long board with a pointed nose or displacement hull shape - typically known as Touring SUPs. Displacement hulls help you get up to faster speeds flatwater paddling through choppy water. Glide's answer to tackling long distances on flat water is the Quest inflatable SUP which has a tapered nose and tail, making it a high performance board.
Our inflatable SUP version of the Quest is the same length as our rigid paddle board version. The inflatable SUP Quest also has the same speed tail and a little higher weight capacity than the hard SUP board version. These SUP's are quite different from our all around boards as they are a narrower board built strictly for flatwater cruising and have quite a few attachment points to use cargo bungees to stow your gear in dry bags and other accessories you will need for long tours or solo backcountry, longer distance trips.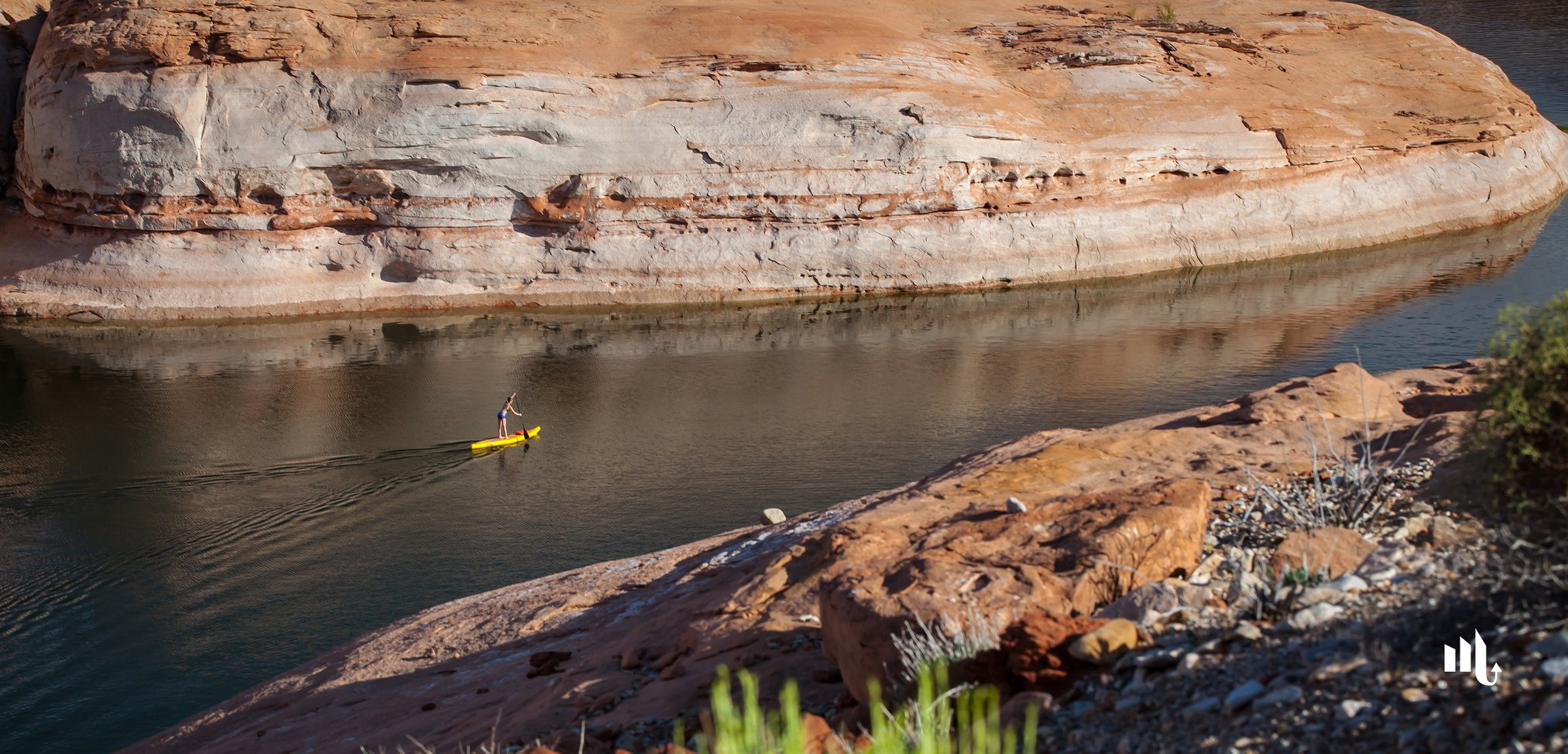 INFLATABLE PADDLE BOARDS FOR FISHING
Fishing from inflatable SUP's has become quite popular in recent years. The Glide Angler SUP is not only wider but it is also a longer board to give a more stable feel while you are fishing. You will not feel unstable on this board.
It has the highest board volume of all of our other boards which gives it the highest weight limit out there. It's a better board for larger paddlers even if they don't fish. There's even enough surface area enough to bring a furry friend.
This paddle board comes with quite a few extra features like multiple attachment points and mounts in the deck so that scotty mounts can be add ons for a fishing rod holder, paddle holder, depth finder, net, extra gear, etc. There are plenty of d rings to tie down your catch as you paddle home.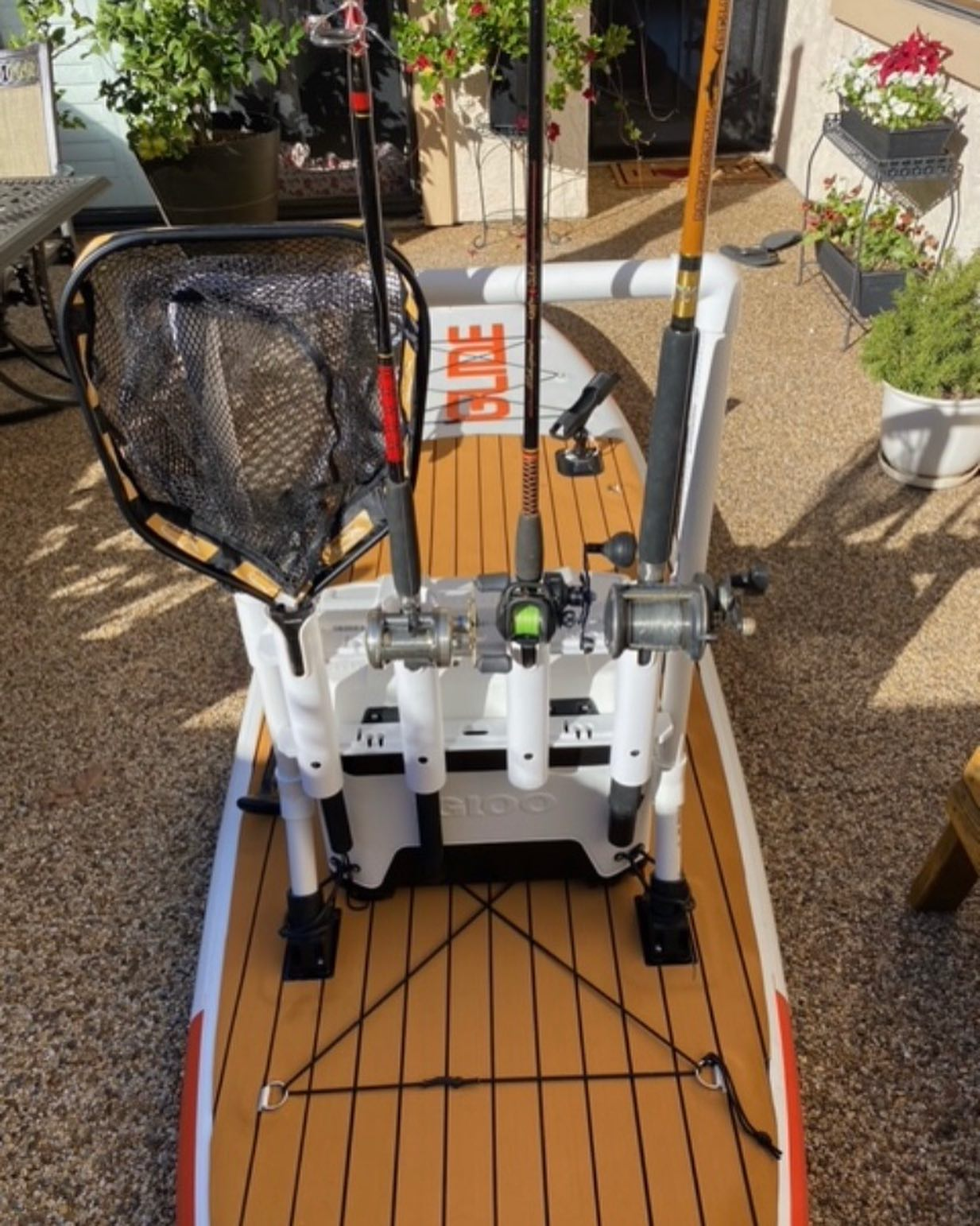 OTHER ACCESSORIES THAT SOME WITH GLIDE INFLATABLE PADDLE BOARDS
Besides making inflatable paddle boards with some of the most durable technology available, Glide also is quite generous with the other accessories we include with each inflatable paddle board. Many paddle boards will include a storage bag, SUP paddle, fin and single action pump. Glide, on the other hand, includes: a high end backpack with roller wheels, dual action pump, fin, 3 piece SUP paddle, ankle leash, carrying straps and kayak seats. The value of all these extras is at least $100 above our nearest competitor's inflatable paddle boards.
HIGHEST QUALITY
INFLATABLE SUP's
Need to get on the water? At Glide we make the best inflatable SUP on the market. The only reason that Glide Paddlesports exists as a company is that we had the crazy idea that paddling down a violent river on a stand up paddle board was a good idea.
Initially we were just trying to invent a technology that would allow hard boards with an EPS core to survive whitewater without breaking in half as every board we tested did. They say that you need to break a lot of eggs to make an omelet, well we had to break a lot of solid paddle boards before we came up with the most durable solid boards on planet earth.
When the market became accepting of inflatable SUP's, we weren't about to skimp on our inflatable paddle boards. So read on to learn how we make inflatable SUP's as "bomb proof" as our solid boards.
SO, WHY GET A GLIDE INFLATABLE SUP?
Performance and durability are the two hallmarks that Glide paddle boards have represented since 2010 and we make the best inflatable paddle boards on the market today. Our boards come with extra accessories like a kayak seat, dual action pump (not a wimpy single chamber pump) and carrying strap in our complete SUP package.
At Glide, our reputation has always been that we provide an extremely high quality board at a fair price and that we dazzle our customers with a level of customer service that is head and shoulders above the competition. It all adds up to make Glide the best value SUPs on the market.
Give us a shot for your stand up paddle boarding needs. We guarantee you are going to like us.
Choose a SUP board for your favorite paddle boarding activity: