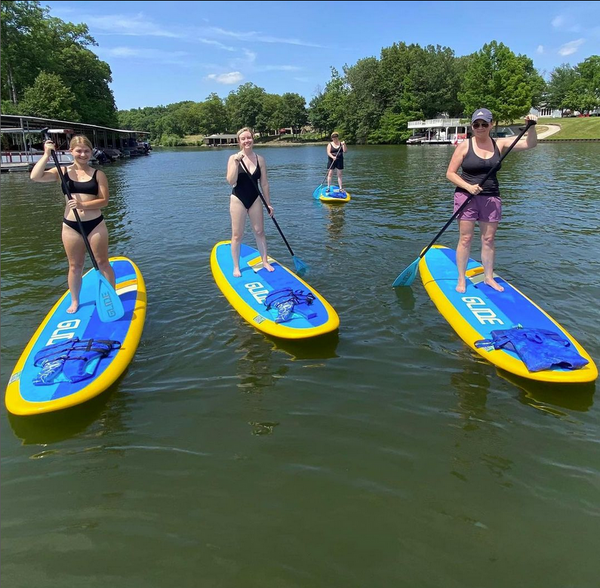 Life Jackets For Paddle boarding: What's the Difference?
When shopping for life jackets for paddle boarding there are so many choices! So how do you find the correct PFD (personal flotation device) for you and the type of paddle boarding you normally do? There are two main types of life jackets for paddle boarding the waist-mounted belt pack PFD and the more traditional life jacket that you know and love. I am not going to go crazy talking about all the types of life jackets, or the testing that goes into them, but just the meat and gravy of the two most popular styles for paddle boarding.
The three most popular styles are the waist belt pack PFD and the type iii life jacket which is the type you wear and have floatation on the front and back. And of course, we cannot forget about the type ii orange ones that slip over your head. Each type has advantages and disadvantages.
Let's start with the classic bright orange classic horseshoe life vests. I have to imagine unless you are a zoomer, we have all had to wear these at one time or another. Zoomers I am sure one of your characters in your fancy video games has worn one, so you know about them. These are type ii life vest and are intended for use inland and close to shore where you should be rescued quickly if you need to be rescued. They do have the advantage that if they are worn correctly they will turn you over if you are unconscious. So if you happen to slip and fall and bonk your head, and you are actually wearing the PFD your lifeless body will flip upright and you will be able to breathe. And the other advantage is they are the cheapest type of life vests you can buy.
Ok I see you thinking about opening up a new tab and buying one of these right now. They sound perfect, they are cheap, and if you get two rowdy while SUP jousting it will flip you up until someone fetches you from the water and brings you back to life. What's not to love? Well, let me tell you, a lot. First, they are super uncomfortable life jacket for paddle boarding. They are big and bulky and that makes it hard to get proper paddle strokes, and did I mention they are also ugly? And for these reasons you will not wear it, you just shove it on the front of your board and be perfectly legal because you have your PFD on your paddle board, but since you are not wearing it, all the cool benefits of saving your life, well, they won't do you much good on the front or back of your paddle board.
The next and arguably the most popular type amongst paddle boarders is the belt pack pfd. These fashionable bad buys are a type v floatation device that falls under the coast guard use as "special use". They are intended to be used for water sports, which paddle boarding conveniently falls under, so these must be the best ones to get, right? Well, maybe. These life vests are great in that they are small, they have an adjustable waist strap so they fit almost everyone, and all the cool paddle boarders have them. And since they are socially acceptable you will most likely wear them so that alone makes it one of the best life jackets for paddle boarding that you could purchase.
So what are the advantages and disadvantages of the waist type of PFD belt? The best advantage is since they are small, and they are a comfortable life jacket you will most likely wear it when you are paddle boarding. This is a huge advantage. They also have pockets so you can carry snacks with you, or if you are in a rush a waist PFD can be turned from a day look to a night look in seconds and can be used as a purse or a fanny pack in a pinch. That makes it so you can paddle board right up to the last minute before you meet friends or family out for a night on the town. Yes Please!
The disadvantages are pretty severe. First is the way these work. Most waist belt pack pfd has a cool ripcord that is attached to a CO2 canister, you pool the tab and magically a horse show style PFD pops out. You then have to put the PFD on over your head and secure it around your body. Very easy to do on land. Not super easy to do while you are in the water. And I imagine if you are in a circumstance where you have had to pull the rip cord is not going to be ideal. You will probably be cold, and panicked, so fighting with basically a beach ball and asking it to save your life, well, easier said than done. The other main disadvantage to these sup life jackets is the cost. They are expensive, and the refill CO2 canisters are expensive. And you really should practice with it a few times before you trust it with your life.
The last type on our list for SUP life jackets is the type iii life jacket. These are what you would typically associate with water skiing, kayaking, rafting and other types of water sports. These PFD's are worn like a vest (unfortunately they are not fashionable like the waist PFD's and can not be worn for black tie events) and they are very comfortable. Many of these PFD's are made for kayaking or other paddle sports and they are extremely comfy and do not interfere with proper paddle boarding strokes. Depending on the style many of these life jackets will flip you over in case you are unconscious. These type iii flotation device are great, they are safe, they are comfy, what's not to like?
Well, the main disadvantage to these are they do cover your entire torso and in the summer when most of us are paddle boarding they can be hot. And if they are hot, well you most likely won't wear it then they will suffer the same fate are our orange friends up above and live on the front or back of your paddle board. So again when you actually need it, well, you will have to get it and put it on.
So ultimately at the end of the day, the best life jacket you can get for your paddle boarding adventures is the one you are going to wear. And if you insist on just having your life jacket on your board, please wear your leash. Your paddle board and especially inflatable paddle boards have way more floatation than any of the life jackets we talked about, and it will keep you afloat until you can get the help you need. That said if you fall off your board without having a leash on it, your board and that PFD you have stored on your board will not be on a fantastic adventure without you.
TLDR; The best life jacket for paddle boarding is the life jacket you will wear. And please always wear your leash!
And don't forget a life jacket for your puppers!  Dog's love to paddle board learn how to take them on your dog paddle boarding safely here.
If you have any questions at all, please give us a call, email, or chat with us and we are happy to answer any of your questions.