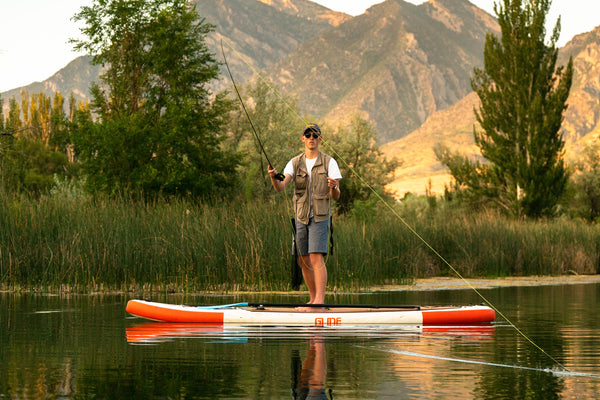 Personal SUP Firsts
Everyone remembers their first time standing up on a SUP. There's still plenty more firsts to be had though! Get some ideas to have some new SUP firsts of your own from this post about white water SUP, SUP fishing and SUP camping.
Everyone remembers their first time standing up on a SUP. There's still plenty more firsts to be had though! Get some ideas to have some new SUP firsts of your own from this post about white water SUP, SUP fishing and SUP camping.
First time on white water paddle boarding
This was by far the most intimidating of all of my "firsts" on a paddle board. I remember being pretty shocked to learn that people even did white water on stand up paddle boards, it sounded crazy to me that someone would take that on without even having sides on a boat, let alone standing up.
Even though my group wasn't going on any crazy rapids (I think there was one class III on the entire trip) I was still pretty nervous because I had never done any sort of whitewater in my life on any sort of watercraft.
I inflated my paddle board while two of the people I was with ran a shuttle to the takeout spot and got ready with my lifejacket and a whitewater helmet that I borrowed from a friend.
I set my board down in the water after the rest of my group got on theirs and I kicked off from shore and floated out into the middle of the river. My group had two experienced white water paddle boarders and two newbies (myself included). 
The ride was great even though I was nervous the whole time. I only got up the nerve to stand up on the whitewater a couple of times and I fell off the board quite a few times as well.
We didn't wear our ankle leashes because it can get wrapped around a rock and hold you underwater if you are on a river so every time I fell off my board would go flying and one of the more experienced paddlers would have to go and wrangle my board for me.
My first time paddle boarding on white water was, overall, a great experience. We used an ISUP specifically designed for whitewater called the Lochsa and I was impressed by how stable and maneuverable it was compared to other boards I had tried.
I really wish that I had embraced the experience more than I did by trying to stand up on some of the smaller rapids but it was still great just kneeling the whole time.
My biggest takeaway was that I was able to trust and rely on the skills of the more experienced people I was with. If my board got away from me and I fell in, they were able to rush ahead and get my gear while I got to shore safely.
First time fishing on a paddle board
Coincidentally, my first time fishing from a paddle board was also my first time fishing since I was a little kid. I was borrowing a nice Angler fishing paddle board from a friend and I had no clue what I was doing.
I was getting ready for a project that I was working on where I was planning on only eating food that I foraged, grew or caught for a week and I wanted to have a little bit of protein stored up before I started my project.
I headed for a popular reservoir for paddling in my area that I had seen fishermen at before with my borrowed board and a cheap rod and reel from amazon. It was the middle of the afternoon and paddled out into the exact center of the reservoir.
I spent about an hour there casting and retrieving a spinner, getting my line tangled and, of course, not catching anything at all except for the occasional branch. Eventually I go
t a clue and paddled around until I found a stream that was feeding into the reservoir and tried my luck there.
This didn't end well either. I lost 3 lures and spent at least half of the time untangling my line. I did hook one fish which was thrilling but it unhooked itself after a couple seconds and I didn't feel another bite until I left a couple hours later.
It turns out that I must be a fishing bad luck charm because after a few trips where I didn't catch a thing, my coworker insisted that he would come with me and show me how it's done and he didn't catch anything the couple of times that we went out together either.
Since then, I've gotten a lot better at knowing where to fish and what time of day by watching other anglers when I go out fishing. I had always believed that Ron Swanson quote from Parks and Rec, "Don't teach a man how to fish and you feed yourself. He's a grown man, fishing's not that hard".
I thought I'd just show up with no experience or know how and be able to catch fish all day long but that just wasn't the case.
First time SUP camping
SUP camping was the first of these "SUP firsts" that I felt really in my element even though it was just my first time. I have been camping since I was a little kid with my parents, including a lot of flatwater canoe trips so I felt very ready for the experience.
I didn't have a dry bag at the time so I packed up all of my gear in my backpack lined with trash bags, found a good place to camp and headed to the same reservoir that I had tried and failed to catch a fish at.
I paddled about a mile back through the reservoir to a small stream inlet that I had seen before and had some good places to camp. I set up my hammock and settled in for the night, reading a book, cooking dinner and watching the stars.
SUP camping is a great way to get into harder to find spots. The reservoir I camped at had areas that you could hike to but I was able to find a spot that you could only get to by boat. An inflatable paddle board is a super convenient way to find great places to camp that doesn't take up too much space in a car or a garage. 
If you're looking for a board that will be a perfect fit for the next "first" you want to try, check out our catalog of inflatables in stock now!
Related Topics
Improving Fitness on Paddle Board
How Inflatable Paddle Board Technology Changed The SUP Industry
Your Comprehensive Guide to Inflatable Stand Up Paddle Boards