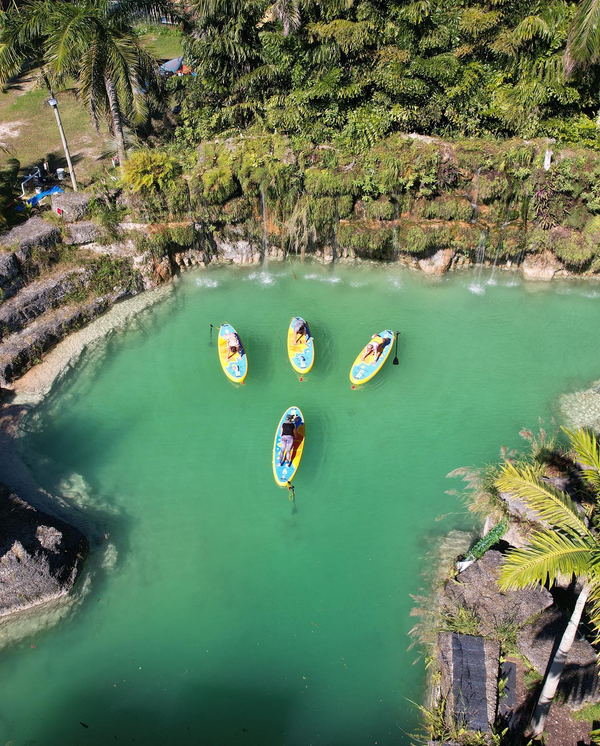 The best and only Yoga paddle board you will ever need!
Glide 02 Lotus inflatable yoga paddle board.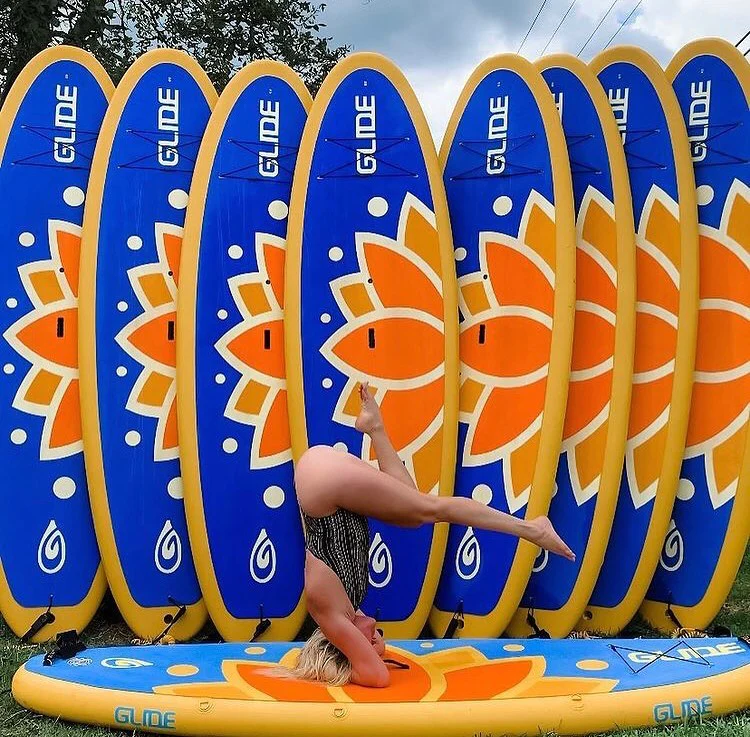 On introduction to the world of sup yoga our original Lotus yoga paddle board revolutionized the sup yoga industry. No other yoga boards have been so influential and well received by sup yogis and the sup yoga community. Our inflatable yoga paddle board managed to raise the bar even higher. Both boards have become the staple for sup yogis and the sup yoga studios they run throughout the world. Which one of the reasons the Glide 02 Lotus was voted the best sup yoga board design of 2022.
The sup yoga board design.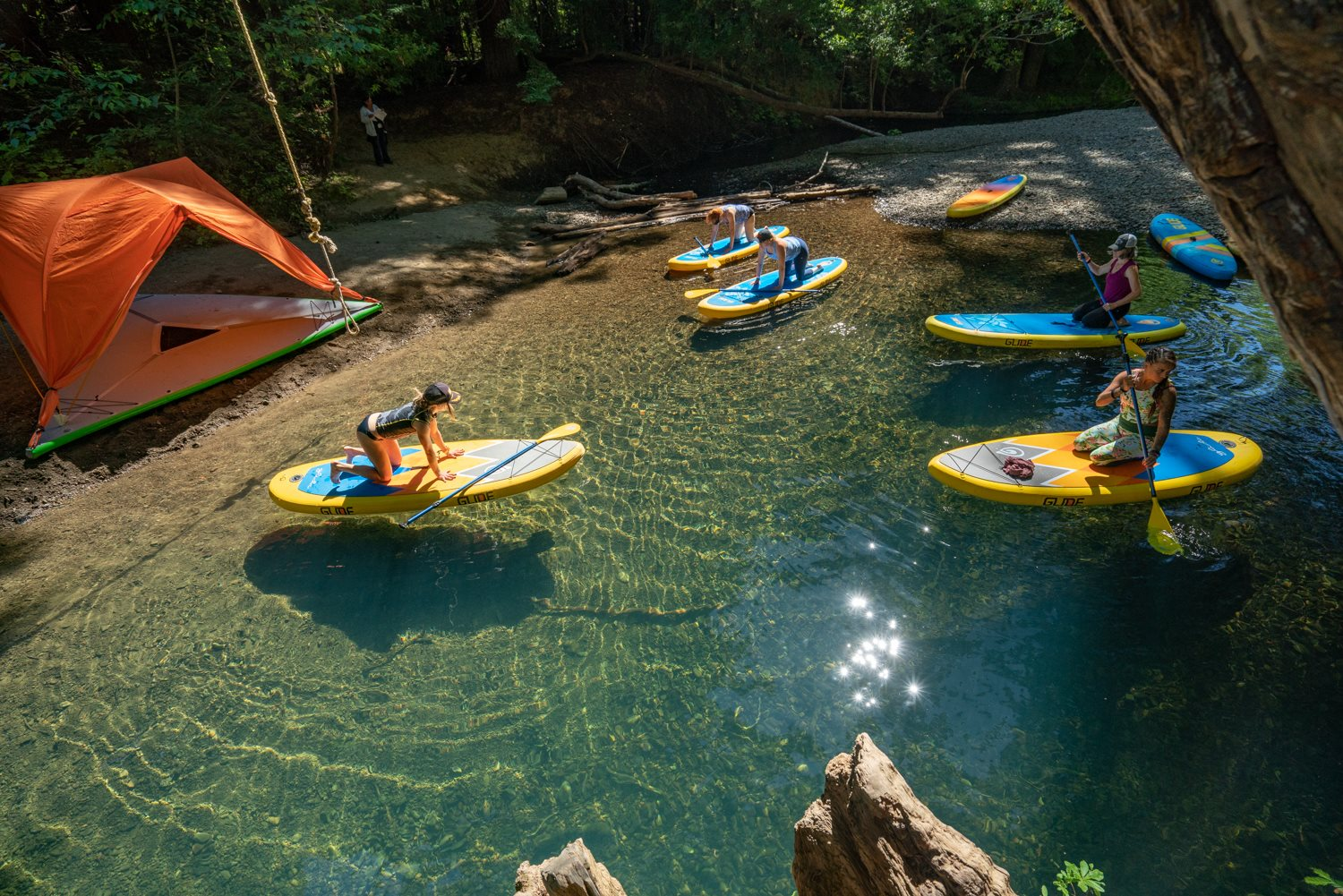 The length of the 02 Lotus sup yoga board is 10 feet.
The width of the 02 Lotus sup yoga board is 35 inches.
The board thickness of the 02 Lotus sup yoga board is 6 inches.
The tail width of the 02 Lotus sup yoga board is 13 inches.
The weight capacity of the 02 Lotus sup yoga board is 400 lbs.
Construction of the sup yoga paddle board.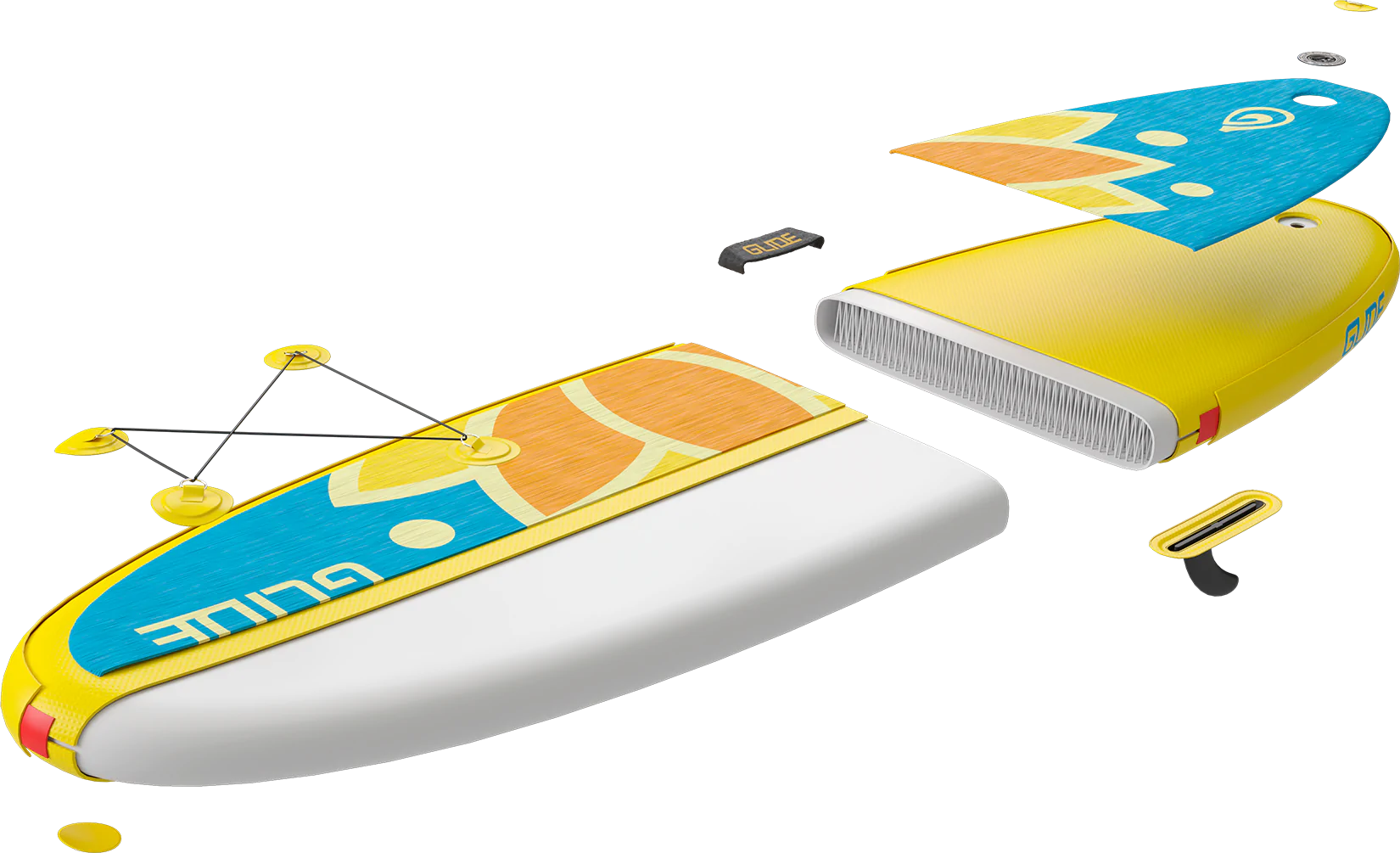 The 02 Lotus is made with a patent pending fusion technology that lends the inflatable yoga paddle board Glides unique stiffness that increases the performance of the inflatable yoga paddle board. It has a Composition of quadruple layer military grade PVC with a woven drop stitch core. Leading to the perfect yoga sup. The yoga paddle board is designed to be an incredibly stable platform for the best yoga experience with the performance of yoga hard paddle boards.
The inflatable yoga paddle board design lends it to being great at much more than just doing yoga poses. The board is also much faster paddle boarding than other yoga sup. Letting you get to the best spot for practicing yoga with less effort.
Why our customers and sup yogis love this inflatable yoga paddle board.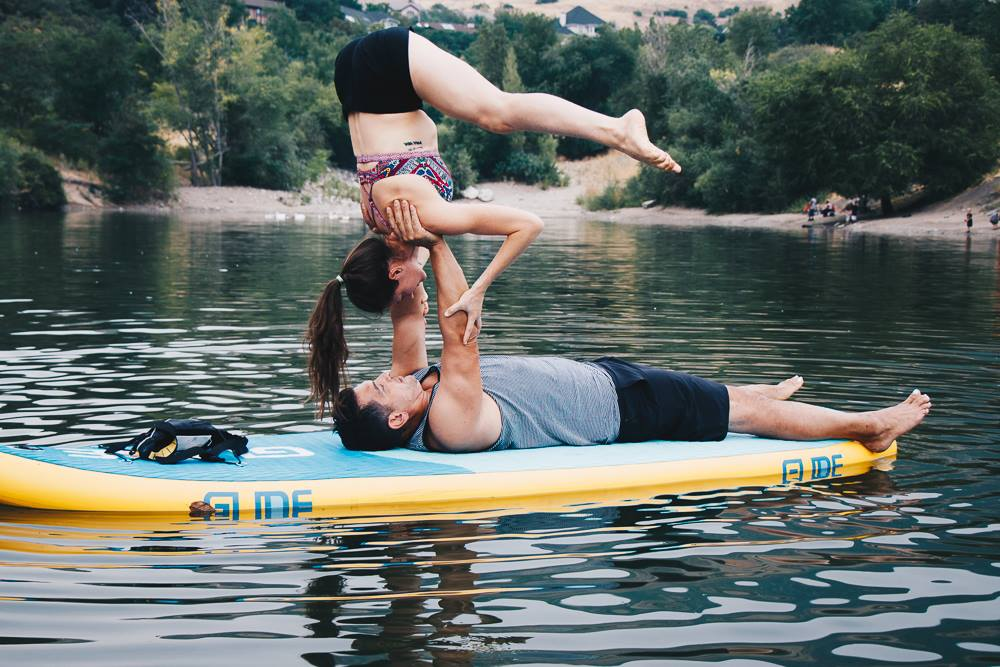 They love that this board is faster than other inflatable yoga paddle boards. That the board is all about keeping them fit and making memories of a lifetime. They love that our inflatable version of the Lotus yoga paddle board lives up to the legendary performance of the original Lotus yoga paddle boards.
Yoga enthusiasts love the comfortable and durable full-length deck pad that turns this inflatable yoga paddle board into a floating yoga mat. That the Lotus is a more stable platform to practice yoga on than other yoga-specific boards. That the Lotus sup yoga inflatable paddle board is a more durable construction than other inflatable paddle boards, meaning their inner peace won't be ruined by an unreliable paddle board.
It is a personal preference for sup yoga instructors worldwide, as this sup yoga paddle board is so stable and well designed. Students of any weight can use this board due to its amazing weight capacity, also allowing for the practice of acrobatic yoga. This sup yoga paddle board will also accommodate a yoga session with a couple of kids and a dog on board.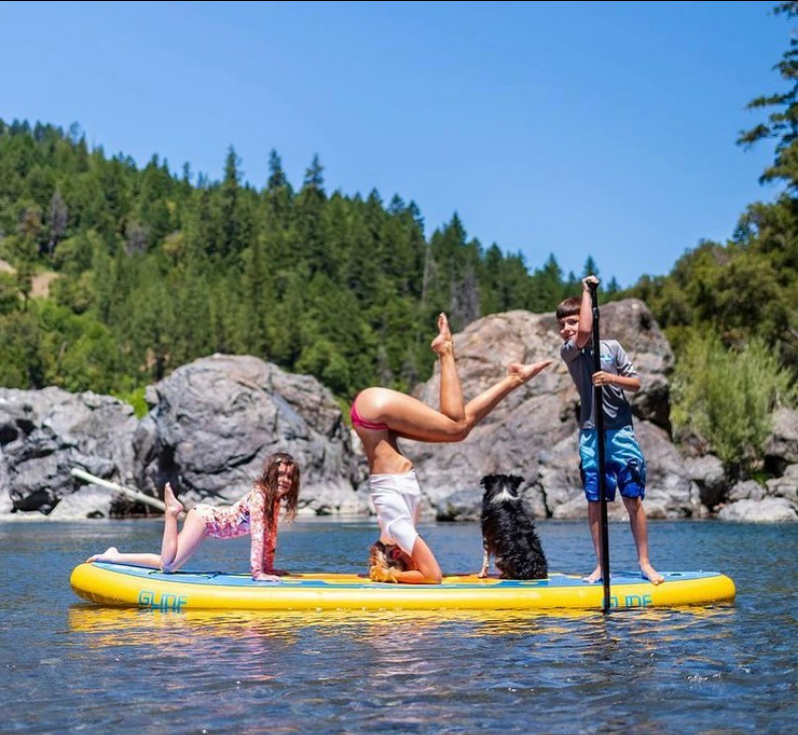 The Glide Lotus yoga paddle board is also easy to anchor together to keep the class moving smoothly through the yoga session. And wide enough to ensure that even novice sup yoga and those who are going to practice yoga for the first time have a successful and fun time.
Dedicated yoga board.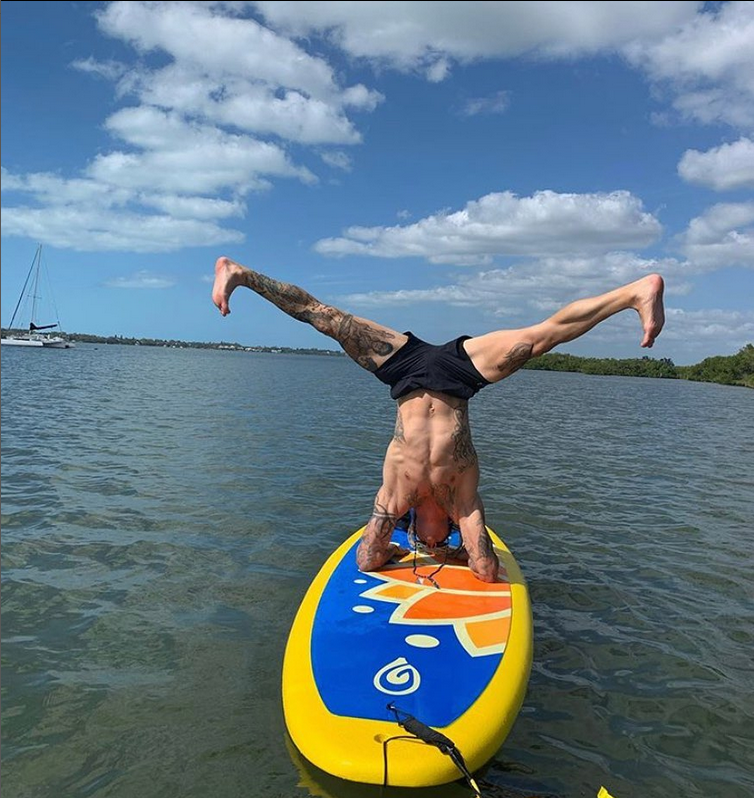 If you are looking at dedicated yoga boards we are confident that the 02 Lotus inflatable board will be the perfect sup yoga paddle board for you. And this yoga paddleboard is a sup board you will be happy to paddle even when you are not heading out for a sup yoga session. The 02 Lotus is also one of the sup boards that are recommended for paddle boarding with a dog.
Our yoga paddle boards are so well designed that they can handle hot and sunny weather, as well as frozen temperatures. With the stability that will allow for practicing yoga in any weather condition. When you have an 02 Lotus your yoga practice and inflatable sup do not have to be stuck indoors. Unlike inflatable boards from other companies.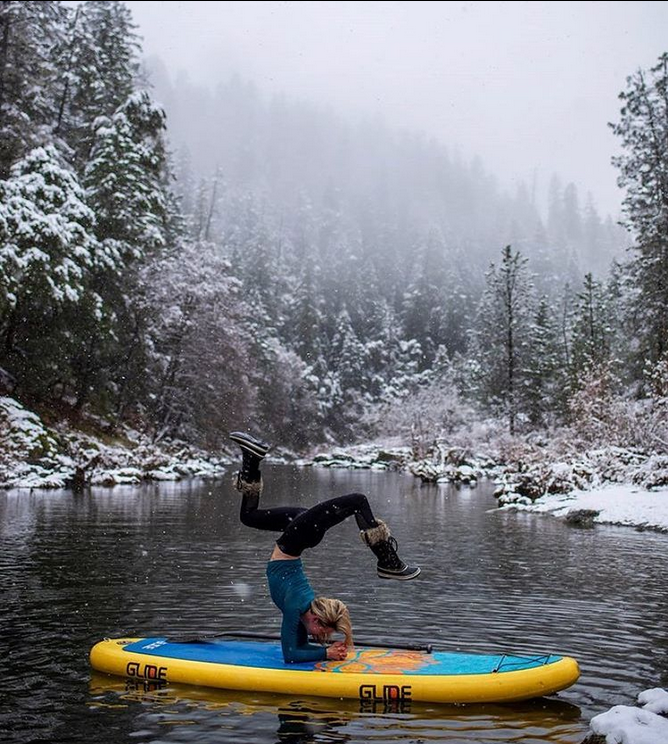 Let us know how your last sup yoga session went at #glidesup on Instagram. We hope you have a fun and relaxing sup yoga session no matter what you paddle.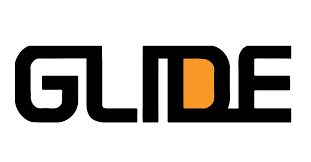 Although we do hope you are using a Glide Lotus as the sup yoga paddle board of choice. Enjoy our full-length deck pad and ample deck space on this inflatable paddleboard, and remember to have a personal flotation device. Nothing like a ticket to ruin one's inner peace. Have fun and get your yoga sup on. For more on this incredible board and some basics to sup yoga check out this article.