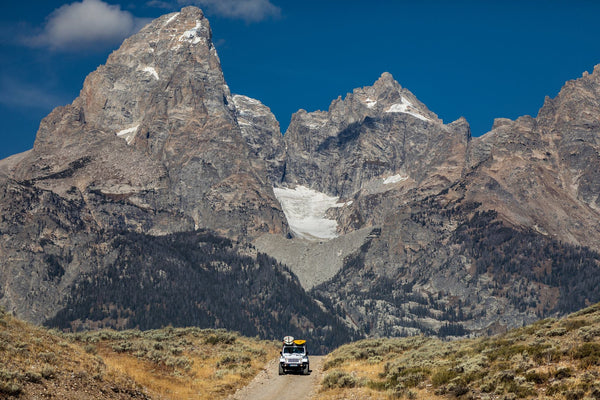 Why is the Paddle Board so Unique?
The stand up paddle board is one of the most unique and flexible pieces of equipment in the world of watersports.  Find out the reasons why.
Introduction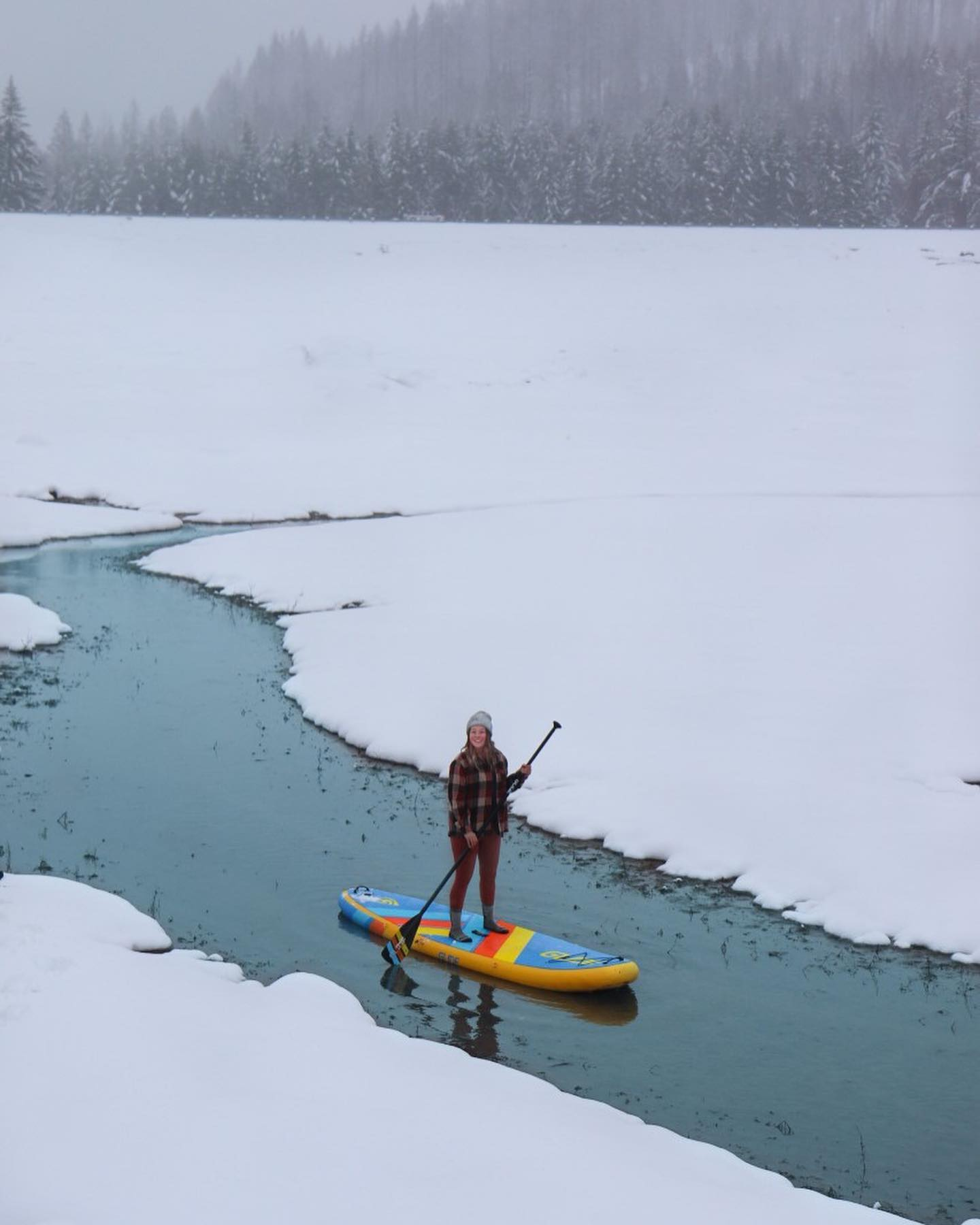 The stand up paddle board stands alone in the world of water activities for its uniqueness. That's a bold statement to make right out of the gates but read on and I believe that you will be convinced.
Why the stand up paddle board is such a great investment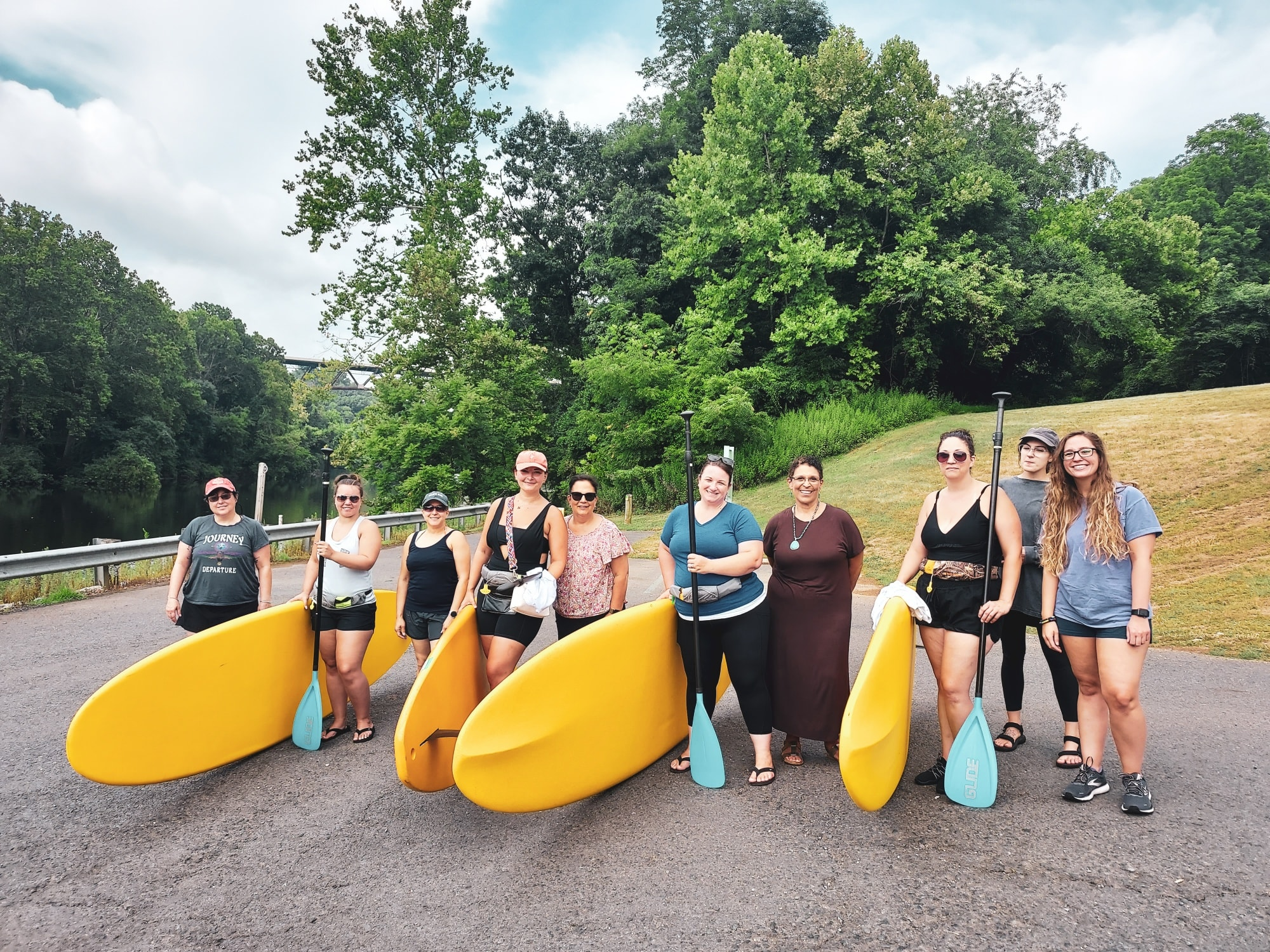 The paddle board is an investment that will provide you with years of enjoyment. Here are some reasons why the paddle board is such a great investment:
1.Paddling a SUP board is a great way to stay in shape and get some exercise. Whether you are on a hard or inflatable paddle board, pa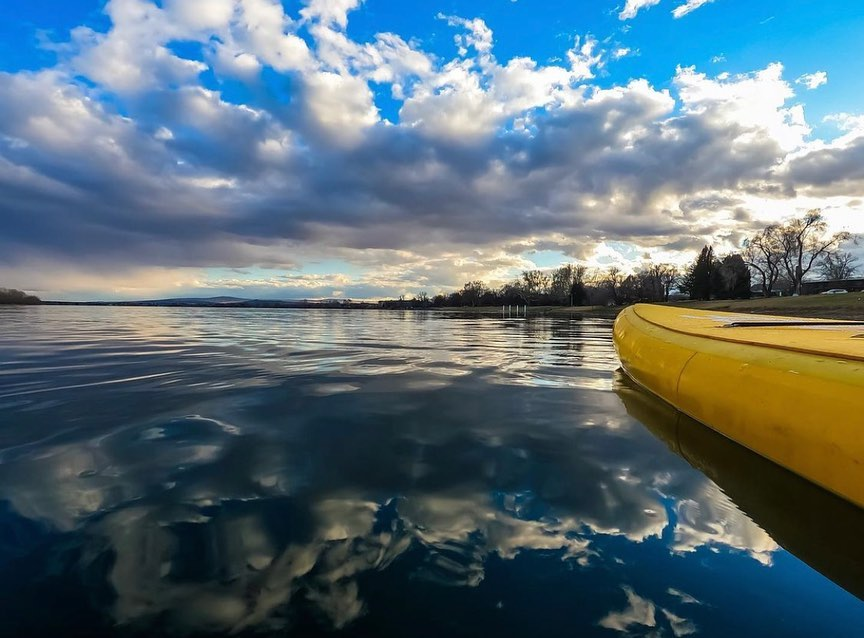 ddleboarding is a complete full body workout for your muscles as well as your heart.
2. Getting out on your paddle board is a great way to relax and enjoy the outdoors. There are several outdoor adventures to be had on your inflatable paddle board that we will go into further below.
3.Paddle boarding is a great way to explore new areas and get closer to nature. Being out in nature has been proven to lower stress and cortisol levels.
4.A paddle board gathering is a great way to bond with friends and family members. A lot of paddlers will bring their kids or dogs along with them on the their hard or inflatable paddle board.
5.Spending time on your paddle board is a great way to save money on vacation expenses. Ok, this one is a bit of a stretch but when I'm stand up paddleboarding at my local lakes, I might as well be in the Bahamas!
What you can do with a paddle board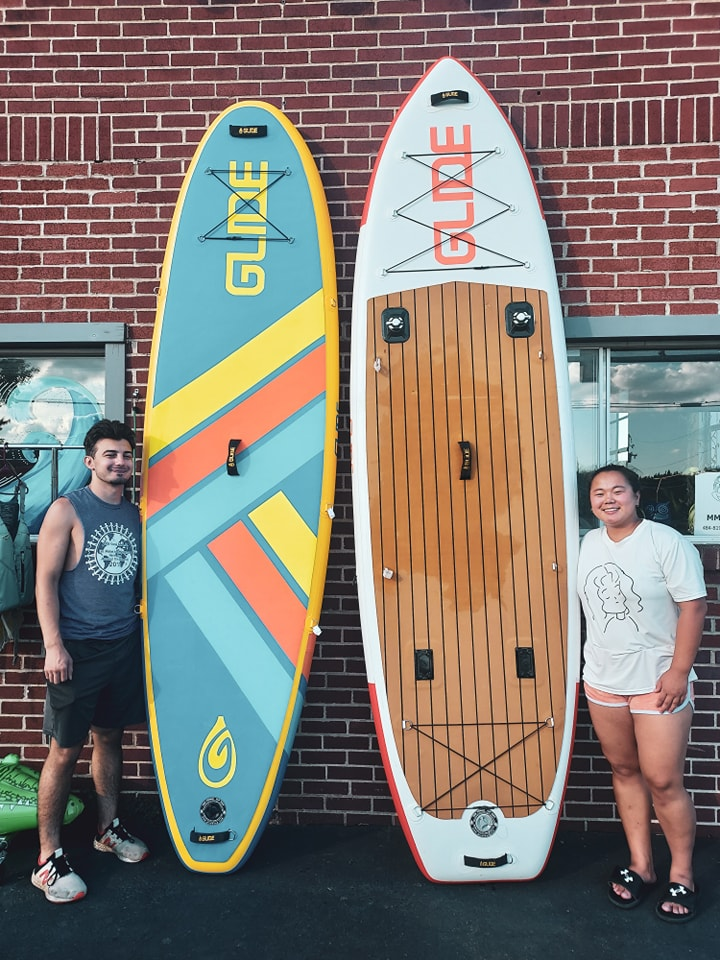 Stand up paddleboarding is a great way to enjoy the great outdoors and get some exercise at the same time. Here are some great ways to make the most of your paddle board:
1. Get out on the water - Paddle boarding is a great way to explore your local waterways. Whether you're paddling in a lake, river or ocean, you'll be able to take in the sights and sounds of nature while getting some fresh air and exercise. Getting out on the water and in nature in general has proven, measurable effects on the human psyche.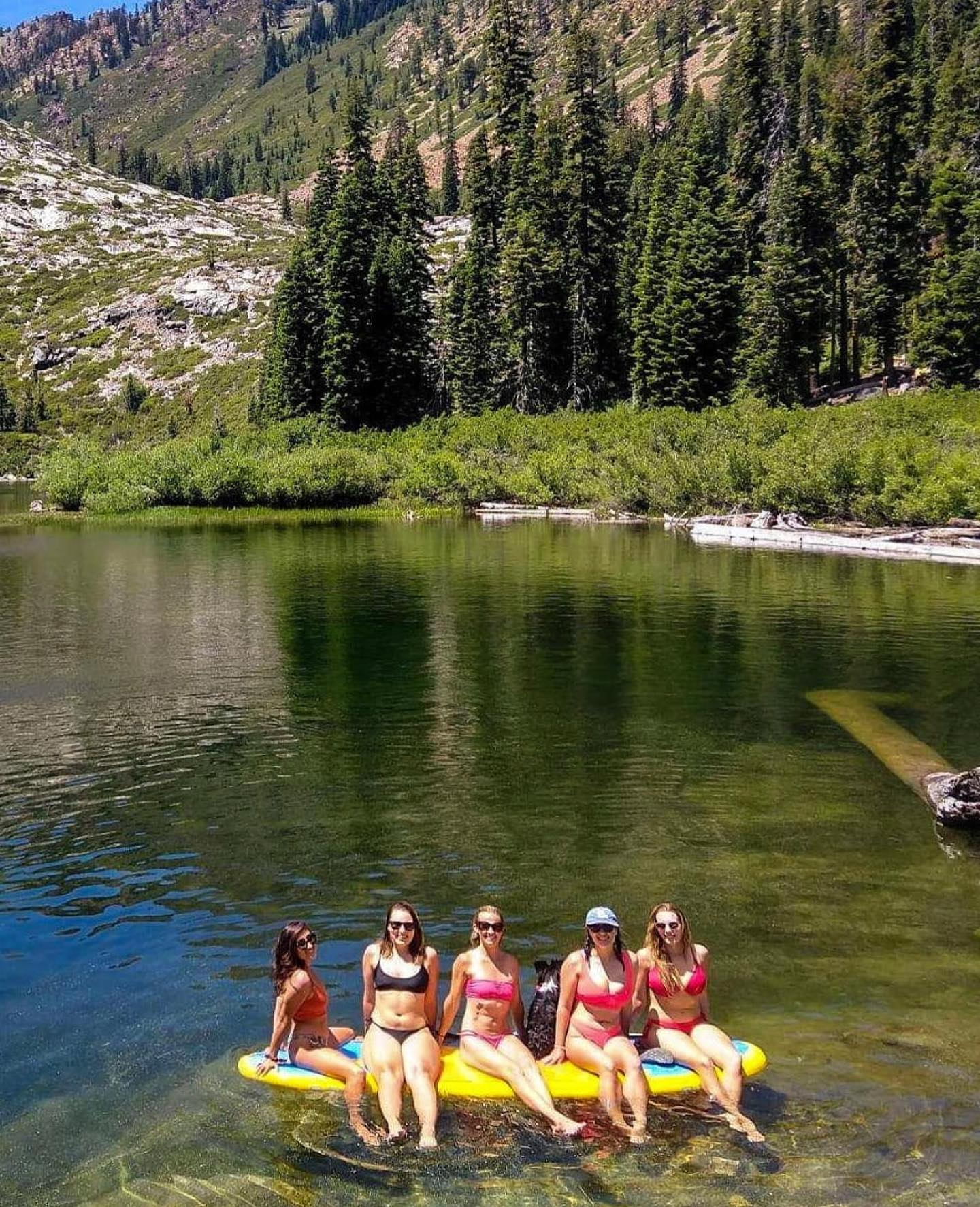 2. Take up yoga - Yoga on a paddle board is becoming increasingly popular. Not only is it a great workout, but it's also a great way to relax and de-stress. I personally prefer to practice yoga on stand up paddleboards because I can find a secluded cove where no one can judge my limited flexibility! The non slip deck pad on most yoga stand up paddleboards is typically sized to mimic a yoga mat.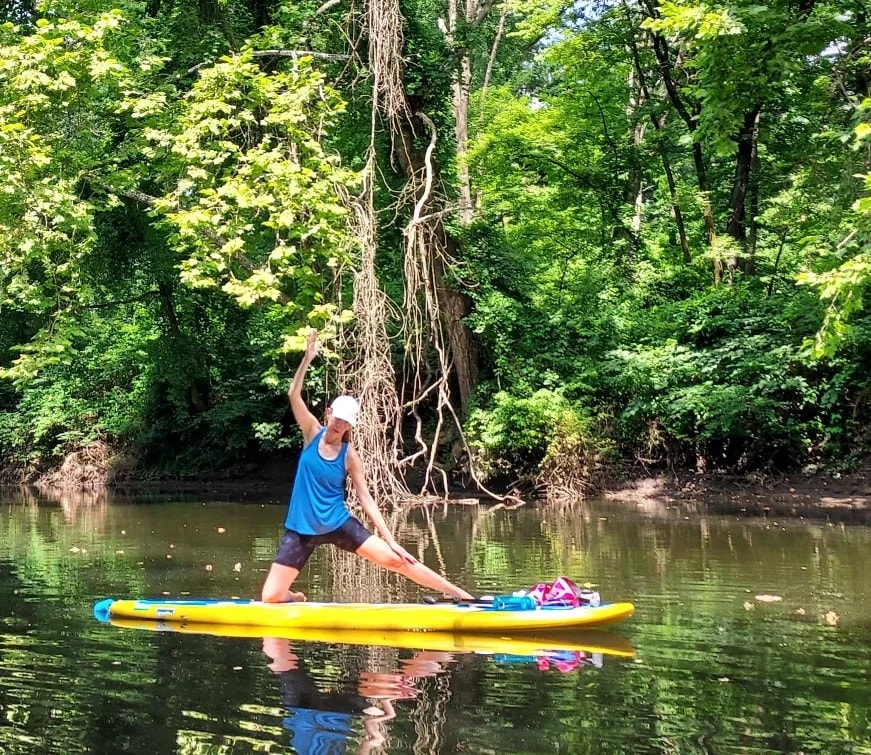 3. Go fishing - Fishing from a stand up paddle board is a unique and exciting way to enjoy your favorite pastime. You'll be able to reach fishing spots that you wouldn't be able to access from land, and you'll get an amazing view of the underwater world as you reel in your catch.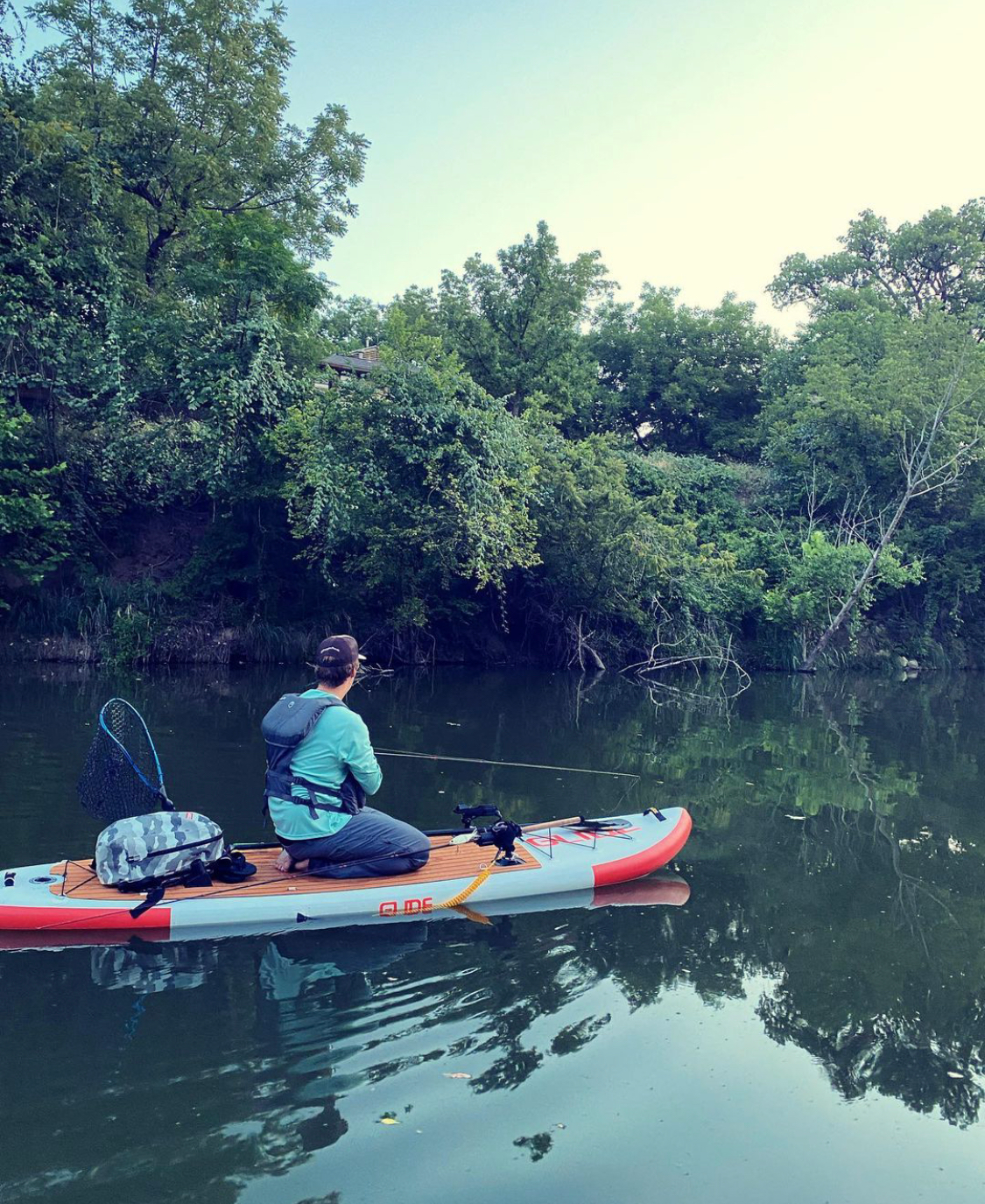 4. Go for a sunset paddle - There's nothing better than watching the sunset from out on the water. Paddle boarding is the perfect activity for enjoying beautiful sunsets with friends or family.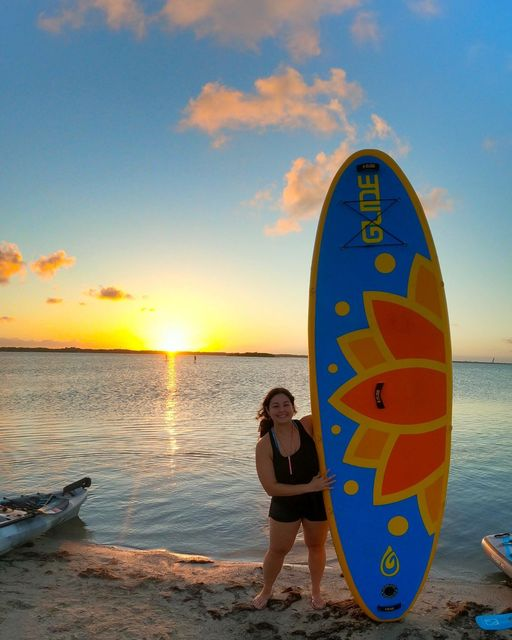 5. Get competitive - If you're looking for a challenge, there are plenty of paddleboard competitions held throughout the country each year. From long distance expeditions, to paddle board races to SUP surfing competitions, there's sure to be an event that's right for you.
6. Get Fit - Even if you have no interest in trying yoga or racing on stand up paddle boards, just getting out and paddling your board on a regular basis will improve your fitness dramatically. Because you are standing rather than sitting as you would be in a kayak, you will find your legs get more of a workout because not only are they helping you balance but you also are using them as a fulcrum to generate more power in the paddle stroke. Paddling either a hard or inflatable SUP is truly a full body workout that builds muscle and confers cardio benefits. It's definitely the most fun workout that I do during the week!
How to purchase a premium paddle board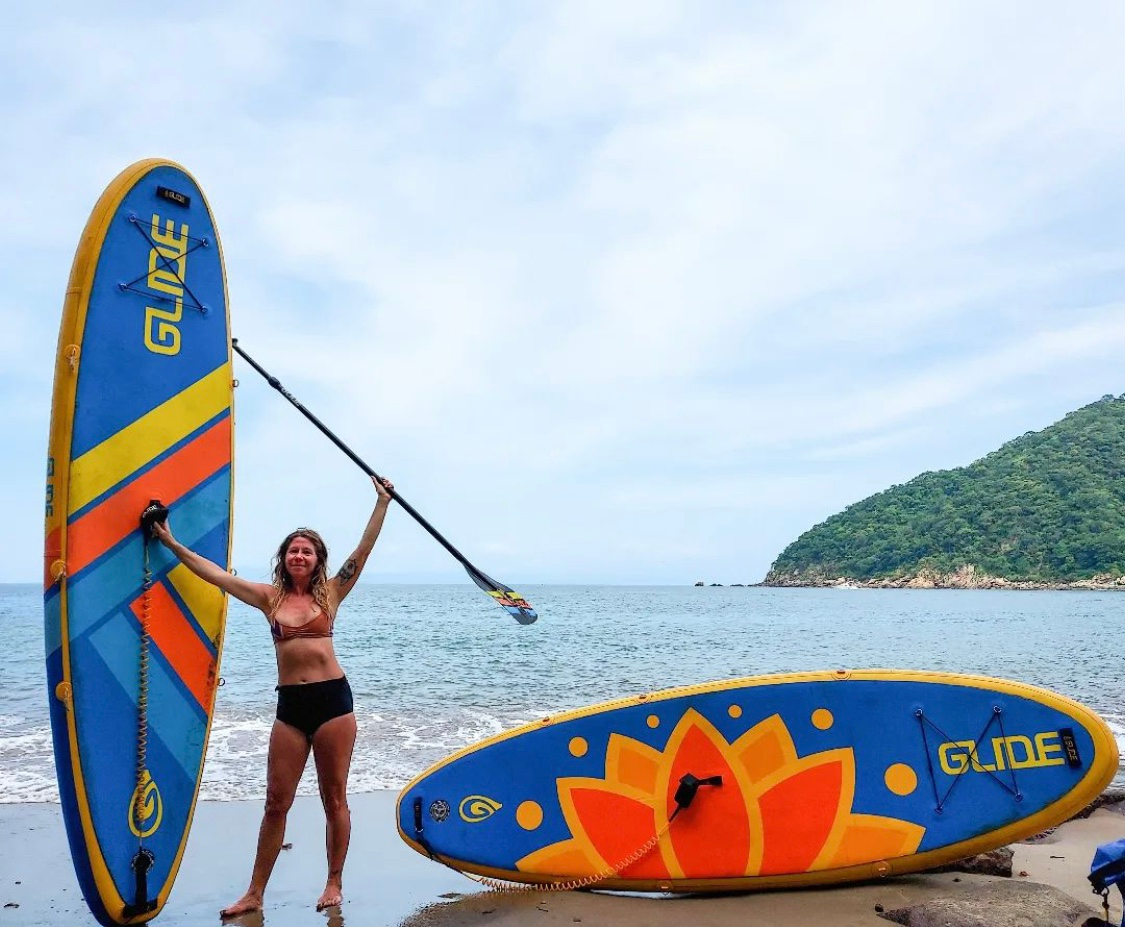 If you're looking to purchase a premium paddle board, there are a few things you'll want to keep in mind. First, consider what type of paddle board you're looking for. There are all around boards, which are great for beginners or those who want to do a variety of activities on their paddle board. Then, there are racing boards, which are longer and narrower and designed for speed. If you're unsure of what type of board you need, consult with a professional or someone who is an experienced in paddle boarder.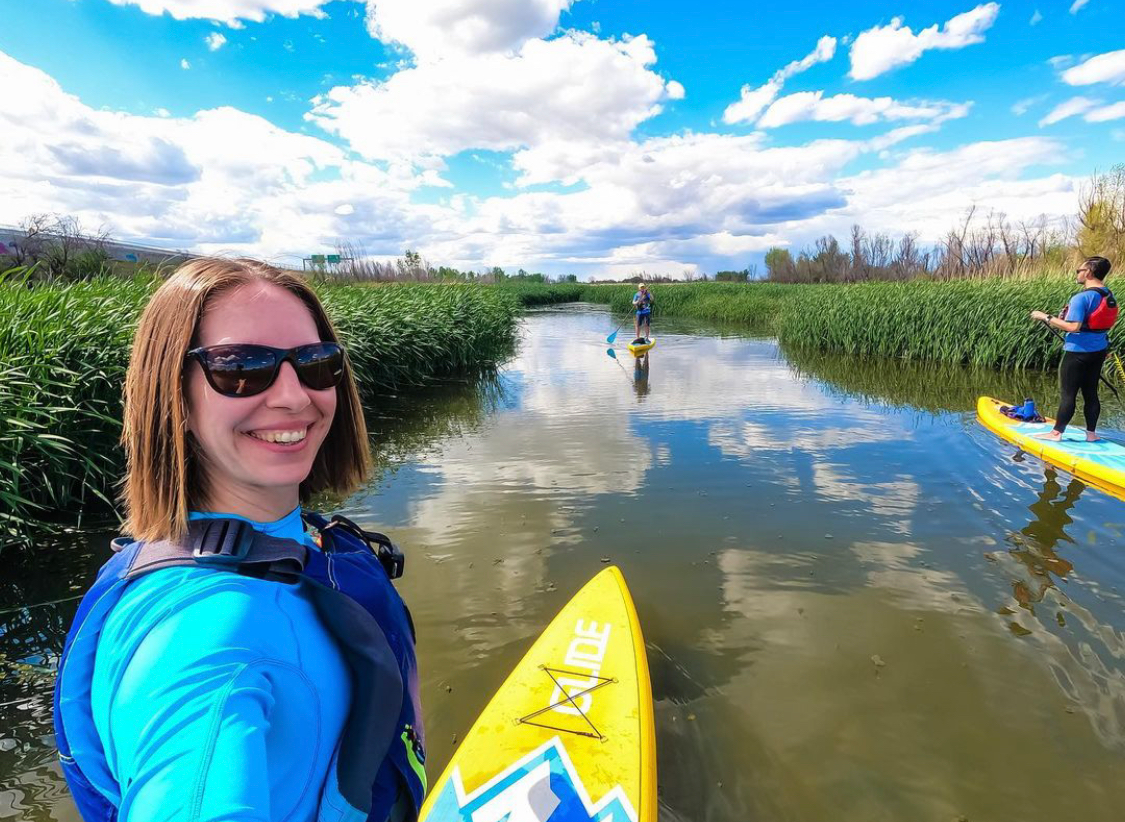 Once you know what type of board you need, the next step is to find a reputable vendor or manufacturer. Research different vendors online and read reviews from other customers. Once you've found a vendor you trust, give them a call or visit their website to inquire about pricing and availability.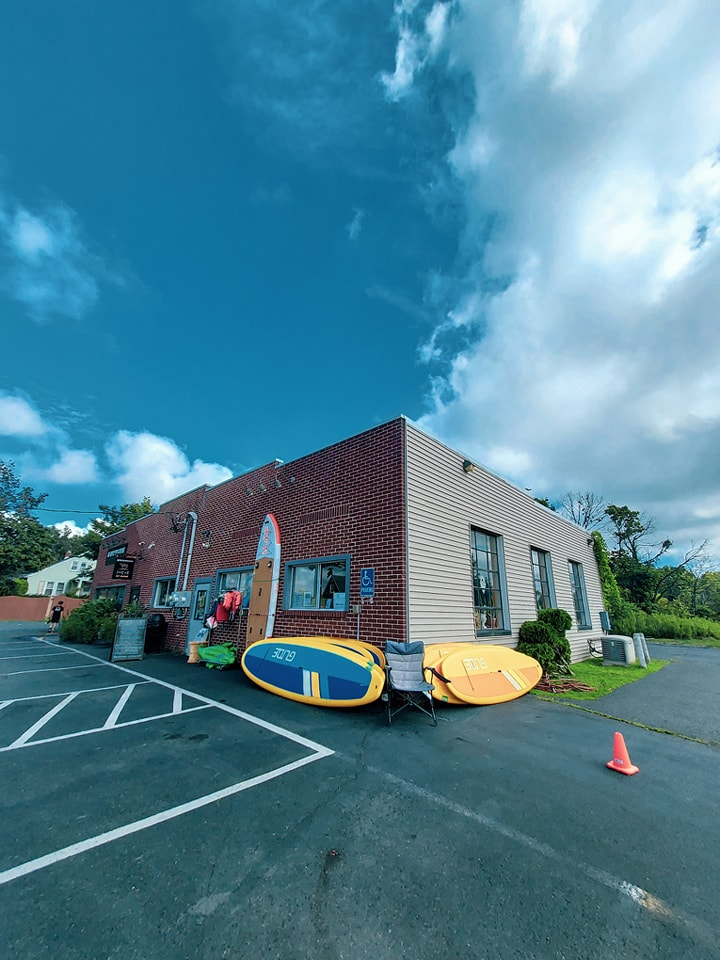 When purchasing your board, be sure to also invest in quality SUP accessories. This includes a paddle, leash, portable flotation device, and storage bag. These items will help you stay safe while paddling and make the most of your experience.
Taking care of your paddle board is a breeze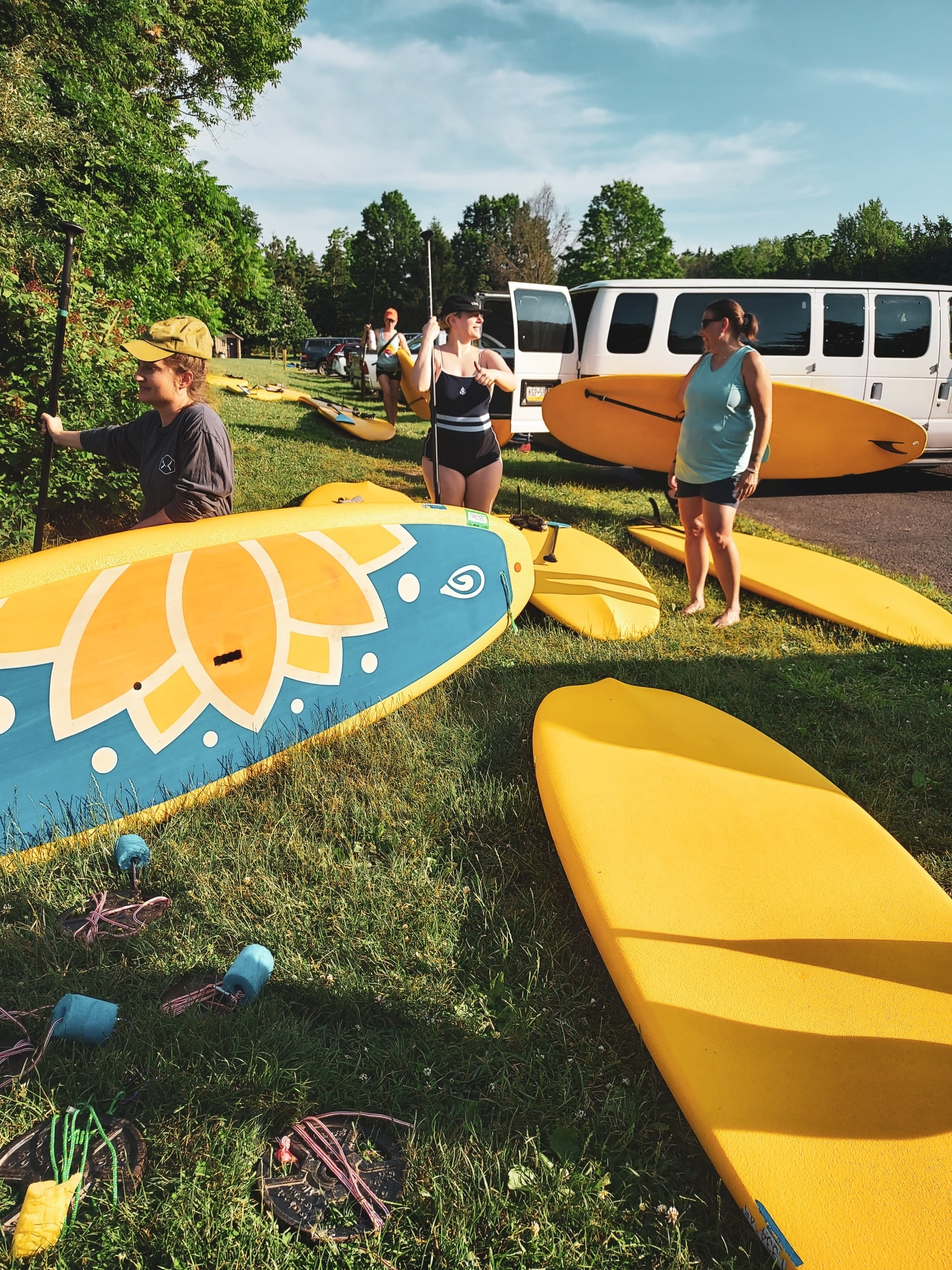 To keep your stand up paddleboard in good condition, you should rinse it off with fresh water after each use. You can also wipe it down with a soft cloth and mild soap. Once a month, you should give your paddle board a thorough cleaning with a sponge or brush and either freshwater or a diluted vinegar solution. Be sure to rinse the board thoroughly afterwards. You should also store your paddle board in a cool, dry place out of direct sunlight when not in use. That's all you need to do!
Paddle boards are easy to transport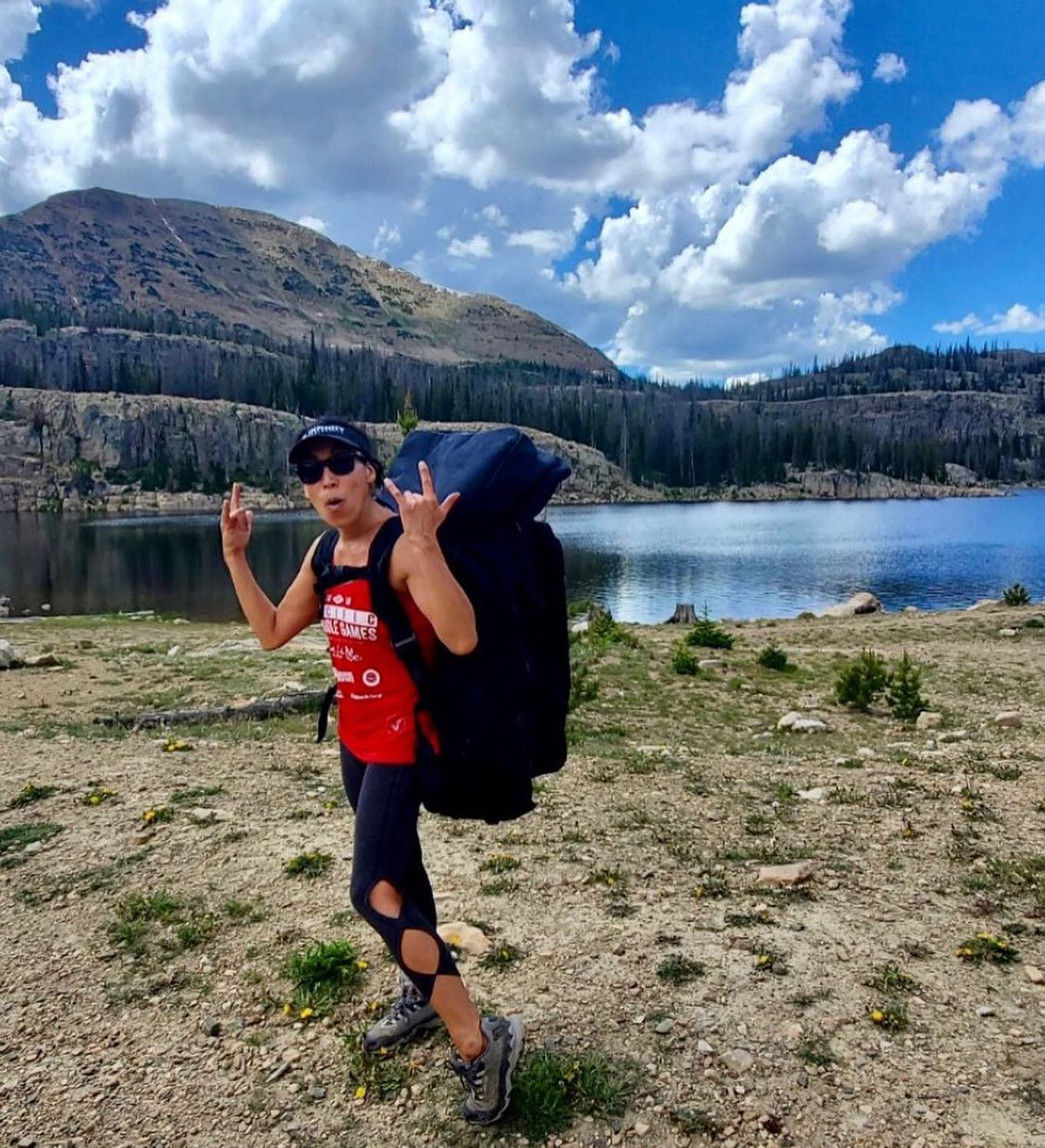 Stand up paddleboards can be transported on the roof of a car or in the back of a truck. If you are transporting your paddle board on the roof of your car, be sure to use padded roof racks and tie the board down securely. You can also strap inflatable stand up paddleboard to the roof if you don't want to inflate and deflate it every time you use it.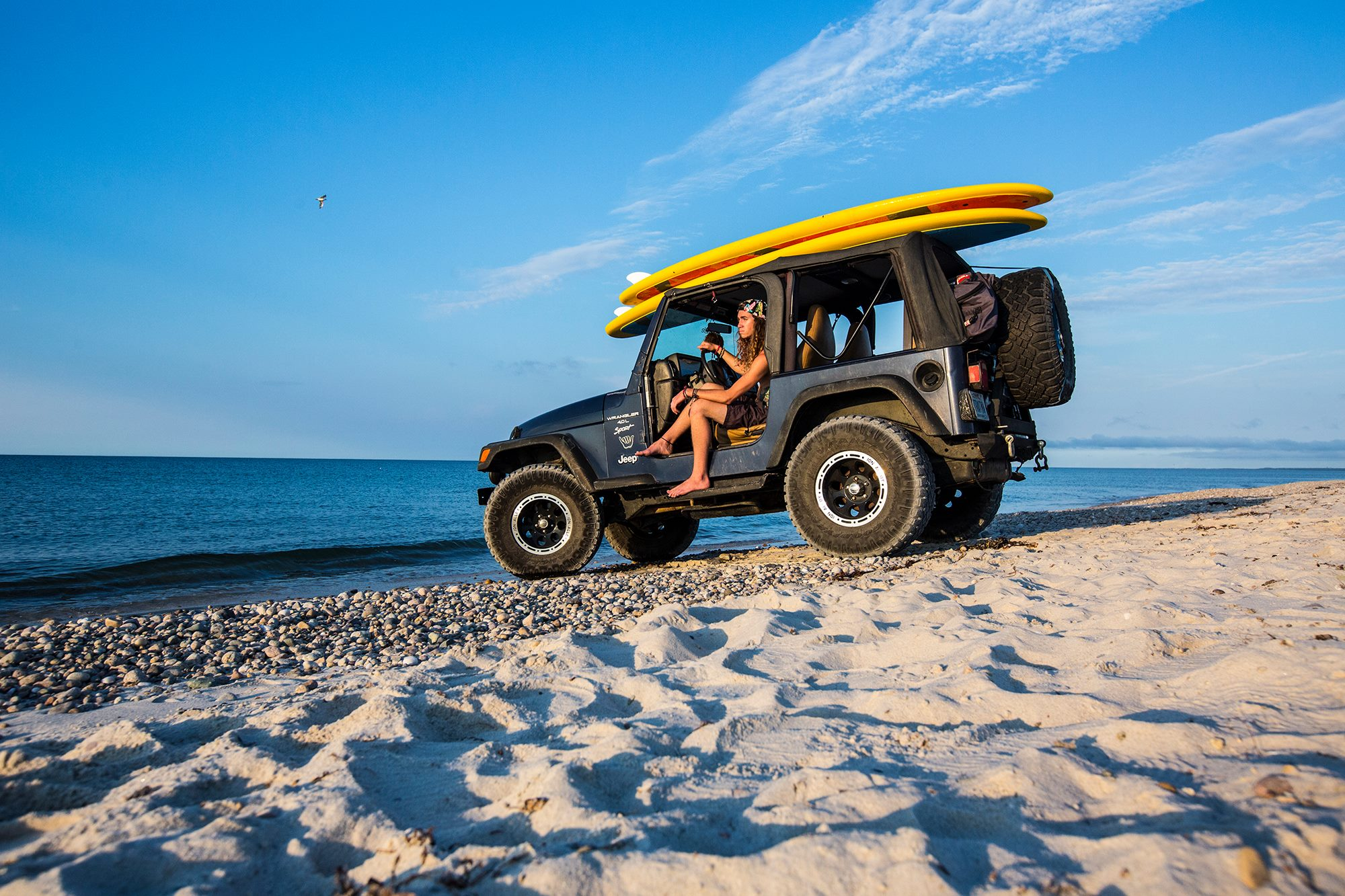 You can also transport your paddle board inside a large SUV but you will end up with the tail of your board hanging out the back. If you are transporting your paddle board in the back of a truck, be sure to use bungee cords or straps to secure it. If you have ever tried to transport a kayak, you know how cumbersome that can be in comparison.
Inflatable paddle boards open up all kinds of possibilities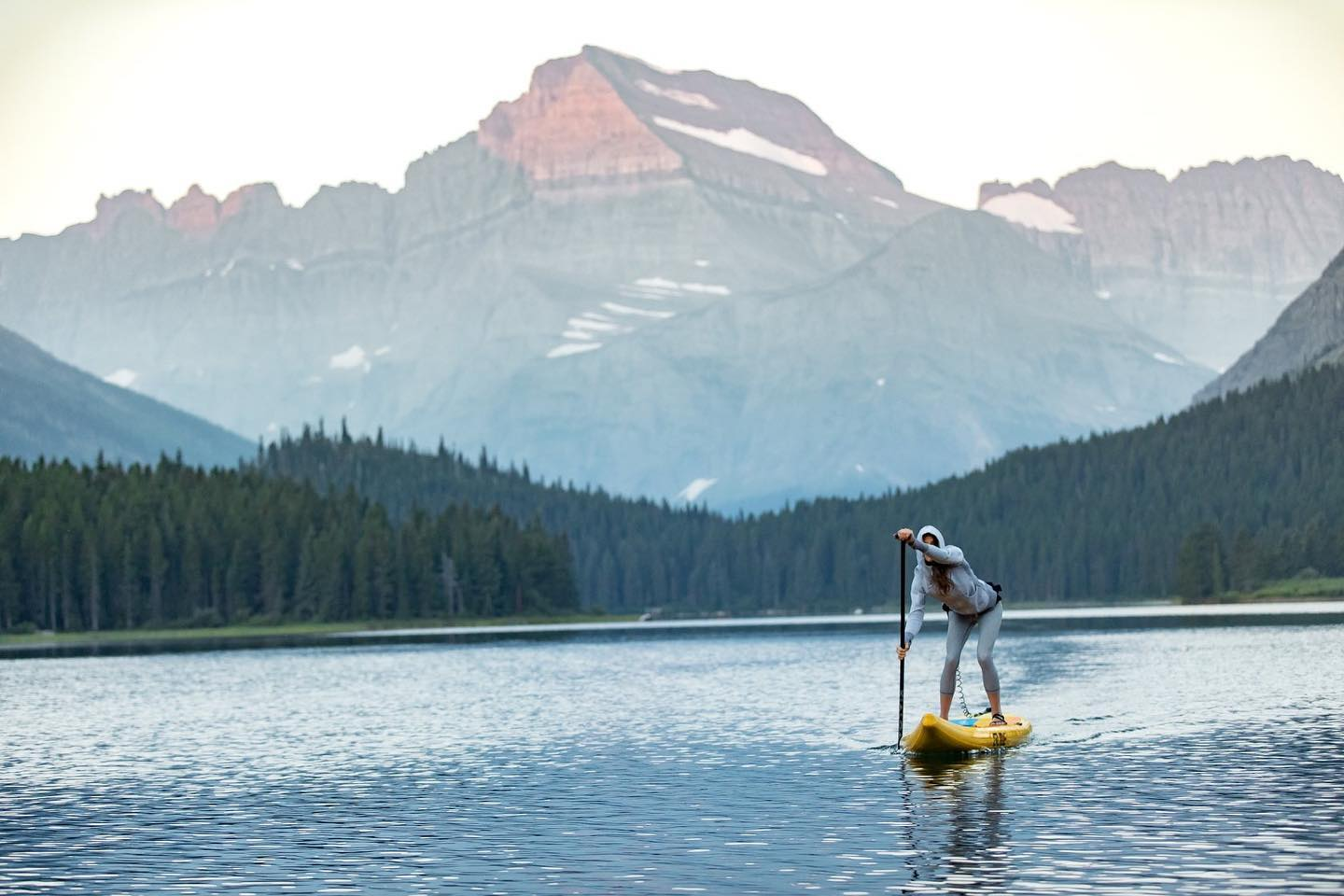 Inflatable paddle boards created all kinds of possibilities for those that didn't have much room to store a stand up paddle boards as well as those that wanted to explore waterways that they couldn't get to in a vehicle. Now apartment dwellers could store their paddle board in the backpack that came with their inflatable SUP, put it in the trunk of their Prius and hike it long distances into remote lakes where they could pump it up with the manual pump that was included with the inflatable paddle board.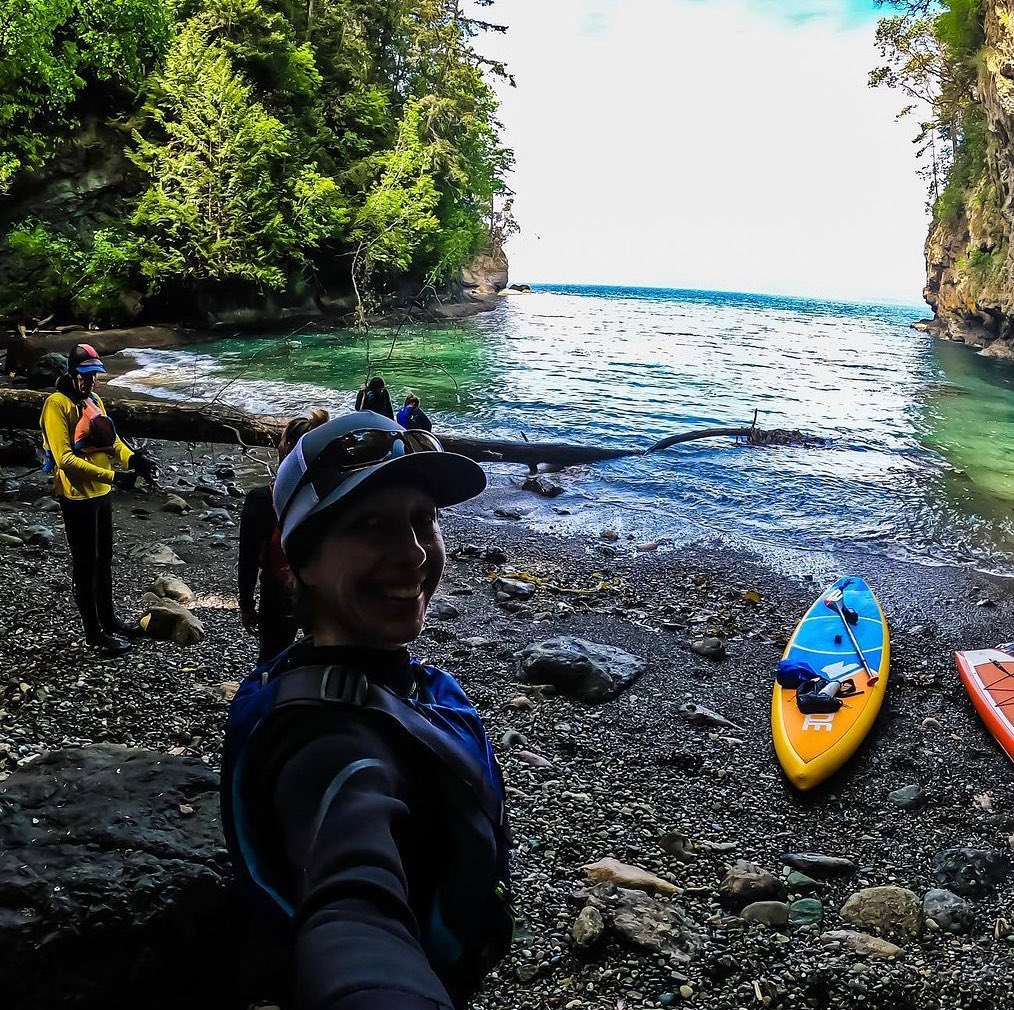 Most inflatable stand up paddleboards include an adjustable paddle that fits right in the backpack as well as a repair kit, in case your board runs into something sharp at the waterway you hiked into.
Other accessories that are often included besides an adjustable paddle, hand pump and repair kit are SUP accessories like a kayak seat and an over the shoulder carry strap.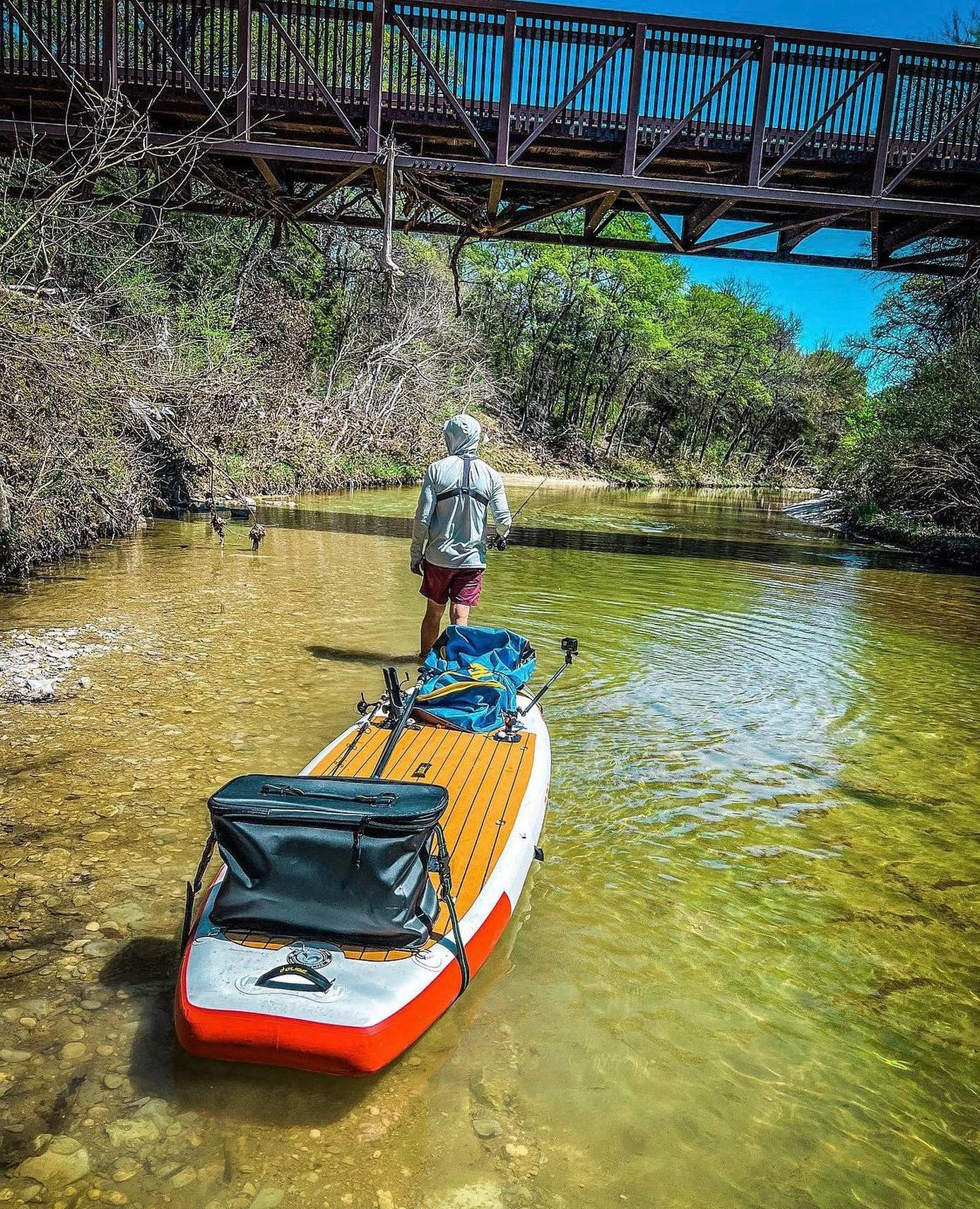 The first inflatable stand up paddle boards weren't all that sturdy, so stability was an issue. They tended to only use a single layer of PVC that surrounded a knitted drop stitch core. It was hard for beginners to get the hang of standing on them when the tail and nose would rise up.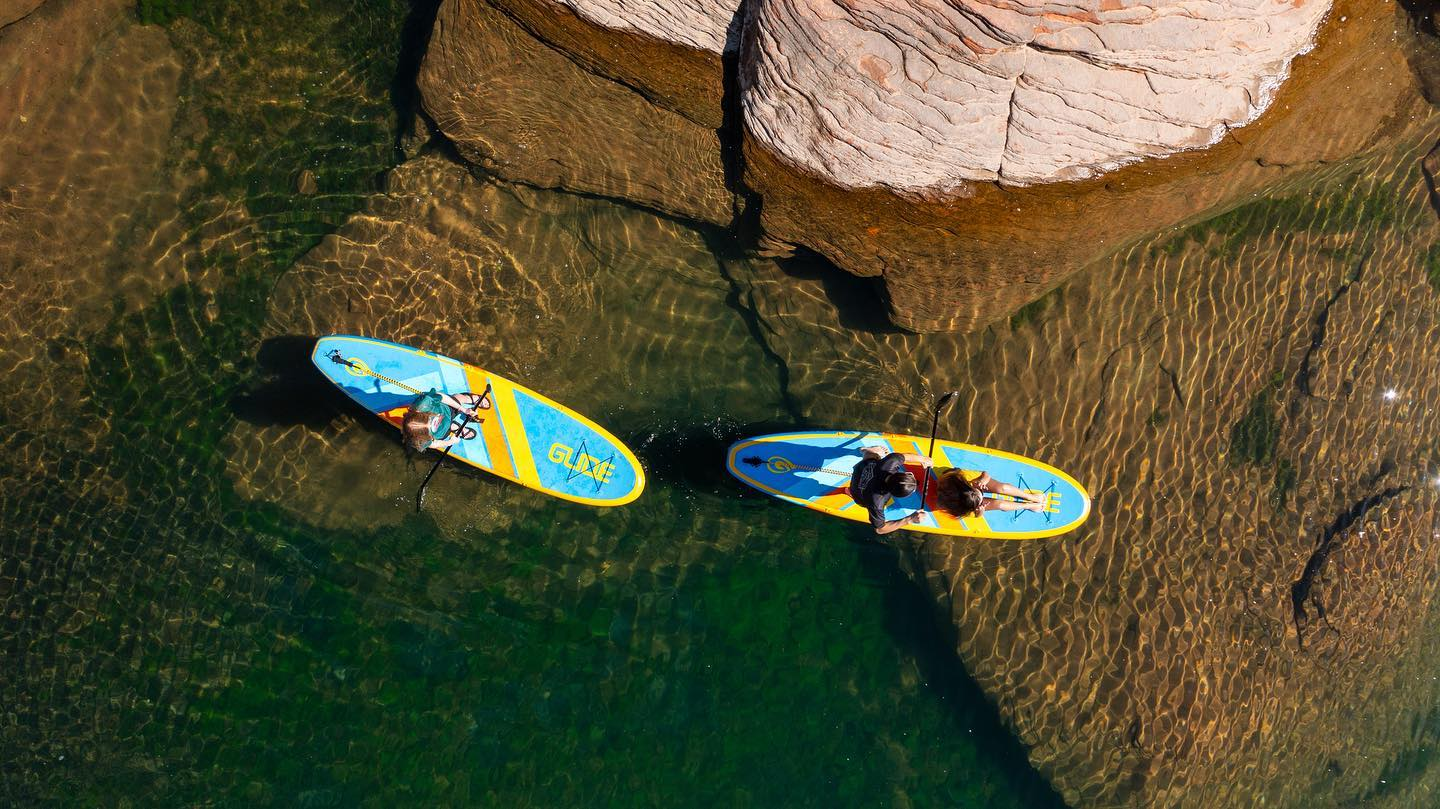 These days inflatable paddle board technology has improved quite a bit and the price point has also dropped on this type of stand up paddleboard as multiple layers of PVC were fused together rather than glued which made the boards more stable in addition to being more lightweight. A high quality inflatable stand up paddleboard also has a woven dropstitch core which also improves stability as well as durability.
Stoke your sense of adventure of an inflatable paddle board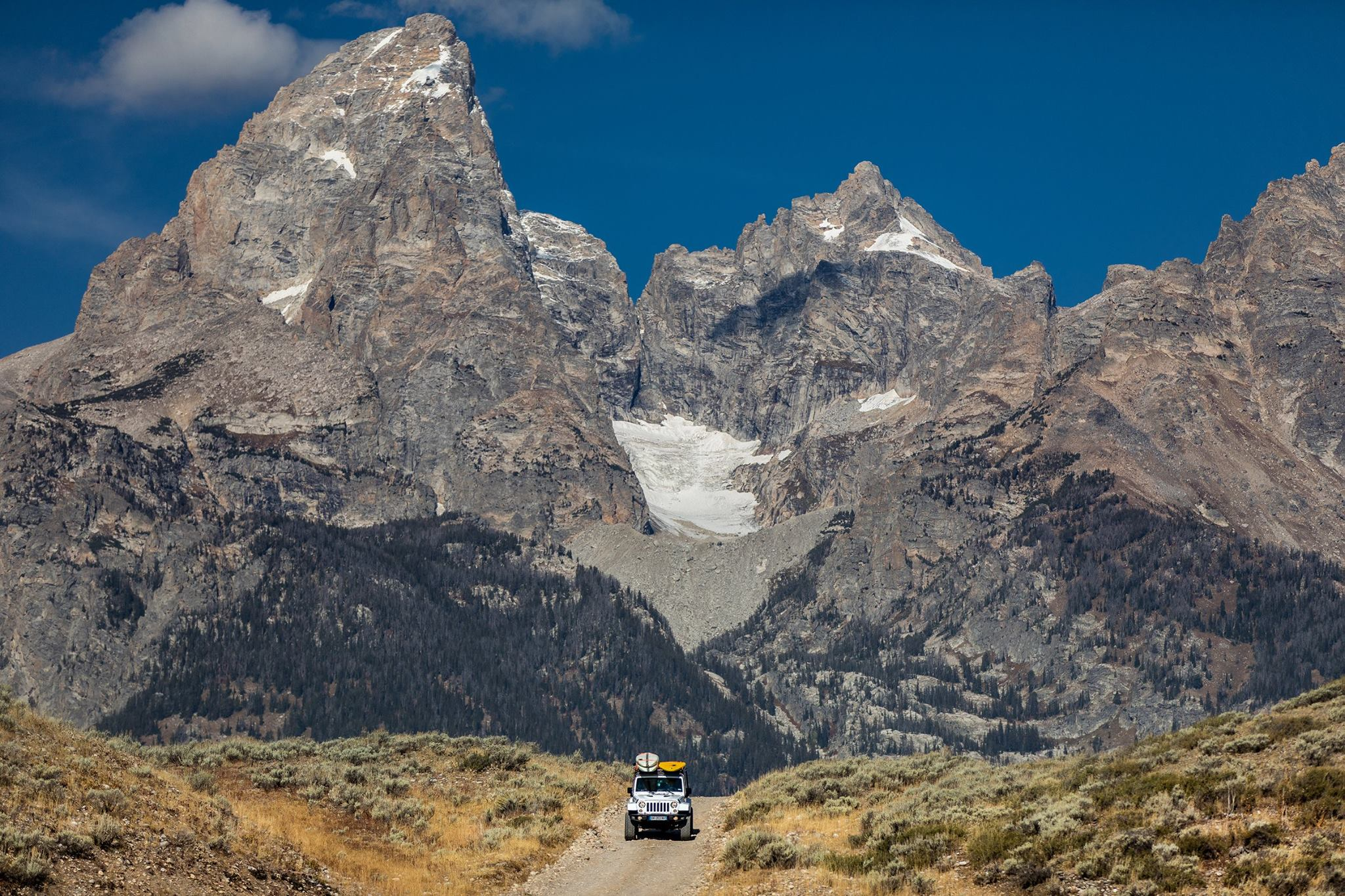 Because you can just toss your inflatable stand up paddle board in a backpack, you can easily check it on a plane, so the world can be your adventure destination. Your inflatable SUP isn't going to win any racing competitions as it's not built for speed but it is great for other disciplines like surfing or river running due to the high weight capacity and stability of the inflatable SUPs.
Although the skill levels required for the various styles of stand up paddling that we mention below are pretty high.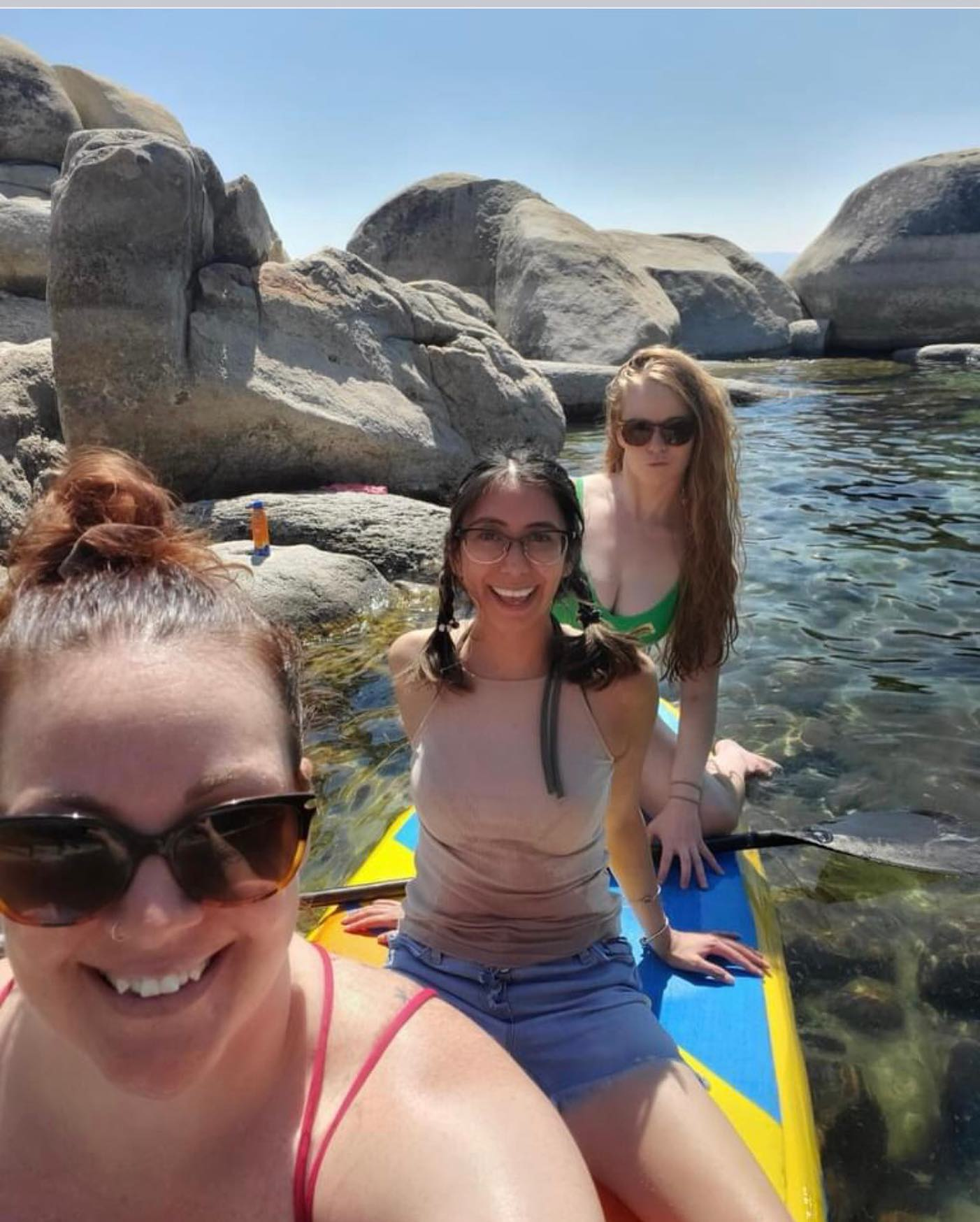 Most people go with an all around style of inflatable paddle board so that they have the flexibility to conquer all of the various types of paddleboard disciplines once they have traveled somewhere remote with their inflatable SUP.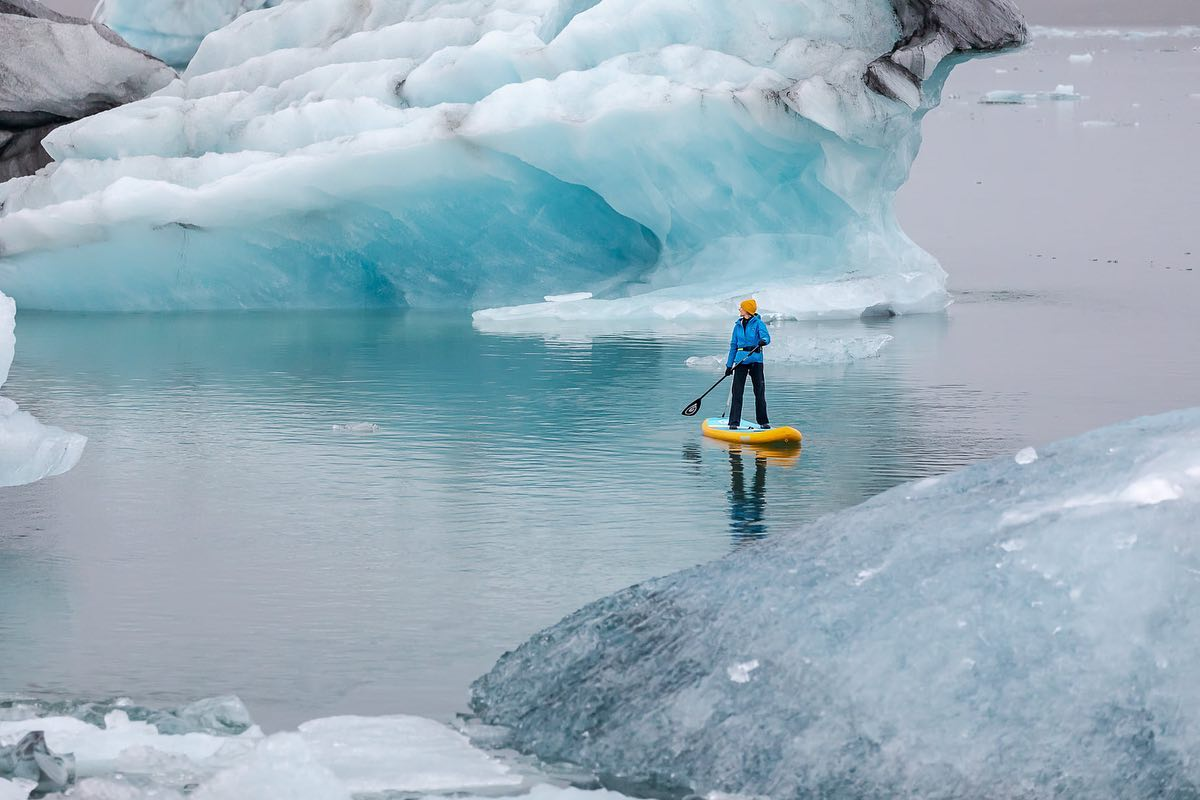 Inflatable paddle board technology has improved greatly through the years. They are now 90% as rigid as a hard paddle board.
Run rivers on your Stand up paddle board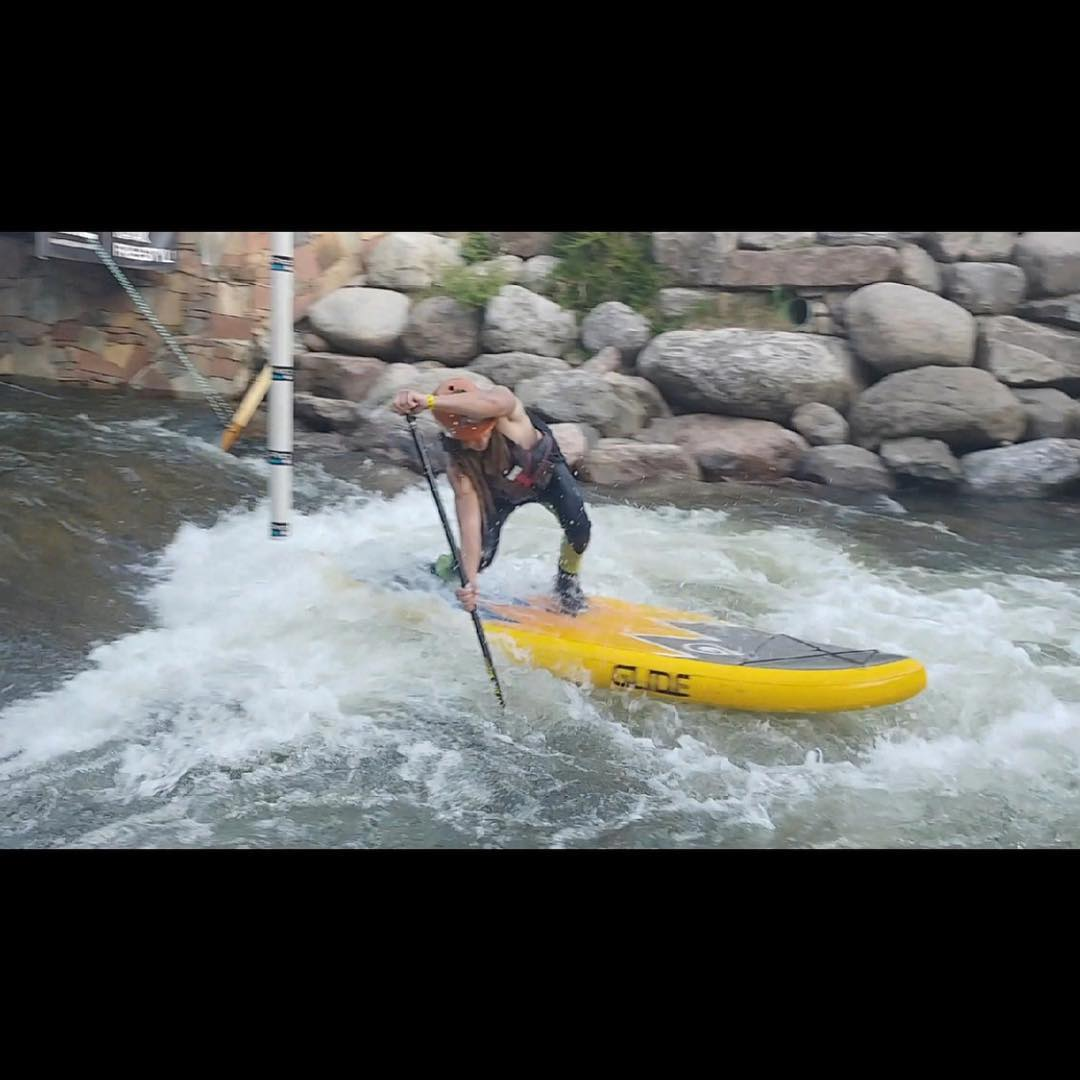 For those that like to ride river rapids inflatable paddle board is a great option because its lightweight enough to hike up the river with and provides a somewhat soft landing for the whitewater paddleboard enthusiast. Having a high quality non slip deck pad will help you ride the rapids with extra stability!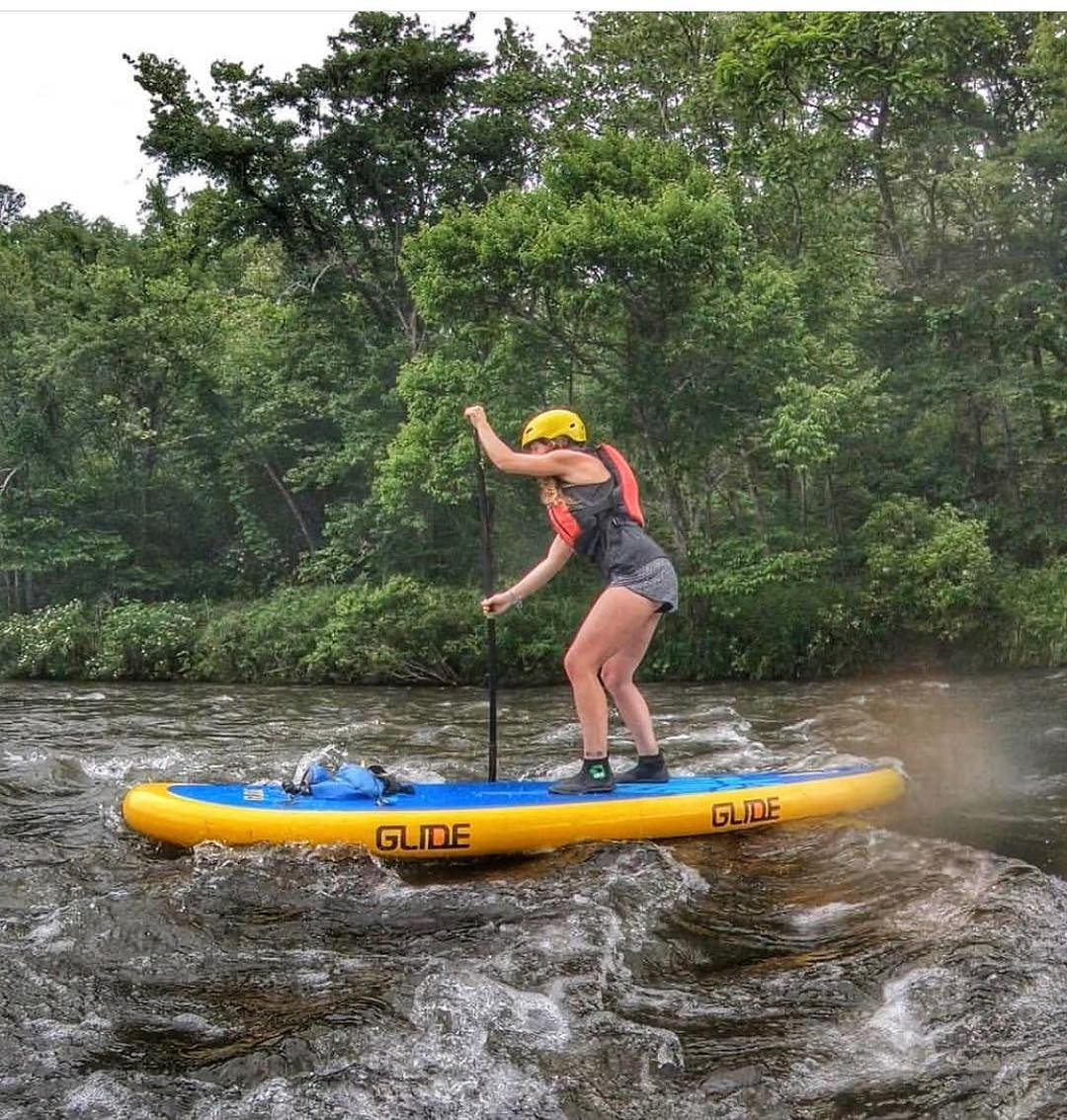 You will also want to invest in other paddle board accessories like a helmet, quick disconnect leash, shorter fins, and a river rated PFD. You don't want to skimp on price for any of these accessories as they could save your life.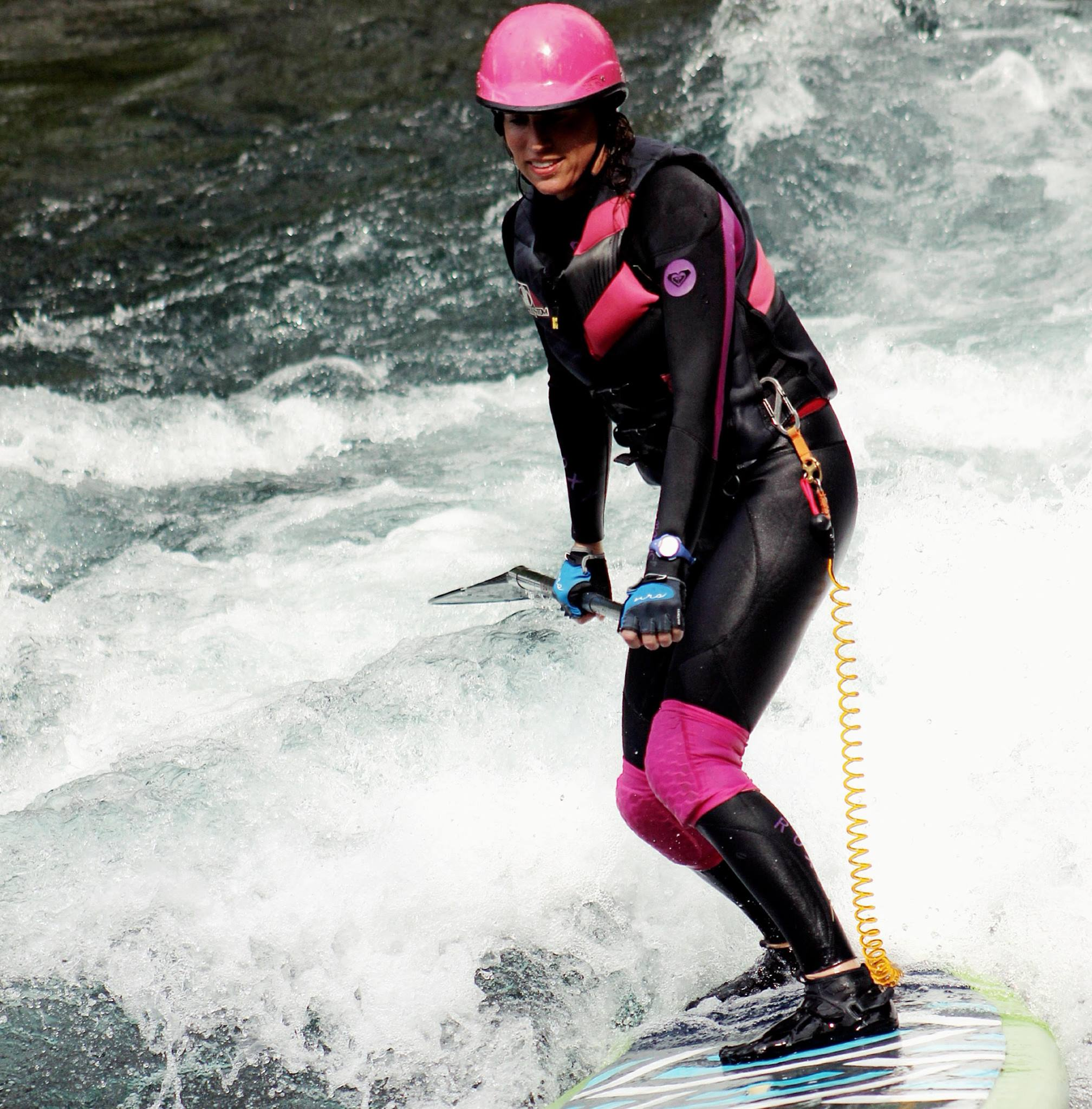 You definitely want to try this with an experienced paddle boarder as it's a dangerous activity.
Backpack your inflatable SUP into a remote alpine lake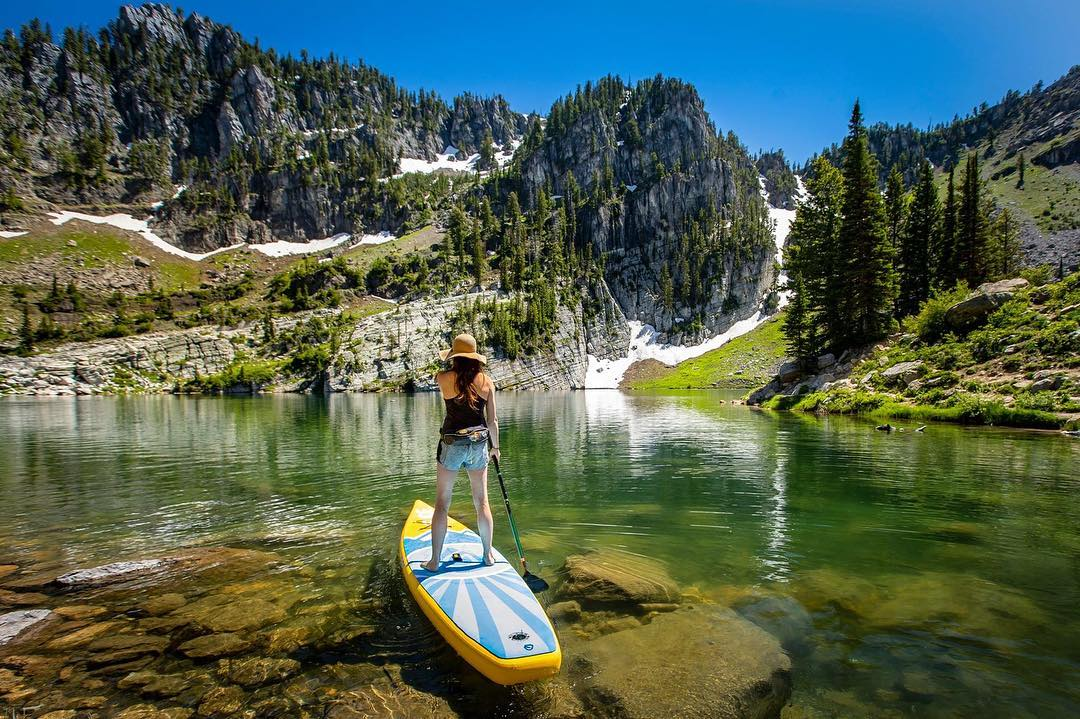 No matter what style inflatable paddle board that you buy, it should it should come with a backpack which allows you to hike with it so your adventure could be exploring remote waterways that you didn't have access to with your kayak.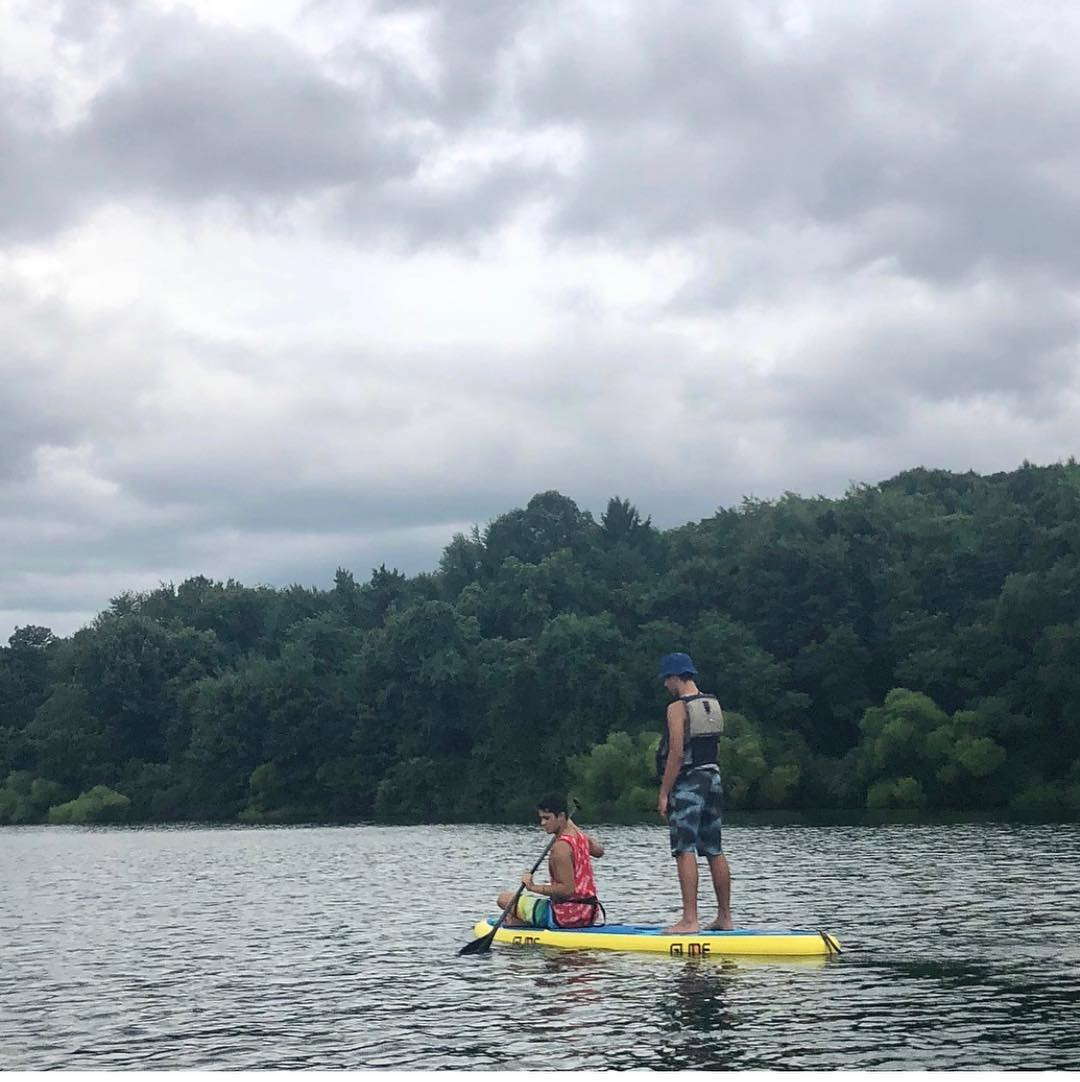 One of our favorite SUP accessories is a kayak seat that converts your stand up paddle board into a sit-on-top kayak for those that prefer sitting rather than standing. Just another aspect of the inflatable paddle board that makes it unique.
Acro Yoga on an inflatable stand up paddle board is a new adventure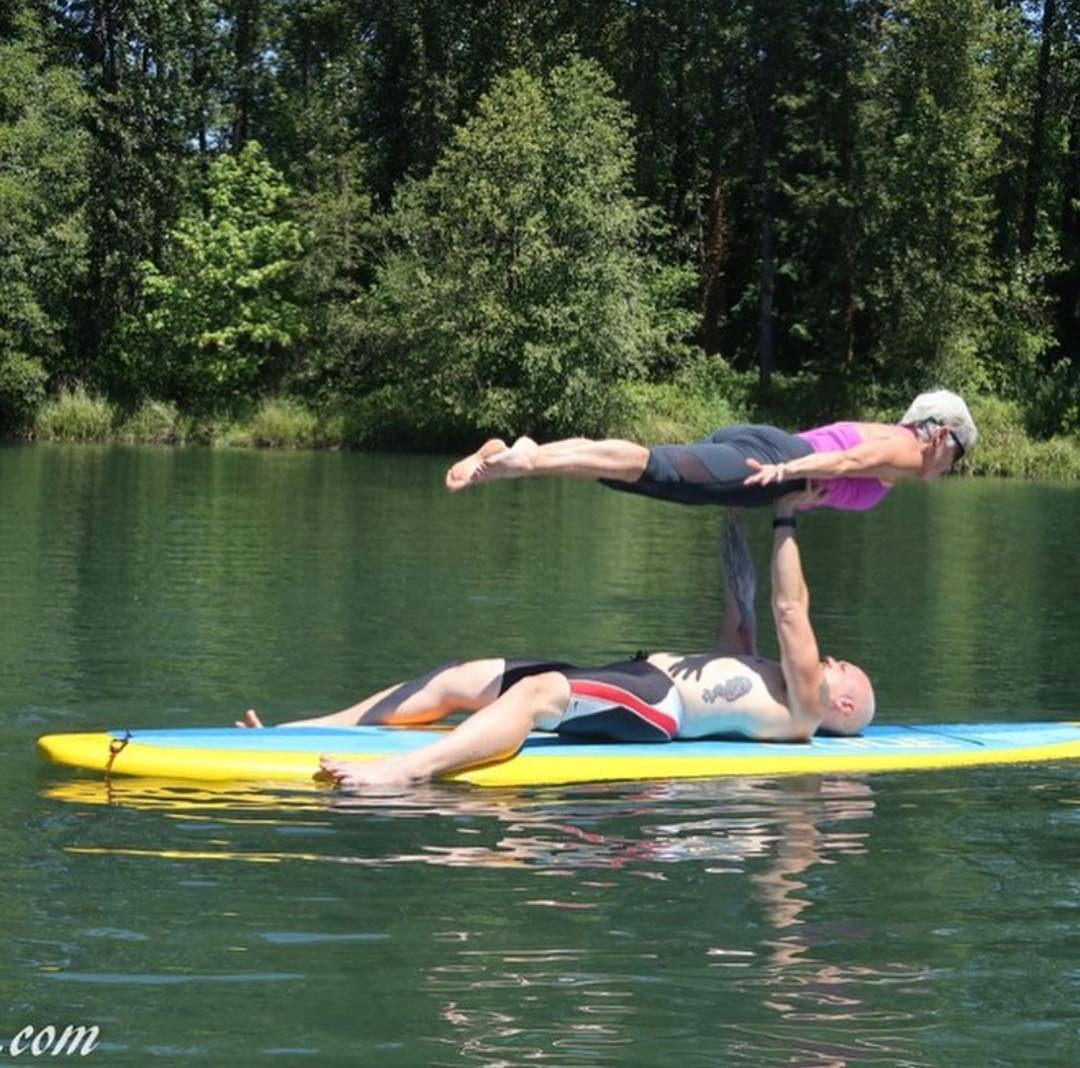 Acro yoga is a style of yoga that typically involves two people whereby one of them serves as the platform for the other. Performing acro yoga on an inflatable stand up paddle board adds to the challenge of this already difficult activity as the stability of the board is much less than a yoga floor. You will definitely want an inflatable stand up paddle board that you can pump up to 25 PSI for this one!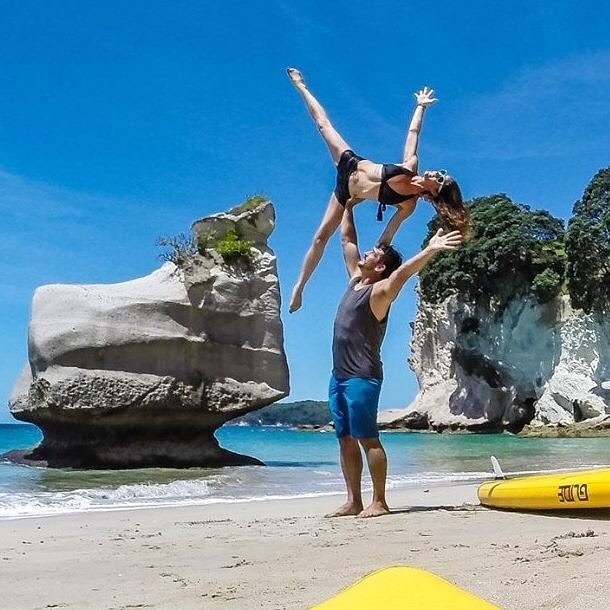 Practicing on a lawn before you try this on a paddle board is key. It will give you and your acro partner more confidence before you head out for the water.
Conclusion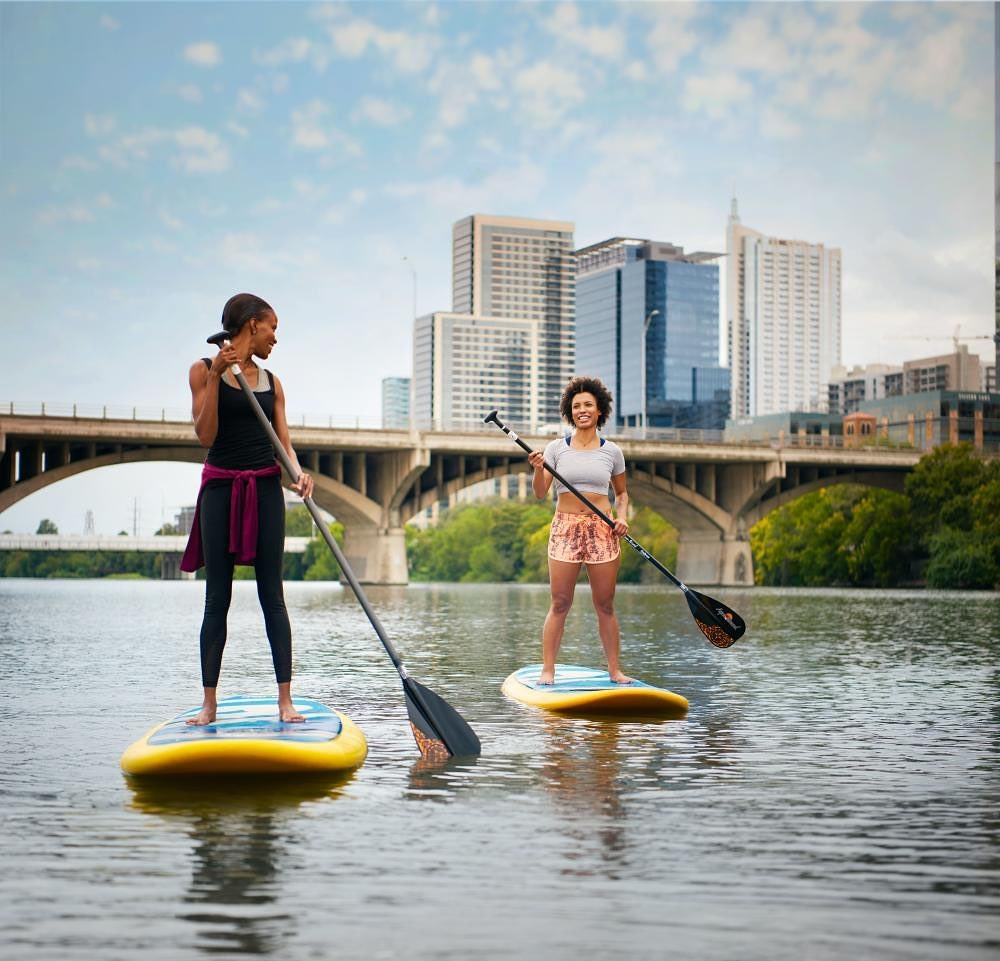 Regardless of what style stand up paddle board that you buy, we guarantee that your paddleboard is a more versatile, more unique watersports piece of equipment that you can find at any price. On a paddleboard, you can do everything that you can do on a kayak, however you can't do everything on a kayak that you can do on a stand up paddle board. Now that you are up to speed on the differences, it's time for you to find out for yourself all of the benefits that a stand up paddle board can over you.