Your Comprehensive Guide to Inflatable Stand Up Paddle Boards
Inflatable paddle boards
have made SUP more accessible to everyone on the planet. We have compiled everything you need to know about them here.
Introduction

Inflatable stand up paddle boards have taken the SUP world by storm over the past 5 years. Most SUP stores sold out of them during the first year of the pandemic as paddling became a great way to get outside while still social distancing. Paddle boarding became a win-win because it got people outside where they could absorb Covid fighting vitamin D and they could get a full body workout at the same time.
Inflatable SUP boards made the sport much more accessible to the general population; partly because they were more affordable boards but mainly because they are so simple to transport and easy to store. Inflatables are also beginner friendly as they tend to be easier on the body if you fall on them as opposed to hard boards.
 The paddle board can be traced back many millenia. Although the beach boys of Waikiki get most of the credit for inventing modern SUP. The sport started capturing the global imagination when big wave surfing legends Laird Hamilton and Dave Kalama revived it in 1995 in Hawaii.
The biggest knock on hard boards was that the SUPs were a challenge to get from home to the water and weren't an option if you were an apartment dweller in a big city.
Inflatable Paddle Board Construction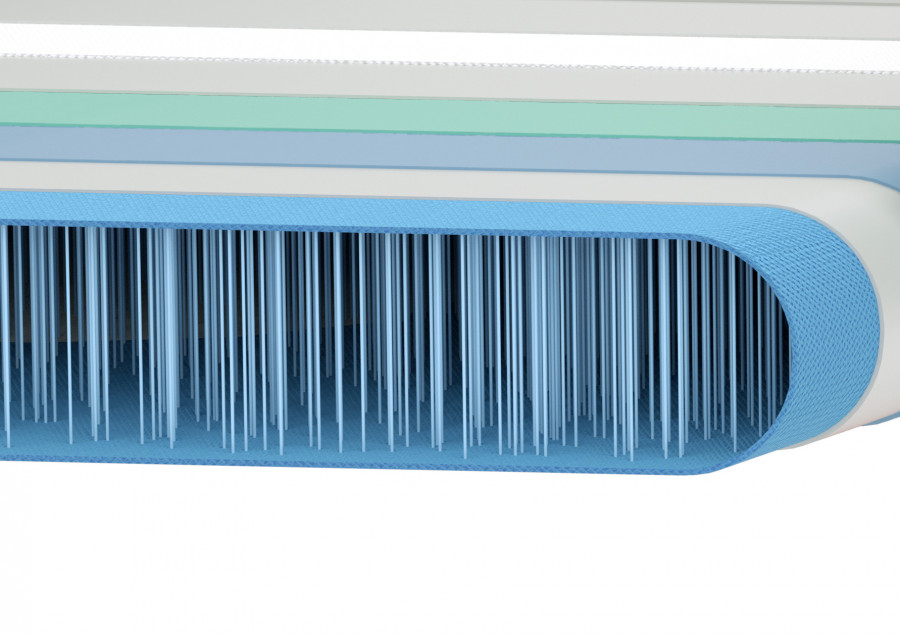 The inflatable kayak has been in the kayak world for quite a few years so it was only a matter of time before the inflatable SUP became a viable option. Within a few years several stand up paddle board brands that offered only inflatable paddle boards appeared on the market. Brands like Thurso Surf, Sea Eagle and Red Paddle (yes, they even sell a red paddle) had entered the market.
The initial inflatable SUPs weren't terribly sturdy so changes were made to their construction by the top brands. Several layers of military grade pvc were fused together to surround a core of thousands of strings tied the top and bottom layers together using knit drop stitch.
The top paddle board brands like Glide SUP and Red Paddle use a woven dropstitch construction which makes for a much more sturdy board. The military grade pvc means much less likelihood of getting a puncture. Because who wants to be on an inflatable board that is deflating?
Cheaper boards still tend to use single layer PVC. They tend to have more in common with pool toys than serious recreational equipment.
Top paddle board brands advantages 

Other reasons that stand up paddle board enthusiasts go with these top brands rather than searching out the best deal in entry level boards is a much better paddling experience. The woven drop stitch construction combined with the multiple layers of military grade pvc allows some of these inflatable paddle boards to be properly inflated up to 25 PSI with a pump. PSI stands for "pounds per square inch".
In order for an inflatable paddle board to have anything close to the speed of a hard stand up paddle board, you need to invest in a board that allows you to pump it up over 20 PSI.
Paddlers that are just looking to save money with great deals, end up with a board that "tacos". Meaning that when you stand in the middle of the board in the water, the nose and tail will rise out of the water which makes paddling theses stand up paddle boards quite a challenge. 
Inflatable paddle boards should be rigid 

Whether you are buying a touring board or just want to try your hand at surfing an all around inflatable sup board, you are going to want a SUP that is as rigid as possible which is why you want to research the brand you settle on quite thoroughly. Don't just buy last year's model because it's on sale. Inflatable SUPs have become almost as rigid as solid boards.
You want to make sure that you are investing in a model that is well suited to your paddling needs. A more rigid board will help you navigate rougher waters because you are highly unlikely to always find yourself in flat water.

Weight capacity is definitely something you want to consider when looking at inflatable paddle boards, especially if you are considering multiple riders. One of the great joys of paddling paddle boards is being able to paddle with your kids or your dog on board. Luckily weight capacity isn't a huge issue with most inflatable SUPs because they are thicker than rigid boards so having multiple people on them is typically not a problem.
Inflatable Paddle Board Accessories

 Top brands tend to include many SUP accessories with their boards whereas the lesser brands sell them as add ons. These are the details that most beginners tend to overlook when they visit an inflatable paddle board site.
Accessories such as a backpack with rolling wheels, a paddle, dual chamber hand pump, kayak seats, center fin (depending on the fin setup of the SUP) and repair kit shouldn't cost any extra. The kayak seat comes in handy for most beginners. The backpack also makes for an easy way to store your SUP.
 Choosing the Inflatable SUP for you

 Other features to consider besides construction and accessories for your inflatable paddle board are: how many attachment points does the SUP have? Are there features like bungees to store your gear in dry bags? How easy will the board be to cart via a vehicle and then to carry to the water? Other details that that should be considered when reviewing the various SUP brands are: how long have they been making boards? Do they stand behind their paddle boards or are they just a company that focuses on offering more and more deals.
There are a wide array of styles when it comes to inflatable SUPs. So just like buying a rigid paddle board, you will need to determine what you want to use the paddle board for. There are so many SUP disciplines to choose from that it can almost become overwhelming.
A few decision points when buying your first inflatable board would be: wide platform vs a narrower one, weight capacity, attachment points, flat water vs surfing and/or rapids, pointed nose vs rounded the kind of fin setup you are looking for.
 Touring Boards

For paddling long distances on flat water, most inflatable paddle board buyers chose a touring board with a pointed nose to give the user more speed. The pointed nose helps them paddle the longer board through chop and the narrowness of the board makes paddling easier and gives the board a nice glide. Some of these inflatable paddle boards also have a speed tail as well.
Most SUP brands offer their version of a touring board that paddles smoothly and allows users to store their gear in dry bags on the board. Solid boards that are used for touring tend to be a thicker board with a small deck pad to add to the board volume. Thickness tends to be irrelevant with inflatable paddle boards as they all tend to be the same thickness.
A carbon fiber SUP paddle is a good idea for paddling long distances so you don't wear yourself out quickly.
Surf SUP Boards

For surfing, the rule of thumb is to choose an all around inflatable sup because the rounded nose makes it easier to maneuver in waves and chop. Paddling through waves and chop is a new challenge for most people that have mainly done flat water paddle boarding so surfing a paddle board tends to be the realm of more advanced paddlers.
So before you try your hand at surfing, get some expert advice from a local SUP shop. You will want to make sure that you have gear and accessories like a wet suit and leash before heading out into the ocean.  Get a feel for the board volume and how the board performs in smaller waves before trying anything bigger.

Whether you are surfing solid boards or all around boards that are inflatable, you will want to learn to use your SUP paddle both as a brake should you get ahead of the wave or to speed up in case you get behind the wave. A carbon fiber SUP paddle works well to catch waves and it is light weight and allows the paddler to maneuver the board quickly.
Be aware of the weight limit of the paddle board you choose. It could be a great board but if the weight capacity is to low for your size, the paddle board will sag. You don't want your board lower than the waterline. If it does ride lower than the waterline, you are going to have a difficult time catching waves!
Whitewater Stand Up Paddling

Whitewater SUP has become quite popular in recent years. There are specific inflatable SUP boards that are designed for rivers or an all around inflatable SUP will do the job for you. You will definitely want to get some expert advice before attempting to hurl down a river on a paddle board.
Inflatable paddle boards are excellent for whitewater rapids because river paddlers tend to fall a lot more navigating rapids and an inflatable SUP will give you a softer landing than a hard board. Whitewater SUP boards tend to be the same length as surfing paddle boards to keep them easy to maneuver.
Some must have gear and accessories for this SUP discipline are: helmet, leash with a quick release around the torso, personal flotation device (PFD) and a wet or dry suit (depending on the water temperature). Whitewater SUP is the most dangers of the stand up paddle disciplines so it's definitely not for the kids.
Replace your ankle leash with a leash that hooks up to your Personal Flotation Device and has a quick release button in case your paddle board gets snagged on a rock. You will also want to put smaller fins in your fin setup. The only reason to change the fins out is to keep them from getting snagged on rocks.
These are good practices whether you are heading down whitewater rapids or slow moving rivers. Advanced paddlers with a high skill level are the only ones who should consider trying whitewater SUP.
 SUP Yoga Boards

 Yoga on inflatable SUP boards is as popular as ever. This is another area where yoga specific inflatable paddle boards can be used or an all around board will work as well. Yoga boards tend to be a wider board which makes them beginner friendly because they offer extra stability compared to other boards. The stable feel helps the yogi try more advanced poses on the water.
A whole lot of gear or accessories are not required for SUP yoga although an anchor to keep your paddle board from drifting is recommended. When comparing brands of SUP yoga board, make sure that the board was designed by a yogi and that they have yoga ambassadors represented on their site.
SUP yoga brands tend to have new releases more often than other SUP boards as the aesthetics of the boards are very important to yogis. Having your kids try yoga on a stand up paddle board will get them interested in both paddling and yoga.
Practicing yoga on inflatable paddle boards gets yogis more in touch with nature. The deck area is typically covered by a deck pad which is the same size as a yoga mat. So every square inch of the deck area is put to good use.

 Fishing Paddle boards

If you are interested in fishing from your SUP, you may want to consider a stand up board that is specific to fishing. These inflatable paddle boards have multiple attachment points that allow you to attach scotty mounts so you can attach your gear and accessories to the SUP.
These mounts allow you to mount your fishing rods and any other accessories that you need for your particular needs. Extra features usually include kayak seats and carrying straps.
Fishing stand up paddle boards tend to be a longer board as well as a wider board compared to all around SUPs as they need to be more stable since you will often stand on them while they are not moving. They also need to support a cooler which allows the angler to sit or stand while they are SUP fishing. 
Make sure that your fishing SUP board has plenty of attachment points and a high weight limit because you can never be sure how much extra weight you will be carrying on these stand up paddle boards. You don't want them to ride lower and lose that stable feel.
Now you are ready to hike into that alpine lake and get to fishing!
All Around SUP Boards

For those that are new to paddle boarding, and all around SUP can be the perfect board to start with. An all around paddle board allows the user to try all of the SUP disciplines so that they can figure out what suits them best. The boards will let you paddle on flat water with your kids and dog, head to the beach to try your hand at surfing, carry the SUP in a backpack and run it down a river, try a little SUP yoga or give stand up paddle fishing a try.
The main features of this inflatable is that it is shaped like the long boards of years past. Other features of all around paddle boards is more rocker than you will find in a touring paddle board as well as a shorter stature which makes them easier to maneuver. 
Kids Paddle Board

When most paddle boards were rigid, it was necessary for many SUP brands to come up with a smaller kids boards that was lighter and easier for them to carry.
As far as features were concerned, the only difference between a kids board and an adult version was the size. With a advent of the inflatable SUP, this became unnecessary since SUPs became lighter and easier for kids to carry. Most kids prefer having a larger board that they can paddle their friends or siblings around on. 
Removing your inflatable SUP from the box

The main things to remember when you are removing your iSUP from the box is to not use too sharp a cutting tool to open the box and to not go too deep with it when you are cutting the tape that holds the box together.
Next, make sure that everything you ordered is in the box. If you ordered your SUP from one of the top brands, your accessories should include: a three piece paddle, a center fin, backpack with roller wheels, leash, dual chamber hand pump, repair kit and kayak seat. If any of these items are missing, call your SUP vendor and report if immediately.
Inflating your Stand up paddle board

 No matter which SUP brand you choose, inflating and deflating your paddle board will we the same. All of the quality SUP brands will include a hand pump as one of many accessories.
The better hand pumps have features such as a "dual action chamber" which allows the user to pump air into the board while pushing down on the pump as well as pulling up. It should take you between 12 and 15 minutes to pump up your inflatable SUP with a hand pump.
One of the most popular accessories in the world of paddle boarding is the electric pump. You can either power your electric pump through your vehicles lighter or if you prefer to carry your inflatable SUP too to water and then pump it out, you will want to order a battery for your pump. 

Deflating your Stand up paddle board 
Deflating your inflatable SUP takes a lot less work than inflating it does. Simply unscrew the cover that protects your SUP air valve and use your thumb to push the valve down and to the left until you hear the woosh of air escaping.

If you have experience with any kind of inflatables, you will know what to do at this point. Simply wait until not much air is coming out of the inflatable than lie on it (don't stand on it) to force more air out of it. When the SUP has minimal air left in it, roll it up from the tail to the nose to remove the rest of the air and then put it into the backpack. It's best to choose a site that features grass or soft dirt for this part of the process.
If you have purchased an electric pump, the deflation process is even easier. The electric pump has a second port to use for deflating the board. Simple press the button on the pump and it suctions the remaining air out of the inflatable paddle board.

Fixing the Valve on your Inflatable SUP 

The most common leak that are encountered on inflatable stand up paddle boards is not from a puncture but from a leaky valve. Fortunately there is an easy fix for this issue. Top brands include a repair kit with you inflatable stand up paddle board purchase. The way to make sure that the valve just needs tightening as opposed to repair or replacement, hold the valve area under water. If bubbles come up directly from the valve, it most likely needs to be repaired or replaced.
If the bubbles are coming from the edge of the valve, the valve simply needs tightening. In the repair kit that came with you inflatable stand up paddle board, you will find a gizmo that looks like a cross between a wrench and a measuring cup. You will find that the wrench fits nicely around the valve if you push down on it firmly. Simply turn the wrench clockwise to tighten the valve and then hold the valve under water again to make sure no sure bubbles are escaping.
If the problem is with the valve itself have you inflatable stand up paddle board vendor send you a replacement valve. Once you have received the valve, use the same wrench from the repair kit but instead of turning it clockwise, turn if counterclockwise to remove the top half of the SUP valve.
At this point you need to be very careful that the lower half of the valve doesn't disappear into the inside of the SUP as it can be very difficult to retrieve. The trick here is to keep the board on a flat surface and make sure it doesn't get jostled. Now screw the new top half of the valve to the lower half by turning the wrench clockwise until the top half fits snuggly to the lower half.
Repairing a puncture in your inflatable paddle board

Punctures are pretty unusual in an inflatable paddle board that has 4 layers of military-grade PVC fused together but they can still happen if you hit a very sharp object. Brands that use a single or double layer of PVC are far more likely to be punctured.
If the location of the hole isn't obvious when you run your hand over the area where you can hear air escaping, try mixing some dishwashing soap with water and smear the mixture over the affected area. You should see bubble coming up from the area of the leak.
Next, mark the hole with a pen or pencil. If any water has leaked into the SUP itself, you are going to want to remove it. To remove the water, you will need to unscrew the valve as mentioned in the section above.

Your stand up paddle board should have come with a patch kit with additional PVC material. Deflate the board completely and rough up the area the hole with a little sandpaper to help the patch adhere to the SUP.
Cut the PVC into an oval shape and trace the new shape with a pen or pencil so you know where to spread the glue. Now spread the glue in a thin layer within the patch area. The glue will become tacky in 3-5 minutes.
Once the glue is tacky, cover it with the PVC SUP patch, making sure the shiny side is facing out. Smooth the patch with a tool or the end of the glue container to get rid of any bubbles.
Let the patch dry for 24 hours and then spread your soapy mix over the patched area of the SUP to make sure no more bubbles come up. Assuming none do, you can pump up your inflatable stand up paddle board again.
Preventing damage to your inflatable stand up paddle board

Sure, your inflatable stand up paddle board is easy to repair but who wants to deal with a leaky SUP when they are out on the water? The easiest way to prevent a puncture to your SUP on one of your paddles is know the waterway that you will be navigating. If you aren't familiar with the waterway, try to stay in the deeper parts of it.
If you are in shallow water, know where the sharp rocks and sticks that are embedded in the water are and avoid them. If you are in a bay, make sure that you don't run your board up against the land when you come in as razor clams are not friendly to inflatable stand up paddle boards!
Making sure that you are storing and transporting your inflatables properly will also make certain that you don't damage your SUP as well.
Storing your inflatable paddle board

Taking great care in storing your SUP can make all the difference in how long the board lasts. Storing your SUP in the sun exposes it to UV rays which will degrade the PVC material over time which will make it more susceptible to succumbing to sharp objects.
UV rays will also fade the EPS deck pad that you stand on which will make your board less attractive. Let's face facts: part of the joy of paddle boarding is looking down and enjoying the aesthetics of your SUP.
Storing your inflatable stand up paddle board vertically on its tail can expose it to wind damage if you are storing it outside. A strong wind has been known to carry iSUPs a surprisingly long way which means that your board could sustain a puncture if it lands on a sharp item.
Never store your inflatable board on the ground with the fin side down as this can break the fin and/or the fin box. This seems intuitive but you would be amazed how many fins are broken due to storing errors.
Transporting your SUP

 Sloppy transporting of inflatables can cause damage to them. If you prefer to transport your iSUP while it's inflated, you will want to take these precautions.
Strapping your board to a roof rack is the easiest way to travel with your SUP. If you already have a roof rack with cross beams, all you will need is a pair of sturdy ratchet straps to tie the board to the beams.
Place your SUP with deckpad facing down and the tail of your board facing forwards. This will allow you to use your center fin as a guide to placing the iSUP in the middle of the rack.
If you are carrying more than one SUP, you will need to stagger the second one a bit farther back due to the fin of the SUP on the bottom. It is highly recommend that you don't stack more than 3 boards in this fashion.
When you loop the straps under the cross beams, make sure not to twist them unless you want to listen to horrific road noise on your way to your paddle. Trust us on this point. The sound will make your entire ride torture!
If you don't have a roof rack on the vehicle, you will want to invest in a soft SUP roof rack. The soft racks are very easy to install and will work with just about every vehicle out there.
The easiest way to transport your paddles is inside the vehicle, even if the handle has to hang out the window a bit. Most top brands include a three piece paddle which fits just about anywhere.
When it comes to carrying your paddle board, make sure that you never drag it. Dragging your SUP can cause the PVC to wear in spots or you could run it across something sharp which could puncture the board.

Either carry the SUP under one arm using the handle or if that is too difficult, balance the deck pad side on the top of your head while holding the rails with both hands. If it's a windy day, balancing the board on your head works well to cut down on wind resistance. 
Caring for your inflatable paddle boards

 Taking good care of your SUP will make sure that you and your family get years of use out of it. For starters, make sure that you clean your board periodically. Your inflatable SUP is a piece of recreational equipment that you should get years of use out of.
Cleaning inflatable paddle boards
If you take it in the ocean, you will want to clean it more frequently as salt water tends to stiffen the PVC outer layer of the board. Use a soft brush or cloth and a non-abrasive cleanser like dishwashing soap or Onit.Pro Blue Goo to clean the PVC outer layer.
A shop vac or a compressed air duster both work well for cleaning out the fin box as debris tends to collect there. Both of these tools can also be used to clean out valve seal as well.
For cleaning the deck pad, try ReviveX Pro Cleaner or Onit.Pro Deck Pad Cleaner. Apply either of these products with a brush that's not too stiff.

 For tough stains, use a light wire brush or a high grit sandpaper. Don't worry, the wire brush and sandpaper will not damage the deck pad.
A pressure washer also works well for cleaning your board. Whatever method you use to clean your SUP, just make sure that you don't leave it out in the sun to dry to limit UV damage and never put your board away damp unless you plan on cleaning mildew off of it when you go to retrieve it again.

If you think that you were in a body of water that had aquatic invasive species in it, you will want to decontaminate your board so as not to infect other waterways on your future paddles. Exposing these organisms for 10 seconds to water that is 140 degrees will kill them off. Just don't apply water that is so hot that it melts your SUP!
Sunscreen for paddle boards
The PVC material that your SUP is made out of is quite UV resistant but a best practice in iSUP care is to coat it with 303 Aerospace Protectant which acts as sunscreen for your SUP. Don't use the 303 more than two times a year as too much of a good thing could have adverse effects on you board.
It is natural for your air valve to come loose from time-to-time, so as part of your cleaning and maintenance protocol, make sure that you check the valve periodically. If it is loose, use the tool that was mentioned in the section on "Fixing the valve on your inflatable SUP" and tighten it up. 
Inflatable SUP board Safety Tips

 It is important to observe safe practices with any watersport. The sport of SUP is actually quite safe if you prepare properly.
Most expert advice for SUP safety centers around gear. The Coast Guard considers stand up paddle boards to be "vessels" which means that you need to gear up accordingly. You could be ticketed at your local waterway if you don't have a personal flotation device (PFD) on your board or your person. If conditions are stormy and choppy, you should really be wearing the PFD.
Leashes for stand up paddle boards

Most people you see out paddle boarding aren't wearing an ankle leash. Consider the folly of this considering leashes are usually included as one of the paddle boards accessories.
You inflatable SUP paddle board is much more buoyant than any PFD could hope to be yet if you were to fall off your board in the middle of a lake during a windstorm, there is a good possibility that your board would be blown far away from you.
Now imagine that your PFD was under the bungees on your iSUP that was blowing away. You had better hope that your swimming and water treading skills are top notch! Think of your leash as your "life line" as your board will never be more that 10 feet or so away from you when you are wearing it.
SUP paddles

We haven't discussed paddles much in this article but a safety tip that you don't hear often is making sure that your paddle floats. More expensive paddles are made to float while the cheap ones will sink in a hurry.
Losing you paddle puts you in the unenviable position of having to lie on your belly or sit on your knees and paddling with your hands back in. It can be done but you're going to hate it!
If you test your paddle out and find that it doesn't float and you aren't inclined to buy a new one that does, try this trick that SUP rental liveries use. Get a pool noodle and cut a five inch section off of it. Now slide it over the shaft of your paddle. You now have a paddle that will float and is easy to find.

Paddle boarding on windy days is typically the most dangerous time to use your stand up paddle board. Make certain that you know how heavy the breezes will be before you head out.
Windfinder.com is a great resource for determining if it's worth a trip to your local lake. If they predict winds above 15 knots, you may want to go for a jog instead.
Using landmarks to determine which way the wind is blowing is important as well. You never want to begin an inflatable paddle board session with the wind at your back.

The reason for this is that you will end up paddling much farther, much faster than you anticipated and will have no feel for the resistance that you will face when it's time to paddle back into the wind. It's much smarter to start your paddle boarding excursion against the wind when your muscles are still fresh and reap the rewards of a fun joy ride on the return as the wind assists you in getting back.
Paddle boarding during the winter can be a wonderful time for those of us that are into inflatable SUPs but it can also be treacherous. Make certain that you know what the water temperature is at your local waterway.
The National Weather service can help you determine this. The rule of thumb is that if the combined total between the air and water temperature is less than 120 degrees fahrenheit you should wear a drysuit or at the very least, a thick wetsuit.
Remember that water conducts temperature 25 times more efficiently than air so if you fall in water that is slightly above 32.5 degrees, your survival time is roughly 45 minutes but within 15 minutes you will have done serious damage to your body.
 Conclusion

 Stand up paddle boarding is one of the fastest growing watersports on the planet. During the pandemic the growth of SUP has been exponential as so many people were looking for an escape from lockdown and way to stay in shape, social distance and relieve stress.
The sport is quite easy to learn and with the advent of inflatable paddle boards, it has become accessible to virtually everyone. Improvements in construction have made the inflatable SUPs almost as rigid as traditional hard paddle boards. Once you have chosen the SUP that you think will work well for you, make sure that you properly care for it and transport it properly and you will get many years of enjoyment out of it.
Adhere to the safety suggestions that we have outlined in this article and we guarantee that you will become addicted to this low impact sport that works almost every muscle in your body yet still allows you to converse with your paddling pals.
Related Topics
Things to Consider When Buying a SUP
Improving Fitness on Paddle Board
Back to The Future With The O2 Retro
Hard VS Inflatable Paddle Board