Best Places to Stand up Paddleboard in Wisconsin
The world has many places to SUP! We're here to tell you the best paddling spots for a wide range of stand-up paddle boarding styles and preferences in Wisconsin.
Introduction

Wisconsin is known as "America's Dairyland" and its inhabitants are often referred to as "Cheese Heads" but we're about to take you away from the pastures and blow your mind with some of the most beautiful spots to paddle board anywhere in the US.
Besides having some of the nation's friendliest people, WI also has an impressive variety of waterways for visitors and locals alike to explore on their stand up paddle board. Read on to plan your next paddle boarding trip.
Boulder Lake is Perfect for a Paddle Board
Boulder Lake is a beautiful, spring-fed 516-acre lake located in Vilas County that is almost the perfect waterway for paddle boarding. It has a maximum depth of 11 feet so the water tends to warm up in the summer.
Visitors have access to the lake from public boat landings. The lake's water is moderately clear and gives you a great view of the fish and rocks underneath your paddle boards.
Only an hour-and-a-half from either Green Bay or Wausau, Boulder Lake is one of the jewels crowning the Chequamegon-Nicolet National Forest. Fall is a favorite time to SUP Boulder Lake when the mixed hardwoods around the lake reflect their striking colors in the still waters. 
Pick up a rental stand up paddle board at Coontail Adventures. They are experienced paddlers who can help you choose a touring board or all around SUP board.
Paddle boarding Pine River
The Pine River is an under-rated SUP prospect that is sandwiched between the Baraboo River and the Kickapoo River.  The water level is typically high with a steady, gentle current.
The Pine River is part of the Wisconsin Wild Rivers, and is stunning with peaceful, untouched woods and wilderness on both sides. Otters and bald eagles can be seen as you paddle through the gorgeous scenery as the river winds through valleys and under a natural bridge.
The river boasts scenic views of bluffs and lowlands for roughly 17 miles. Swing by Wildwood Outdoor Adventures to get your rental paddle board.
Apostle Islands on Inflatable Paddle Boards or Hard Boards
The Apostle Islands are a group of 21 islands which are considered the "Jewels of Lake Superior." This is a quintessential Wisconsin water adventure as you're able to paddle board within and through the many sea caves scattered throughout.
Lake Superior offers wide stone beaches off the shores of the islands.  Unlike the hard basalt rock of the north shore of Lake Superior, the south shore is mainly sedimentary rock.
Centuries of wave action, freezing and thawing have carved out sea caves begging to be explored by stand up paddle board enthusiasts in the summer months and by winter hikers and skiers when the Lake freezes.
Your stand up paddle board will give you a great vantage point for checking out the clear shallow waters. If you bring an inflatable paddle board, you may want to bring a kayak seat to help you explore some of the caves. If not, paddling your SUP boards on your knees should work just fine.
Lost Creek Adventures has both stand up paddleboard rentals and tours. They are experts on paddle boarding the area so ask them anything.
Sheboygan for Surfing Small Waves and Monsters
Wisconsin surfing – wut?!  Surfing in Sheboygan and the Great Lakes has been a local pastime for over fifty years, due to its ideal location and geography on the Great Lakes. You get a range of all sizes of waves out here which is truly a remarkable sight on a lake!
Surfers refer to it as the "Malibu of the Midwest." The biggest and best waves are formed when winds of 20-25 miles per hour blow from the northeast or west southwest.
Surfing in Sheboygan is year-round, with surfers getting up at the crack of dawn in wetsuits to scope out the perfect spot. Sheboygan's peak surf season runs late August through early April (appealing to the polar bears among us). If you're a newbie, we recommend taking advantage of warmer temps in August and September.
Rent your paddle board at EOS Surf & Outdoor or bring your own inflatable paddle boards as they are extremely easy to transport.
Stand Up Paddle Board the Upper Dells
The most famous section of the Wisconsin River is in the Wisconsin Dells area.  This is commonly divided into 'Lower Dells' (below the Kilbourn Dam) and 'Upper Dells' (above the Kilbourn Dam). Paddling the Upper Dells is an amazing feast for the eyes of nature lovers.  
The sandstone cliff formations created through thousands of years of water action is a highlight of this SUP trip.  This is a good round trip paddle board excursion. Paddle upstream as far you like and ride the current back.  The current isn't too challenging if the water level isn't too high.  
As you paddle up the river the scenery never seems to get dull. There are tons of bluffs and every now and then a new channel to explore. Walkways are built into the cliffs and you will see plenty of fish jumping and ducks paddling along with you. You will enjoy nature in its purest unadulterated form.
Grab a SUP rental at Dells Paddlesports, they have a nice selection of recreational paddle boards. If you need a nice beginner paddle board, they can help you out.
Conclusion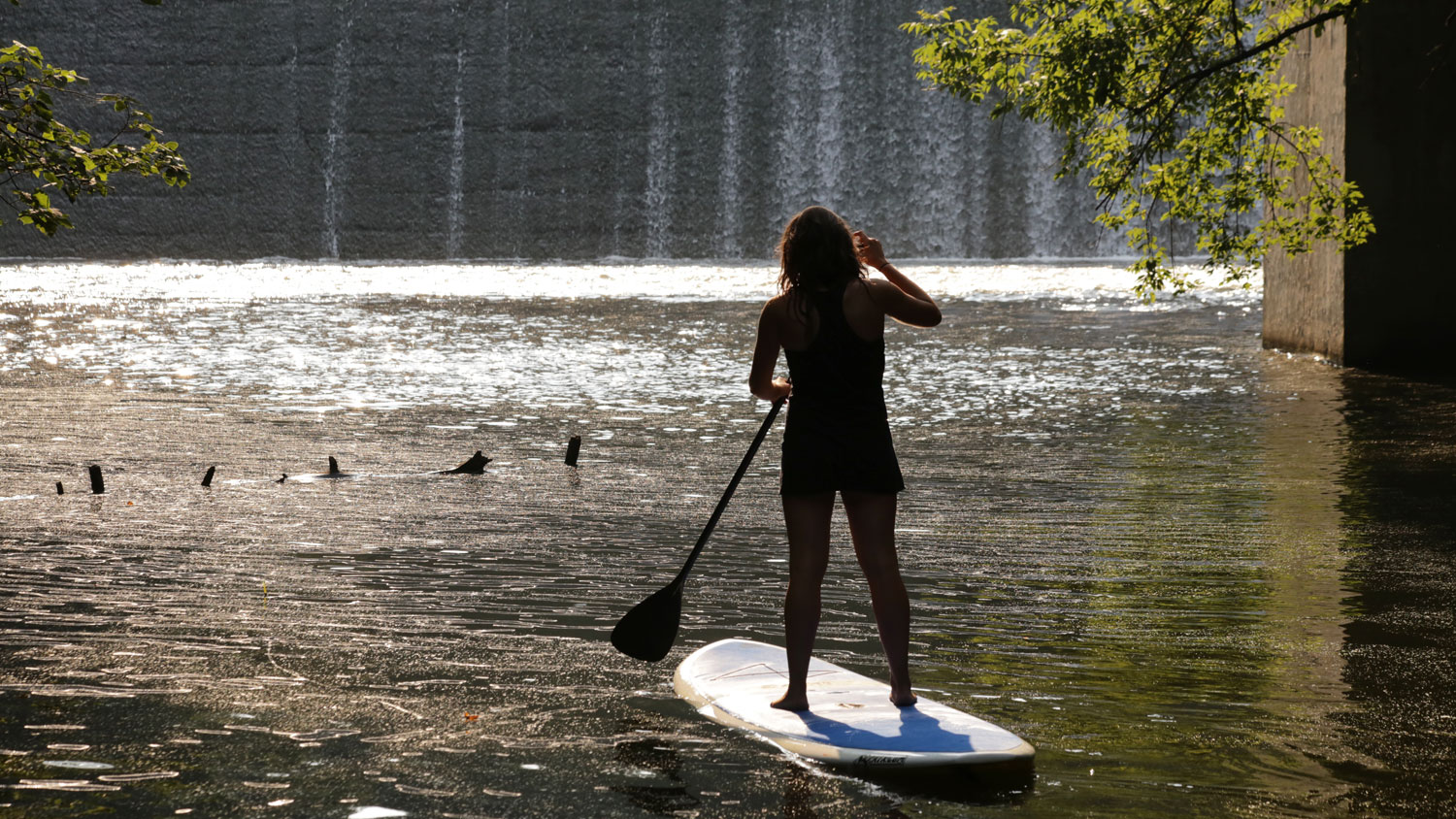 So, there you have it. Some of the nicest paddle boarding surrounded by some of the nation's nicest people! Grab your Cheese Hat and paddle and head for Wisconsin for some memorable stand up paddle boarding!
Related Topics
Where to Paddleboard in Wisconsin?
Where to Paddleboard in Florida?
Where to Paddle board in North Carolina?