What do I need to start sup fishing?

Stand Up Paddle (SUP) fishing is becoming increasingly popular among anglers looking for a new challenge. With the ability to cover vast distances, stand-up paddle fishing gives you the opportunity to explore remote locations and target a variety of species from the comfort of your board. Whether you're a beginner or an experienced angler, SUP fishing is a great way to get out on the water and catch some fish.
In this article, we'll walk you through the basics of SUP fishing. We'll cover the necessary equipment, SUP fishing techniques, and safety tips. Read on to find out how you can get started on your SUP fishing adventure.
Equipment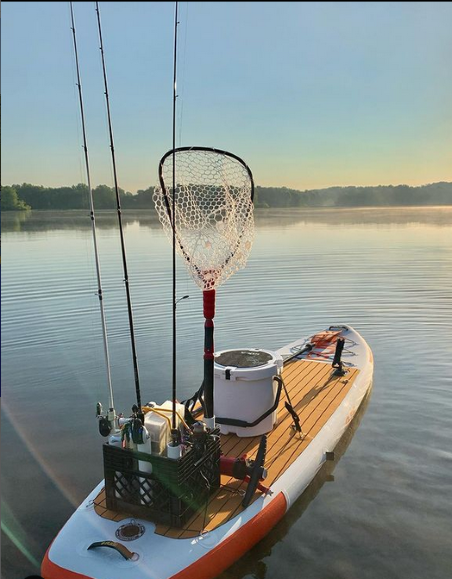 The most important piece of equipment for SUP fishing is a paddleboard followed by a fishing license. When selecting a paddleboard, consider the type of fishing you plan on doing. If you're primarily fishing from rivers or lakes, an inflatable paddleboard is a great option. Inflatable paddleboards are lightweight and easy to transport, which makes them ideal for anglers on the go. A solid fishing paddle board may be a good choice if you will not need to transport it, perfect for cabins and beach homes.
A paddleboard alone isn't enough for SUP fishing. You'll also need a paddle, life jacket, and fishing gear. The paddle should be the correct length for your body height. A life jacket is essential for safety and should fit comfortably. Fishing gear will vary depending on the type of fish you plan on targeting. A rod, reel, tackle, bait, and lures are all essential items.
Techniques.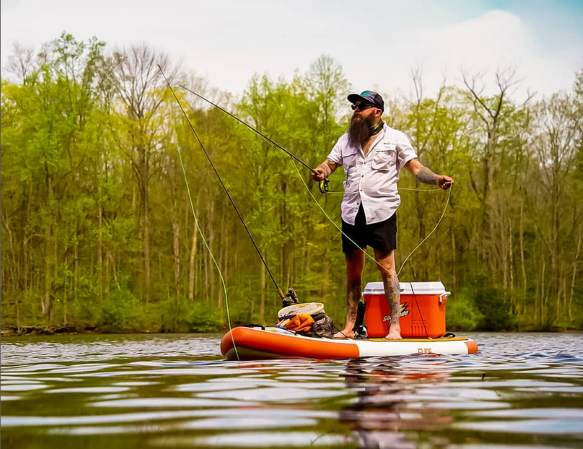 SUP fishing is similar to shore fishing in that you'll be casting and retrieving your line from a stationary position. To get the most out of your fishing experience, it's important to understand the basics of casting and retrieving. Mastering the basic techniques will help you land more fish and increase your enjoyment of the sport. This article has more information and fishing tips to check out.
The most important technique for SUP fishing is to choose the right bait. Live bait is often the most effective, but you can also use artificial bait such as jigs and spinners. When selecting bait, think about the type of fish you plan on catching. You should also consider the depth and water clarity in your fishing spot.
Once you've chosen the right bait, you'll need to decide how to present it in the water. This will depend on the type of fish you're targeting and the depth of the water. The key is to keep your bait in the strike zone for as long as possible. A slow, steady retrieve is often the most effective.
Safety.

Safety is paramount when SUP fishing. The most important safety tip is to always wear a life jacket. A life jacket will provide you with buoyancy in the event of an emergency. Make sure your life jacket fits properly and is approved by the U.S. Coast Guard.
It's also important to check the weather before heading out. Strong winds and waves can make SUP fishing dangerous. If the conditions are too rough, it's best to stay on shore.
Finally, make sure to check the local regulations for SUP fishing. In some areas, SUP fishing is prohibited or restricted. Be sure to abide by any regulations in your area.
Conclusion.
When looking for a sup fishing paddle board look for one that if it is an inflatable has at least three or more layers of military-grade PVC. And that has a weight capacity of at least 450 lbs, as well as having included items such as rod holders, and if you are going to be sup fly fishing that the rod holder will work for fly fishing rods. The last thing to look for is if the board will have enough d rings and deck mounts for your fishing gear. Fishing paddle boards can be a fun way to fish and explore around you, make sure that you choose the right board and your next fishing trip is sure to be epic.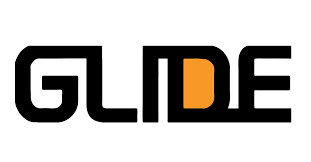 SUP fishing is a great way to explore new waters and target a variety of fish from the comfort of your board. With the right equipment and techniques, you can enjoy a successful SUP fishing experience. Just be sure to follow the safety tips outlined in this article to ensure a safe and enjoyable outing. Good luck, and happy fishing!