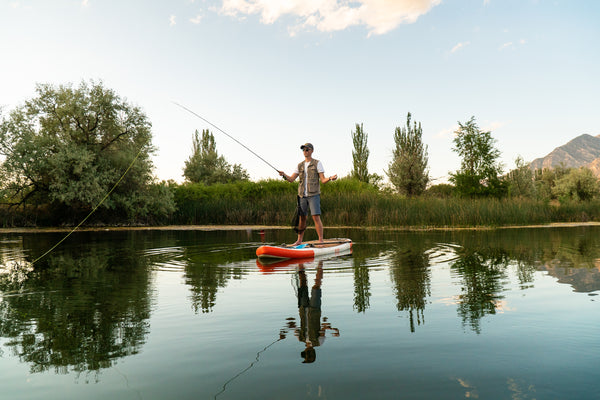 SUP Fishing For Beginners
Stand Up Paddle Board Fishing is a world phenomenon that we all want to get behind, but a lot of us have never tried it. We've tried, failed over and over just so we can tell you what is most important to look for to have a successful first SUP Fishing trip.
Why SUP Fishing?
We've seen an explosion in kayak fishing over the last 8 years and now we're seeing those same anglers making the shift to stand up paddle board fishing.
Part of the reason for this change in watercraft is the flexibility that a SUP offers. You aren't confined to a cockpit and can stretch your legs when you need to. The openness of the board also allows the angler to cart more gear.
Another reason for the burgeoning popularity of SUP fishing is that the board is so much lighter than a kayak so transport becomes a breeze. The maneuverability of the paddle board also makes it easier to paddle into tight spots.
Casting while standing is far more natural for most of us and fighting the fish is way more fun on a SUP because the board moves toward the fish before the drag takes over. Having solid balance at this stage is critical for obvious reasons.
For the newly initiated, SUP fishing can appear to be daunting so we thought a few tips might be in order:
Become a Minimalist
Just because you can carry more gear on a SUP doesn't mean you should, especially when you are just starting out. Balancing on your paddle board is critical so the more you have on the deck, the harder it's going to be to balance.
A solid cooler is a must-have for the SUP angler, as it not only gives you a container to carry your gear and cold storage for any fish you decide to keep but it also gives you a seat when you need a break from standing – if you choose not to use the kayak seat that comes with your Glide SUP.
The trick is to not load the cooler up with 40 lbs of gear! Make sure that you purchase a cooler that floats in case it ends up in the water. You will also want to make sure the rest of your gear is secured well on your paddle board.
The really fun part about SUP fishing is that it requires mastery of your board as well as your fishing rod.
To get started, we suggest that you become comfortable with one rod and only essential gear. Once you are comfortable with casting and reeling in on the unstable surface that the SUP offers, you can bring as much gear as you want.
Gear Tips
There are a few pieces of gear that we consider essential. First off, vertical rod holders will make it that much easier to grab your rod once you reach your fishing spot.
Your rod does not have to be particularly long on a SUP because you won't need to be casting very far. In fact, to get started you may want to try trolling with your rod in a holder so that you can still have your paddle in the water which will help with your balance.
Lastly, you may want to consider a SUP anchor to help you stay in place once you've reached a spot where the fish are biting.
Try a Cast Net
If you aren't a fly fisherman or a fan of synthetic bait, you may want to pick up an inexpensive cast net (assuming cast nets are legal on your waterways) to catch your own live bait.
Throwing a cast net from your SUP can be a bit of a challenge so we suggest that you start on your knees. You will also want to make sure bring a bucket along to store your live bait.
Weather
Make sure you keep an eye on the weather before you head out. Keep in mind that the wind is typically not your friend on a SUP.
If you have a particular spot that you would like to get to, make sure that it is upwind of your put in location because it's much better to struggle against the wind on your way out and to have it at your back on the way home.
Trust us on this!
If you are having a rough time paddling against the wind, paddling on your knees will provide less of an obstacle for the wind to blow against.
There you have it! Now you are ready to get on the water and combine two of your favorite past times.
Related Topics
Stand Up Paddle Board for Fishing
Things to Consider When Buying a SUP
Where to Paddleboard in Florida?