Why do you paddle board?
I had a friend ask me this question, and I returned the question to him. Some simple reasons I paddle are for the paddle board benefits. For me this is not just the health benefits of stand up paddle boarding. It also lets me try different sup environments and get ideas on how to improve our already amazing boards. And who could pass up a "work" day testing sups? I am going to spend the rest of the time on the reasons he and others gave as to why they sup. #glidesup and let us know why you sup!
I paddle board because...?
You can think of me as Grizzly, my family used to refer to me as a grizzly being a bit larger at the time and basically hibernating through every season. And then I realized something had to change, the first positive change came with the pup who chose me to be his pack member. Seamus is a mutt who to me is nothing other than pure joy. We started off hiking and camping and then Seamus showed his love for water and the ability to cool off and our paddle boarding adventures began.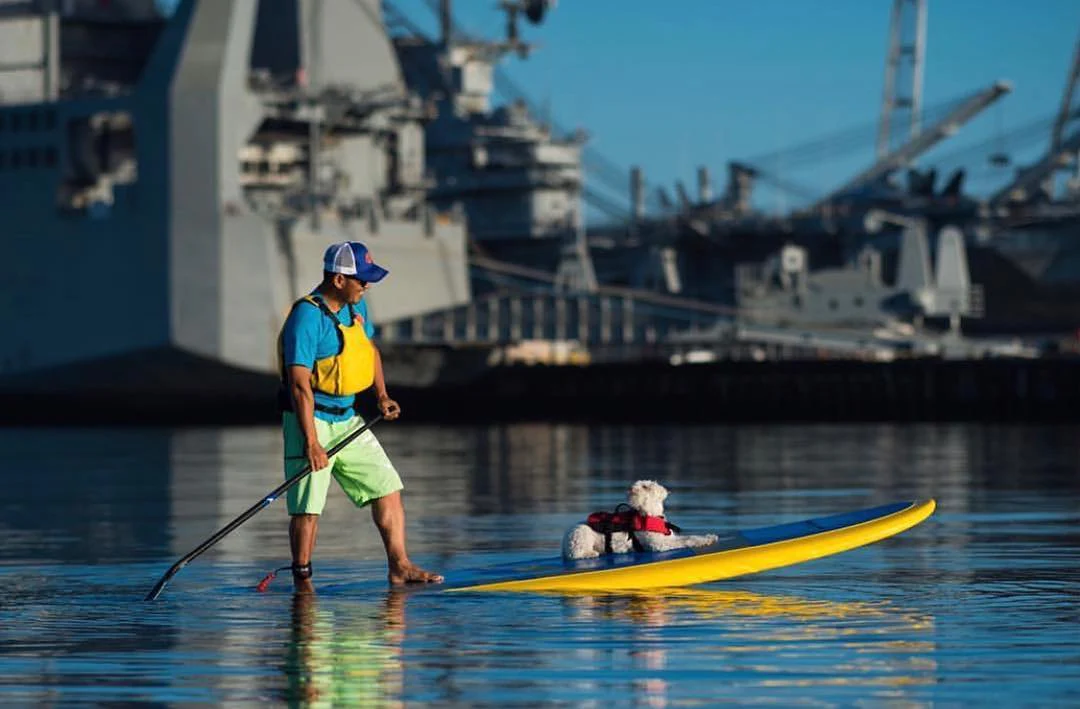 Paddle boarding let us remain sane during the covid quarantine times, besides being a full body workout being on a paddle board is a great alternative to social distancing. I was able to get a great workout to help core strength, do strength training for my back muscles and leg strength while lowering stress levels while helping my weight loss. All while enjoying nature and while being socially distanced and not losing the socially part when I wanted sup with others.
Stand up paddle boarding has numerous health benefits, although more importantly for me was the better balance it gave both Seamus and I. And the cardiovascular health benefits of stand up paddle boarding came to us without me feeling the dread and burnout I had when going to a fitness studio. This allowed Seamus and I to get out further and longer on hikes and camping trips without feeling like I was going to have a heart attack while climbing after the pup. Seamus and I have both an inflatable sup and hard sup from Glide. This season has been brutal for us with the high temperatures that have been cooking our state. Although paddle boarding helps us soak up vitamin d and beat the heat. Knowing a paddle board is waiting for us near a refreshing bit of water makes the hikes even more enjoyable so one of the reasons I paddle board is to reward myself and improve my well being.
When I started paddle boarding it was not hard, anyone can do it. And yet it was totally brutal as I wanted to get to where I could keep up and hang with my friends who were already a experienced practitioner and had been on a stand up paddle board for decades before I even looked sideways at one. My cardio fitness level at the time was lacking, and I had a good amount of body fat and at times found it hard to maintain balance...when we are not cooking here mother nature likes to throw snow and ice at us. So being able to maintain balance would definantly help my mental health and paddle boarding engages stabilizer muscles with out you really noticing...until the next day.
Stand up paddle boarding also offered me the chance to have a low impact workout when I needed it when excess pounds came back and muscle groups along the entire length of my body hurt and I had hip pain that made me want to go back to hibernating and avoid every one especially a cramped gym. This pain was caused by my self to a point, the more direct impact and cause I would claim was from the impact of the car meeting me and my Harley. To say my mental health suffered from this hit n run is an understatement. Especially as the stress and pounds piled on and I could feel my core and leg strength atrophy.
Time to start paddling again
Luckily I had been down this river before and understood what I needed to do to stay upright and lower stress levels and rework almost every muscle. Sup surfing and paddle boarding is a great platform for exercise while avoiding a cramped gym. More importantly for my self it lets the bond Seamus and I have grow every time we go paddle boarding and he places his trust in his pack leader.
Sup is an amazing recreational activity that adds an extra dimension to exercise. And sup is not only for those like my self who wanted to go hard and get in the best shape possible. I have a friend who joins us and his idea of the perfect day on a sup is to slowly paddle board to his favorite fishing spots and then sit back and relax. Some times this takes the form of a short nap on his board. So while his ideal paddle boarding trip and mine differ we are able to find balance and get a bit of exercise . A stand up paddle board allows us to socially distance, while being social and relieve stress.
Back to my story and paddle boarding.
For me a stand up paddleboard is a great surfing alternative, allowing me to catch waves even in a landlocked state. I used my sup to get a whole body workout and improve cardiovascular health. My leg muscles now carry me up the hiking trails with ease, while my upper body lets me lift and carry the gear I want, not need but want to have with me. When your entire body is in the best shape it has been since being on the high school track and wrestling team it is easy to see why paddle boarding is good for the whole body. As I said I can now bring the gear I want, not just the gear I need. And having the gear you want allows for so many more small comforts.
Stand up paddleboarding has improved my fitness level and the health benefits of a sup has me looking forward to many more decades. It has also shown me that I do not need a noisy motor to feel free. And paddle boarding has greatly increased the quality of life I have and Seamus has. Our paddle boards have given us both great mental benefits and have allowed us to bond even more. Who would have ever thought I would trade in a Harley and a life of lounging for a stand up paddleboard. And yet now I can not imagine what life would be with out a Glide sup and dog.
#glidesup and let them know why you sup.