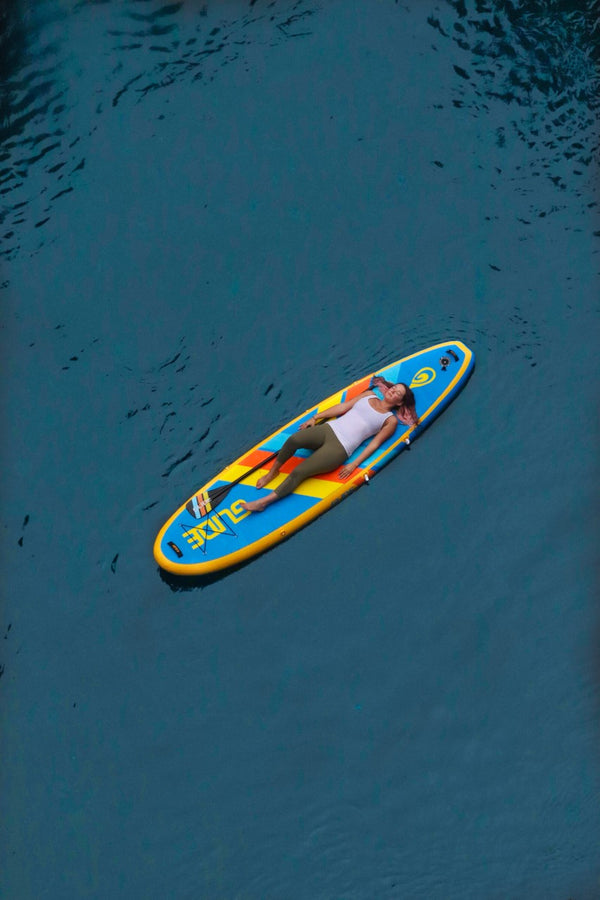 6 Best SUP Spots in West Virginia
When you think about "Coal Country" you probably don't imagine some of the best SUP waterways in the country. Find out why "Almost Heaven" is an apt description of paddle boarding in West Virginia.  
West Virginia has some of the most diverse territory in the Lower 48 states.  Known as "The Mountain State" it is known for its rolling hills and valleys.
The state really offers it all in terms of outdoor activities: paddling, skiing, hiking, mountain biking and whitewater rafting.  When John Denver wrote about "almost Heaven" in his ode to West Virginia, he was kidding around. 
What we have always found to be the most compelling about the Mountain State is the diverse opportunities for SUP adventures. 
Read on as we show you around some of the most epic paddle board spots we've ever experienced.
Summersville Lake
Located in the southern quadrant of the state, Summersville Lake is a truly glorious gem. It's the largest lake in WV and the most popular.  With craggy cliffs rising above its waters that attract rock climbers and epic sandstone formations under its incredibly clear waters for scuba divers, it is one of the more interesting lakes that we've ever paddled.
There are waterfalls that cascade from the sandstone cliffs and a plethora of caves that can be explored via paddle board.  There are 60 miles of shoreline to explore so plan to make a day of it. 
The water is relatively warm for a mountain lake and SUP anglers can fish for bass, crappie, and walleye. You will share the lake with powerboats so you can get some chop.  Other features of the lake that are fun to tour is its lighthouse and dam.  
You can order your very own inflatable paddle board that can take you anywhere and get it within 3-4 days! Click here to check out our Glide Inflatable Collection.
However, if you'd like to just rent, ACE Adventure Resort offers paddle board rentals and tours.
Potomac River Water Trail
Starting high in the Blue Ridge Mountains, the Potomac flows down to form the border between West Virginia and Maryland.  
The river includes 100 miles of class A-1 water.  It is one of the most consistently SUP-able rivers year-round. If you are a history buff, this is the river for you. Early explorers like Captain John Smith forged the Potomac and you can access historical Civil War sites from the river. 
For as long as people have lived in the Potomac River valley, they have used the river for transportation, recreation, and their livelihoods. With stunning scenery of sandstone and shale cliffs, small islands, rock ledges, Paw Paw trees, the Potomac is a feast for the eyes.  
The mellow rapids make for an easy paddle board excursion for just about any skill level. Whether you bring your own SUPs or need to rent, outfitters are available to help you plan your itinerary, set up shuttles to put-in and take-out locations, and outfit you for an enjoyable experience.  
Try our friends at River Riders.
Tygart Lake
Tygart Lake is located in the foothills of the Allegheny Mountains and is roughly 10 miles long and offers 1740 acres to paddle board on.
In 1938 the U.S. Corps of Engineers built the dam that created the Tygart River Reservoir.  Gorgeous mountain views surround you on this hidden gem. The water is extremely clear and although power boats are allowed, there are plenty of backwater areas to escape boat wakes.
The lake is quite deep and offers excellent fishing for SUP anglers. We enjoy going up Cove Run which is located where the Tygart River enters the lake and allows you to paddle up the last rapids of the river.  
Paddle board rentals are available at the Tygart Lake Marina.
The Cheat River Trail
The Cheat River has a little bit of something for everyone from beginners to experts it offers a wide range of experiences though out it's 78 miles.  
The cheat is considered to be a hidden treasure to locals and those visitors who find it.  The two forks that make up the Cheat are the Black Fork and Shavers Fork which couldn't be more different from each other. Black Fork and its Dry Fork are more fan-shaped while the Shavers Fork is long and narrow.   
Most of the river is pretty mellow with a few rapids here and there.  Along the way you see typical West Virginia wildlife such as deer, geese, and the occasional bald eagle.  
We recommend that you rent your paddle board from Blackwater Outdoor Adventures and paddle the 11-mile section that they recommend.
The Shenandoah River
The Shenandoah River (also made famous by John Denver's song) is a nice easy paddle and a great waterway for beginners.  
The 55-mile river is a tributary to the previously mentioned Potomac River.  Archaeological evidence shows that there were inhabited structures along its North and South forks as early as 9300 BC.
The Shenandoah is a mostly flat river with an occasional Class I and one Class II rapid.  There is quite a bit of private land flanking the river so you will pass by homes and McMansions. 
There is also some interesting wildlife to take in.  In addition to bald eagles, you are likely to see Blue Herons in flight, turtles basking in the sun and even cows grazing peacefully. 
Rent a Glide SUP and take advantage of the shuttle service at Front Royal Outdoors.
Beech Fork Lake
Beech Fork Lake is a 13 mile long, 720-acre reservoir that has an intimate feel and is an idyllic spot to paddle board. 
Power boats are allowed but they are limited to 10 mph so there not a lot of boat wakes to navigate your SUP through. The U.S. Army Corp of Engineers created the lake by damming the Beech Fork of the Twelve Pole Creek River for flood control.
There are no houses or development of any kind along the lake. The lake is an excellent spot for bird watching if that's your thing because it is a primary habitat for wildlife, fish, and forest-dwelling birds. If you're lucky, you may even see a black bear or two.
Conclusion
Make West Virginia the next stop on your tour of great spots to SUP in the USA. The Mountain State has a natural beauty that hasn't been over developed and the opportunities for adventure are endless.  If you are a whitewater SUP enthusiast, the state has you covered as well.
It's easy to hit all 6 of the paddling spots when you own your own Glide inflatable paddle board. If you order yours today you can get it with 3-4 days, plus we offer free shipping in the US!
Related Topics
The Ultimate Guide On Finding Places to Paddle Board Near You
Five Great Winter SUP Fishing Spots
Your Comprehensive Guide to Inflatable Stand Up Paddle Boards