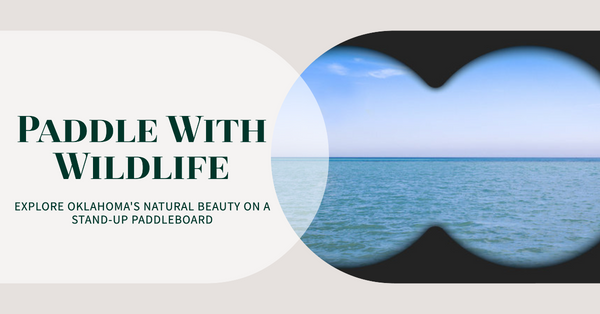 Paddle Boarding Adventures: Embrace the Wild in Oklahoma's Best Wildlife Viewing Spots!
Oklahoma, known for its diverse landscapes and rich biodiversity, offers an incredible opportunity to connect with nature and witness captivating wildlife up close and personal. For the adventurous souls seeking a unique perspective, paddle boarding is an ideal way to explore the state's natural wonders while immersing yourself in serene waters and lush surroundings. Whether you're a seasoned paddle boarder or a beginner, these 20 handpicked locations across Oklahoma promise unforgettable encounters with a wide array of wildlife. From majestic mammals to graceful avian species, each location holds its own allure and beauty. So lets grab a SUP and check out some of the best places to view wildlife from a sup in Oklahoma!
Broken Bow Lake:

Nestled in the southeastern part of the state, Beavers Bend State Park boasts scenic landscapes and stunning wildlife sightings. Paddle along the calm waters of Broken Bow Lake, and you might spot playful river otters and busy beavers creating their architectural masterpieces. Keep your eyes on the sky, where bald eagles soar majestically during the winter months. The best time to visit is spring, as the park comes alive with vibrant foliage and active wildlife.

Tenkiller Ferry Lake:

Located in the Cookson Hills region, Lake Tenkiller State Park offers a paddling paradise with clear waters and impressive limestone cliffs. While navigating these serene waters, watch for white-tailed deer grazing on the shores and raccoons foraging near the water's edge. In the warmer months, keep an eye out for black-crowned night herons and great blue herons searching for fish along the lake's surface.

Salt Plains National Wildlife Refuge:

Venture northwest to Jet, where the Salt Plains National Wildlife Refuge offers a unique wildlife experience. Paddle through saline wetlands and shallow waters, home to an abundance of migratory birds like sandhill cranes, pelicans, and snow geese. During spring, you may even witness the fascinating mating dances of the endangered greater prairie-chicken.

Tom Steed Reservoir:

In the tranquil setting of Little River State Park, embrace the sights and sounds of nature while paddle boarding on Tom Steed Reservoir. Here, you can encounter charming armadillos digging for insects along the shoreline. The surrounding woodlands provide a haven for raccoons, gray foxes, and the occasional glimpse of a timid bobcat.

Black Mesa State Park:

Located in the westernmost part of Oklahoma, Black Mesa State Park offers a truly unique paddle boarding experience amidst stunning landscapes and diverse wildlife. Paddle on Lake Carl Etling, surrounded by breathtaking mesas and plateaus. As you explore the lake, keep an eye out for the elusive pronghorn antelope gracefully moving across the open grasslands. The park is also home to playful black-tailed prairie dogs and swift-footed coyotes. If you visit in the evening, you might be rewarded with a mesmerizing view of the starry night sky, as the park is renowned for its exceptional stargazing opportunities.

Lake Eufaula:

The largest lake in Oklahoma, Lake Eufaula, offers ample opportunities for wildlife encounters. Paddle along the expansive shoreline to spot white-tailed deer and wild turkeys among the forested areas. While gliding across the lake, watch for ospreys diving for fish and graceful great blue herons wading near the banks.

Lake Thunderbird State Park:

Lake Thunderbird State Park, just east of Norman, offers a serene escape for wildlife enthusiasts. Paddle along the lake's calm waters to observe a variety of bird species, including colorful bluebirds, red-winged blackbirds, and the occasional majestic bald eagle. Don't forget to keep an eye on the trees for nesting great horned owls.

Roman Nose State Park:

Nestled in the charming town of Watonga, Roman Nose State Park is an idyllic spot for paddle boarding and wildlife viewing. Traverse the serene waters of Lake Watonga, where you can spot shy raccoons, white-tailed deer grazing along the banks, and soaring red-tailed hawks patrolling the skies.

Robbers Cave State Park:

Discover the secrets of Robbers Cave State Park in Wilburton as you paddle board on Carlton Lake. Watch for playful beavers building their lodges along the water's edge. This park is also known for its impressive bat population, so consider a sunset paddle to witness the bats emerge from their daytime roosts.

McGee Creek State Park:

For a remote and tranquil wildlife encounter, head to McGee Creek State Park in Atoka. Glide through the clear waters of McGee Creek Reservoir and spot majestic white-tailed deer and curious raccoons along the shoreline. Keep your gaze upward to spot soaring hawks and occasional bald eagles.

Hugo Lake State Park:

Located in southeastern Oklahoma, Hugo Lake State Park is a hidden gem for wildlife enthusiasts. As you paddle on Hugo Lake, you may spot playful river otters swimming alongside your board. The park's diverse woodlands are home to bobcats and gray foxes, making it a haven for mammal lovers.

Lake Texoma State Park:

Embrace the wonders of Lake Texoma State Park as you paddle through its vast waters. This park is a haven for birdwatchers, with the chance to spot migratory species like the yellow warbler and the indigo bunting. Keep an eye on the sky for the magnificent sight of double-crested cormorants flying in V-formation.

Lake Murray State Park:

Explore the scenic beauty of Lake Murray State Park in Ardmore as you paddle along the tranquil waters. Along the shores, watch for white-tailed deer and, if you're lucky, a glimpse of the elusive bobcat. Keep your binoculars handy for spotting various waterfowl like buffleheads and ring-necked ducks.

Lake Hefner:

In the heart of Oklahoma City, Lake Hefner offers a peaceful escape for paddle boarders seeking urban wildlife encounters. While paddling along the lake's shores, you may spot American coots and pied-billed grebes swimming gracefully. Keep an eye on the horizon for the chance to witness a majestic great horned owl hunting in the evening.

Keystone Lake State Park:

A short drive from Tulsa, Keystone Lake State Park in Mannford boasts picturesque landscapes and abundant wildlife. As you paddle along Keystone Lake, be on the lookout for playful raccoons and cautious white-tailed deer. For birdwatchers, the lake attracts a variety of species, including the beautiful painted bunting.

Oologah Lake:

Visit Oologah Lake in northeastern Oklahoma for a serene paddle boarding experience. While gliding through the calm waters, keep an eye out for graceful great blue herons and belted kingfishers diving for fish. In the surrounding prairies, you might spot a playful coyote or a group of eastern cottontail rabbits.
Lake Overholser:

Another hidden gem within Oklahoma City, Lake Overholser offers a peaceful and accessible paddle boarding location with plenty of wildlife sightings. As you glide through the calm waters, watch for American beavers building their lodges and playfully swimming alongside your board. Keep your eyes on the skies, where majestic bald eagles and red-tailed hawks soar gracefully, searching for prey. During the spring and fall migrations, the lake becomes a hotspot for various waterfowl, such as northern shovelers and wood ducks.

McGee Creek Natural Scenic Recreation Area:

Venture to the southeastern part of the state and explore the scenic beauty of McGee Creek Natural Scenic Recreation Area. Paddle through McGee Creek Reservoir to spot fascinating wildlife, including the elusive gray fox and the occasional bobcat silently roaming the forested shores. The area is also known for its vibrant birdlife, with a chance to observe pileated woodpeckers and the melodious songs of the eastern towhee.

Red Rock Canyon State Park:

Conclude your wildlife paddle boarding adventure at Red Rock Canyon State Park, where the striking red sandstone cliffs provide a breathtaking backdrop. Paddle on the serene waters of Lake Carlton, surrounded by lush greenery and the occasional flowering yucca plants. Keep an eye out for curious raccoons and playful squirrels in the rocky crevices. Above, the skies offer an opportunity to spot the magnificent turkey vultures gracefully gliding on thermals.
Best Time of Year to View Wildlife in Oklahoma: The best time of year to view wildlife in Oklahoma depends on the species you wish to encounter and their seasonal behaviors. Generally, spring and fall are excellent seasons for birdwatching, as the state serves as a crucial stopover for many migratory species. In spring, you can witness mating rituals and nesting behaviors, while fall brings the spectacle of southbound migrations. Winter provides a chance to spot bald eagles and other wintering waterfowl. For mammal enthusiasts, spring and early summer offer increased opportunities to see young animals emerging from their dens and exploring their surroundings.
Conclusion: Paddle boarding through the diverse waterways of Oklahoma offers a magical experience for nature lovers and wildlife enthusiasts alike. With each location providing unique encounters, from playful river otters to majestic bald eagles, the state's natural beauty never ceases to amaze. As you embark on these paddle boarding adventures, remember to respect the wildlife and their habitats, keeping a safe distance to avoid disturbing their natural behaviors. Whether you are an experienced paddle boarder or a beginner, the captivating wildlife of Oklahoma awaits, ready to paint unforgettable pictures in your mind and heart.
So, seize the opportunity to connect with nature and embark on an unforgettable journey, gliding through serene waters and witnessing the wonders of Oklahoma's wildlife from a paddle board. Allow the beauty of the state's natural treasures to inspire a deeper appreciation for the diverse ecosystems and their inhabitants that call this enchanting place home. Happy paddling and wildlife spotting!
Tips, Tricks, and Fun Articles await.
Here are a few quick links to help you keep going, don't forget to check our blog out for more tips and expert advice. For wildlife tips check out our blog and this article on Beginners Guide To Bird Watching. And don't forget to read our article on Stand Up Paddle Boarding and Wildlife Encounters. For a complete guide of where to paddle board in every state, this one is for you! The best places to paddle board in the United States a state by state tour of where to paddle board with Glide Paddle Boards.
Or perhaps something international is what you are looking for, then these two articles will help out. Check out the ultimate guide on finding places to paddle board near you for tips and tricks on finding new and exciting places near you! And for international spots Epic Spots Globally To Paddle Board is for you! And check out the Glide O2 Angler and why it makes an incredible platform for birding and wildlife viewing.