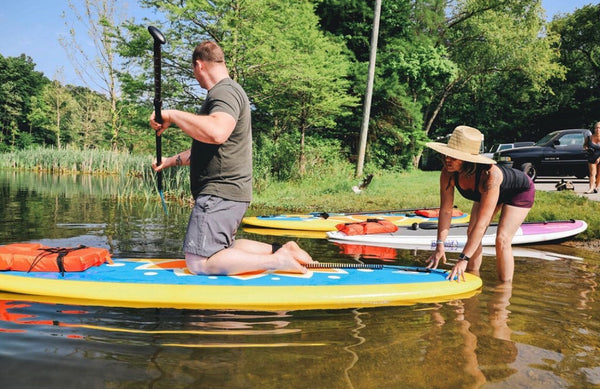 Essential SUP Apps for Paddle Boarders
SUP Apps- Believe it or not, Smartphones Make Paddleboarding Better
This isn't about improving your selfies, or going viral on tiktok, this is about improving your paddle boarding experience by using the best sup apps. Let's face it, social media usually seems like it does more harm than good, but Smartphones are for so much more than that.
They are capable of so much, and not harnessing their utility to improve your paddling experience is a waste of one of the most powerful tools in human history. Whether you paddle inland or on the coast; are a casual paddler or hardcore endurance athlete, there's a SUP app, or three, for you.
We'll look at some of the best SUP apps, what they can and can't do, and why they're worth downloading. It would be great if all SUP apps were available on the two main operating systems, but we live in an imperfect world, so we'll make sure to list a similar counterpart for each exclusive app in this guide.
Types of SUP apps
There are many different categories for SUP apps with varying degrees of usefulness. Some of the types we're going to discuss involve:
Monitoring weather and water conditions
GPS mapping
GPS activity/paddle logger
SUP news, paddling magazine app
Weather Apps
Probably the most important thing to "know before you go"- the weather conditions in your area. From wind speed to storm alerts, the following are apps that will keep you from getting rained out or worse.
Essential app-

 

Windy.com

 

by Windyty, SE
Windy.com is available for both Apple and Android and is highly regarded by both user bases. There's a reason it's used by so many professionals; it has over 40 global weather map overlays and you can customize it to track any combination of those maps, choose your own colors for the different overlays you select, import map data, pin and save your favorite SUP spots, find nearby webcams to see for yourself how conditions look and too many other features to list. Amazingly, this feature-laden app is free-to-use despite also being ad-free. If only every app was this good.
Free version
Worth checking out- WindAlert by WeatherFlow
This app does one thing, in so many, many ways- it tracks wind speed and will issue alerts (once you set the conditions and locations you want to be notified about). You can tailor it by favoriting locales or weather stations, set weather thresholds to be alerted to, etc. It has Satellite coverage, tidal reports, precipitation tracking and even onsite reporting from other users. The app uses multiple sources including 50,000 weather stations worldwide and interestingly has its own exclusive network of hundreds of weather monitoring stations built and maintained by WeatherFlow. The alerts are designed to get your attention, even if you're already paddle boarding.
Free, with ads
Your mileage may vary- NOAA Weather Unofficial by Granite Apps
This app generates forecasts, animated radar, hourly forecasts, and current local conditions by using NOAA forecasts from your GPS location. Point forecasts can be quite useful for paddleboarding when weather info from a nearby city isn't accurate enough. This handy app will check nearby cell towers before using GPS data to save your phone's battery. Some users do report connectivity issues, however.
Free, with ads, Android only
Apple Weather

 

by Apple
This was going to be a review of Dark Sky, an excellent weather app, and popular iOS exclusive. However, the company was bought by Apple and they're putting it to rest in 2022. They have reportedly incorporated some of the more popular features into their own Weather app which has needed some TLC for some time. The built-in app has been getting more favorably reviewed lately and will hopefully meet most of your basic weather needs for SUP activities.
(it's already on your iPhone)
My Tide Times

 

by JRustonApps B.V.
Tidal information for inhabitants of either coast is vital for paddleboarding. This generates reports from 9,000 stations around the world and is reliable for over 30 countries. It has five, seven and thirty day tidal forecasts and sunrise/sunset/moon rise data as well as currents where available. Most areas have basic wind information as well. This app also has the ability to download tidal charts/forecasts for offline use.
Free, with ads
GPS Based Apps
One of the greatest things about smartphones is GPS. There are thousands of apps that use GPS. Here are a couple that are SUP friendly etc. You can also adapt many of the fitness trackers to record your paddling activities and get pretty good map info.
The

 

Killer SUP app-
 

Paddle Logger

 

by Paddle Logger Ltd.

 
An Android version of Paddle Logger is in the works, but for now, this is an iOS exclusive SUP app, which is a shame, because it is an excellent app for paddling. Made for paddle boarders by paddle boarders, this records your sessions from start to finish and even has a "live" broadcast feature to share your paddle in real time, which is also a handy feature if you're paddling alone- your friends and family can relax knowing that you're ok and can summon aid if you aren't.
It also works with your Apple watch to track and display certain info while you paddle board. After your session, distance paddled, duration, average speed, estimated calories burned, and several other details are all logged and organized into a sharable file.
Free, with premium versions available
Android users have had to make do with fitness trackers like Strava and create a "custom" activity while recording their paddling. Some paddleboarders are reporting that they've had success recording stroke-rate by using this app, but not everyone has been able to get accurate recordings of the biometrics-
CrewNerd

 

by Performance Phones, LLC
The app uses the accelerometer in your device to calculate your stroke rate. Since this is intended for crew rowing, it's unclear how accurate it is for SUP. Speed, pace and distance are calculated via GPS.
Free, in-app purchases
Rivercast

 

by Juggernaut Technologies, Inc.
If you're paddling on rivers, apps like this are a must. Allows you to mark obstacles like sand bars and low bridges, select favorites for alerts such as water level, flood stages and target CFS (only from rivers monitored for flow rates). This app uses NOAA and AHPS (Advanced Hydrologic Prediction Service) for its data, so obviously, it is only for use in the USA. It's important to note that hazards like locks are not always noted in any app, so always check with someone familiar with a river before attempting your first descent.
SUP News and Lifestyle
Paddling Magazine by Rapid Media
Paddling Magazine app includes content of print editions plus exclusive digital content including videos. Latest SUP news plus SUP journalism articles.
Free, with in-app purchases, subscriptions
SUP International by Magzter Inc.
"Founded in 2008, SUP International Magazine has amazing photos, interviews with the sport's biggest names, technique tips, product tests and trips to the coolest spots. A definitive guide to the sport of stand up paddle boarding."
Free, with in-app purchases, subscriptions
Finally, here are some honorable mentions, apps that aren't particularly SUP-centric but could be very handy. The aforementioned Strava, for iOS and Android. Free with premium available. All purpose fitness tracker app.
First Aid - Canadian Red Cross
This is one of those apps that everyone should have for so many reasons, but mainly because it's only purpose is to render aid to people in distress. It has video tutorials and much of the info is stored so that it works when offline. The quizzes are fun, too.
Everyone should have some basic knowledge of first aid and this app makes it easy to access. Why the Canadian version you ask? Because numpty lawyers have made the American version a mess of permission screens, warnings and information so dumbed down to avoid lawsuits that it's not worth the space it takes on your phone. Oh Canada, indeed!
Free
Conclusion
In closing, all of these apps are useless if your smartphone is on the bottom of the lake/ocean/river, so one of the first accessories you should invest in is either a drybag or a wearable waterproof phone bag (preferably a transparent one that lets you use it while sealed up).
Spend this winter downloading apps and familiarizing yourself with these features so that you're ready to go come Spring.
Check out our other Expert Advice, and email us anytime at info@glidesup.com if you have any questions!
Related Topics
Things to Consider When Buying a SUP
Improving Fitness on Paddle Board
Can I Leave My Paddle Board Inflated?
Hard VS Inflatable Paddle Board