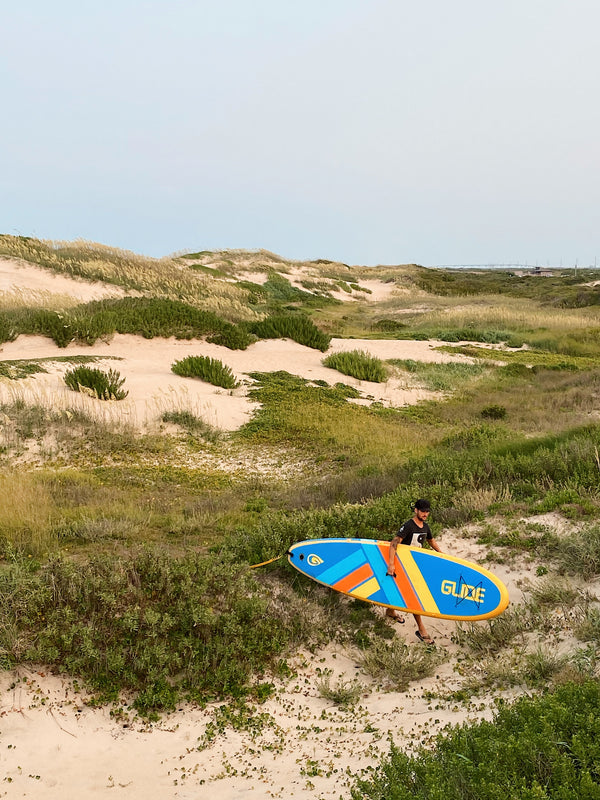 5 tips to store your inflatable paddle board over the winter (or any season)
Glide Inflatable paddleboards are durable, portable, eco-friendly, and stylish. Paddling out on the water is a blast, but then comes the question, "What do I do with my Paddleboard during the off-season". 
Well fret not my dears! We're here to give you all the tips and tricks for storing your inflatable SUP for long periods of time.
One of the biggest benefits of an inflatable paddle board over hard boards is that it is a lot easier to store. As winter is fast approaching and temperatures start to drop in your area , you may be looking to put your inflatable SUP into storage until next spring (check out our article on fun fall paddling here first).
Here are some tips for how to store your board over the winter to get as much fun out of your board as possible for years to come.
Sunlight
The UV rays of direct sunlight can cause your board to fade and lose its color. To preserve your beautiful board, store it somewhere where it won't be exposed to sunlight. Inflatable SUPs deflate to such a small size that finding somewhere indoors to put your board shouldn't be a problem but if you're tight on space a garage or shed should do the trick as well. 
Cleaning
I always like to clean off my paddle boards completely before I put them into storage for the winter.
Any dirt or stains on the board from all of the adventures you've been on should come out pretty easily with water and soap though occasionally I have to use isopropyl alcohol for some of those tougher stains. A stain that is easy to remove now might become a permanent feature if you let it wait until spring cleaning comes around. 
Moisture
Another big reason to store your inflatable paddle board inside  is moisture. A wet paddle board is going to start growing mildew which over time could damage your deck pad and give your board an unpleasant odor.
Before you store your board (especially if you just washed it), make sure to completely dry it off and store it in a place where it isn't likely to get wet.
Temperature
It's best to store your SUP away from any areas that will have extreme heat or large temperature swings. These can cause the materials in your board to degrade faster than they otherwise would.
Temperature swings will be especially an issue if your board is wet and the continued freezing and thawing can rapidly deteriorate the deck pad and other materials on your board.
A garage or a storage room inside tend to do well for storing your inflatable paddle board as they are dry and not prone to large swings in temperatures.
Inflated vs Deflated
I recommend fully deflating your paddle board before long term storage. Once I know that I am done paddling for the season, it just isn't worth the extra space to keep the board inflated all winter long. Deflating before storage also has the benefit of giving the seams and the drop stitch fabric a rest for a while.
If you have the space, however, and your board is clean, dry and in a spot without large temperature swings, it is totally OK to leave your board inflated over the winter.
If you store your SUP this way, just make sure to check the pressure before you next use your SUP to make sure that it doesn't need a top off. You can even store your board partially inflated So that you don't have to pump it all the way back up in the Spring while giving the seams a rest for the winter. 
Conclusion
For more tips on how to keep your board in tip-top shape all season long, check out our post here about caring for your SUP.
Discover our boards and find the right one for you!
Related Topics
Things to Consider When Buying a SUP
Improving Fitness on Paddle Board
Back to The Future With The O2 Retro
Hard VS Inflatable Paddle Board