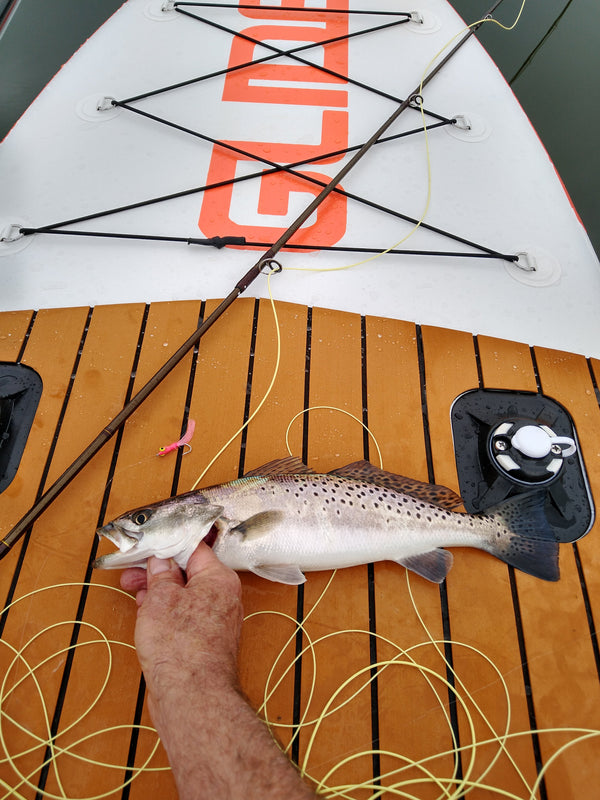 Fishing Stand Up Paddle Board FAQ
SUP fishing is the modern mode of water travel to catch monster fish or the bigger story to tell your friends. Not only will you be able to get a workout out and avoid the belly of a shore fisherman but your ability to spot and reach fish will be greatly opened. The popularity of SUPs on rivers, lakes, and oceans is increasing, for good reason. It's not only more fun but offers access into lakes that do not allow motorized watercraft, giving you the anglers' upper hand.
Customization of Watercraft
For many fishermen and women, the difficulties of exploring a body of water are what holds them back from their potential. Without a budget to buy a boat, options can seem limited. Not anymore, while kayak fishing has been around, the lack of mobility within the kayak is another limiting factor.
Fishing with a SUP allows customization of your board and strapping capabilities to keep everything you need and those things you want within reach. Do you want to sit on a cooler and paddle, or stand and streamline your way to the honey hole you couldn't get to before? Either way, a well-made fishing SUP will get the job done.

Transportation
The ease of transportation, storage, and maintenance is minimal when SUP fishing. Nearly any vehicle can take your inflatable fishing SUP to the body of water you choose. If you can roof rack your fishing sup, inflatable or rigid, you are minutes from being on the water before everyone else.
If hiking into mountain lakes is your thing, inflatable fishing sup with a quality backpack and breakdown paddle will elevate your fishing experience to a new altitude. Get away from the crowds and find the hungriest of fish to bite on whatever tackle you throw at them. In the end, your own hunger from the hike will make the catch that much tastier. 
Things to Consider When SUP Fishing
When SUP fishing you'll be bringing a lot more gear than your standard evening paddle. Plan accordingly and make sure not to weigh yourself down in the process. Be smart with your tackle, food, and beverage weights and secure them accordingly. Be the boy scout angler. 
Will a Fish Pull Me Off My SUP?
This is an often asked, yet tricky question. In the end, it's up to your balance and the size of the hog you are hauling in. However, choosing a board specific to fishing with a wider and longer design will help stabilize your catch. A high-quality board such as the 02 ANGLER INFLATABLE FISHING BOARD will come outfitted with specific design elements to make that board fishing catch that much easier. 
Fishing SUP For You
Owning a fishing-specific SUP comes with a lot of benefits. Some of these include rod holders, extra bungees, and D-rings to attach gear and supplies. Especially important is a non-slip deck pad so when the fish are bitin' you will stay planted and reeling.
If you are looking to get to those hard-to-reach places and have a high perch to see through the water, SUP fishing is for you. Check out all of our high-quality SUPs and accessories at Glide SUP to take advantage of the coming spring months.
Related Topic
Beginners' Guide for Fishing on SUP
Paddle Boarding Safety Measurement in the US
Places for Paddle Boarding in California