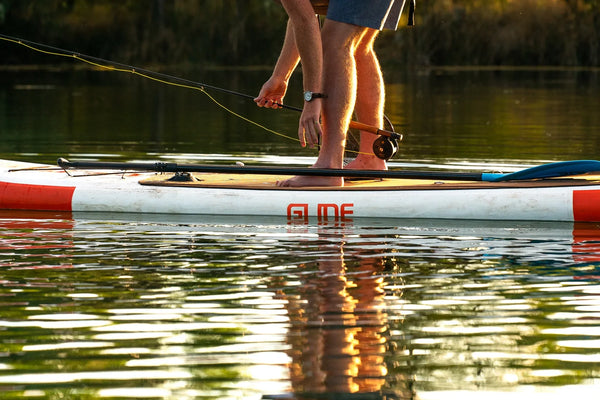 Glide's beginners guide to sup fishing.

The most important part to sup fishing or paddle board fishing is the fishing paddle board. And the best sup fishing board is the Glide Angler inflatable fishing sup. The next would be a fishing license, no need to have fines accrued while you enjoy your day.
Sup fishing is a lot easier than it looks if you are using a Glide fishing sup, other fishing paddle boards may leave you struggling to get the hang of it, although our beginner's guide of fishing tips will have you catching fish in no time.
Learning the secrets to paddle board fishing, sup fly fishing.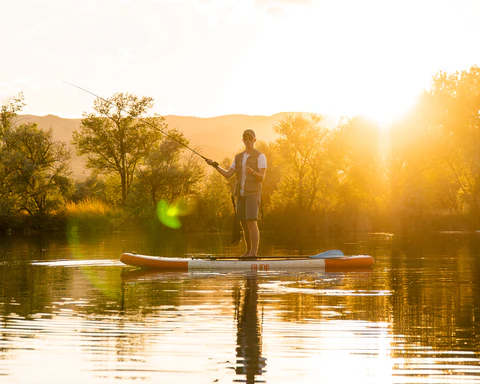 This will ultimately come down to what kind of sup fishing you plan on doing and your current skill level with that fishing method.
We will look into Travis's first-time sup fishing and the sup fishing tips we gave him. He was also wanting to do sup fly fishing and as of yet had not done any fly fishing at all. We sent him to a local fly fishing store where they could help him choose the right fly fishing rod for him and that taught him lessons on how to cast properly out on their lawn.
That evening while he planned what fishing spot he wanted to hit, he practiced the casting motions he had learned. Once morning came it was time to grab the fly fishing pole and the Glide Angler fishing paddle board. Luckily Travis is an advanced paddler and sup yoga enthusiast. After loading his other accessories, flies and life jacket it was time to head out and see who he did.
The Glide Angler fishing paddle board allowed him to have the stable platform he needed for longer casts. And remain stable as he did so, his big catch of the day was a large big mouth bass.
From his experience here is our short list of sup fishing tips.
1) Get to know your paddle board before you go paddle board fishing. Take some time to do a sup trip without the gear.
2) Take lessons on how to cast and tie on flies if you have never done fly fishing before. This will set you up for success when sup fly fishing.
3) Go to your favorite fishing spot or check out fishing reports and find out what flies to use and what times of day are giving the best chance of catching fish.
4) Enjoy the fresh air and have a great fishing experience no matter what fishing paddle board you are paddling.
Fishing tips for learning to standard sup fishing.
Standard sup fishing usually means lure and tackle fishing. Although may include live bait as well. If you are going to be fishing offshore and want to use live bait a cast net or to a lesser extent a dip net is recommended when traditional fishing.
For new sup fishing anglers, it can be helpful to be barefoot as many paddle board fishing find it lets them balance easier. Stand with your feet shoulder-width apart as you cast out and then reel in as you normally would. If you land a larger fish many anglers will go to a sitting position to help in handling fish that are able to put up a large fight and or potentially cause you to lose balance. There is nothing wrong with checking out the comfortable deck pad or Glide cooler seat as you real in your fish.
Sup fishing tips for trolling from a sup board.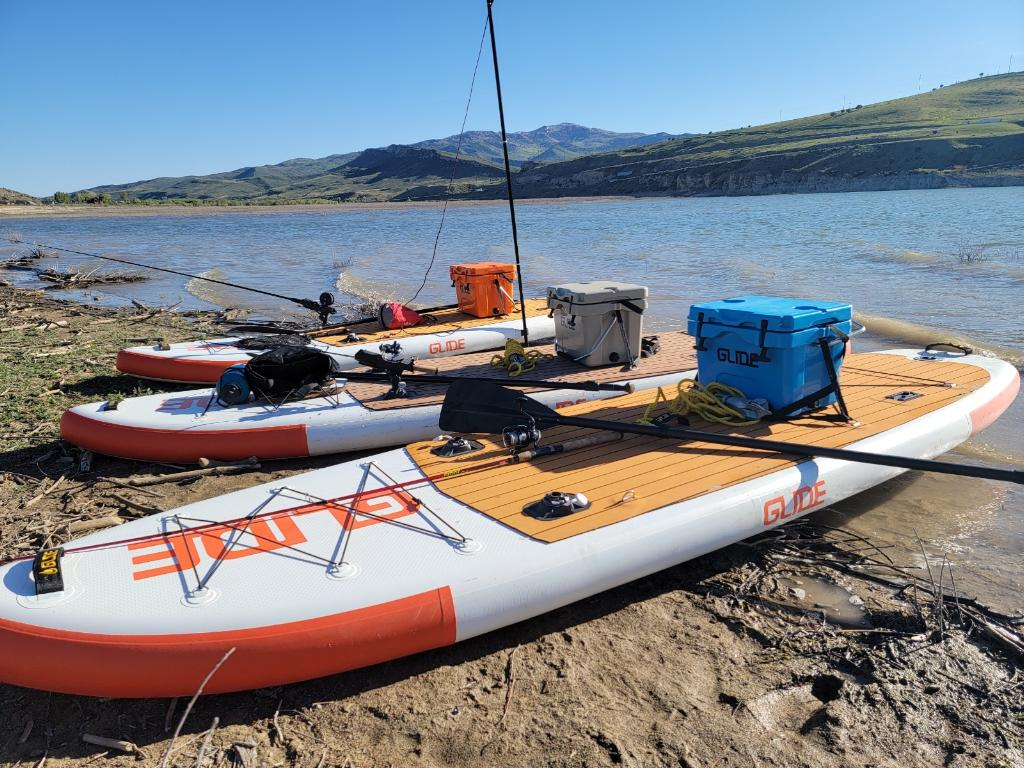 This is where the fishing rod holders come into play and why it is important to have quality rod holders. The attachment points for the rod holder will vary on some boards. When trolling sup fishing it is recommended to have the pole mounts placed near the board's nose.
This will allow you to keep an eye on the fishing rod as you paddle board making this the ideal setup for trolling from a fishing paddle board. A fish finder is also one of the essential gear those who prefer this mode of sup fishing often claim although I have found this to not be true. A fish finder does help although is not essential gear.
While trolling from a fishing paddle board I like to take a few strokes then Glide for a bit and then repeat.
Sight sup fishing.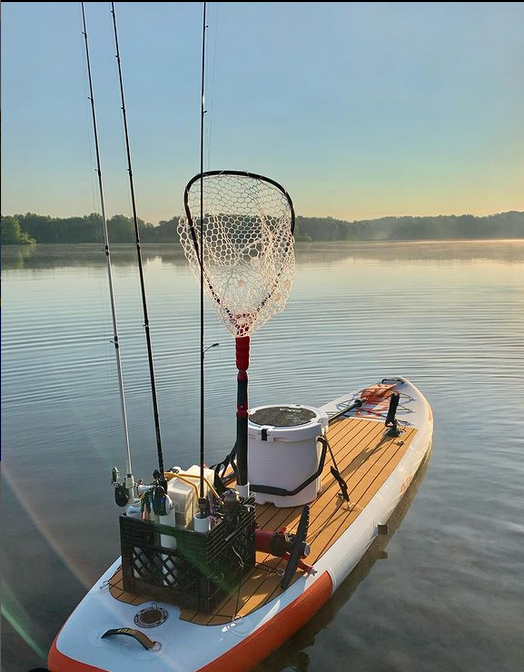 Sight fishing is an exciting way to go about sup fishing! And can be done with fishing gear for fly fishing, bait fishing, or lure fishing. One piece of equipment that should be in your fishing setup for sight fishing is a pair of polarized sunglasses. Paddleboard fishing this way is a fun and challenging way to sup fish. Intermediate or advanced paddler tend to have the best luck with this method although some beginner paddlers have shown incredible results sight sup fishing.
Sight sup fishing is also something that can not easily be done from a kayak, this is just one of the few disadvantages to kayak fishing.
Offshore sup fishing.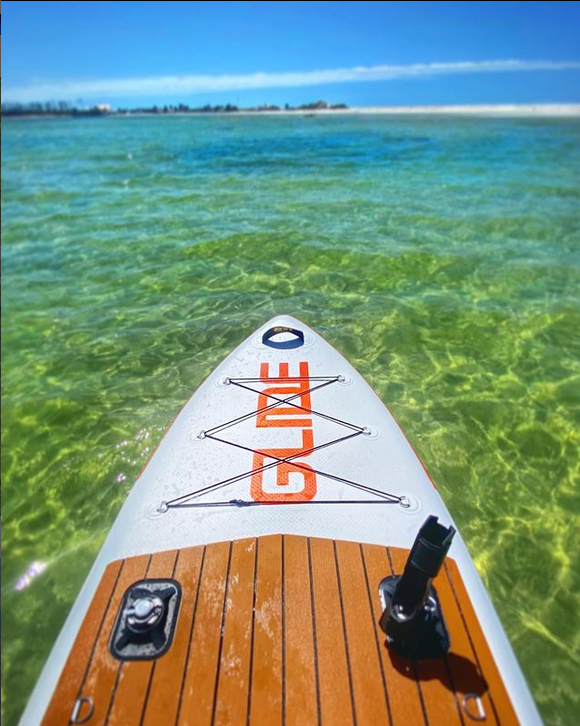 This is one of the areas where the Glide Angler fishing paddle board shines. The general rule is you are going to want a long and stable board giving you the best platform to fish from. An ankle leash is recommended as well. Some will say a paddle leash as well although I have not seen a need for one myself as all the gear I have on my fishing rack will let me easily recover the paddle if I happen to lose it. A personal flotation device should also be worn while offshore fishing and is one of the bare essentials for any sup fishing setup.
This is one of the places where I do normally recommend a cast net to get free live bait, and normal anchor set up as you will generally be in deeper waters and a gaff hook to help get the fish secured on the fishing sup. A normal fishing net as well, and a Glide fishing cooler.
Sup fishing gear.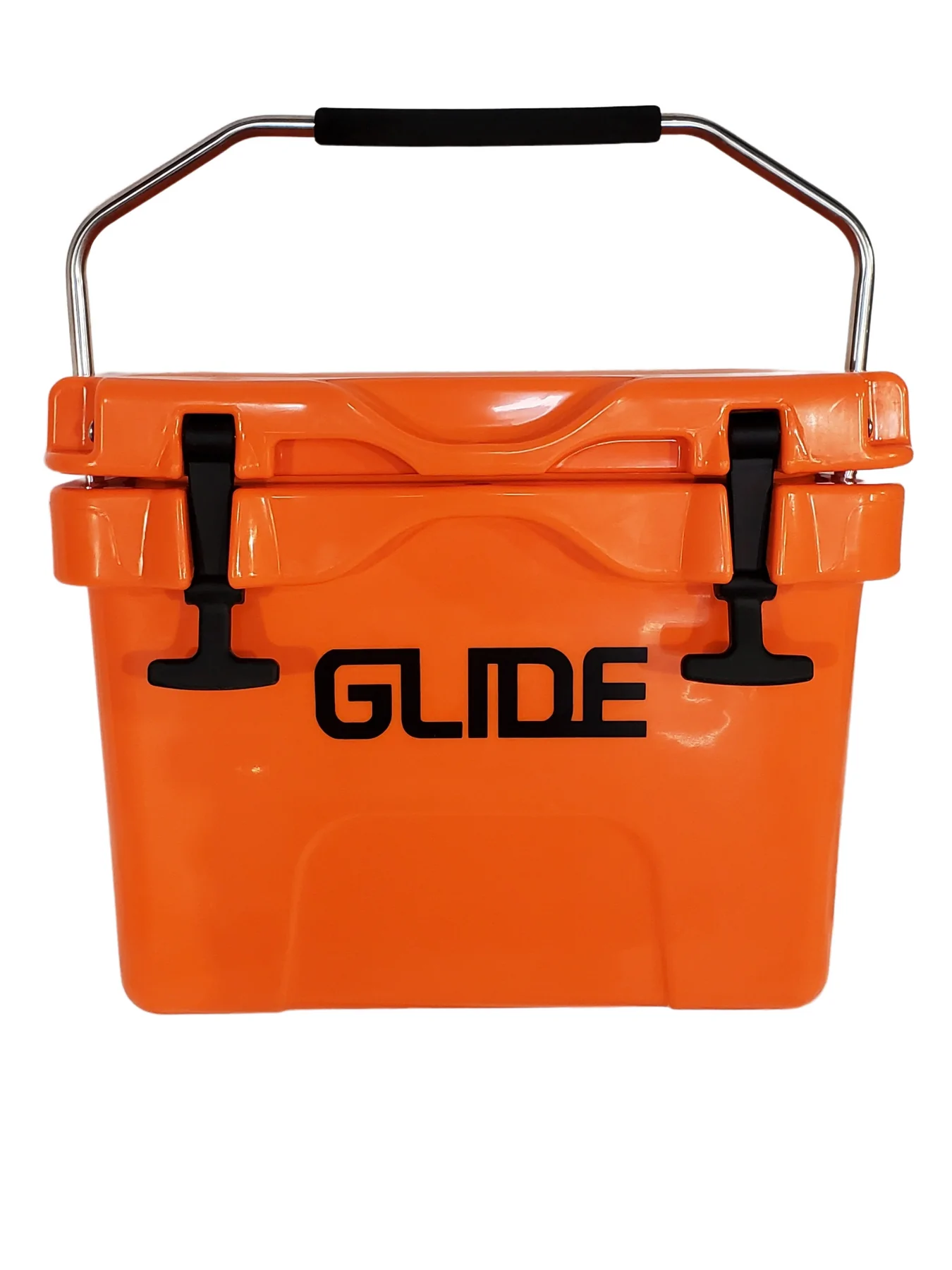 The only sup fishing gear you need to start with are as follows and should be considered only the necessary gear for sup fishing.
1) Fishing license
2)Paddleboard or sup fishing paddleboard. A fishing-specific board is recommended although not necessary.
3) Fishing rod and tackle or flies.
4) First aid kit and repair kit
5) Cell phone or another device like a Garmin in reach to be able to contact help and keep updated on changing weather especially if fishing offshore.
6) Sense of adventure
That is all the gear you need to start paddle board fishing. More gear can be added a few pieces at a time as you figure out what your style is and what will make paddleboard fishing more enjoyable for you. And as you add gear you will be able to know how much storage space you have. If you have a Glide Angler fishing paddle board then you will have plenty of cargo space for any gear you will want to bring, from a sleeping bag and camp gear as well as your fishing setup. You will be able to enjoy your favorite fishing spot in style and comfort with our inflatable fishing sup board.
About the Glide Angler fishing sup voted best fishing inflatable paddle board.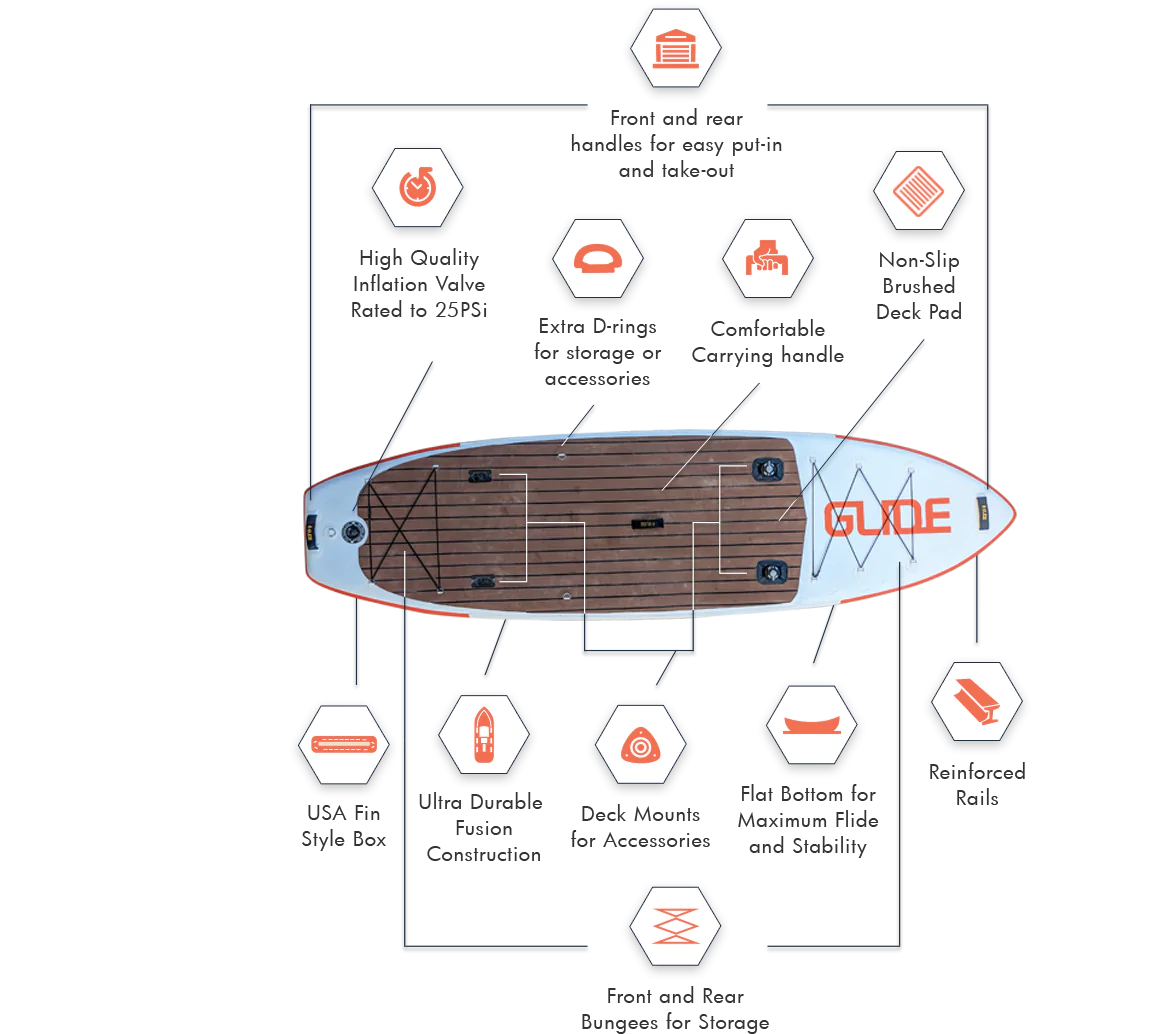 The Glide Angler has a weight capacity that is missing in many boards, able to easily carry 500 lbs this board has been voted the best fishing paddle board of the year, as well as for sup camping and paddle boarding with a dog. The Angler is a stable board that excels at sup fishing and being an everyday paddle board.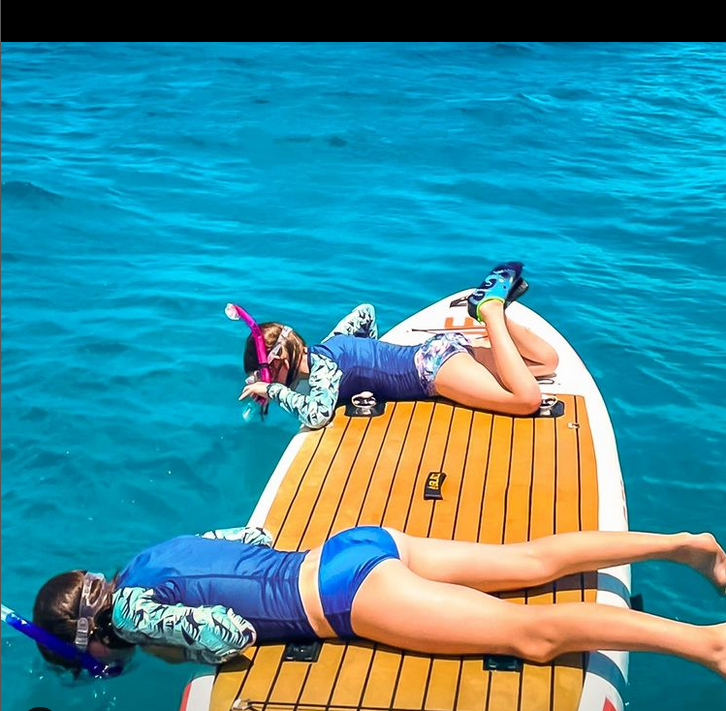 The Glide Angler stand-up paddle board features the following on the inflatable paddle boards,
The length is 11 feet for the fishing paddle board.
The width is 36 inches
The tail width is 18 inches on the Angler fishing paddle board.
It is not a thicker board with a board thickness of only 6 inches.
The deck pad is durable and easy to clean.
The fishing paddle board has a pointed nose suitable for all water sports and everyday paddle boarding.
The inflatable sup board also has an impressive weight capacity of 500 lbs, meaning you don't have to take only the necessary gear although can bring any gear you want including kids and the dog.
The fishing paddle board is made from premium materials with an extreme eye for detail. It is constructed with Glide's premium patent-pending technology that allows for Glide's unique stiffness to be fused in. Its composition is a quadruple layer military grade PVC – woven drop stitch core. If you want to fish from a paddle board the Glide Angler is the best you can get and outperforms many boats, kayak, and fishing paddle boards. Although no matter what inflatable sup you stand up paddle board on we hope you are having a blast and that you catch the fish you want!
Glide Angler Fishing Setup.
The following comes included with the Glide Angler fishing paddle board.
Backpack with rolling wheels for easy travel
High-performance Adjustable Paddle
2 Rod Holders, the rod holders work for multiple types of fishing rods and can used as vertical rod holders.
Leash
High-capacity SUP pump
Fin
Repair Kit
Kayak Seat
carry Strap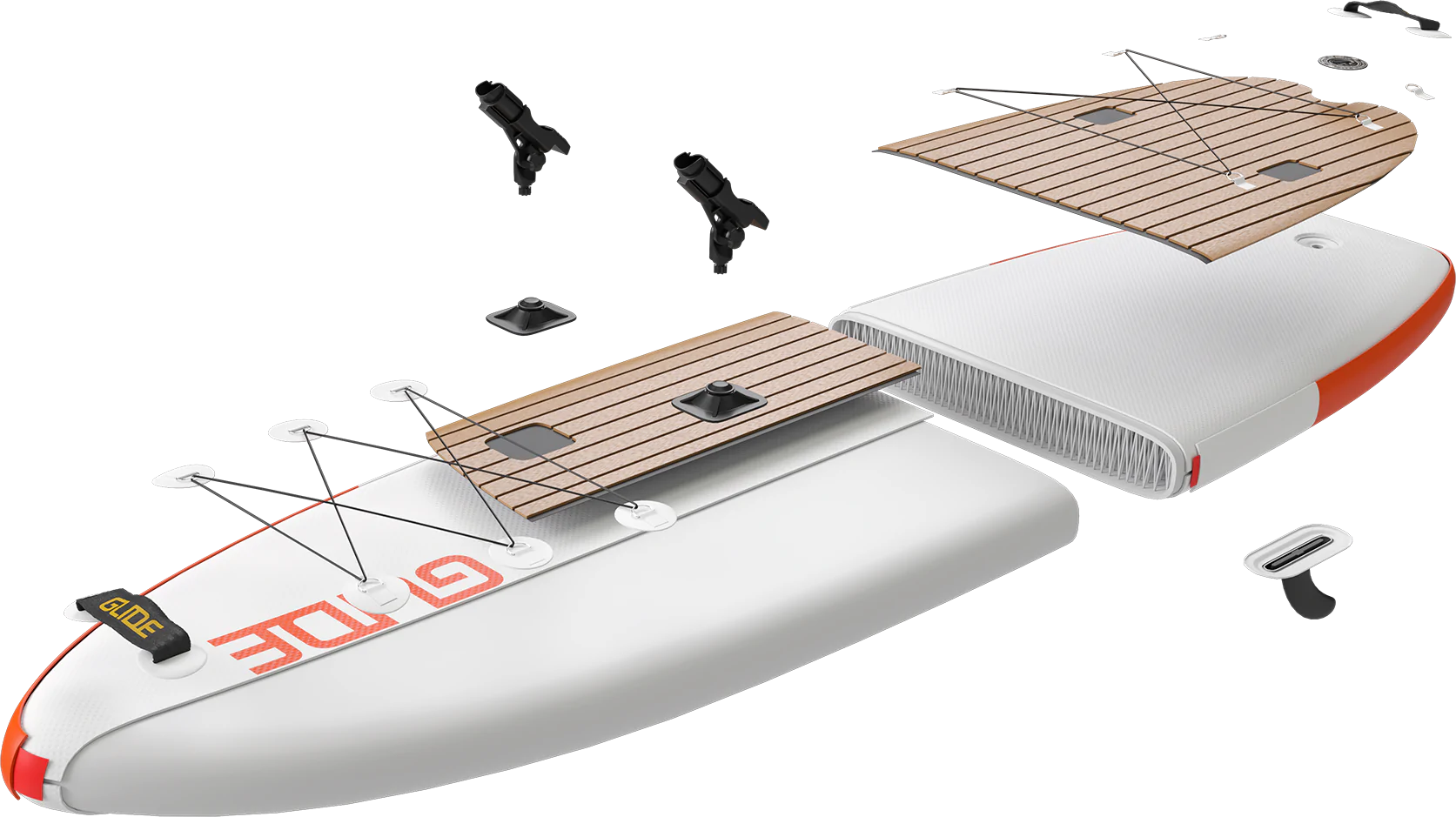 Advantages of a fishing paddle board.
Unlike many boats, a stand-up paddle board does not require a special license or registration. And an inflatable fishing paddle board is easier to transport than fishing boats, easier to store than a fishing boat, and is better for the environment compared to gas-powered fishing boats. A fishing paddle board is also a better way to view wildlife, keep in shape and enjoy the outdoors. A paddle board is also a great way to recreate with friends, and family and stay socially distanced. So get out and paddle board!
No matter what you choose to stand up paddle board with we at Glide hope you are having a great time under the sun and are creating memories of a lifetime. Let us know on Instagram at #glidesup where you paddle board. For more articles check our blog, and these two may be of interest to you sup fishing enthusiasts. Fly Fishing Paddleboard and Fishing Paddleboard. Ok maybe one more.