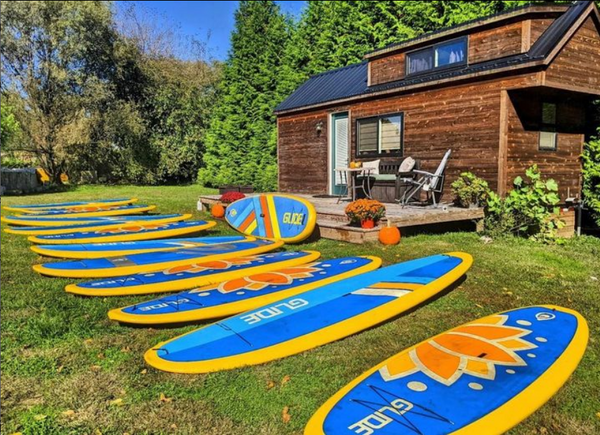 Hard or inflatable paddle board for beginners?

We recommend that beginners and first-time paddle board enthusiasts go with inflatable paddle boards. In this article, we will go over some of the reasons why this is.
Inflatable paddle boards, also known as iSUPs.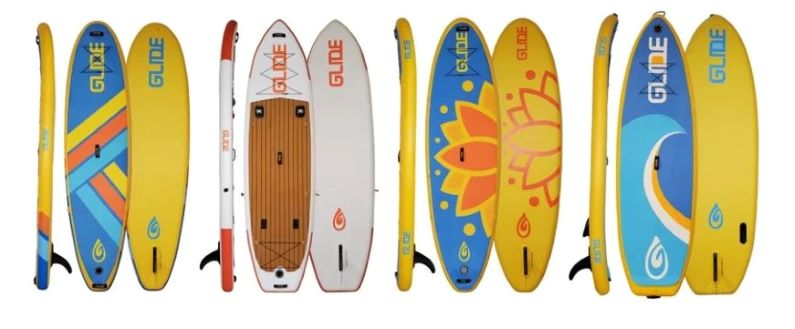 Have become increasingly popular in recent years due to their convenience, versatility, and cost-effectiveness. These boards are made of a durable, lightweight material that can be easily inflated and deflated, making them perfect for transporting to and from the water.
Inflatable paddle boards can be used in a variety of settings, from flatwater lakes and rivers to ocean waves. They are suitable for beginners and experienced paddlers alike, and can be used for recreational activities such as yoga, fitness, and fishing, as well as for more advanced sports like surfing.
Some benefits to inflatable paddle boards.
Inflatable paddle boards offer many benefits over traditional hardboard paddle boards. They are easier to store and transport, as they can be deflated and packed into a bag or trunk of a car. They are also more durable and less prone to damage, as the inflatable material can withstand impacts and scratches that would damage a hardboard when considering non-Glide Ultra Durable boards. Additionally, inflatable paddle boards are generally more affordable than hardboards, making them a great option for those on a budget.
When shopping for an inflatable paddle board, it's important to consider the size and weight of the board, as well as the materials and construction. Some boards may also come with additional accessories and features, such as removable fins, built-in handles, or a built-in cooler. Proper care and maintenance of your inflatable paddle board is also important, including proper storage and transport, as well as regular cleaning and repair if necessary.
Overall, inflatable boards are a convenient, versatile, and cost-effective option for anyone looking to get into paddleboarding. Whether you're a beginner or a seasoned paddler, there is an inflatable paddle board out there that will suit your needs and preferences.
Transportation of inflatable sups.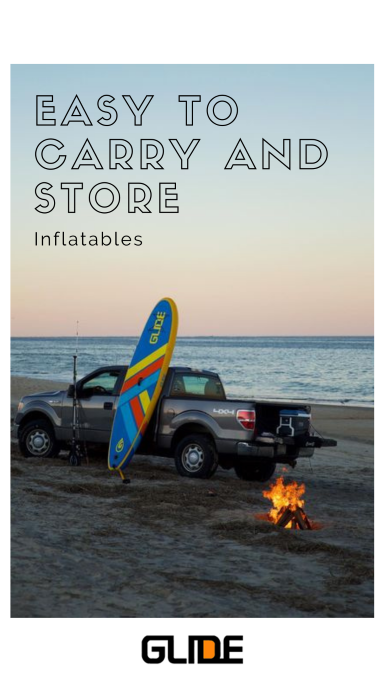 When considering transportation of a paddle board a few things are worth considering. With hard boards, you will need a roof rack and cam straps or a dedicated hard paddle board rack. This will also eat away ar a lot of the storage space for the vehicle. Fiberglass or epoxy boards can also be damaged if not properly secured or secured to tightly. Gas milage will also be adversely affected.
Inflatable paddle boards on the other hand are easily transported and can even be hiked in to remote waterways with. Some national parks and other destinations will be easier reached with inflatable paddle boards such as the Dry Tortugas National Park which is rechable by private boat, ferry, or seaplane. With the last two options, you will be grateful for an inflatable paddle board. A hard board will take up to much storage space and may require you to wait around until one of the options has room for you and the hard board. Other remote options like Knik Glacier Pools will be hard to reach with solid boards.
Some drawbacks to an inflatable sup.
Inflatable paddle boards are generally not as durable as a hard paddle board. Especially the budget inflatable sup market. You will want to make sure to get a brand that is well known for its durability and customer service, avoid those that had been affected by the inflatable sup recalls. And look for inflatable paddle boards that are made with more than three layers of PVC material.
Paddle boarding should be a fun experience and not one that makes you dread trying to get to the water. At Glide we feel that for first-time paddlers or those wanting to increase their fleet inflatable paddle boards are the way to go.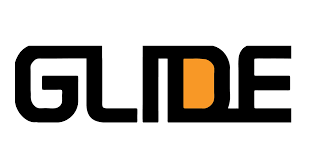 Do you paddle an inflatable board or hard paddle boards? Let us know at #glidesup on Instagram. No matter what type or brand you are paddling, have fun and enjoy the moment!