Looking for the best beginner sup?
Looking for the best beginner paddle board?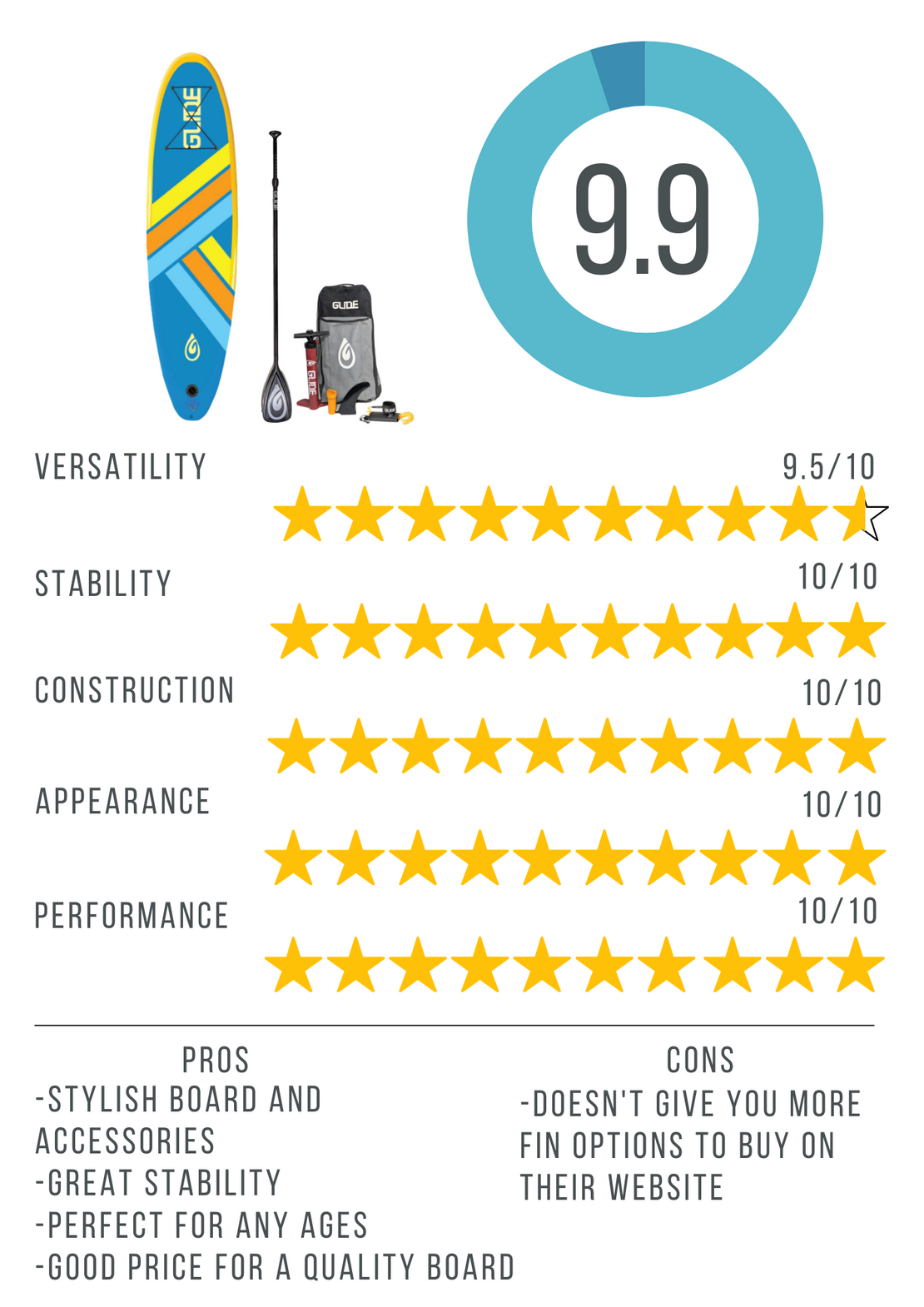 Let's look into what the best beginner paddle board on the market is and why it is so loved by even the most experienced paddleboarders. The Glide Retro line-up has been voted the best paddle boards for beginners. And has the option to choose from solid board or an inflatable sup board.
The Glide Retro solid board lineup.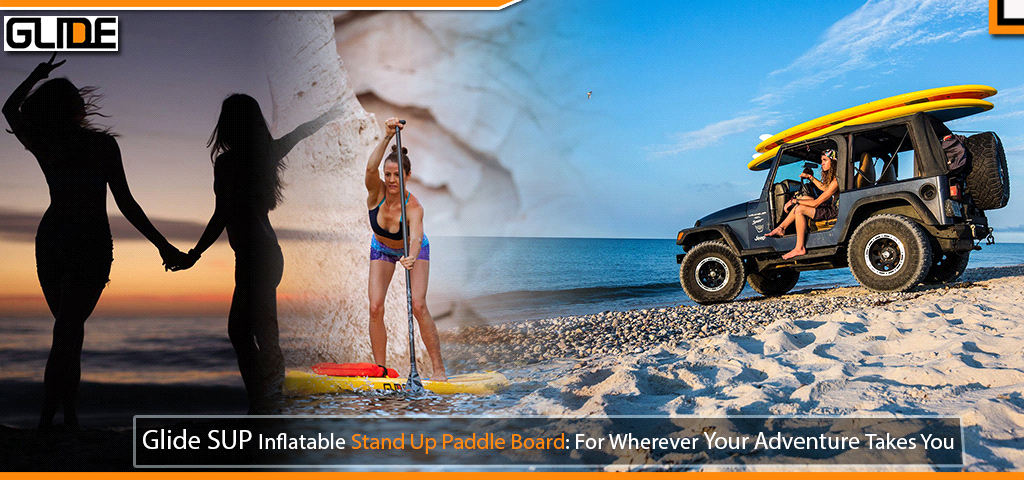 The Glide Retro is the best all-around board that is well suited as a beginner sup to those who are advanced paddlers. The benefit of an all-around board is that the paddler can do any type of paddle boarding that may interest them. Yoga enthusiasts can take this board to have an incredible yoga session, or they can head downriver on the board and feel confident, or they can head to a beach and surf some ocean waves, or paddle board on a scenic lake and enjoy the view. Sup anglers also use this all-around board as a fishing hotspot or load it up with gear from some exploration and sup camping.
The incredible flexibility of these all-around boards makes them the perfect option for a beginner paddler, allowing them to find out what type of paddle boarding speaks to them the most. While also being able to join friends and groups no matter what type of paddle boarding is called for on any given day.
The beginner board is also part of Glide's ultra-durable and eco-friendly paddle boards. We believe in doing right by the environment, and our customers and feel that paddle boarding should be available to everyone. This is why we price our premium voted best of paddle boards closer to other board's budget board and entry-level board price points. Instead of the expensive ad's that others pass on to the customer we do away with the hyping of subpar boards and focus on making premium quality paddle boards at a price to allow everyone the chance to own a premium product and enjoy this amazing sport.
The Glide Retro all-around beginner paddle boards come in two sizes of paddle boards.
Glide Retro Blue Deck Pad all-around beginner paddle boards.
The Blue deck pad paddle board has a board length of 10'6", features removable fins, and a width of 31.5 inches with a board thickness of 4 5/8" while the removable center fin is housed in a US-style fin box allowing the paddler to source fins from multiple places such as amazon, and get the fin that suites their paddle boarding style the best. For more on fins check out this article. For the fins, we recommend you can see and purchase them through our website here.
Glide Retro Green Deck Pad all-around beginner paddle boards.
This all-ar0und paddle board for beginners is the longer boards and wider board in the solid board lineup.
The board length of this incredibly stable board is 11'6" with a board width of 32.5" and a board thickness of 4 5/8" with the same features as the Blue deck pad beginner paddle board, both paddle boards also feature a full-length deck pad that is durable, easy to clean and provides the traction you want when paddle boarding. Both boards are also voted as one of the best paddle boards for dogs.
Both paddle boards offer some of the best weight capacity of any all-around paddle board letting beginner paddle boarders experiment with different gear load outs, paddling with a friend or dogs.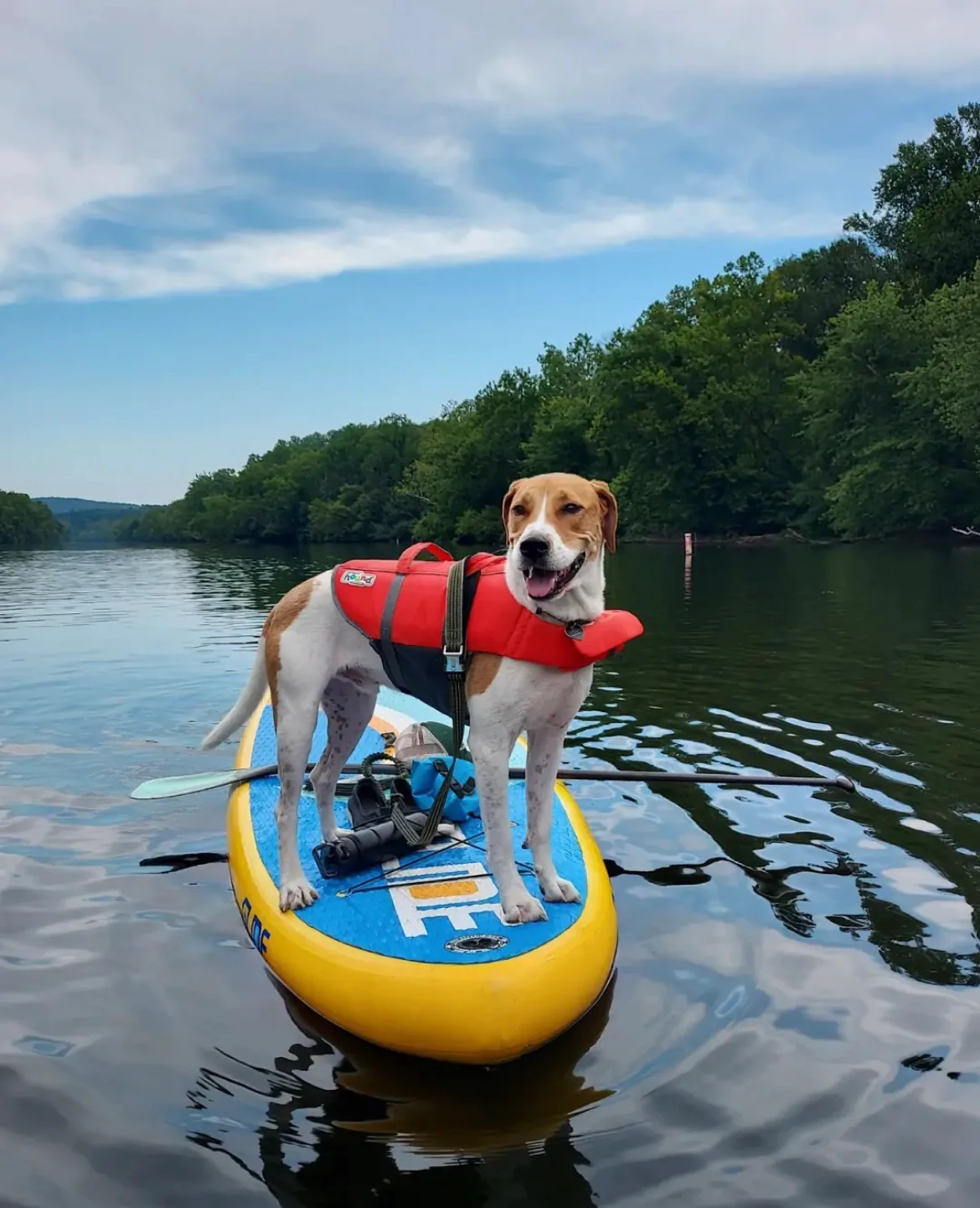 These size paddle board allow for a more stable board and one that is able to handle more types of paddle boarding with ease. Unlike other beginner paddle boards these are ultra-durable and built to last a lifetime, check out or website or will it break Wednesday to see what we mean by ultra-durable.
The Glide 02 Retro was voted the best inflatable paddle boards for beginners and all-around board.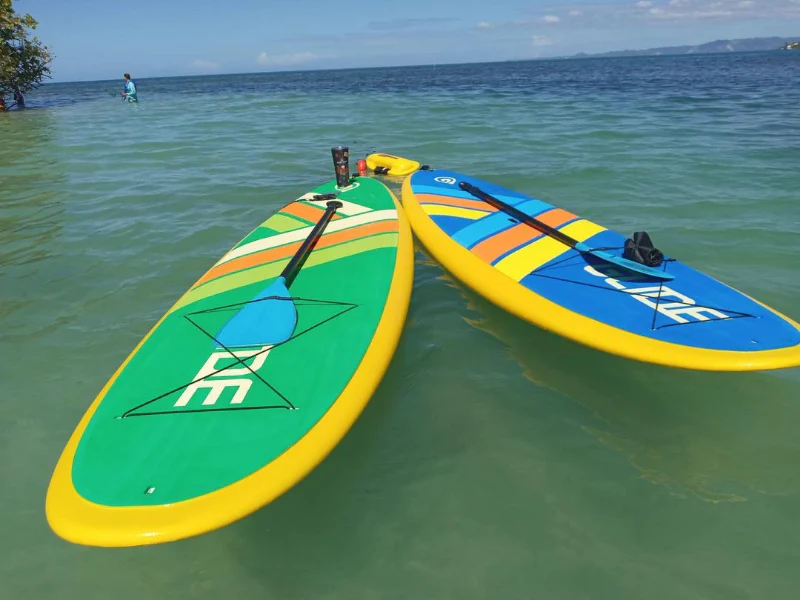 Like the other all-around boards and beginner boards in the Glide Retro lineup, this stand-up paddle board can handle whatever type of paddle boarding you may want to do. The composition of this paddle board includes a quadruple layer military grade PVC – woven drop stitch technology core. With our unique Glide stiffness infusion, these inflatable sups perform closer to a solid board while remaining a lightweight board. Due to it being a lightweight board it has been voted as one of the best inflatable stand-up paddle boards for sup hiking and camping.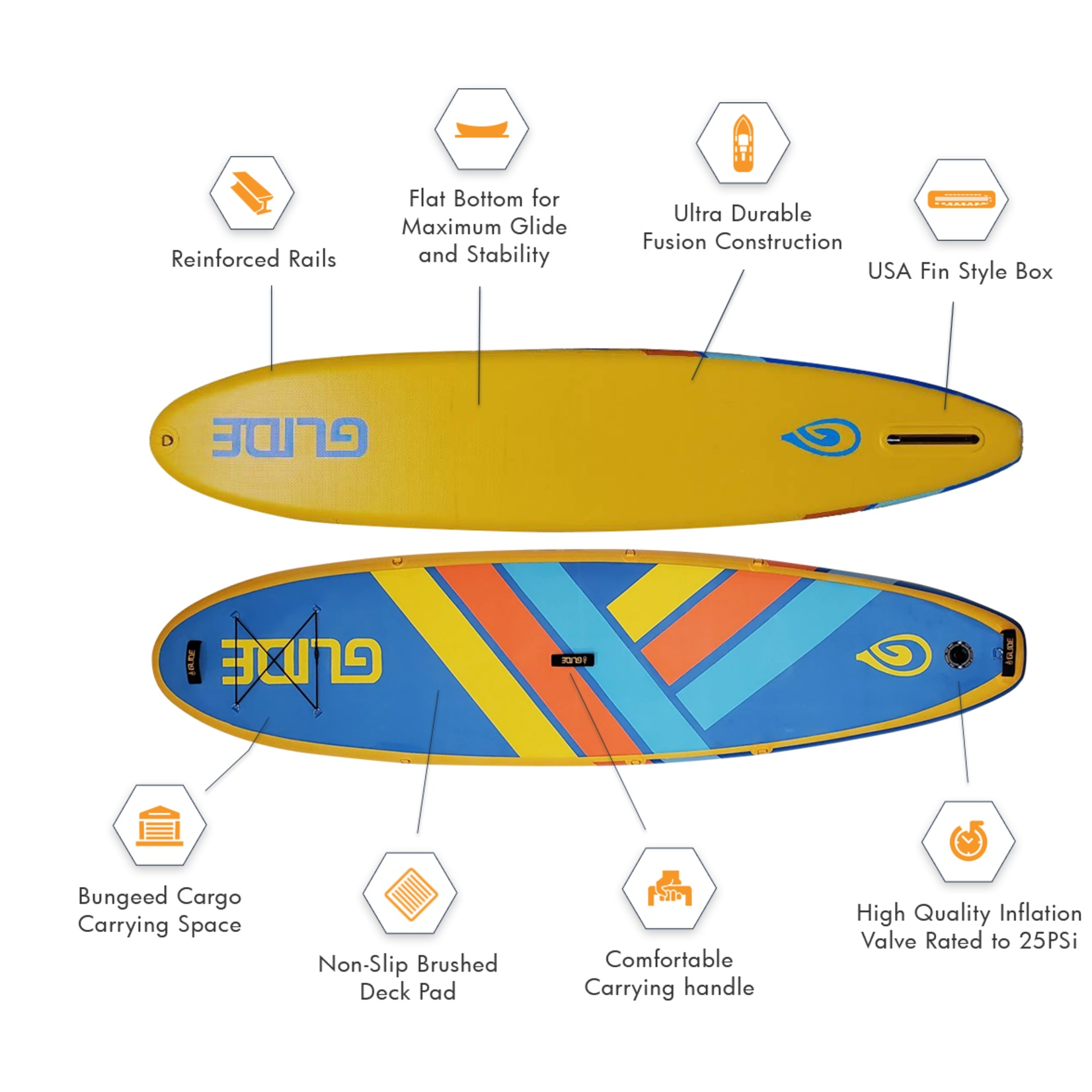 This beginner sup has a higher weight capacity of 400lbs compared to other beginner sup boards and includes a kayak conversion kit/kayak seat that transforms this sup board into a sit-on-top kayak. And while it is not ultra-durable like the solid board line-up the truth is no inflatable paddle boards will be that durable. The Glide inflatable paddle boards however are some of the most durable if not the most durable when it comes to inflatable paddle boards. This is part of our pledge to being environmentally friendly, check this article out for more info on why this matters.
The following is currently included with the Glide 02 Retro All-around paddle board.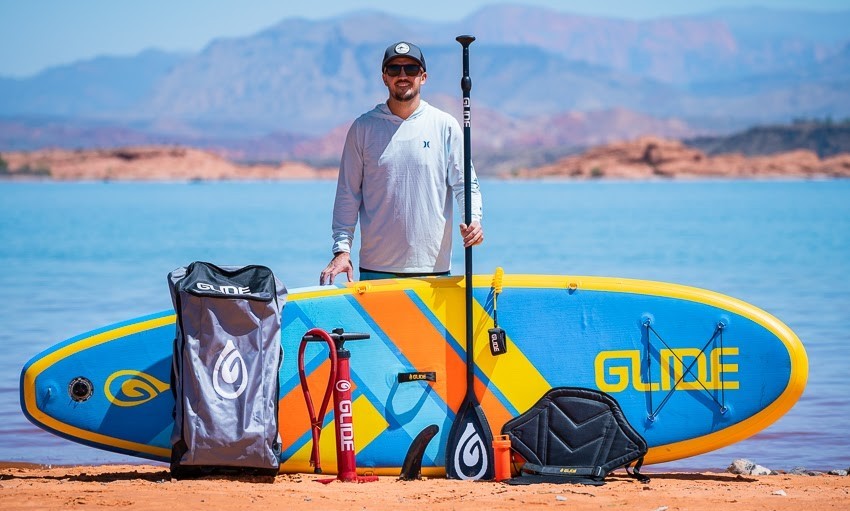 Carry bag Backpack with rolling wheels for easy travel.
High-performance adjustable Paddle. This is a lightweight fiberglass paddle.
Coil leash
High-capacity SUP pump this pump will get you on the water faster than another manual pump often packaged with cheaper boards even when sold at a higher cost.
Removable fin
Repair kit
Kayak seat
Removable shoulder carry strap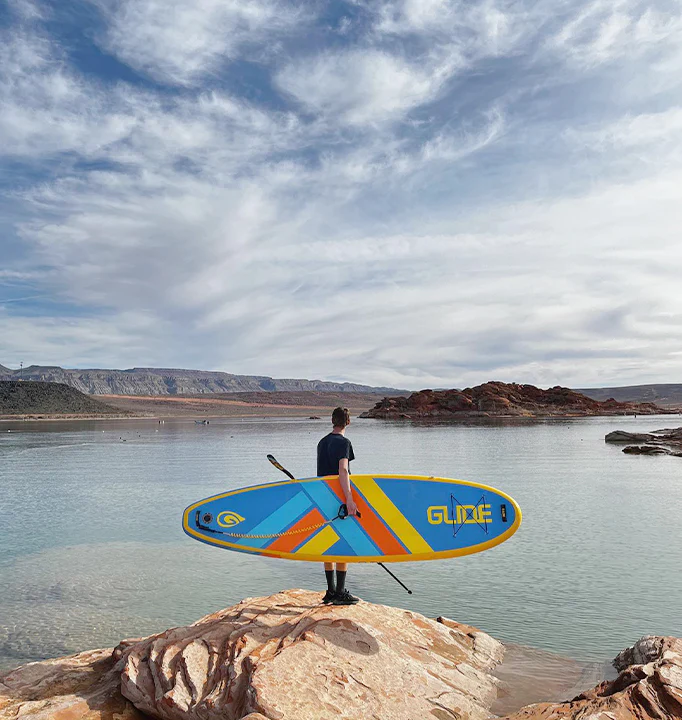 Both the solid and inflatable paddle boards have plenty of storage space on the boards for you and the gear you want to bring. While the inflatable paddle board will also save you on storage space when the end of the sup trip comes.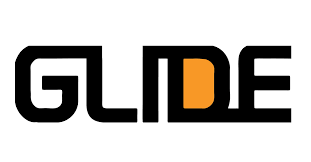 Here at Glide, we hope you enjoy paddle boarding as much as we do! Let us know where you went paddle boarding recently on Instagram at #glidesup and do you paddle on an inflatable board or a hard paddle board?
Glide Retro voted best beginner paddle boards and the best paddle board for all-around sup board.