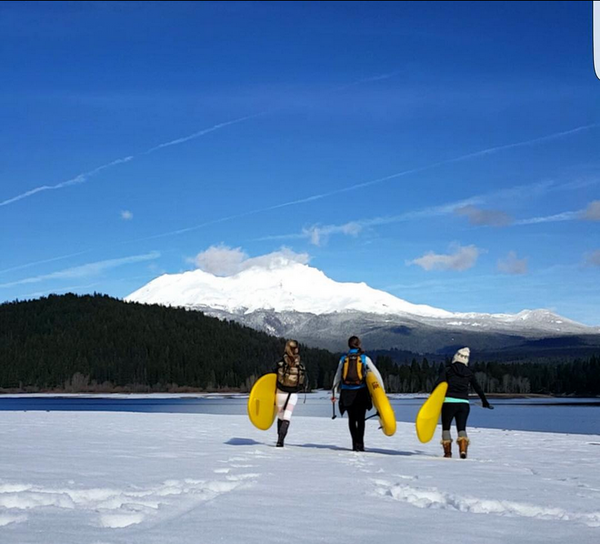 Looking for the perfect Christmas gift?
What paddle board should I buy for a Christmas present?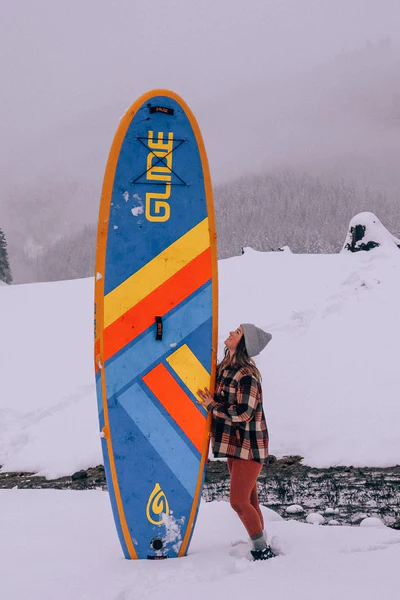 Are you looking to get a friend or loved one a paddle board as a Christmas gift and are not sure which one would be the best? We are here to help you out, with the perfect gift paddle board regardless if this is the first paddle board they will have or if they are an experienced paddle boarder. You will have the perfect gift when you follow our recommendations for paddle board Christmas gifts.
Choosing the right board type for under the Christmas tree.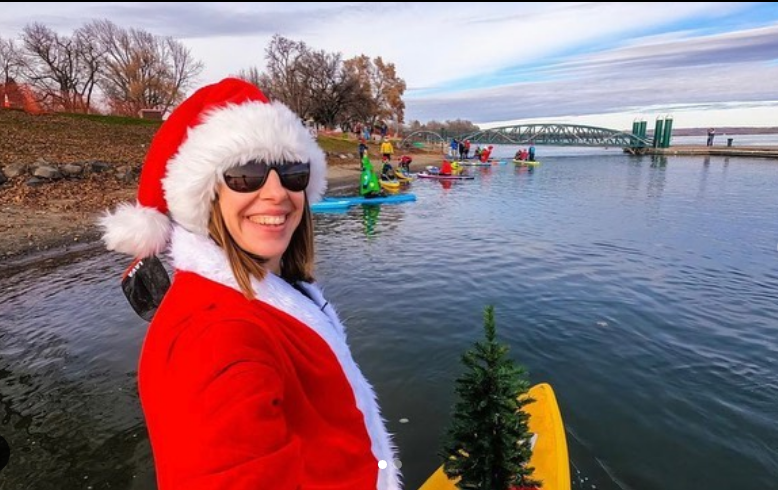 If this is their first-time paddle boarding or owning a paddle board check to see if they have roof racks on their vehicle. And if they would have a place to store a solid paddle board. If not then inflatable stand up paddleboards will be the ideal gift this holiday season. And one of the best gifts a family member, friend or loved one could wake up to this Christmas morning.
The top pick for the paddle boarder in your life is the Glide Retro.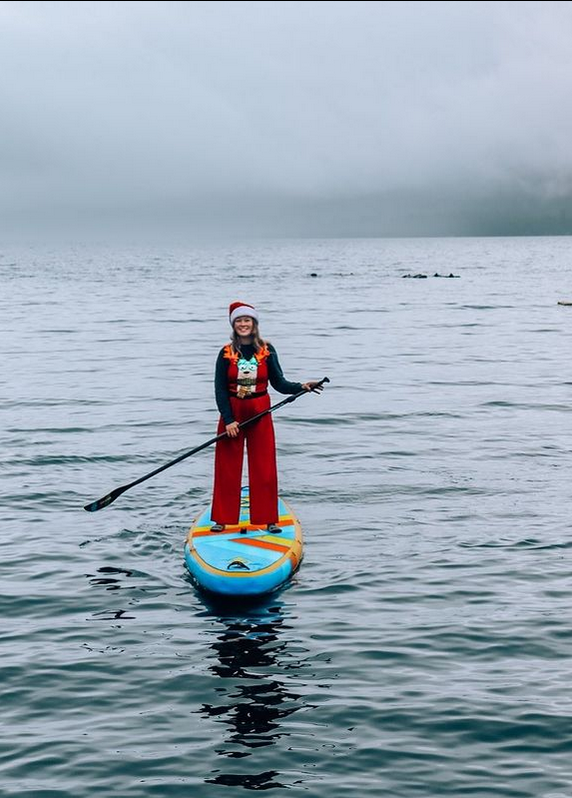 The Glide Retro is an all-around paddle board that is the perfect Christmas gift for beginner and advanced paddlers. It will allow them to do whatever type of paddle boarding they want from rivers, surfing ocean waves, getting into sup yoga, or even sup fishing. The Gide Retro lineup is one of the paddle board Christmas gifts they will never outgrow or grow bored of and will let them form happy memories year after year, the paddle boarder in your life will love you for this gift.
The Glide Retro lineup has 3 options to choose from, two solid boards and one inflatable paddle board option.
The Green deck pad comes in at a board length of 11'6" and is the perfect Christmas gift for some one who may want a solid paddle board that is slightly longer, allowing them to carry more gear, a large dog or little family members.
The Blue deck pad comes in at a length of 10'6" making it a little easier to store the stand-up paddleboard while still giving plenty of space to carry the family dog, equipment, or family members.
Both of these options are a great gift for those who have permanent roof racks, and even a rack that is designed specifically for stand-up paddle boards. Your favorite paddler will love either of these options, as well as the next option.
The Glide 02 Retro stand-up paddle board.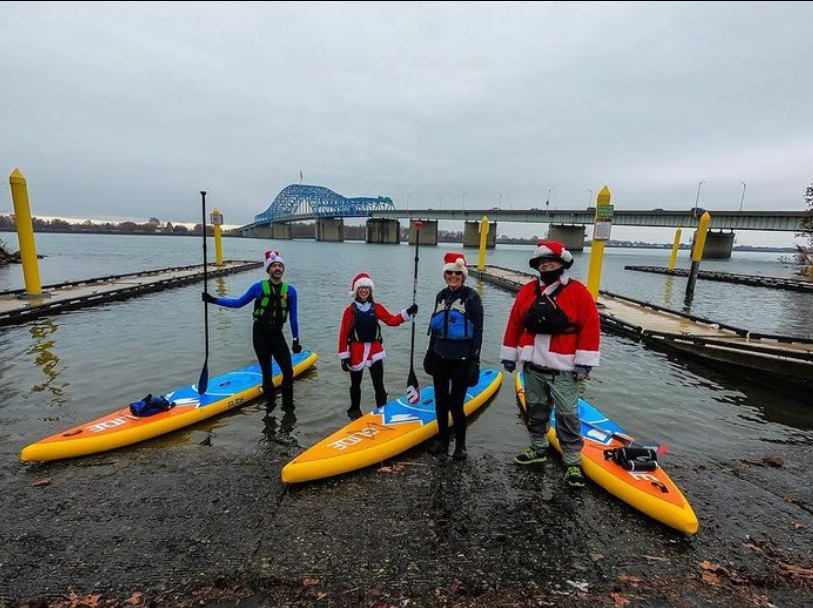 This is our all-around inflatable paddleboard and is the perfect Christmas gift this holiday season. It has a length of 10'6" and an amazing weight capacity of 400 lbs which is rare to find in an all-around inflatable paddle board.
No matter what option you go with for the lucky person in your life they all come with the essential sup gear to get started.
What is included with the Glide Retro line-up?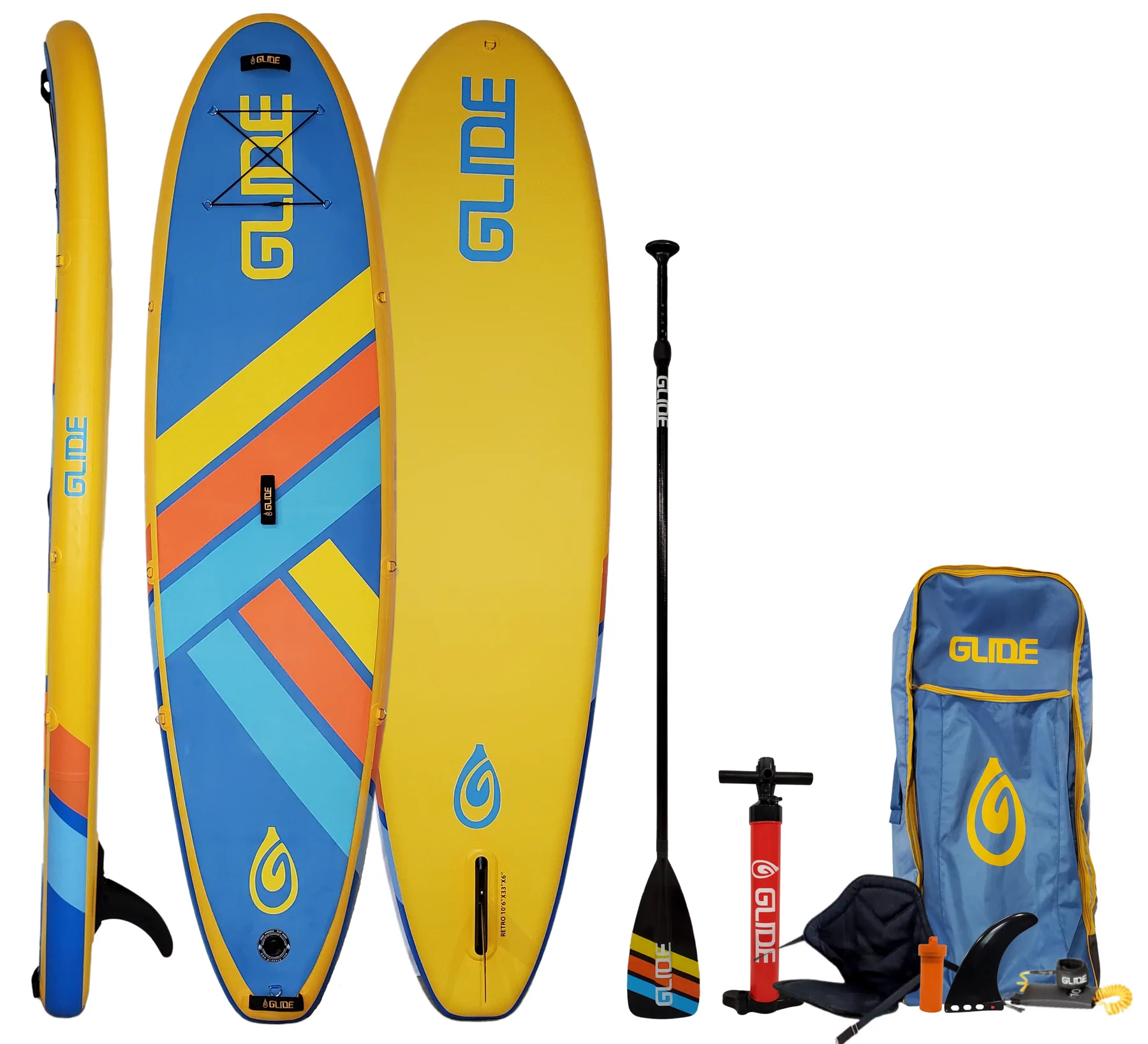 For both of the solid boards, the following is currently included. A high-performance adjustable fiberglass paddle and a coiled leash. Both are an essential piece of sup gear.
For the Glide 02 Retro, the following is currently included.
Carry bag Backpack with rolling wheels for easy travel.
High-performance adjustable fiberglass paddle.
Coil leash
High-capacity SUP pump
Fin
Repair kit
Kayak seat
Removable shoulder strap/ carry strap.
One piece of equipment that is not included that every paddle boarder should have are coast guard approved life jacket for more on life jackets check out this article. It will cover the types of life jackets available and when they are appropriate. And don't forget a good dog life jacket if the furry friend will be joining your paddle boarder as they explore and adventure.
Glide accessories are the perfect must-have Christmas gifts for any skill level of paddle boarders.
Here is a link to our sup gear accessories where you will find a great gift idea for any budget.
Electric pumps are one of the best gifts you can give anyone with inflatable paddleboards. Glide offers an easy-to-use set-and-forget electric pump that will have them on the water in no time at all.
A battery pack for the electric pump, why tie them to a car power outlet when they may want to hike into a remote waterway and explore and spend time off the beaten path?
A sup cooler, Glides coolers will strap down to our paddle boards and keep your drinks cool all summer fun. They also double as a seat and pair perfectly with the Glide 02 Angler to keep your catch fresh, Who would not love to have a refreshing beverage ready at hand when sup paddling?
For the complete list of accessories check out the link above.
Great gift ideas Glide does not carry are.
Polarized sunglasses, any sup enthusiasts can use a good pair of sunglasses on the water.
Waterproof backpack or dry bag.
Safety equipment such as safety whistle and a first aid kit to go in the dry bag, especially a dog-specific first aid kit if you are going to stand up paddle board with a fury friend.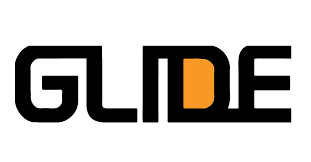 Here at Glide, we know the perfect Christmas gift or holiday gifts for your loved ones are the ones you give them, from a card to a splurgy gift no matter what you give them is the ideal gift. Stay warm this holiday season and stay connected with us on Instagram at #glidesup may you and your loved one have a wonderful holiday season.