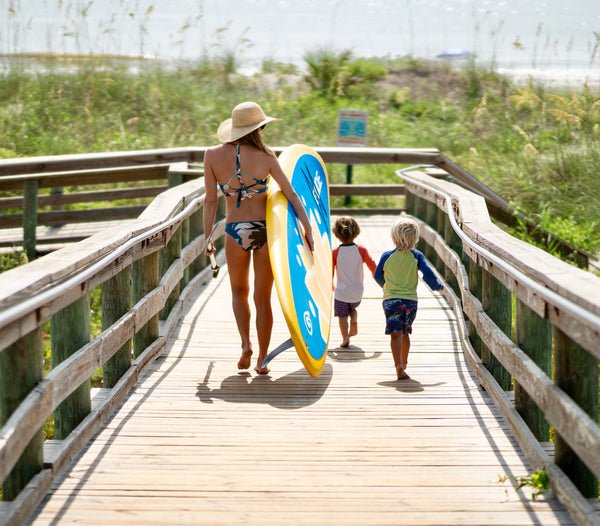 Paddle Boarding with Kids
There's a lot of questions and preparations that come up with stand up paddle boarding with your children of any age.
We're going to go over the equipment you need, where you should go, and how to paddle with different ages of kids.
Benefits
SUP is a fun and healthy way to spend time with your family in the great outdoors. Not only do you get fresh air and sunlight, which we can all use during stressful times, but what might seem like a leisurely day of paddling on the water is actually working out every major muscle in the body, delivering a deceptive full body aerobic and anaerobic exercise session.
SUP promotes balance, increases arm, leg and core strength, and improves endurance – all while decreasing stress. As you subconsciously work to maintain balance you are working your feet, legs and core - while the paddling is great for your arms, shoulders and chest.
Paddle boarding is also a great way to build confidence in children. Smiles are an absolute certainty when children nail the ability to stand-up and propel the board forward with their paddle stroke. As their SUP skills are honed the grins only get wider.
Being outside and on the water is also amazing for stress release, which we could all use more of right now. Regular doses of fresh air and nature are important components to a family's ongoing mental health.
What is Needed to SUP with Kids
The supplies needed for stand up paddle boarding are minimal.
You'll need a SUP board obviously, a paddle, personal flotation devices (PFDs) and ideally SUP leashes for each person.
There is a fairly wide range when it comes to the price of paddle boards, depending on the size, material and brand. Many people now are purchasing inflatable stand up paddleboards (iSUP) because of the portability and easy storage.
When evaluating SUP brands you'll want to note the size and weight limit of the board.
Wider boards that feature rounded front ends are more stable to balance on and great for doing yoga and toting kids and/or dogs along. They typically have a higher weight capacity as well.
The thinner boards can be more difficult to balance on but are better for racing or SUP surfing. If you have young kids that you plan riding with, be sure that the board you pick can handle your combined weight total.
Some SUPs come with a paddle, but if you are purchasing the board and paddle separately, I recommend an adjustable paddle. With an adjustable paddle, you can make it smaller for the kids when they're paddle boarding and then make it larger for you when it's your turn to SUP.
If purchasing your own SUP board isn't in the budget, look for a local SUP rental company. Most cities have multiple SUP rental choices. Renting equipment is a great option for those just getting started to see whether they'll like it (our guess is they will).
Another nice item to have is a waterproof bag that can attach to your board. Many SUP brands feature bungee cargo straps where you can store your things during your excursion.
We usually keep bug spray, sunscreen, car keys, cell phones, water and a snack or two stored away in the bag. You obviously run a risk of the bag detaching and losing your keys/phone in the water, so always double-check that it's securely fastened.
When we have our whole family on the water, we feel having a way to call someone during an emergency is definitely worth the risk of the bag detaching and falling in the water.
Where to SUP with Kids
A great place to start with kids under 10 is in a swimming pool if possible. In the center of the pool you can position your SUP board and, under strict supervision, let your pupil stand on the board (initially with no paddle) and get a feel for how to balance.
After a few minutes you can create waves that will force your student to adjust on the SUP board in order to stay balanced. This will go a long way to increase confidence before your child's initial SUP experience in an uncontrolled environment.
The first true SUP outing for your child should be on a calm lake or bay. This way you won't have to worry about choppy waters, currents or waves. Ideally find a lake that doesn't allow boating or at a minimum one that restricts the speed limit to under 10mph.
Before graduating your kids from calm ponds and/or lakes you will want to continue letting them practice in shallow water. You can invent games to play that help them continue to master the art of balance.
It's important that your children feel comfortable falling off the SUP board, swimming back to it, and climbing back up on it. Let your kids practice by standing up on the boards and jumping off into the water! Kids LOVE doing this!
It's like having your own dock to jump off. This is great for balance and stability practice, and they get used to the feeling of falling off the board and then climbing back on. This demystifies the falling process that is part and parcel to SUP as a sport.
SUP with Toddlers and Younger Children
For younger children, you'll want to have them feel what it's like to sit on the paddleboard.
You can have them explore the paddleboard on land and in the water. Have them sit on the board while you stand next to them holding the SUP board and give them a nice, slow, calm ride around a shallow spot.
Once they're comfortable with that, you can try kneeling on the SUP with them sitting in the front, and paddling from a kneeling position. That way you're still nice and close to them, and able to provide comfort and encouragement. 
Get Out There!
Once you and your children are all comfortable on your stand up paddleboard, it's time to adventure!
Depending on the ages of your children, you may choose to have them sit on the stand up paddleboard with an adult paddling or have them paddle on their own.
Related Topics
Acro Yoga On A Paddle Board That Will Amaze You
Stand Up Paddle Boarding Surges During Pandemic