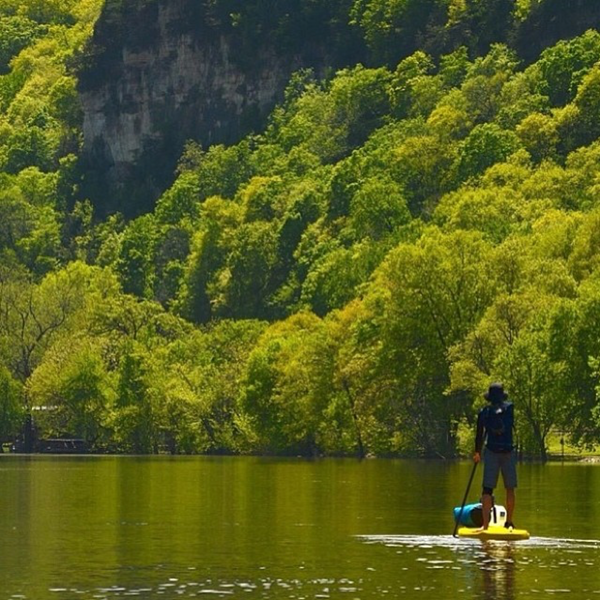 Planning a SUP Adventure
It's easy to get overwhelmed when planning a SUP adventure so we're here to guide you through the process to not forget anything and stay safe while you have fun!
With the popularity of inflatable stand up paddle boards, we're seeing a lot more paddlers that are taking to the backcountry for multi-day SUP excursions. 
A stand up paddle board can get you to locales that you may have never dreamed of hiking into. The article will help you with all the essentials that you will want to pack for your trip. 
Planning the Perfect Route
Is your preference an easy flowing river, circumnavigating a large lake (like the Great Lakes or Lake Tahoe) or paddling the ocean shoreline? Whichever body of water that you choose, it is imperative that you have a solid grasp as to what the weather will be doing during your adventure. 
If your plan is to cover a 25-35 mile long stretch of river, you will want to make sure that it's deep enough to travel safely and that there are only class I and II rapids on your route.
If you are traveling the shoreline of a lake, you will want to know which way the wind typically blows so that you don't find yourself paddling into the wind for most of the route.
If your choice is to travel the ocean shoreline, you will want to have a solid understanding of the currents along your route and the size of the swells that you will be encountering.
For all 3 waterways, you will want to make sure there are spots where you can legally camp along the way and figure out how long it will take you to get to each campsite.
Most national and state parks require a permit, so make sure that you have procured one before you head out. Planning your put-in and take-out spots is important too. 
You will want to make sure that you can leave a vehicle at both spots for multiple days if you don't have anyone that can pick you up.
Choosing the Proper Board
Because you are going to need to carry quite a bit of gear, you will want to choose a board that can handle the extra load. 
Fishing SUP's tend to work well for this endeavor as they are built with a higher volume than standard SUP's as most fishing enthusiasts carry ice chests, nets, poles, etc.  
Fishing boards also tend to have a lot of D-Rings for synching gear down. 
Staying Safe
Your safety and the safety of your paddle mates should be your highest priority.  We strenuously suggest that you don't attempt a SUP journey solo because the "buddy system" is critical when you are out in the elements.
A leash and a PFD are two essential items that you want to be always wearing on your journey.  An emergency kit is also highly recommended.  Besides bandages, make sure that you have topical and oral antibiotics as well as painkillers. 
Choose Your Gear Wisely
Striking a balance when bringing gear is critical as you don't want to bring so much that you bog yourself down and you don't want to bring too little as it could make for a miserable SUP journey.  
You will want to pack in the same manner that you would for a backpacking trip: lightweight sleeping bag and pad and a three-season tent. An extra change of clothes (quick drying material is key) shoes and a lightweight (but warm) jacket stored in dry bags are recommended. A Leatherman Multi Tool and duct tape rolled around a pencil can get you out of a lot of jams.
We also suggest that you invest in tie rips, rope, carabiners, compass, and a GPS system.  If you are using an iSUP, have a patch kit on hand or an epoxy repair kit if it's a hard SUP.
A small propane cooking system and a water filter are both must haves as well.  A cooler that can be strapped down and double as a seat to rest on is a great idea especially if you want to bring real food in addition to freeze dried fare.
Contingency Plans
Let's face it, there is a lot that can go wrong on an excursion like this so it is recommended that you share your itinerary with trusted friends and family and check in with them at each landing spot.
If you find that there won't be cell coverage on your route, we you may want to procure a tracking device which can be followed via satellite and then through the internet like an EPIRB (Emergency Position Indicating Radio Beacon), which is an emergency beacon that will send an emergency signal with GPS positioning, should you press the panic button. 
Plan an exit strategy in advance from all the various points on your journey, especially if some are more remote than others.  There is no shame in giving up if the adventure becomes too dangerous, but it can be a matter of life and death if you haven't planned on how to extricate yourself from the situation.
Conclusion
SUP trips are some of the great pleasures in life and if you take your preparation seriously and plan for most possible mishaps you are far more likely to have a safe and enjoyable journey.
Related Topics
Most Amazing Places to Paddle Board in the World
Health Benefits of Paddle Boarding
What Muscles does Stand Up Paddling work?