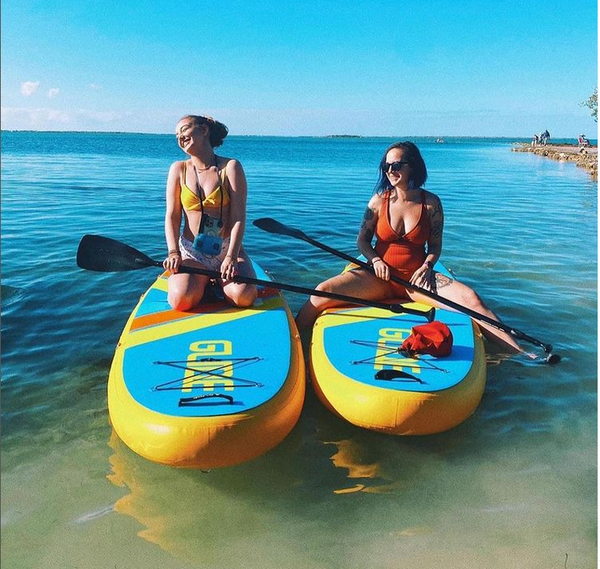 Top 3 Tips To Buying Your First Paddle Board
Summer is right around the corner and you are looking to buy your first sup board. I am going to give you three tips on how to choose a paddle board and get you out on the water enjoying your new paddle boards. Remember safety first! So make sure you budget in a good PFD (personal floatation device) and make sure to always wear it when on the water!
Tip 1: Hard or Inflatable Board
The first tip I have for you is in helping you decide if you would like a hard SUP board or an inflatable sup board.
Hard paddle boards are great if you have the room to store and carry a board to the water. The main advantage to a hard board paddle board is that they are always ready to go, you just need to get your board to the water and start paddling! The disadvantage is that you have to be able to store a ten foot plus stand up paddle board out of the sun and then be able to transport your stand up paddle board to the water. Of course if you happen to live on the water then all you will need to do is carry your board to the water!
The advantage of inflatable paddle boards is that they roll up and fit inside a carry bag. This allows you to take your board with you even in the smallest of cars and you can even take them on public transportation and fly with SUP boards.
In the past, a hard board used to perform better than inflatable paddle boards, but with the new technology that Glide uses in our inflatable boards the performance difference is so small most paddlers will not notice it. You can learn more about the differences between hard paddle boards vs inflatable paddle boards here.
So what should you get? I tend to lean more towards inflatable paddle boards now because of the advantages of being able to store my board easily and the ability to take it with me everywhere I go.
Tip 2: Buy a Quality SUP Board
I am sure you have heard the saying, "You can't buy happiness but you can buy a paddle board"". This is totally true, and if everyone would take some time out of their day to get on SUP boards and out in nature the world would be a better place.
You can find a paddle board from $299 all the way up to $3500 for a full carbon fiber race board. With a hard board it is easier to "see" why a SUP board cost more or less than others. Things like GSS coating which is unique to Glide or full deck pads, the longer board size, or other features of high end boards with eps foam core.
When it comes to inflatable paddle boards it gets a bit more tricky to understand the wildly varying costs of the boards.
The quick answer is any board under about $450 is going to be a single-layer board with a low-quality drop-stitch construction. To keep it simple these boards are not worth your hard-earned money. They will not last and are prone to issues such as twisting, or the valves failing, and worse than that is proprietary fin systems. We have so many customers who bring these boards into our factory looking for repairs after just a single season of use, and usually, the board is beyond repair, or the cost to repair the board is not worth it.
Friends don't let friends buy cheap boards. Seriously you are better off renting than wasting your money on low-quality inflatable sup boards. Learn more about the construction of inflatable sup boards here.
When you are looking for your first board whether you are a beginner paddlers or a intermediate and expert paddlers these are some of the features to look for.
Woven drop stitch core - This is the most advanced core you can currently get on an inflatable sup board.
Full deck pad - This will make the board so much comfier on your feet and easier to store gear with out it sliding off.
Lots of D rings - The more D rings the better, this will allow you to have lots of options on how you want to store and carry gear. It will also give you a place to attach small things like a dry bag, your water bottle, or other things you take with you paddle boarding with the fear of them sliding off the deck and into the deep dark depths.
USA fin box - It drives me crazy that there are still companies that choose to not use a standard US-style fin box. I just do not understand it, I guess they want to control the fin market and make you purchase fins only from them? This is all fun and games until you are paddle boarding and you lose your fin. Without a standard US style fin box you are stuck waiting to order a fin from the place you purchased your board and hoping they have it in stock. And good luck finding a fin for the cheap boards out there, those companies come and go so fast that you may never get a replacement fin. A stand US style fin box fixes that problem, you can go to any surf shop in the world and find a fin for your board. You can shop 100's of online retailers and even Amazon and have fin on your board that same day. I can not stress this enough, do not buy a board without a US style fin box. You have been warned. And while we are on it it does not matter if you have three fins or a single fin, for flatwater paddling or on touring boards a single fin is more than enough.
Quality Accessories - All Glide inflatable paddle boards include the board, pump, leash, three-piece adjustable paddle, repair kit, and backpack with wheels. We also include the kayak seat and carry strap which other companies try to sell you separately.
6" board thickness - 6" inch think boards are the perfect balance between board stiffness and performance. Under 6" and the board will not support your body weight and will not properly float. It will get that dreaded "tacoing" when the board bends under your weight. A 6" board made with woven drop stitch will be an extremely right board, and this rigid shape will be a very smooth ride, and you will get more speed out of the board.
Tip 3: What Shape of Board Should I Get?
This is the most common question we get, is "What board should I get, and what are the different shapes for"? And our expert advice is always to get an all-around paddleboard like the O2 Retro.
An all-around board will be the right size board for all paddlers. It can be paddled by small children all the way up to large adults. Beginner paddlers will enjoy the wider board and experienced paddlers will love how playful the planning hull is on the board. There are shapes and sizes for all sorts of paddle boards but a all-around board will be the perfect board to get you out on flat water, easy white water, or riding waves. It is generally preferred to start paddling flat water to get experienced paddling before you jump into the other aspects of paddling and all-around paddle boards will give you a great start to your paddle boarding hobby!
When looking for an all-around board look for a board length of around 10-11' feet long and 32" to 34" inches. A narrower board will not give you the stability you need for an all around paddle board.
As always if you have any questions at all about being your first board, or want to talk about paddle boards reach out to us by phone, website chat, or email! Our SUP nerds would be happy to help your finding the perfect board.
Related Topics
Things to Consider When Buying a SUP
Improving Fitness on Paddle Board
Can I Leave My Paddle Board Inflated?
Hard VS Inflatable Paddle Board