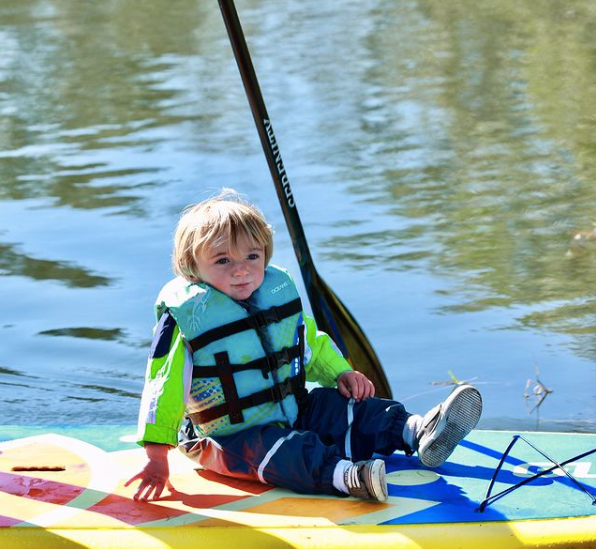 How to Choose a Stand Up Paddle Board (SUP)
Are you looking to get into SUP this spring? Well, finding the best paddle board for beginners holds a lot of variables in 2021. For starters, paddle board companies are still on the rise and "new" technologies are continuously being tested. Filtering through the marketing bells and whistles can be the most difficult part. But we can begin with some parameters to get you started.
We understand that feeling when you've been introduced to the best watersport ever and you start to look around and see words like 13,00 drop stitch, manual pump, deck pad, shapes and sizes, attachment points, etc, and you get lost in what actually matters in a paddle board.
Let's go over what really matters when looking for paddle boards for sale.
Price Range
Always a determining factor, the cost will likely guide your buying journey but knowing what you're getting is even more powerful. If you are looking at inflatable paddle boards, seek out Fusion technology and avoid single-layer construction if possible.
Boards such as the Fusion built Glide O2 series inflatables are a steal at their price and come with a backpack and paddle. Other manufacturers sell single-layer flimsy boards for the same price.
Rigid or Inflatable?
To put it simply, can you store and transport a rigid SUP? If not, that option is out. Hard boards are fantastic at holding shape rigidity, and edge retention.
They also have the ability to provide a customized shape for your type of paddling. Whether that's ocean surfing or racing, hard boards have fantastic qualities if that's what you need. 
If you can't store, move a hardboard, or just want to be able to hike your SUP around, modern inflatables are fantastic. The fusion technology I mentioned earlier is incredibly durable and rigid. In most cases, you will feel like you are riding on a hardboard. Glide itself makes varieties that are all-around, fishing and yoga focused to give you quality options. 
What Shape and Size of Paddle Board Should a Beginner Buy?
This is a question of balance and size. The bigger the person, the bigger the board generally speaking. But if you have great on-ground balance, a large person can ride a surprisingly small paddle board. 
With that in mind, find a board with a wider profile to ensure your beginner days are more fun than frustrating. From the Glide line-up, we would recommend the classic Retro which comes in a 10'6" length and an 11'6" length. This a true all-arounder that is equally adept in rivers, lakes and, small ocean waves. 
Where Will You Be Paddling?
Be honest with yourself here. Grand ideas of paddling the wildest of places are great, but where will you actually paddle most? This will guide you in the shape, construction, length, and width of the beginner paddle board you decide to purchase.
Most folks will start with a flat-water board and that's the direction that we would suggest. It's easy, fun and you can bring your friends along to learn with you. Most people have a body of water close enough for a weekend or after-work paddle. Focus your buying intention here. 
Beginner Paddle Board Accessories
Don't go overboard! Get a classic adjustable paddle that floats, no need to splurge on carbon fiber or fancy fins when you are just starting out.
Save that money for your next SUP in your growing admiration for the sport. Don't forget a life jacket, and as long as it is Coast Guard approved you are good to go. You should always check with your paddling spots on regulations to stay updated and informed. 
There is so much world to explore and time to do it. We might be biased but paddle boarding is the best view of all of it. So, get a paddle board and get after it!
Related Topics
Learn to Inflate and Deflate SUP Board
Buyer's Guide for Inflatable Paddle Board
SUP Accessories and Safety Equipment