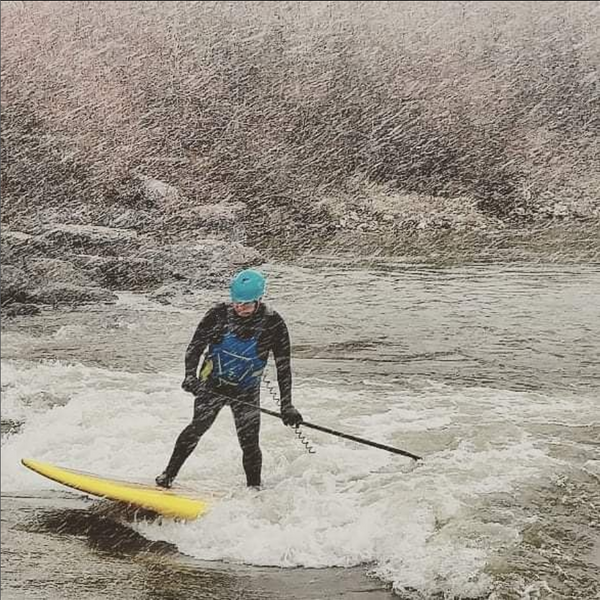 Winter paddle boarding tips.
Wait what you can paddle board in the winter? Yes you can! And if you follow some basic safety practices it is very fun and rewarding.  And yes you can use your your inflatable paddle board in freezing temps no problem at all, its not going to deflate, and its also not going to "pop" when you get it back someplace warm.
I am not sure what part of the world you are reading this, but here in SLC, UT at our headquarters it's cold, so very cold, and dark. And did I mention its cold? Well it is. And most people think/assume we are crazy for going out paddling during our lunch in such "variable" conditions, and they are wrong. Paddling in the winter is fantastic and if you go after a fresh snow I would say it even boarders on magical. I personally have never seen the movie Frozen, but I have to assume most of the film is around the joys of taking your paddle board out in the winter time.  So let's get into some tips to make sure you have a great time and more importantly a safe paddling boarding adventure.
Tip 1: Watch the Weather!
Like I said before paddling boarding in the winter is great, I mean look at that photo doesn't that just scream fun? You can see in this photo that it is snowing hard, and the wind is blowing very hard. Is this a good time to plan a paddle board adventure? No, but maybe, let me explain as it can depend on what you plan on doing while out on the water.
Ideally you will want no wind,
wind is the natural enemy of the paddle board
. If you do have to paddle in the wind make sure to paddle with onshore winds. You do not want to get into a situation where the wind is pushing you away from shore. This is bad in warm weather and it could be extremely serious in cold weather.    Before you start off on your paddle board make sure you know what direction the wind is blowing, and if during the time you plan to be on the water if the wind is predicted to shift.
Rain/snow. Paddling in lightly falling snow is some of the best and most memorable paddling you can do, it is usually downright beautiful. And as long as your are dressed for the elements it is perfectly fine to go paddle boarding while it is snowing. Rain on the other had, well it can also be some of the most memorable paddle boarding that you can do, and most of the time not great memories. I love paddling in the rain, in the summer.  In the winter when it is cold you are adding what I would consider unnecessary risk. You will be getting wet, and with some wind you could get yourself into a situation where you could become hypodermic very quickly.  As a general rule I would not recommend paddle boarding in the winter when it is raining and the temperature is below 40 degrees. 
OK so I know what you are thinking right now, so why is the above photo a good example of winter paddling, it is pretty much going against everything you just said. True, but like I said it also depends on the type of paddling you are doing.  On a day like in that photo I would have never considered going for a long distance paddle, or out on any open body of water, the wind was to strong, and visibility was low.
But for surfing on a river, it was perfectly acceptable. You are not going up or downstream, you are staying in one spot, and the car if you were to get cold is extremely close.
Tip 2: Proper Gear/Clothing
Before you even leave the house to go on your winter paddle board adventure you will want to make sure you have the proper gear for winter paddling. You always want to leave the house with the mindset of "I will be prepared to fall in the water" vs "I hope I don't fall in the water". Having this mindset will keep you safe, and comfortable on the water.
What you chose to wear will come down to the type of paddle boarding you are going to do, your experience level, and the weather.  If you are going to go surfing you will want to wear a full wetsuit/drysuit with booties and gloves.  If you are going for a leisurely paddle can go with a different setup.
A full wetsuit or a drysuit will be the safest option as it will allow you to spend an extended time in the water safely. I highly recommend wearing either a wetsuit or a drysuit whenever you will be more than 10-15 yards from shore. Anytime you paddle away from the shoreline you want to be prepared for if you were to be in the water.
If you are in still water and the wind is light you can make do with proper layers. I would recommend as a base layer a neoprene pair of pants and a neoprene top. These come in many different thickness and depending on the typical conditions you paddle in you can get the perfect thickness for your location. 
Then on top of your neoprene base layer you can then layer moisture wicking layers on top to keep you as snug as a bug in a rug.
Proper footwear is essential. I highly recommend a pair of 6-7mm thick neoprene booties. Or alternatively you can use your normal footwear with a neoprene sock.
Gloves. Keeping your hands warm is very important while on your paddle board. If you are not able to comfortably hold and paddle your board you are not safe. Having neoprene gloves is very important.
And the last two pieces of gear are critical and can not be understated in their importance.
PFD/Lifejacket.  You should never go paddle boarding with out having a proper PFD with you. And for winter paddle boarding I recommend one that is a vest style that you wear at all times.
Leash.  A leash is also extremely important when you are paddle boarding in the winter.  If you do fall of your board your leash will allow  you to get back on your board quickly. I cannot stress the importance of wearing a leash while on your paddle board.
Tip 3: Your Paddle Board
When heading out on your winter paddle board adventure having the right board will make your trip much more enjoyable. It does not matter if you are paddling a hard board or an inflatable paddle board, but you will want to make sure you are comfortable on the board and have had a few trips in warm weather before you start paddle boarding in the winter.
An all around board paddle board like the O2 Retro is a great board for winter paddling, it is wide and stable and is a very easy board to paddle. In general you will want a wider paddle board and to take the most stable paddle board you have access to use. Have a nice wide stable paddle board will not only be easier to paddle it will also give you more confidence that you will not be going for a chilly swim. And with that confidence you will enjoy your time on the water more.
One question we often get is if you can use an inflatable paddle board in the winter, and the answer is yes! Well as long as it is a high quality board. If you store your board inflated indoors you will want to make sure you top off the PSI once you get to the water. Going from warm to cold will make you use a few PSI.  And then once you get home that extra PSI will increase when the board goes from cold back to warm. This will not be an issue at all with any of Glide's inflatables because our MAX PSI is 25. This gives your board plenty of range to go from warm to cold, and vice versa.  A low quality inflatable paddle board can have issues and could potentially fail going from extremely cold to a warm house. 
So now that winter is here that is no reason to put away your board for the season, there is plenty of paddling to be done! 
If you have any questions at all on paddle boards, gear, or just want to talk shop, please drop us a line on chat, email, or give us a call.