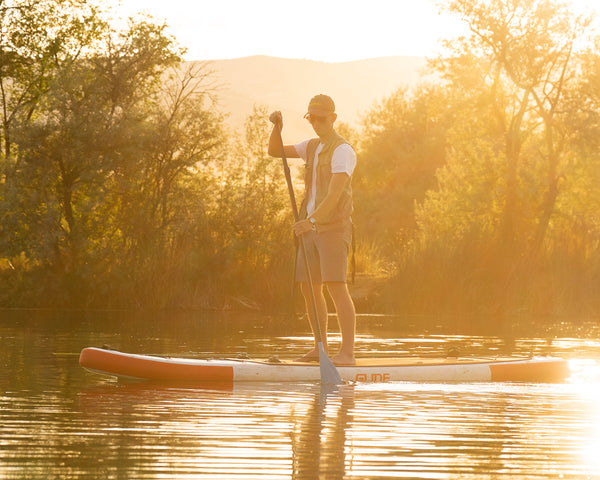 Benefits of Wide Paddle Boards
Is a wide paddle board better for beginners? How wide should I go?  Is wider always better, and can I fit through the Panama canal on a really wide board?  Answers to these questions and more are down below.
Why are some paddle boards so wider than other paddle boards?
Inflatable boards come in every width imaginable from down as narrow as 24" all the way up to 36" inches wide. There is a lot that goes into designing a paddle board but the quick answer is a wider board offers more stability and a narrow paddle board has a less stable feel but is faster. That is a very simple explanation and it will help us out when going over the benefits to a wider board.
Stability
Wide paddle boards have a very stable feel. The wider the board the more stability it offers. You just have to be a bit careful when just looking at a paddle board's dimensions without looking at its overall shape. For example, very similar boards spec-wise are the O2 Lotus and the Angler both are very wide at 35" and 36" respectively but the Angler is offering much more stability than the O2 Lotus. Is it the extra inch of width? Nope, it is that the width of the Angler is carried through the entire board whereas the O2 Lotus is a wider board in the middle but then tapers down quickly in the nose and the tail. Since the Angler carries the width of the paddle board through the entire board it creates an extremely stable feel and platform.
The wide SUP yoga board performs great doing yoga poses it remains more sporty and more advanced paddlers will notice the increased speed and maneuverability it offers over a board like the Angler which is designed for stability as the number one goal. Just keep this in mind when shopping around for a wide paddle board, just because a board has a very wide middle does not automatically make it an ultra-stable board.
In our line of boards, the O2 Lotus and the Angler are both extremely stable boards but if you are looking for maximum stability the Angler fishing inflatable sup is the winner!
High Weight Capacity
A wide paddle board will typically have a very high weight capacity. All Glide inflatable paddle boards are built using the highest quality materials and all our inflatable sups have a 6" board thickness, combined with the wide width makes it so you can carry a lot of extra weight. Glide inflatable paddle boards also come with extra d rings on the front and back of the boards which allows you to maximize your storage space. A wide high capacity board is a great board where you can take the whole family out paddling and not worry about adding more weight to the board you will not exceed the weight limit.
Easy to Paddle
An all-around board that is wide is a great board to start a novice paddler on, the extra stability will give them confidence and success on their first time out on a paddle board. Or if you are an advanced paddler or recreational paddler who prefers leisure paddling a wide board is a great choice because they are so stable and easy to paddle you can just cruise around on flat water and really enjoy your time on the water and zen out while paddling.
SUP Yoga Poses
A wide board is a perfect choice for when you are ready to take your yoga practice off the land and onto the water. SUP yoga offers so many benefits that will complement your land-based practice and a wider board is right board to get started with sup yoga.
Paddle Board Fishing
A wide paddle board is makes fishing off your board a breeze! And inflatable sup is a great way to get to hidden fishing holes and your local lake and rivers. And having an inflatable fishing board that rolls up in to a carry bag is a huge advantage that will allow you to hike into remote areas and then fish off of your paddle board. Check out our article on SUP fishing for beginners to learn more.
White Water SUP
Looking to take your paddle boarding to the next level? White water sup may ruin you from ever wanting to paddle on flat water again, it is that much fun. White water paddle boards like the Lochsa wide and stable, with a lot of rocker to help you get through rapids with ease. Having a stable platform that turns easy will make getting down the rapids so much easier than a general all-around board. There are some white water sup basics you should know before you jump into the river for the first time, but once you have the safety aspect down do yourself a favor and give it a go. Sure it will be scary the first time, but by the end you will sad the river is over and planning your next white water sup adventure.
A wide board is a great addition to anyone quiver of boards and it's a paddleboard the whole family will enjoy. When shopping for an inflatable sup board look for at least dual layer PVC, woven drop stitch, a full-length deck pad, extra d rings and highest quality materials like you will find in all the O2 Line up from Glide. In addition to the high quality materials that Glide boards are built with, they come with a great set of accessories including, dual action pump, paddle included, ankle leash, travel bag with wheels, repair kit, carry strap for easy carrying.
Conclusion
If you have any questions at all please reach out to us! We can be found Monday through Friday 9am to 4pm Mountain standard time by phone or online chat. If it is after hours please send us a email, we will get back to you the next business day!
Related Topics
Paddle Boards With A Lineage of Toughness
Everything You Need To Know About All-Around Paddle Boards
How to Care For Your Inflatable SUP