Sup construction methods for extremely durable boards.
This is what Glide is about and why our manufacturing process and use of premier materials result in the quality and durability not seen in other paddle board construction. Glide originally started hand shaping our stand up paddle boards in Salt Lake City, UT. This allowed us to perfect the method we use today, to find the best material, add strength and create the most durable stand up paddle board. Check out will it break wednesday to see the extreme durability of our stand up paddle board. Both our hardboards and inflatable paddle boards are some of if not the most durable sups on the market.
Sup construction is what separates  premier brands from other paddle board companies. They extremely durable boards we create are lightweight. The construction method of our sup boards ensure quality, performance and an outline shape that is not only eye-pleasing but also makes paddle boarding fun. From flat water to river running our extremely durable sup board has you covered. Our sup construction and light weight sup boards are so durable you can find them on board several Lindblad Expeditions. We are confident in the durability, performance and quality of our board construction and so should you. If they can stand up to stand up paddle board needs of National Geographic they can handle whatever you want to paddle them through. And at a cost that will make you happy. 

Better sup construction for a lighter environmental impact.
When we started Glide we had a vision for a better and more durable paddle board. When we say better we are not only talking about the superior materials we use, the performance or shape of the sup board, or the cost of these premium boards to our consumers and loyal paddle family. But a better board for the world as a whole.
"Take a look all around the rails of a competitors board after a few years of use and there's literally no paint left—it's all polluting our waterways and getting ingested by marine life," Ken pointed out. This was not in line with our core values. We definitely didn't want that to happen, so we developed a unique, patent-pending formula called Glide Surface Shield (GSS)." GSS is free of cancer-causing VOCs and eliminates the use of harmful epoxy paints. This non-polluting product also improves paddle performance: the rough texture finish it creates helps break the surface tension, so the board actually slides along the top of the water for a smoother ride. Glide also strictly adheres to green manufacturing principles for its resins. They exclusively use 100% non-toxic Entropy Bio resins which are sourced from the waste stream of other industries like biodiesel fuel and paper production. This construction method allows us to add strength, increase performance and shape a board with extreme durability and one that will last longer with a lower impact to our environment.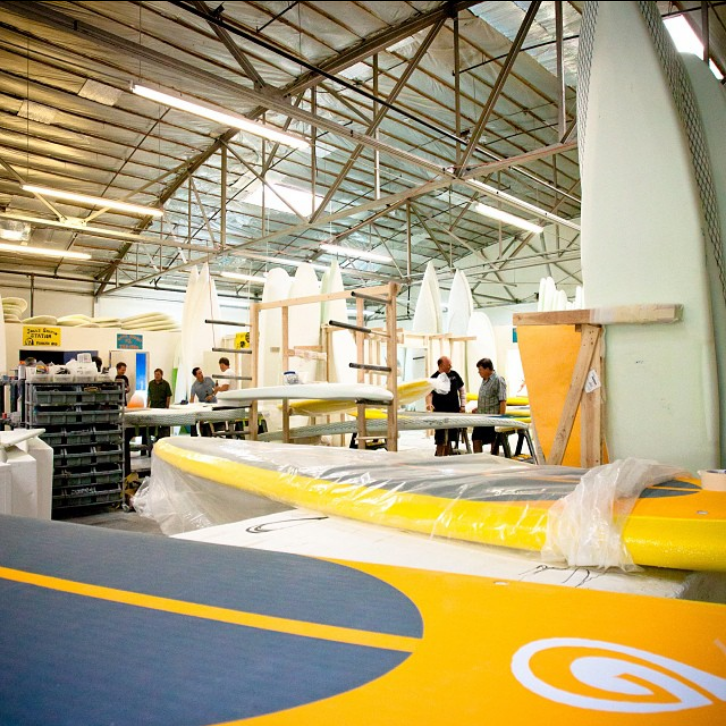 Regarding eps foam core no other American sup company recycles their eps foam scraps as efficiently as Glide. We relocated to Salt Lake City, just a few short miles from ACH, the manufacturer of the eps foam we use in our eps foam core. This reduced our carbon footprint helping us keep with our core belives in better paddle boarding, better sup paddle boards and a better world. Our GSS coating is not just eco-friendly, it's also ultra-durable. Allowing our sups outside surfaces to withstand abuse from paddle strikes, drops, rocks, dragging, debris, and more.
Our inflatable paddle boards manufacturing process for a better board.
Most inflatable paddle boards manufacturing process on the market today utilize technology that belongs in one of those "bouncy houses" found at the state fair or a childs party. One of the things you want to avoid in an inflatable SUP's is that springy sensation that comes from a single layer of PVC and a knitted drop stitch core sup construction. Our inflatable paddle board construction gives us better rail seams, quality and durability. That is lighter, with a better material for added durability that gives these inflatable paddle boards a standing area deck that can handle more weight and are a blast to stand up paddle on.
Our quality sup construction form a board that will cost less and last for a range of years you will not find in another inflatable paddle boards or hard deck stand up paddle boards. While being lighter with a higher quality that will stand the test of time. Especially over glued sups. Our paddle boards quality is the best in the industry allowing us to be unaffected by the paddle board recalls of 2022, check this article out for more info.
When you shop for a stand up paddle board remember board construction, quality and cost of a paddle board matter. So why not get a premium board that is better for the environment that will also stand through many seasons at a cost which will leave you a little lighter knowing you just purchased one the best quality sups on the market while helping the world we paddle board in.
We hope you enjoyed learning why quality, material and design from eps foam that used to rail design and decks can produce lightweight stand up paddle board or inflatable paddle board at a cost that is reasonable. And will stand the test of time especially compared to other paddle boards. Especially those using a lower quality eps core, drop stitch, or lesser glued methods. Choosing a Glide hard stand up paddle board or inflatable paddle board will have you paddling happy for years to come.