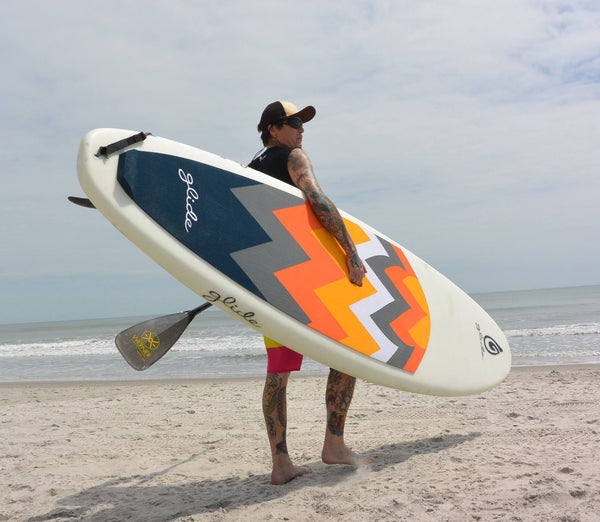 SUP Surfing: Riding Waves with a Stand Up Paddle Board
SUP surfing is so much easier than traditional prone surfing.  Learn how to pick up the skills and gear you will need in this article.
SUP Surfing: Riding Waves with a Stand Up Paddle Board
Paddle Boards for Surfing?

Stand up paddle (SUP) surfing is an exhilarating and rapidly growing water sport that combines the thrill of riding waves with the stability and versatility of stand up paddle boarding. Whether you're a seasoned surfer looking for a new challenge or a beginner seeking a fun and accessible way to ride waves, paddle board surfing offers an exciting adventure on the water. In this comprehensive guide, we'll dive into the world of SUP surf, discuss essential gear, and provide tips for riding waves with a stand up paddle board. You can also check out our Beginner's Guide to Stand Up Paddle Boarding to get started.
The Basics of SUP Surfing
While traditional surfing involves paddling on your stomach to catch a wave and then popping up to your feet, SUP surfing requires you to stand on your board from the start, using a paddle for balance and propulsion. This unique combination offers several benefits, including a better vantage point to spot an oncoming wave, increased stability, and the ability to catch smaller, less powerful waves that may be unsuitable for traditional surfing.
Choosing the Right Paddle Boards for Surfing

When it comes to SUP surfing, selecting the appropriate board is crucial for a successful experience. Here are some factors to consider when choosing a SUP surfing board:
Size: SUP surfing boards tend to be shorter and more maneuverable than all-around or touring boards. A board in the range of 8 to 10 feet is ideal for most riders, with smaller boards being more agile and larger boards offering increased stability. SUP boards come in various shapes, sizes, and materials, with options for inflatable paddle boards and hard boards.

Shape: Look for a board with a rocker (curvature) similar to a surfboard, which helps you catch waves more easily and allows for better maneuverability.

Volume and Thickness: Higher volume and thicker boards offer more stability but may be less responsive on the waves. Opt for a board that provides the right balance between stability and maneuverability for your skill level. Inflatable SUP boards don't work as well as rigid boards do to SUP surf.

Fin Setup: Many SUP surf boards come with a tri-fin or quad-fin setup, which offers improved tracking and control while surfing 
 Essential Gear for SUP Surfing
In addition to your SUP surfing board, you'll need some essential gear to hit the waves:
Paddle: Choose a SUP paddle that's lightweight and durable, with an adjustable length to suit your height and preferences.

Leash: A coiled leash is crucial for safety, as it prevents your board from getting away from you in case of a wipeout.

Personal Flotation Device (PFD): While not always mandatory, wearing a PFD is a smart safety precaution, especially for beginners.

Wetsuit or Rash guard: Depending on water temperature, you may need a wetsuit or rash guard to stay comfortable and protected from the elements.
Tips for Navigating Ocean Waves on a SUP
As with any water sport, practice and patience are key when learning to ride waves on a SUP board. Here are some tips to help you get started:
Start Small: Begin with smaller, less powerful waves to build your skills and confidence before progressing to larger surf.

Master the SUP Paddle: Learn to use your paddle effectively for balance, steering, and maneuvering on the waves. Check out our article on improving your SUP paddle technique for tips and guidance.

Paddle Out: Paddle out to the lineup using the same channels that surfers use, and remember to give surfers the right of way to avoid collisions.

Catching Waves: As a wave approaches, position yourself parallel to the wave, paddle towards the beach, and lean forward slightly to engage the board's rocker. As you feel the wave lift you, paddle harder and shift your weight back to drop in.

Turning: Use your paddle and body weight to initiate turns, and practice carving both frontside (facing the wave) and backside (with your back to the wave).

Balance and Stability: Paddle board surfing requires excellent balance and stability on the board. Practicing SUP yoga can help improve your balance and core strength, which translates into better control on the waves. Read our Guide to SUP Yoga for more information. 
SUP Surfing Etiquette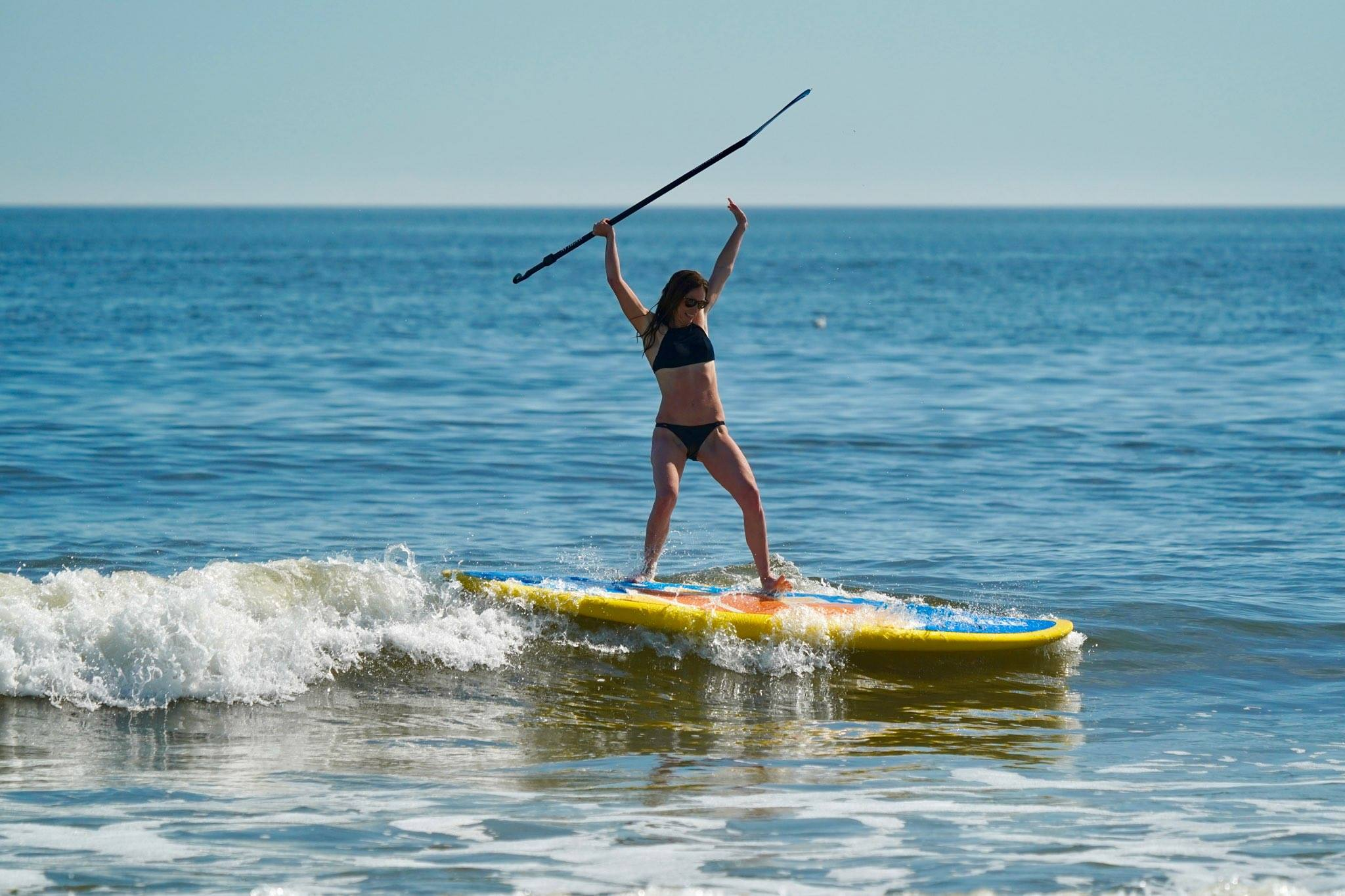 Respecting surf etiquette is essential for a safe and enjoyable SUP surfing experience for both you and other surfers. Keep these guidelines in mind while out on the water:
Right of Way: The surfer closest to the peak of the wave has the right of way. As a stand up paddler, you have an advantage in catching waves, so be considerate and avoid wave hogging.

Paddling Out: When paddling out to the lineup, avoid paddling through breaking waves or the path of other surfers. Instead, use channels or less crowded areas to reach the lineup.

Respect the Lineup: Wait your turn in the lineup and avoid "snaking" or cutting in front of others who have been waiting longer.

Communicate: Make your intentions clear to other surfers when catching a wave to avoid confusion and potential collisions.

Be Aware: Keep an eye on your surroundings, including other surfers, swimmers, and any potential hazards in the water.

Make sure to practice proper paddle boarding etiquette to ensure a safe and enjoyable experience for everyone in the water.
Choosing the Right Paddle Surfing Location
Finding a suitable location for SUP surfing is crucial for both enjoyment and safety. Here are some factors to consider when choosing a SUP surf spot:
Wave Size and Shape: Look for breaks with smaller, gentler waves suitable for SUP surfing, especially if you're a beginner. As you gain experience, you can progress to larger or more challenging breaks.

Crowd Factor: Choose less crowded surf spots, as navigating a busy lineup on a SUP board can be challenging and potentially dangerous.

Hazards: Be aware of any hazards in the area, such as rocks, reefs, or strong currents, and consider local knowledge or online resources to gather information about the spot.

Local Rules and Regulations: Ensure you're familiar with any local rules or regulations for SUP surfing, including designated SUP zones or restrictions on board size and leash use.
SUP Surfing Safety Tips
Safety should always be a priority when paddle surfing. Keep these tips in mind to ensure a safe and enjoyable experience on the water:
Always wear a leash and consider using a PFD for added safety.

Check weather and surf conditions before heading out, and be aware of any potential hazards in the area.

Paddle with a buddy or let someone know your plans before heading out alone.

Know your limits and don't attempt to surf in conditions beyond your skill level.

Be mindful of other water users and practice proper surf etiquette to avoid accidents.
Time to Hang Ten!

SUP surf boarding offers an exciting and accessible way to ride waves, whether you're a seasoned surfer or a stand up paddle boarding enthusiast. By choosing the right paddle board, mastering essential skills, and following proper etiquette and safety guidelines, you can enjoy the thrill of catching waves on a SUP board. Now that you're equipped with the knowledge and tips needed to hit the waves, all that's left to do is get out there and experience the exhilarating world of SUP surfing for yourself.
Don't forget to explore our wide range of SUP boards to find the perfect one for your SUP surfing adventures.