The Versatility of SUP
Stand up paddle boarding offers and incredible amount of versatility. There are just so many more things that you can do on a SUP that you can't do on a kayak or a canoe.
Introduction
Why is it that so many people have embraced stand up paddle boarding globally? Here at Glide, we've been building paddle boards since 2010 and have concluded that it's the versatility of SUP boards. Sure, you can have a blast on your kayak or your surfboard but how much can you realistically do on them?  Let's explore the numerous activities which you can perform on stand up paddle boards.
 Run Rivers
This activity gets top billing because Glide SUP was originally founded as a whitewater SUP company which is why our paddle boards are ultra durable. The thrill of whitewater paddle boarding is tough to beat. It's not exactly a sport for beginners so make sure you have spent a lot of time on your paddleboard before attempting this.
Being out in the beauty of nature, not being exactly sure what the river rapids are like around the next bend will keep your adrenaline high. Making it through a class II rapid standing creates a euphoria that is hard to describe.
Just make sure that if you go with a rigid SUP that it is quite durable. If it's not, you would be better going with an inflatable paddle board. Make sure that your SUP paddles have an ABS blade and a durable shaft as well. You can expect to hit rocks so plan accordingly.
Surf a river wave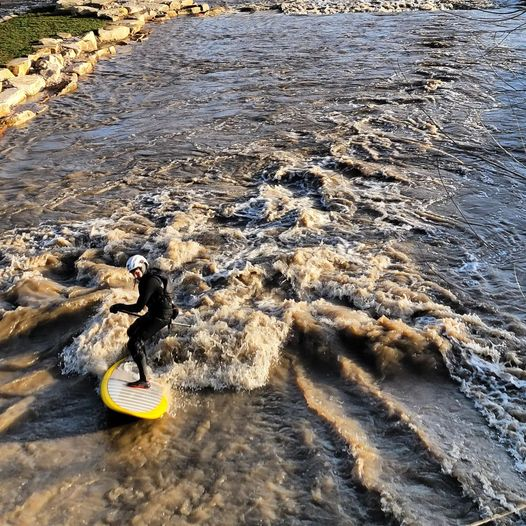 One of the great joys of taking your SUP board down a river is the excitement of surfing any standing waves that may have developed on the river.  You may want to get some expert advice from local advanced paddlers to find the river break near you.
To drop into a river wave, you paddle upstream to get into it and continue facing upstream as you surf it.  Once you are in position to catch the wave, you can surf it perpetually…as long as you stay balanced.  Keep your knees slightly bent and use your back foot on the tail to help you steer by shifting your weight.
Just make sure that you have all of the proper gear and have mastered the whitewater SUP basics before you head out to your local river! If you decide to head out to the river on an inflatable paddle board, make sure that when you are investing in safety equipment like a Coast Guard approved personal flotation device and a leash with a quick disconnect.
 SUP Surfing
 Who among us hasn't looked longingly at the surfers at the beach and thought: "I wish I could do that!" Since most of us don't live close enough to the ocean to put in the hours that it takes to become a proficient surfer, that dream will probably never come true.
The beauty of SUP surfing is that because you are already standing on a very buoyant board, you can catch an ankle high wave and have a fine time riding it.  Once you have conquered the little waves, the learning curve to conquer a head-high wave is rather compressed.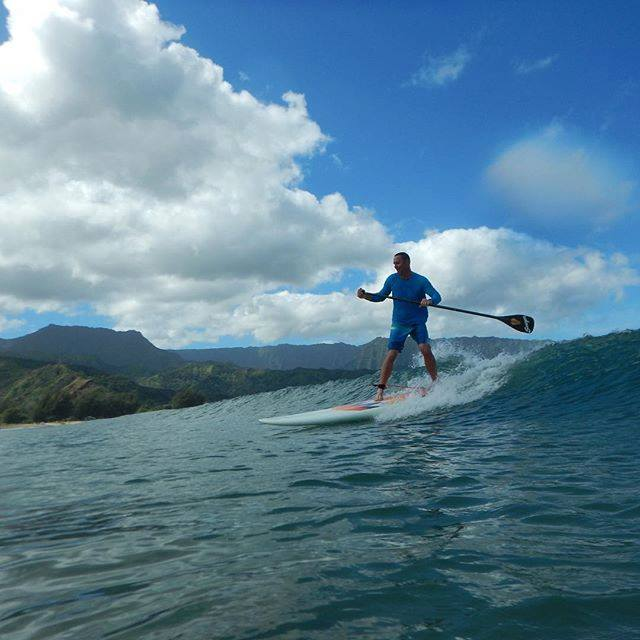 There are a few basic skills that you should be aware of before you start hanging ten on your paddle board but once you've got those down, get ready for the time of your life! Just remember the sun protection and a leash!
 SUP Fishing
Fishing from your paddle board gives you a sense of freedom that you won't find in a kayak or a canoe.  Since the board allows you to stand, your casts are far more accurate and will go much further.
There are many other advantages to fishing from a SUP. Inflatable fishing SUPs also give anglers the ability to hike into remote alpine lakes with their board which would be unthinkable with any other type of vessel. These boards often come with scotty mounts that can accommodate everything from your fishing rod to your fish finder.
SUP Yoga
 SUP Yoga has become incredibly popular in the past several years because it allows yogis to take their practice to the next level. Moving a yoga practice onto a paddle board allows the yogi to take advantage of Aquatic Stability Balance Training or ABST.
Trying to hold a basic pose like Down Dog becomes exponentially more difficult while trying to balance on a SUP. There are many reasons for the popularity of SUP Yoga but one of the most compelling is how much more meditative the practice becomes when you are outside, reconnecting with nature.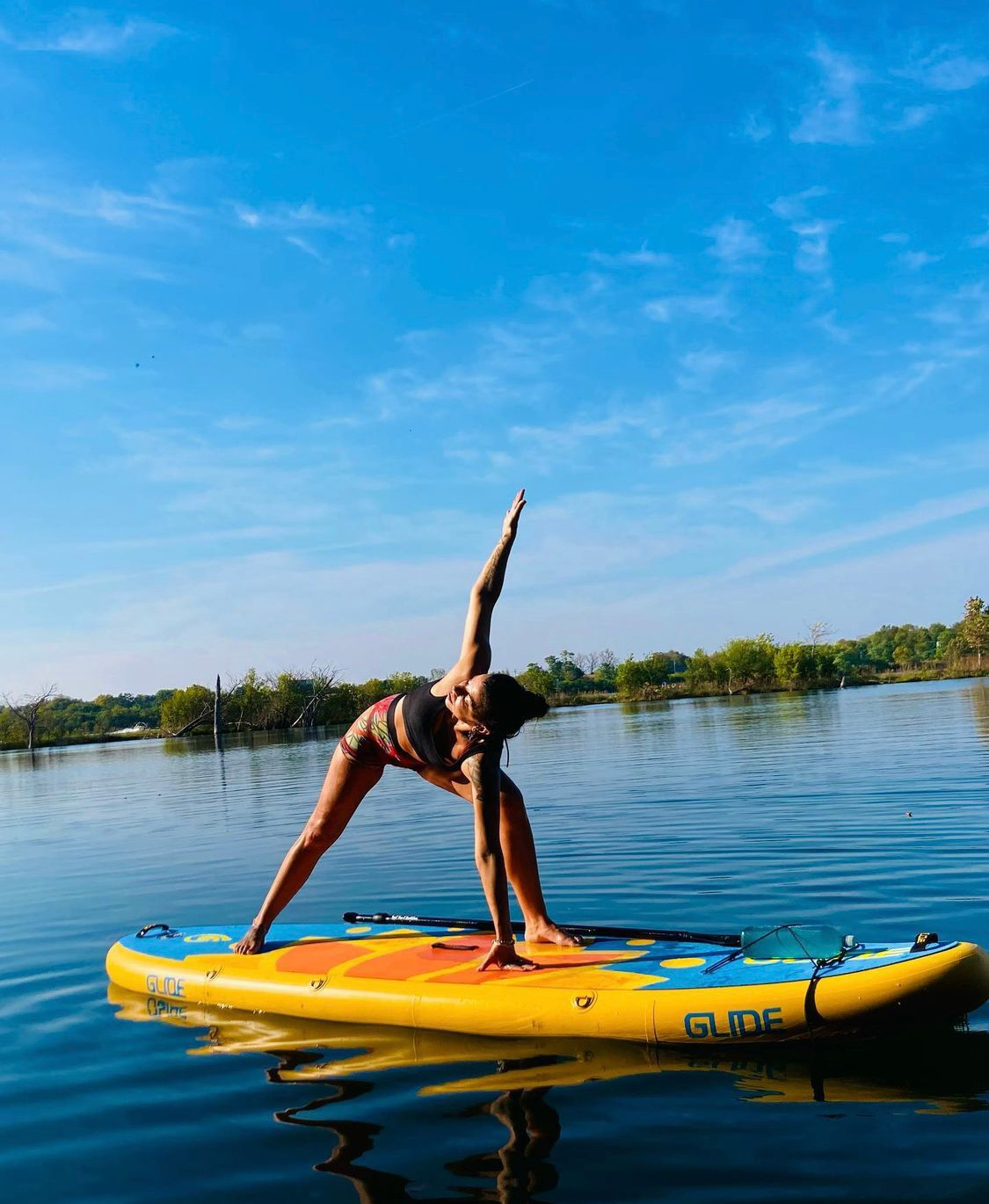 Take it slow when you move your yoga practice to your paddle board and start with some basic poses.  Remember too that falling in is all part of the passion of paddle boarding so stay determined to succeed!
Paddle Board Racing
Testing your paddling skills against other paddle boarders can be great fun and a new challenge.  The SUP racing community is a very inclusive group, and most advanced paddlers are willing to give tips to a newbie.
Training for Stand up paddle board racing
Most serious racers will buy a specific SUP race board but you can find a lot of fun races where the race contestants use their everyday SUPs. Before entering your first paddle board race you will want to begin a training regimen.
Part of the skill set you will want to master is turning quickly around race buoys. Once you've got a few of the basics down, you will be ready to compete!
SUP Touring
Inflatable paddle boards have really opened up the possibilities of where one can explore. Because they can fit into a backpack when deflated, the possibilities are endless. Since the top of the SUP is a flat surface, it's possible to load up your gear for multi day hiking or camping excursions.
Just make sure that your paddle board has plenty of D-Rings so that you can cinch down your dry bags, cooler and camping gear.  What is better than finding a waterway that you want to explore, getting a great workout while navigating it and waking up the next morning to repeat the process?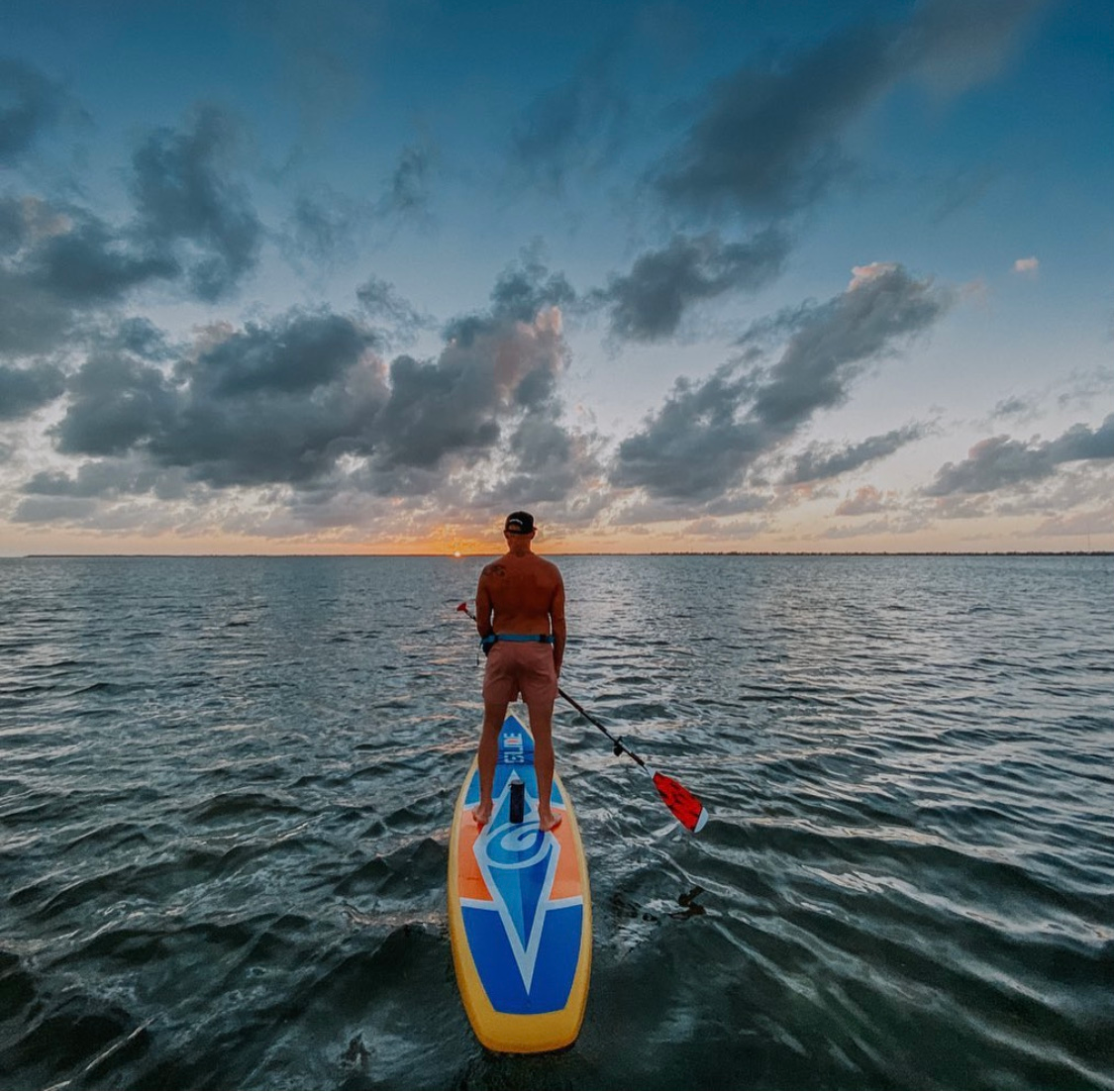 Most touring boards are typically longer than your average all around SUP board and usually have a nose that comes to a point to help you cut through chop and get to your destination that much quicker.  
Safety first when touring on your paddle board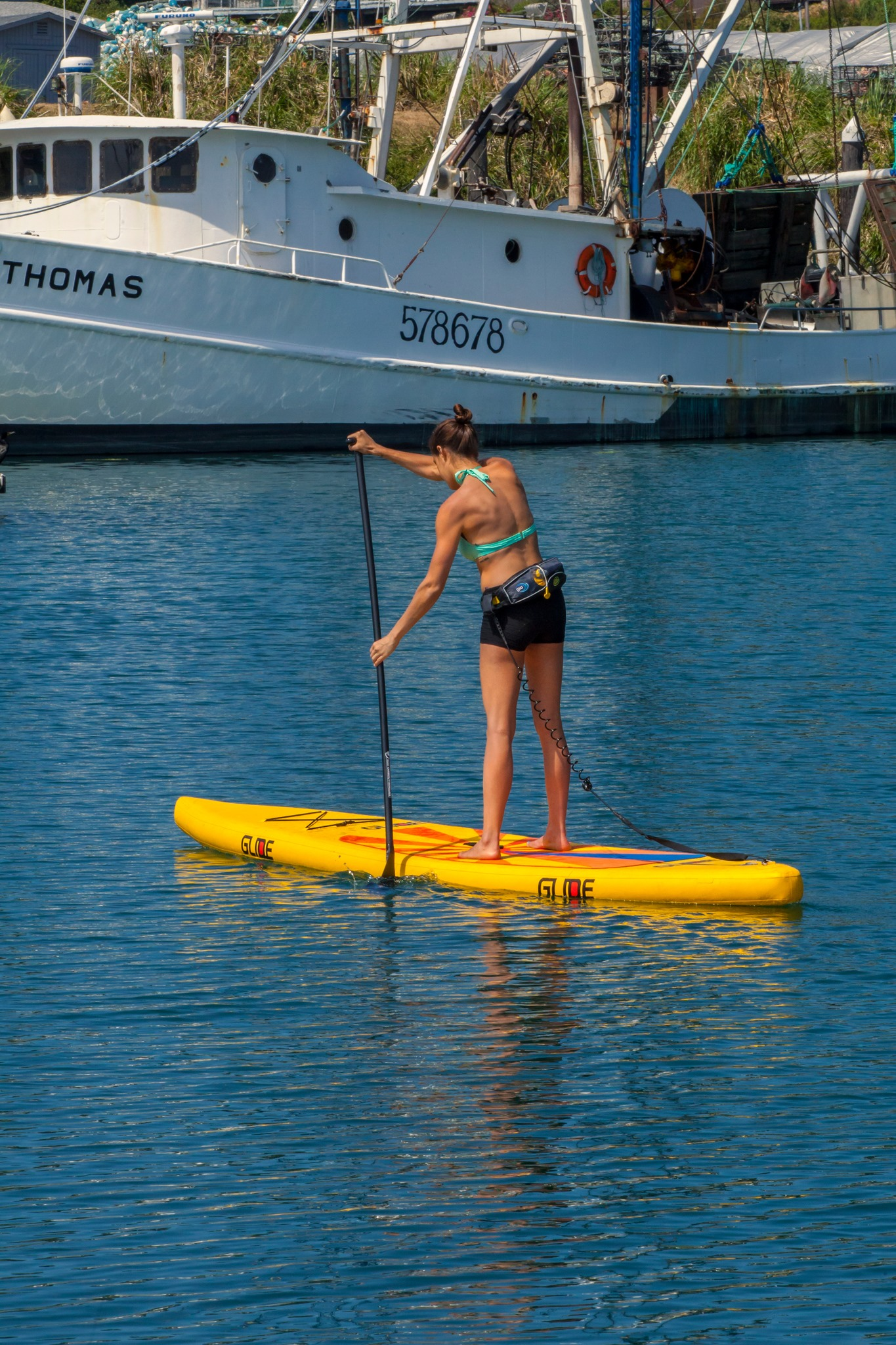 Before moving forward on a long distance touring SUP paddle, whether you purchase an inflatable SUP or a rigid paddleboard, make sure that you have covered the basic safety requirements as they could save your life. Most touring stand up paddle board customers know that wind is one of the more dangerous elements when it comes to paddling on flat water.
A light wind typically isn't an issue but once it gets over 12 knots, it can be very difficult to paddle straight or even make forward progress. Make sure that in addition to your personal flotation device that you are attached to your paddleboard via a leash as the wind can blow paddle boards away from riders if they fall in the water. The proper equipment can all the difference here.
Every touring paddler should tell a friend where they are headed on long distance paddles. Make sure it is a friend who is likely to answer their phone and will have the wherewithal to carry out a search for you if necessary.
Bond with Your Pup 
Breaking up the "dog walking routine" by taking your dog paddle boarding can be extremely rewarding for your dog and will give you a little extra workout. A SUP board is much easier for a dog to hop onto when compared to a kayak or canoe.
Granted, your dog isn't getting much of a workout while you are paddling him around but there are paddle boarding provides plenty of opportunities for swimming and dog paddling will wear your dog out far faster than a brisk walk will. With a little training, you and your best friend can have endless fun adventures on the water!
Conclusion
Versatility is truly the name of the game for SUP enthusiasts.  Theoretically one could enjoy SUP surfing, SUP fishing, whitewater SUP, SUP yoga, SUP racing, SUP touring and SUP with their dog, all while using the same paddle board.  Go ahead and try all of that with your kayak or canoe!
 Is it any wonder that SUP is the fastest growing aquatic sport on the planet?
Related Topics
Things to Consider When Buying a SUP
Improving Fitness on Paddle Board
Can I Leave My Paddle Board Inflated?
Hard VS Inflatable Paddle Board