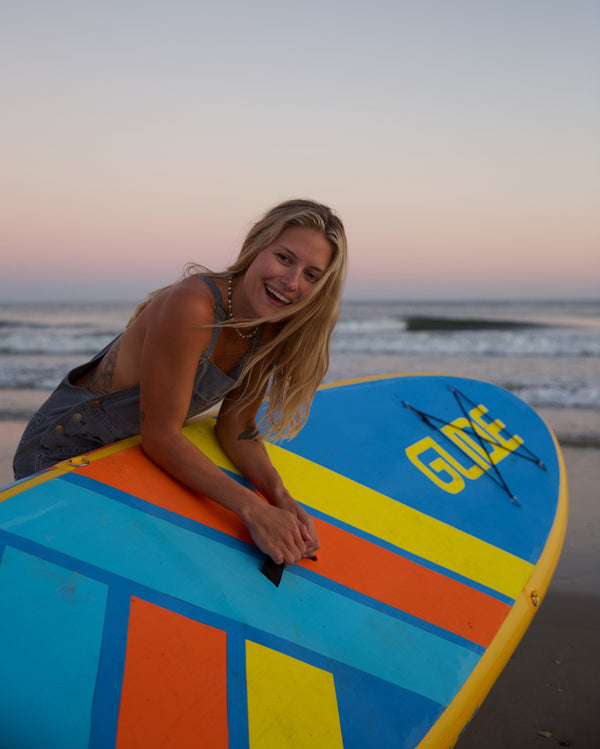 How the Inflatable Paddle Board became a Game Changer for Women
The portability of inflatable paddle boards has truly made SUP the perfect sport for women. The meditative aspects of being out in nature with friends and family while keeping their muscles and bones strong are powerful antidotes to the stress of modern-day life.
Here's our rundown of why stand up paddle boarding can be for you!
Introduction

Since modern paddle boardings resurgence in the 2000's, the sport has always been popular with women but the drawback for many of them has been transporting large, cumbersome rigid boards which meant that renting paddle boards was fine but owning one didn't make a lot of sense.  Solid boards have quickly been replaced by inflatable paddle boards for most women. 
Inflatable stand up paddle boards were the difference maker

When inflatable stand up paddle boards exploded in popularity over the last 6 to 7 years it was in large part because women realized that they could easily put them in the back seat and pump them up once they got to the water's edge or toss an inflated paddle board up on a roof rack and then carry it to the water without having to rely on a friend coming with them to help.  Easy carrying became inflatable SUPs secret weapon
The inflatable paddle board surge is driven by women

These days over 50 percent of paddle boards sold are being purchased by women which is a far cry from the number of surfboards that women buy. The top paddle board brands have found that its women that typically buy their entry level boards.
Women are currently the fastest growing demographic in the SUP board world.  Affordable boards are part of the reason for this as is having multiple riders in a household. 
Why inflatable SUPs are so popular

 Part of the reason for this surge in popularity is the fact that you don't need a lot of expensive recreational equipment or clothing to get started. It is also not a prerequisite that you have a lot of strength or skill to pick up paddling experience. Paddle boarding is accessible to anyone who resides near a body of calm water.
Workout with friends

Women welcome the comradery that inflatable paddle boards allow as it's not difficult to paddle and hold a conversation with a friend. They also enjoy the fact that they can bring a small child or two with them on their inflatable paddle board so that they can enjoy the experience with their kids. 
Sometimes their paddle board experience might just be a short paddle board session followed by some time spend lounging on the SUP board and chatting with their friends or it can be a time to get the entire family together out on the water.

 Stand up paddle boarding is a full body workout

Women also tend to appreciate the toning aspects of paddle boarding and the fact that it's a full body workout that really focuses on the arms and core. It's a low impact workout that is extremely effective while still being enjoyable. If you're interested in learning more about what muscles and health benefits you get from stand up paddle boarding check out those articles.
SUP yoga has driven sales of inflatable SUP boards
With the advent of SUP yoga, women came to realize that they don't need to be stuck in a cramped, pungent yoga studio but can revel in some time in nature while savoring a yoga experience that is quite a bit more intense than it is on a stationary floor.

Inflatable paddle boards tone muscles

Women also tend to appreciate the toning aspects of paddle boarding and the fact that it's a full body workout that really focuses on the arms and core. It's a low impact workout that is extremely effective while still being enjoyable. 
Women strive to improve on paddling details
Because women typically have superior balance to men, they find paddle boarding to be particularly easy to pick up. Although women tend to buy beginner friendly boards, they still seek out expert advice from other paddlers, which is something men are less inclined to do.
This means that they don't have to take a lot of time out of their busy days to master the nuances of paddling. Most beginners will have stand up paddling conquered after their first experience out on the water. This tends to be a huge confidence builder for many women.

Benefits of paddling in the sun
It's important for women to get their fair share of Vitamin D as it is one of the best ways to fight bone density issues as we see osteopenia and osteoporosis ravage our older female population. There is typically no shortage of sunlight when a woman paddles our waterways as they are typically away from any trees and foliage that might block the sun. 
A more portable stand up paddle board

The portability of inflatable paddle boards has made SUP the perfect sport for women. The meditative aspects of being out in nature with friends and kids while keeping their muscles and bones strong are powerful antidotes to the stress of modern-day life.  
Inflatable SUPs clear the head
The modern woman's brain tends to be bombarded all day long with thoughts like: "When this meeting ends, I'm going to check to see if we have enough leftovers for dinner. I'll need to wrap up work by 5 to get the kids to soccer practice. Yikes, my Mom's birthday is coming up and I haven't gotten her anything." Whereas, when she gets on her inflatable SUP board out on the water, her mind calms and she can just focus on the water flowing underneath her board and the repetitiveness of the paddle stroke.

 Inflatable paddleboards are empowering

The one word that comes up the most when we ask women why they paddle board is "empowerment". They love that they can just strap their SUP board to the roof of their vehicle and decide what kind of a new adventure they would like to experience that day.  
Inflatable SUPs equal solitude

Once on the water, they also enjoy the solitude of quietly paddling and drinking in their surroundings. Because their inflatable paddle board is almost soundless, they can paddle near the various animals in their waterway without spooking them.
 Inflatable board as cross training device

Paddle boarding provides a great form of cross training for women. Especially since most of the time they don't realize that they are getting a fantastic workout. 
Stand up paddle during pregnancy

Some women use their SUP paddle board as a means to stay in shape during pregnancy. Because of the strong emphasis SUP paddling has on strengthening the core, it is ideal for pregnant women. The key factor here is to paddle on a calm lake so that there is little chance of falling.  Paddling rougher waters is not recommended.
If you're interested in learning more we went over the question, "Is SUP Safe for Pregnant Women?" that you can read about here. 
Types of inflatable SUP boards women favor

When women first take up paddle boarding, they tend to start with an all around inflatable sup. They will often wait until Black Friday when more deals on SUPs are available to they can save money. They will often forgo the top paddle board brands in favor of last year's model from a no name brand.
SUP construction matters
The best deal on inflatables isn't always going to satisfy them in the long run as the construction of those boards tends to be sub par. Rather than using 3-4 layers of military grade pvc, they tend to use a single layer which makes it harder to support multiple people on the inflatable SUP. There are a wide array of great deals and new releases of SUPs but if they don't offer the superior construction of the top brands with military grade PVC and a woven drop stitch core, the inflatable board won't last long. And a board with an uncomfortable deck pad won't get used much.

Touring boards vs All around inflatable SUP boards

Most women tend to enjoy flat water paddling more than surfing or whitewater SUP. They will often start with an all around paddle board to learn on as the wide platform that they offer makes them feel more secure as they learn the nuances of the paddle stroke.
If they decide that they enjoy covering longer distances on flat water, they may appreciate the greater speed that a touring board offers. Touring boards have a pointed nose which tends to offer a better glide through flat water. These boards are well suited for longer distances and usually have attachment points for bungees that allow women to carry their gear in dry bags.
When properly inflated these pointed nose touring boards require much less effort to paddle. The top brands in touring stand up paddle boards have an inflation threshold of 25 psi, multiple attachment points, and other details like a US fin setup that will allow for an aftermarket center fin. 
The women of SUP
From the inception of modern stand up paddle boarding, there have been quite a few female athletes that have served as role models for girls coming up in the sport. These women don't confine themselves to one paddle board discipline either. They are well represented in race, whitewater, surf as well as yoga and fitness.

Stand up paddle board organizations for women
We are seeing more SUP organizations forming every day with the intent of getting greater numbers of women involved in paddle boarding. One of these organizations is She SUP's in Australia. The goal of She SUP's is to "Build an all women's SUP community focused on creating a safe environment for women to try something new, learn, grow, connect with others and the planet and ultimately feel empowered through adventure." 
Conclusion
So, women are making quite a splash (bad pun intended) in the wide world of SUP. And as our contribution to this renaissance, we have created the most stable, long-lasting, performance oriented and transportable iSUPs on the planet. 
If you need some more convincing, check out our article Glide Paddle Boards vs. Competitors.
Related Topics
How To Inflate and Deflate Your Inflatable SUP
Everything You Need To Know About All-Around Paddle Boards
How to Care For Your Inflatable SUP