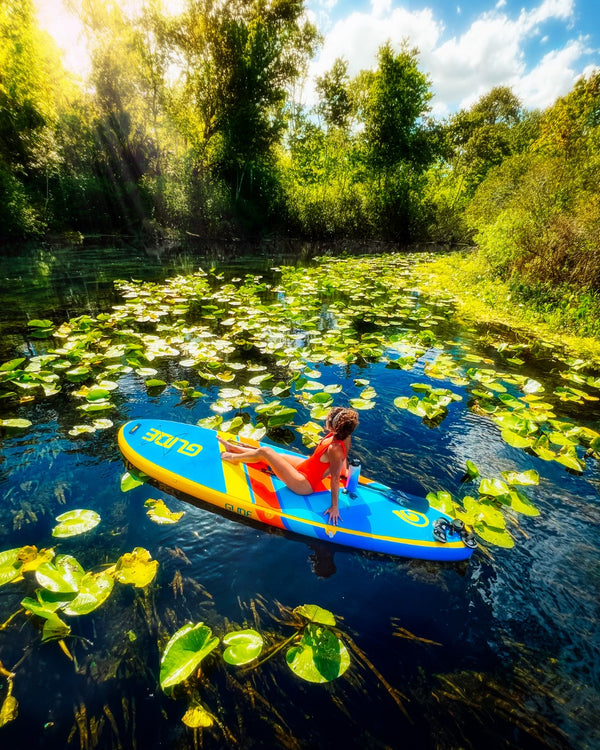 How Long Do Inflatable Stand Up Paddle Boards Last?
When you're in the market for an Inflatable Stand Up Paddle Board there's many things to consider, one of them being how long will it last you?
You want to find a iSUP that is high-performing, durable, and stylish, all for a decent price! 
Here's our answer to your questions. 
How long will an inflatable SUP last?
Currently, there are 3 ways to produce an inflatable paddle board; they are single layer, double layer, and fusion. All boards fall in these three different construction types, anything else someone claims is marketing hype, don't fall for it.
For the average stand up paddle board with one-to-two layers will have a lifespan of three years if you use it a considerable amount (8+ paddles in a year). If you don't use your board very much then you can expect it to last you a little over three years.
However, with a Glide inflatable stand up paddle board that has 4 layers, you can use your board as many times as you want, let it get banged up a little bit, and care for it appropriately and it'll last you an average of 7+ years.
We've been in business since 2010 and we still see our first editions out on the water!
As we mentioned, the key to long-lasting inflatable SUP boards is caring for them correctly. This doesn't mean babying it and never dropping or dragging it, but that you should clean your board and keep a watchful eye out for very sharp rocks, and storing it properly.
If you want to learn more about How to Care for Your Inflatable SUP you can read our article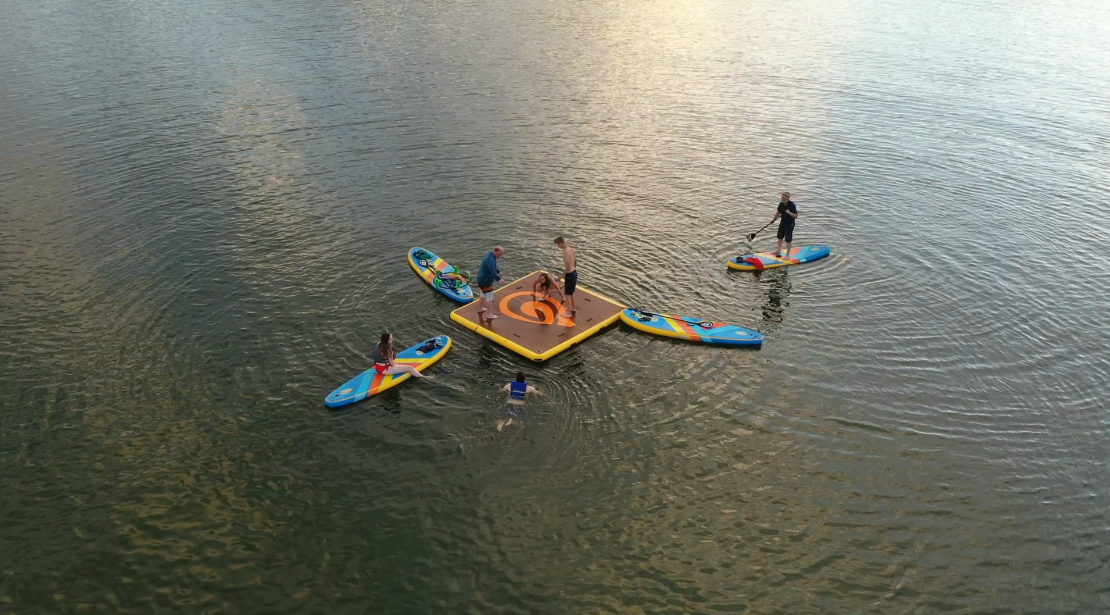 Is a inflatable stand up paddle board better than hard paddle board?
We hear this question all the time! Inflatable boards are similar to hard boards because on both you are able to paddle around on the water and connect with nature while enjoying the sun, but the difference between the two is noticeable to advanced paddlers. 
Glide Inflatable SUPs are higher performing than any competitor's rigid boards because of the 3 layers of PVC which make them ultra-durable, portable for any car or situation, various storage possibilities, and safety advantages. 
With a Glide inflatable O2 Retro all-around SUP it's even more of an advantage because your board is fit for any SUP activity and has great quality that will last you 10x longer than competing boards which makes it eco-friendly.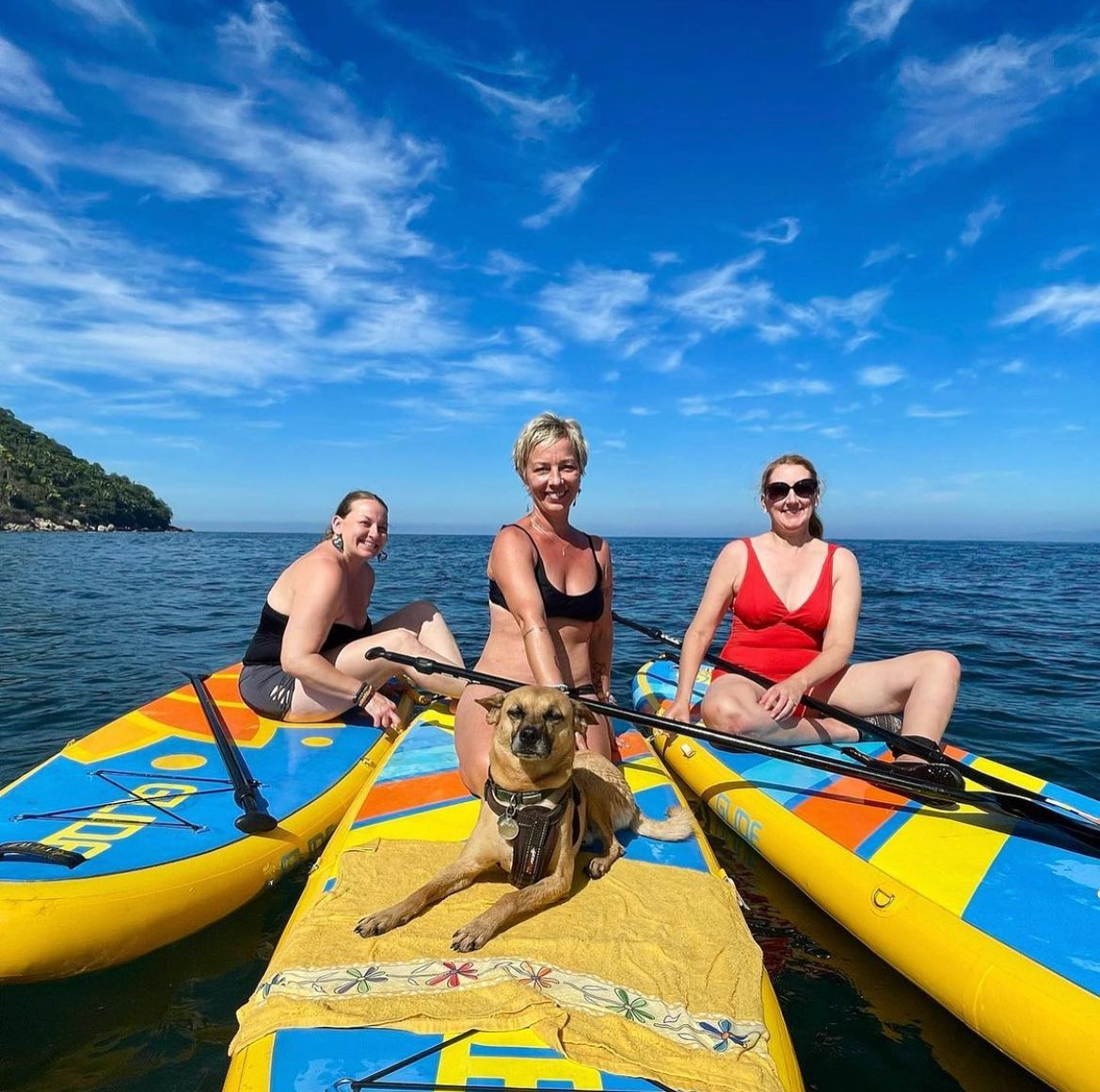 Are inflatable paddle boards worth the money?
We'd like to answer this question with another question. Do you like the feeling of warmth from the sun being on your skin, exploring the world from a completely unique and beautiful, experiencing an infinite amount of moments of connecting with nature all while looking like a baddie, and having the time of your life? 
We may be biased, but truth will always be truth, and the fact of the matter is that paddle boarding is worth every penny you pay because it's an experience that will keep giving for years.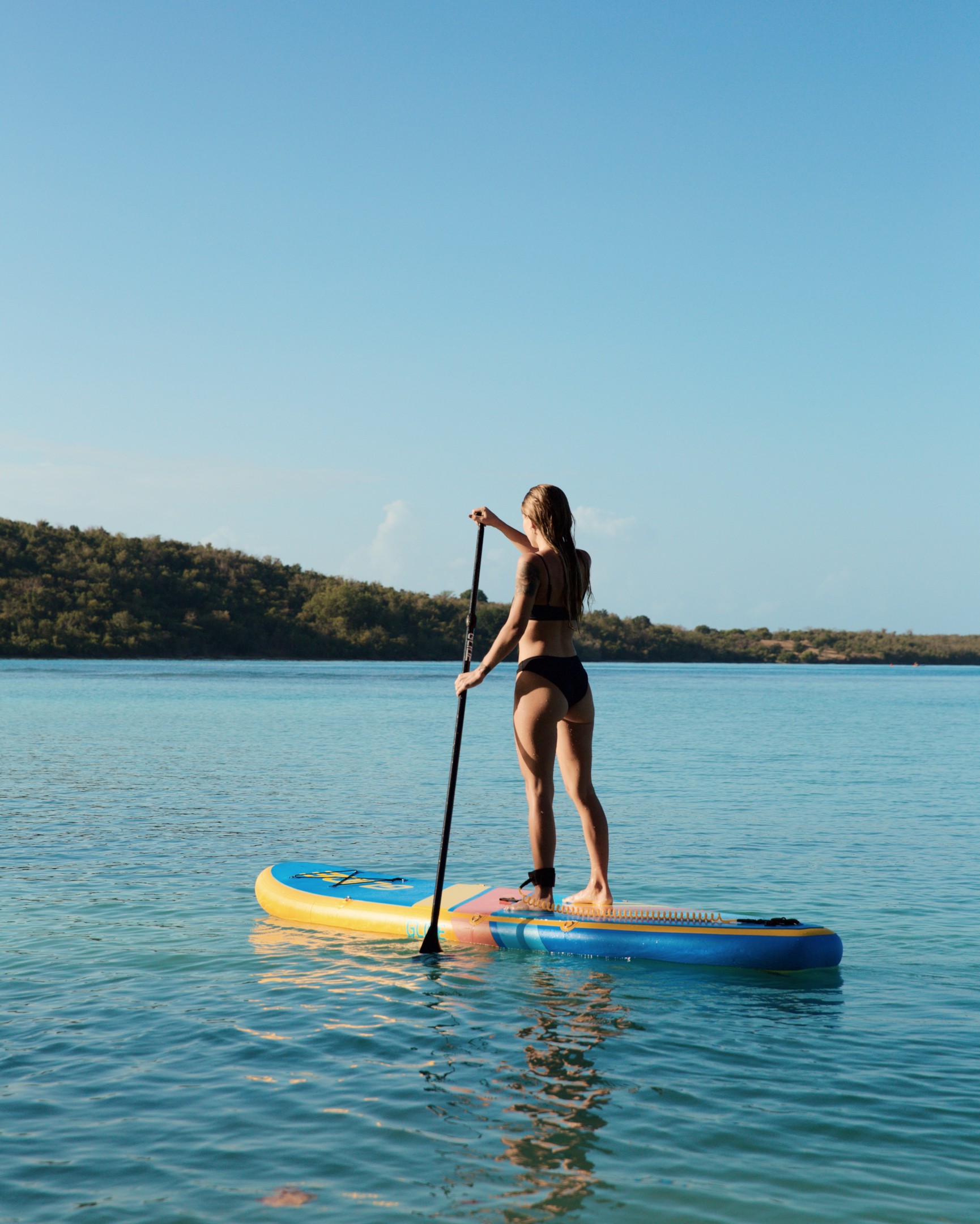 Can you leave your inflatable SUP inflated?
The short answer is yes. If you are planning on leaving your stand up paddle board inflated for a week or two between uses, that is perfectly fine for the health of your inflatable SUP.
If you plan to leave your paddle boards inflated between uses, here are some tips to keep the boards in good condition.
Extreme heat and cold can damage your board so make sure that you store your board in a place where the air temperature would be livable for a person, even in hot weather. A garage is fine, the inside of a hot van sitting in the Sun is not.
Make sure that you let the board dry completely to prevent mold growth and store it away from direct sunlight to prevent UV rays from causing sun damage. Check that your stand up paddle board is properly inflated and stored securely in a place where it won't be blown away by wind or fall over and damage itself or its surroundings.
If you want to learn more details about what to do and what not to do you can read that here.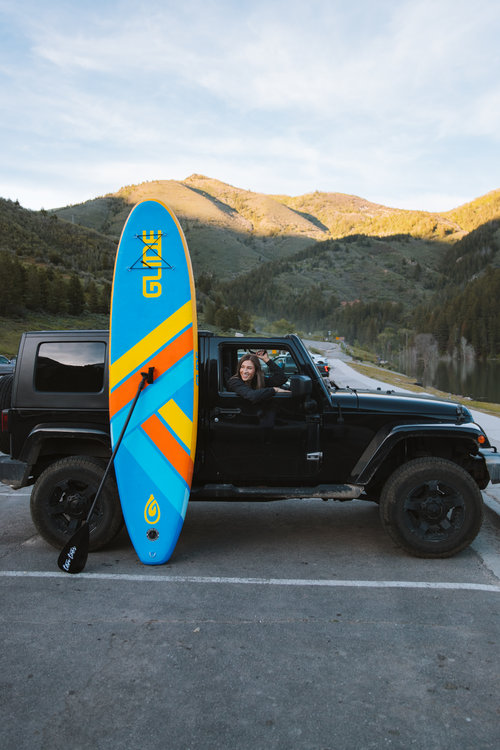 Things to look for in a High-Performance Inflatable SUP
When you've caught the paddle board bug and you want to invest in your own new stand up paddle board then maybe one of the questions you have is "how long will an inflatable paddle board last me?"". You want to get one that will be dependable, high-performing, durable, long-lasting, and affordable boards. This is what Glide Paddle Boards is all about.
All of our 2022 inflatable paddle boards come with a 2-year warranty and a 30-day guarantee when you purchase a Glide board from us (purchases through dealers are not included).
There are many factors as to what sets Glide SUP apart from other paddle board brands. Let's look into the most important one.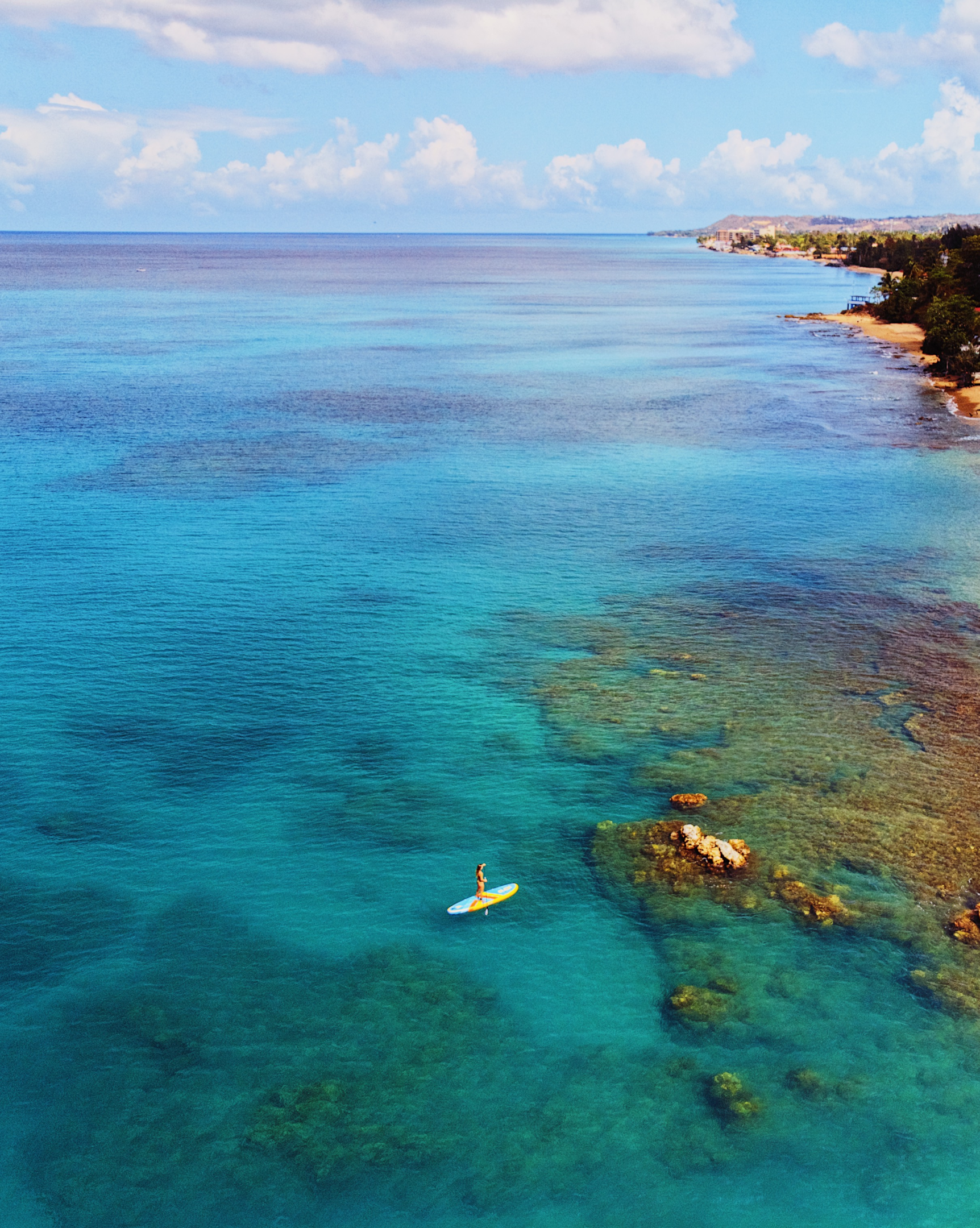 Technology and Materials
There are a few top paddle board brands that manufacture their paddle boards in state-of-the-art factories that use automation to cut the panels and seal them up. Most of the cheaper brands pay workers to cut the panels and sew them together on work benches. This old school approach can lead to dust and contaminants getting inside of the SUP board. It also leads to very inconsistent board quality.
The manufacturing of the drop stitch that makes up the core of inflatable paddleboards is a very slow process. Drop stitch machines crank out the fabric a few centimeters every minute which is the reason drop stitch is a fairly expensive material.
Drop stitch material is produced in several thicknesses. How long the threads are in the drop stitch are determines how thick the inflatable stand up paddle board will be. As mentioned above, threads that are merely parallel to each other make up "linear technology" drop stitch material which is a less robust way of tying the upper layer of PVC to the bottom of the board.
Linear drop stitch technology is much cheaper to produce than the V-Weave Technology that the higher end inflatables use. The non-linear technology of the V-Weave allows for more threads per square inch which makes for a much stronger inflatable SUP which can handle more weight capacity whether you are using your SUP in flat water or rougher waters.
Expert advice concludes that the thicker your inflatable SUP is the more stable it will be. A stand up paddle board that is 5 inches thick will be 40 percent more rigid than a board that is 4 inches thick. This just goes to show that the "best deal" for an inflatable SUP probably won't necessarily get you a board that is well suited for your paddling needs and weight capacity.
Keep in mind that even though there are thousands of tiny strings that make up a drop stitch core, each one is extremely thin. This is why your inflatable paddle board looks completely flat when it's deflated.
Featured Product
If you're feeling the excitement and want to check out our best seller inflatable paddle board then today's your lucky day!
Introducing the Glide Inflatable Retro All-Around Paddle Board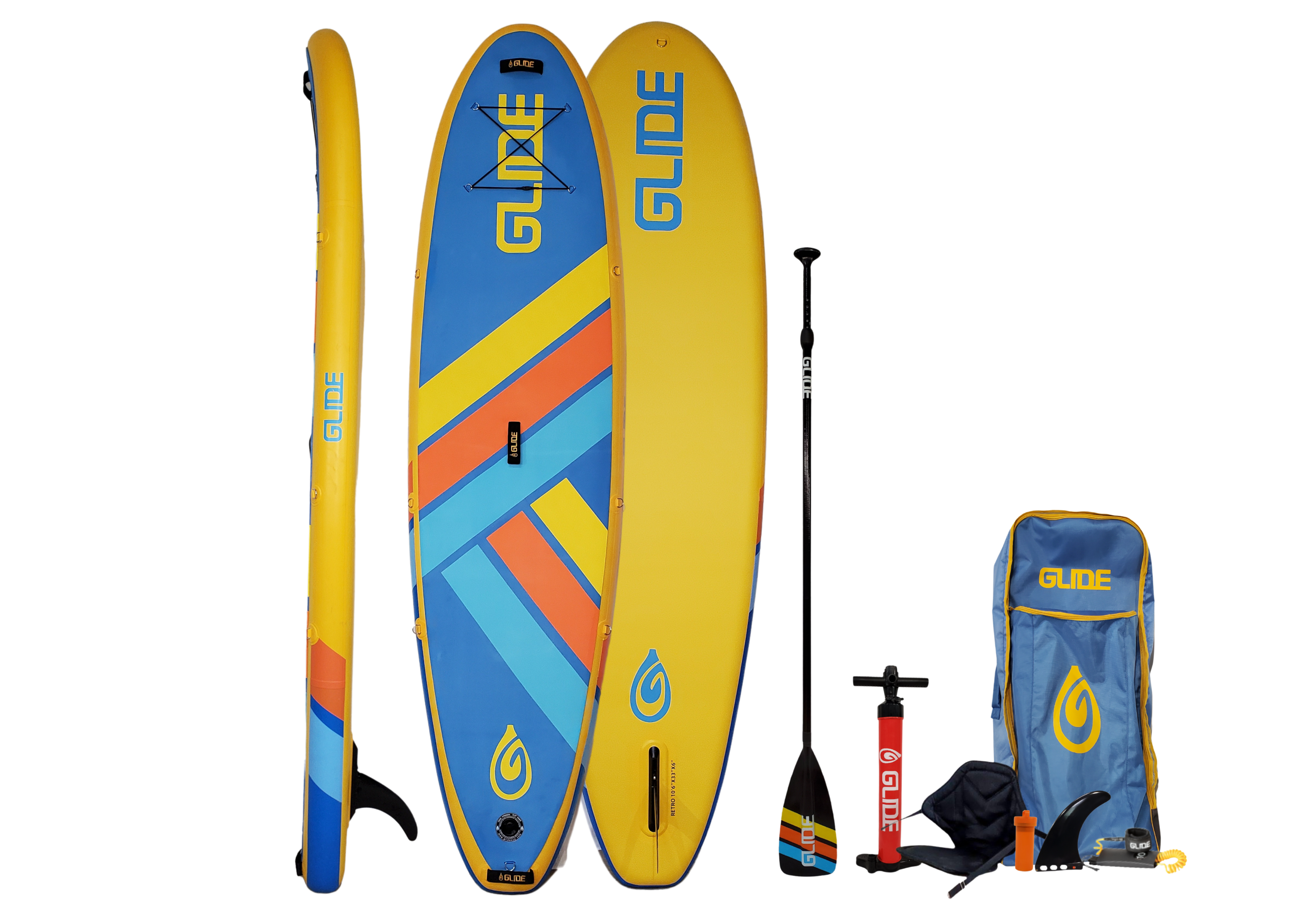 All Glide Inflatables come in a package with SUP accessories to get you out on the water the same day your iSUP arrives.
Accessories included are: 3-piece adjustable paddle, a hand pump, a fin, leash, attachable kayak seat, carrying strap, repair kit, and of course the transportable backpack with wheels.
Order today and receive it within 3-5 business days!
Related Topics
Things to Consider When Buying a SUP
Improving Fitness on Paddle Board
Can I Leave My Paddle Board Inflated?
Hard VS Inflatable Paddle Board