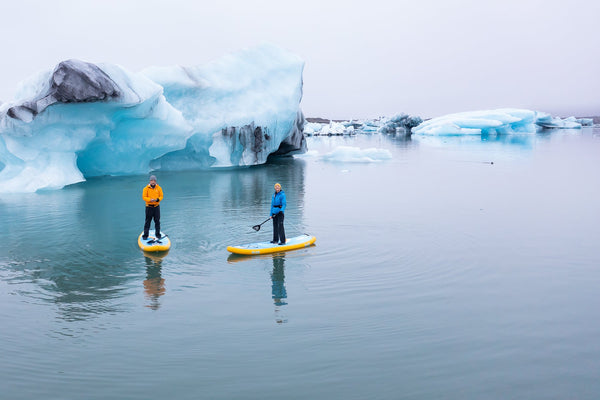 Tips on Traveling with your Inflatable Paddleboard on Holiday Trips
Did you know you can take your inflatable SUP with you on airplanes? Or that you can keep your board inflated and strap it on your car roof?
We're here to give you the tips and tricks of traveling with your iSUP on a Holiday trip!
The holidays are here again. For many, this means joining millions of other travelers to visit friends, family, or getting away to somewhere (hopefully) warm.
If you have a hard stand up paddleboard then don't read any further- traveling far distances (road or plane) can be near impossible.
If you have an inflatable paddleboard, keep reading! I'm sure one of the main reasons you chose an inflatable SUP in the first place was for the ease of storage/transport, so you might be considering bringing your paddleboard with you on your next trip.
Here are some helpful pointers to make travel with your iSUP as hassle-free as possible and getting you back out paddling during the off-season.
Traveling with an Inflatable Paddle Board by Airplane
Let's look at the "what" aspect of traveling with an iSUP first, then we'll address the "how".
Your stand up inflatable paddleboard should have come with its own carrying bag. If not, get one! It's the single most important SUP accessory you can own if you want to travel with your paddleboard with ease, and it helps to keep everything together when you need to store your iSUP for long periods of down time.
The bag should hold your stand up paddle board and all of its accessories in a relatively compact package (Glide iSUP bags are designed to fit within airline size restrictions).
It should also fit comfortably on your shoulders for hiking to the water, and have wheels to make carrying your paddleboard through airports and other short distances easier.
Another essential travel component is a lightweight, two-, or even better, three-piece paddle. Having a paddle that fits easily in your SUP bag is critical. Carbon fiber paddles are costly, but the weight-saving is oh-so-nice, especially if you're going to be hiking with your SUP for a bit.
The bag should accommodate your manual pump, but most paddleboard-specific electric pumps are small enough to fit as well.
Electric pumps are nice because while they don't really save time (most people can inflate a board manually in about the same time) they let you get your workout on the water instead of the shore.
Be sure to check that you either have a battery pack for your electric pump, or that it's compatible with the power sources at your destination. Having an electric pump do all the work means more energy for paddling once the board is inflated- many people see them as an essential accessory.
Next is the one of the most important steps when taking your paddleboard on the road: make a checklist of all the SUP components you need for your trip, then make sure it's all there and packed.
We have a helpful article that gives you an inflatable paddle board checklist to help you sort as you go.
Take everything out of the bag and make sure that everything you need is actually there. Add anything that was missing, repack it all in the bag and make sure it all fits.
Finding out that your SUP fin isn't really in the bag like you thought it was, is the worst. In fact, Pro Tip: consider bringing a spare fin- they're cheap and if you lose or break it, it's easier to have one already with you than trying to hunt one down in an unfamiliar location.
All Glide paddle boards are made with US style finbox, which means it will fit any of the fins you can find on Amazon, a Surf Shop, or other outdoor stores.
Since your SUP bag gets checked, it's also a great place to stash tubes of sunscreen, insect repellent, etc.
You'll want to weigh your bag before heading out and familiarize yourself with the airline's baggage policy. Fifty pounds is the limit for regular baggage, so make sure your bag is under that max to avoid heavy baggage fees.
You can always throw an accessory in another piece of luggage if you need to drop weight, but most fully loaded SUP bags are well under 50 lbs.
Next, measure your packed SUP bag's length, width, and height. Add those measurements up for your total linear inches.
Most US airlines set 62-64 linear inches as their limit before oversize charges kick-in, so cinching some straps around your bag to reduce those measurements will help if you happen to be a few inches over.
Road Trip
If you're driving to your destination, taking your stand up paddleboard is even easier. But if you're having trouble making room, you can always inflate your SUP and throw it on the roof like a hard paddleboard.
A roof rack works great for this, but even if your vehicle doesn't have one, you can secure it to the roof fairly easily. Put a beach towel or something similar down first to protect the cars finish. Then tie the board(s) down with rope, ratchet straps or best of all, cam straps.
Always put the SUP deck-side down, and if strapping multiple paddleboards to the roof, put the widest on the bottom and narrower SUPs on top. Tuck away any excess length so it isn't whipping the vehicle's paint, and check to make sure the boards are secure.
If you can wiggle them more than an inch, you need to tighten them up. Once you've been on the road for fifteen or so minutes, you should pull over and check to see if any loosening occurred.
Pro tip: Always put the fasteners, ratchets, cams, etc. on the passenger side so that when you pull over, you are away from traffic while you make any adjustments to your rigging.
Always Check Local Laws
One last thing you should do before going on your SUP holiday is looking up local regulations at your paddle boarding destination.
Some states require an inspection and/or a small fee before your board can legally be used locally. This is usually to prevent the spread of invasive species. Some beaches segregate paddleboarders and surfers, so know the local SUP etiquette before you go.
Check out our article on Basic Paddle Surfing Etiquette here.
If traveling internationally, you'll definitely want to make sure that paddle boarding is allowed. SUP is very popular worldwide, but there are sometimes quirky local laws about watercraft.
Conclusion
The entire purpose of this article is to enable and encourage you to get out of the house and somewhere that you can use your stand up paddle board this Winter. Happy holidays and happy paddling!
Related Topics
Improving Fitness on Paddle Board
How Inflatable Paddle Board Technology Changed The SUP Industry
Your Comprehensive Guide to Inflatable Stand Up Paddle Boards