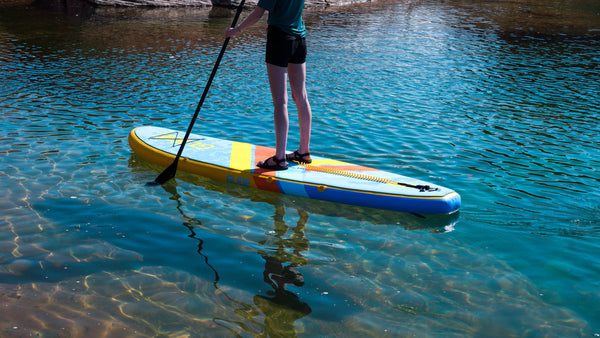 O2 Retro Inflatable Paddle Board
Deciding which Glide inflatable paddle board to get, or just purchase your very own O2 Retro inflatable paddle board? We're here to give you the skinny on everything about our All-Around iSUP.
We also created a video on YouTube that you can watch on our channel.
Are you looking to purchase your first inflatable paddle board? Or looking for the best beginner paddle board, or a board that can be a one board quiver? Then the O2 Retro inflatable paddle board is perfect for you! 
The O2 Retro is our classic shaped all around paddle board, but don't let that classic retro inspired style fool you! This board is full of the latest technology and built with the highest quality materials.
All of Glide inflatable paddle boards are built using fusion construction and woven drop stitch cores. You can read more about how our boards are built here, we also filmed a video talking about the Glide O2 Retro Inflatable paddleboard that you can check out here.
The O2 Retro is a class shape board, which allows it to be a jack of all trades. This board is at home cruising around your local lake, taking it for your first surf, or going down a river. 
The O2 Retro is 10'6"x 33"x6" which allows for a very stable platform while still maintain a board with good Glide and acceleration. 
When we are shaping a board for the first time we come at it from a perspective of how will be using this board, what will be the boards main purpose, and once we have those answers we can dive in and start shaping to board, and with a board like the O2 Retro that is an all-around board this can be a really hard board to get just right!
Knowing that the O2 Retro would be and inflatable paddle board that is used be first time paddlers, experienced paddlers wanting an do everything board, yogis, people who want to take their dogs (or cats!) for a paddle, adults wanting to share paddling with kiddos, well you get the picture this board would have to be special.
So the first thing we did is decide on the length. 10'6" At this length the board would have good glide and acceleration and still be very easy to maneuver. The longer the board the faster it is but with added length you sacrifice maneuverability. 
For an all-around board we tend to lean towards maneuverability over speed. Having an inflatable paddle board that is easy to maneuver is great for beginner paddlers and first timers, it gives them the confidence that they can control the direction of the board and with that confidence it allows them to explore more. 
For an advanced paddler this will also allow them to push their boundaries a bit more.
You can make tighter turns, play around with pivot turns, and in general a maneuverable board is just plain fun.  And when you are ready to start to tackle moving water like in the ocean or a river having a board that is easier to maneuver will help you feel confident and help you stay on course. 
10'6" is the perfect length for an all-around inflatable paddle board.
Next up on the design list is width. We settled in at 33" inches wide.  The wider the board the more stable it is. And the narrower the board is the faster it is. We wanted a board that was quick but stable and settling in at 33" is the sweet spot. 
This width allows you to have an extremely stable platform which will allow you to stand up and paddle your first time out, do yoga, take you furry friends or you kiddos on the board and be nice and stable. And it's still narrow enough to provide good Glide and a zippy platform.
You get an inflatable board that is stable but still lively and fun. A board you will not out grow and can keep on your quiver for a lifetime.
Features of the Glide O2 Retro Inflatable Paddle Board
Bungee Cargo Area:  The front of the board contains a large cargo area that can be used to store shoes, water bottles, clothing, etc. all secured attached by bungees.
Non Slip Brushed Deck Pad: The O2 Retro has a full brushed deck pad. The pad is pieced together by solid color pieces of premium EVA foam and not printed. After the pad is assembled it is then brushed finished which extremely comfortable pad with a good amount of grip.  Having a full pad allows you to take your pets, family along with you in comfort and style.  Very few inflatable paddle boards have a full deck pad.
Comfortable Carry Handle:  The handle is wide webbing that is covered with a neoprene cover to give you a very comfortable way to carry your board. Also having the handle covered in neoprene it is very comfortable to sit or lay on the handle when out on your board.
High Quality Valve:  Our boards are built with commercial grade quality construction and woven drop stitch cores. This allows our boards to have a 25PSI maximum pressure.
Our valves have to be of the highest quality to withstand the high pressure. Also do not worry about having to pump your board to 25PSI, our boards perform best at 12-14 PSI.
Reinforced Rails: The O2 Retro inflatable paddle has triple layer rails.  This gives the board more stiffness and durability it also allows the board to reach the 25PSI max rating.
Flat Bottom: The O2 Retro has a completely flat bottom under where you would stand this gives you the maximum amount of Glide and stability.
Ultra-Durable Fusion Construction:  Glide boards are built using the latest Fusion technology and wove drop stitch cores. Glide is known for our ultra durable hard boards, and we did not want to sacrifice the durability of our inflatable paddle board line. To learn more about our construction on why we have the best inflatable paddle boards read more here.
USA Fin Box:  All of Glide boards use a standard USA style fin box. Many of our competitors use a proprietary fin box which you can only use their fins. With a USA style fin box you are using the same style fin box that has been used on long board surfboards for over 50 years.
You will have access to hundreds of different fins from companies that specialize in fins for any condition. By using a standard fin box you can go into any Surf Shop or retail shop that carries surf boards and SUP and be able to pick up a fin. 

You will not have to order one from the manufacture of your board and be limited to the one or two styles they produce.
Conclusion
We love the O2 Retro and think it's the best inflatable paddle board you can buy if you are looking for a do it all board, or your first board. If you have any questions on the board please get a hold of us! We are around on chat on our website, email, or phone M-F 9am-4pm MST.
Related Topics
The Ultimate Guide On Finding Places to Paddle Board Near You
Five Great Winter SUP Fishing Spots
Your Comprehensive Guide to Inflatable Stand Up Paddle Boards