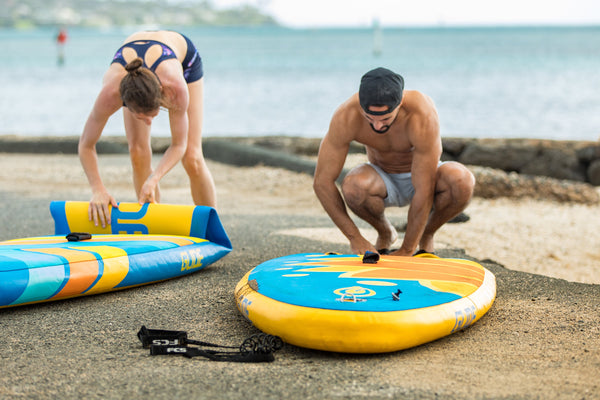 What to Consider When Buying an Inflatable Paddle Board
If you are looking to buy an inflatable paddle board, I'm sure you are becoming overwhelmed at the options. This post will offer you honest advice as to what you should be looking for in price, size, etc. Just like people, the boards will be considerably different if you know what to look for and what questions to ask. The inflatable paddle board you decide on is an investment in fun and adventure, so let's keep those ideas in mind while purchasing.
What Type of Paddle Boarding Do You want to do?
This is your stand up paddle board and your adventure so consider the type of paddler you are or want to become. By narrowing this down we can find a paddle board that will grow with you as a paddler. If this is your first inflatable paddle board purchase then most likely you will trend towards all around SUP boards. 

 What type of Water Do You Have Access To?
For good reason, having a board that will paddle effectively on rivers, lakes, and possibly oceans is certainly an upside. However, using your geographical location should play a major part in deciding which direction to lean.

No ocean? Forget about surfing design features such as tri fin setup specific or high rocker designs. Don't, want to do river runs on your inflatable SUP board? Look towards flat water or touring boards rather than all around boards.
Want to keep all options open? There are inflatable stand up paddle boards that hover in the venn diagram of all 3 types of inflatable SUPs.
The key is to be realistic as to which style of paddle boarding you will actually be doing the most of.  Will you be practicing yoga? Do you want to catch waves or head down whitewater rapids? Or do you plan on paddle boarding slow moving rivers and the occasional alpine lake?
Just remember the inflatable stand up paddle board should be a serious piece of recreational equipment. Leave the pool toys to the children!
What is in Your Stand up Paddle Board Budget?

Cost is and should always be a large factor in any investment and your inflatable SUP board should be no different. While prices of inflatable paddle boards range from a few hundred dollars to a few thousand, you'll likely end up somewhere in between.
So how do you decide what inflatable SUP board is worth paying for? In short, it's complicated but with some knowledge about construction and vetting out manufacturers of inflatable SUP boards, you will be able to discern a good deal from a shiny object that paddles like a wooden door.
PRO TIP: Know Inflatable Paddle Boards Construction

There are quite a few different construction methods used on inflatable paddle boards. You will want to consider your particular needs and skill level and how much extra weight you intend to carry and what extra features you may be looking for.
Single Layer Inflatable SUP Boards 

This is a drop stitch core made from single-ply sheets of fabric at the top and bottom, which are sealed with a layer of PVC plastic coating. This is typically how most of the cheaper boards are made and is considered to be the least sound construction of inflatable paddle boards.
Most inflatable paddle boards made with this method have a less stable feel and are more flimsy compared to other constructions. On the upside it's cheap, but it also can feel like it paddles cheap.  
Double Layer PVC Inflatable SUPs
In this construction the second layer is not stretched but simply glued to the PVC of the inflatable paddle boards single layer. While this does lend more stiffness, its overall durability and shape uniformity lack compared to superior quality construction. 
Fusion Double Layer Drop Stitch:
Fusion Technology is a refined version of drop stitch technology that has allowed inflatable paddle boards such as the O2 Glide Line to surpass other constructions in durability and rocker retention. The top and bottom layers both have double-layered PVC that is bound as one for durability and stiffness.
This allows boards to be made in the 5-inch thickness, instead of adding unnecessary board thickness for rigidity. Fusion technology is a great sweet spot for weight and function and allows these brands to build a wider board like we do with our SUP yoga paddle board for extra stability.
Normally you would see these boards priced above the $900 range. But Glide offers the same construction and unique designs at under $700. Not to mention you'll be outfitted with other accessories like a quality pack, SUP paddle, snap-in fin, pump, ankle leash, kayak seat, carrying strap and free shipping. 

 Inflatable Paddle Board Size
All Glide inflatable paddle boards are 5 inches thick and this is important because, with Fusion Construction, there is no need to ride a SUP any thicker. All of our inflatables are comfortable for most people within 225lbs.
Now the deciding size parameters only rely on length and width. With width, the loss and gains come with stability and speed. Narrower is faster and less stable and vise versa.
So continue to think if your board will be fishing, doing yoga, or racing your friends. This is up to you. Our all-around board the O2 Retro will be solid on any of these playing fields but if you're looking to get specific then go that direction. 
Inflatable Paddle Board Accessories

Pump

All of the Glide inflatable SUP boards come with a dual chamber pump (as opposed to the single action pump that comes with most inflatable boards) and American fittings if you want to upgrade to an electric someday. These same fittings are highly durable, so if you want to leave your inflatable SUP board inflated for the season you won't have to worry about much more than a simple top off at most.  
SUP Paddle

You probably bought an inflatable paddle board for a reason. Whether that is storage, vehicle transport or easy carrying. Regardless of the reason, our 3 piece paddle will fit in the pack on your back or in the trunk of your smart car.
Inflatable Stand up Paddle Board Carry Backpack

Taking an inflatable paddle board to an alpine lake and other far off destinations is the beauty of inflatable boards. Get away from the crowds, find the silence or lake trout that no one else will work to find. But don't forget about air travel. Glide inflatable SUP backpacks come with straps and wheels for chasing water on any continent.
Conclusion 
Hopefully, you have learned a bit about what to look for in an inflatable paddle board. Don't overpay for poor construction and look for the quality and durability along with fair prices that you'll find at Glide SUP.
Happy Paddling!
Related Topics
Learn to Inflate and Deflate Your Paddleboard
Common Stand Up Paddle Boarding Mistakes