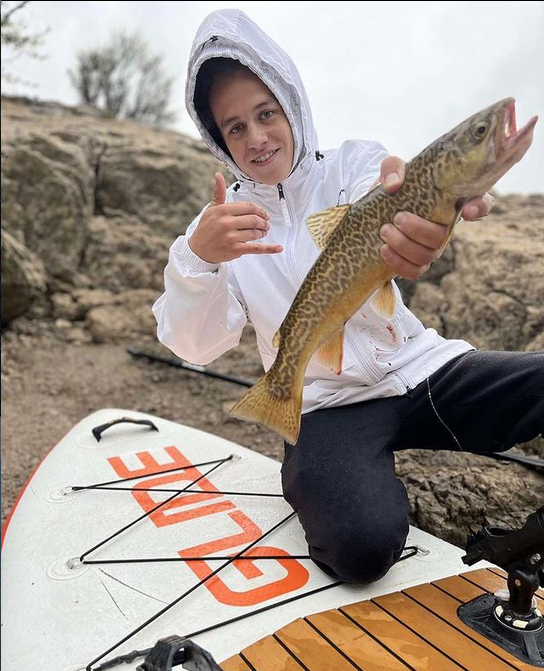 Paddle Board Fishing? Can you fish from sups?

Yes you can fish from a paddle board.
Paddle board fishing is one of the funnest and most exciting ways to fish. And you do not need a dedicated fishing sup board to try our fishing on paddle board. However dedicated fishing paddle boards will make the experience much better. Sup fishing can be done from any stand up paddle board, although some things will make it easier to do. So the question is why you would choose to fish from a non-Glide fishing paddle board?
For paddle board fishing from a standard stand up paddle board it is recommended to have paddle boards that have removable fins, a stand up paddle board that is longer, and a wider board with a flat bottom. A board with d rings or other mounts where you can secure an anchor or an anchor pole is also useful.
A non-fishing paddle board will be missing key features, such as fishing rod holders, tie down spots for a cooler and tackle bag/tackle box, and may lack the cargo space for all of your fishing gear. Making the fishing trip harder than it needs to be. Sup fishing should also be done on a stable board, especially when fishing on choppy water or handling fish that are larger. Non fishing sups will often lack scotty mounts and storage space for other accessories and other gear.
Although it can be done and it can be enjoyable. I have fished off of a Glide Lotus before when I had left my sup fishing board at home. The Lotus is a good choice as it is a wide board with increased stability that many boards lack. I was not going to be using live bait on this trip so left my cooler behind with my additional gear and headed to my fishing spots. I was able to find fish along the way although not my target species. Once I arrived at the fishing spot I was able to do some fly fishing and get the largemouth bass I was after.
While it would have been easier on a boat or fishing kayaks or even a dedicated fishing paddle board it was still manageable and fun.
Dedicated fishing paddle boards.
A dedicated fishing paddle board like the Glide 02 Angler will take your next fishing trip to a new level of enjoyment and success. When it comes to inflatable paddle boards the 02 Angler is the fishing sup of choice and is regarded as the best paddle board/fishing boards.
With the 02 Angler fishing sup you get two rod holders included, a kayak seat and carry strap, adjustable paddle, and other Glide Standard equipment. The board also has plenty of d rings, tie downs and attachment points for all your fishing gear. And with the other accessories, you can outfit the angler with you can have the most complete fishing setup for multiple-day trips to a short fishing adventure.
The fishing paddle board also has the best weight capacity at 500 pounds. We made sure that sup fishing from this paddle board would be able to handle you, all your gear, ice the dog and whatever monster fish you catch.
Glide 02 Angler fishing paddle boards.
The design on this board is made to take sup fishing to the next level. The board has a USA-style fin box with removable fins and a flat bottom ensuring you can reach your favorite fishing spot. The 02 Angler fishing paddle board is 11 feet long, and 36 inches wide to promote extreme stability. Suitable for everything from cast net, to fighting monster groupers in the Gulf of Mexico. The sup fishing board also has two-rod holders included that will keep your fishing rod secure. With attachment points for fish finders, anchor poles or anchors. Dry bag storage space and tie-down points to keep your Glide (others as well) cooler/seat combo in place. a cup holder can be attached to the cooler as well. Using a Glide Fishing paddle board will elevate your fishing experience, sadly it may make you regret fishing any other way. The rod holders will work with any fishing pole from fly fishing, to old bamboo fishing rods and deep sea poles.
My sup fishing paddle board set up.
My paddle board fishing setup has not let me down yet/ When I go sup fishing I use both fishing rod holders, and a deeper sonar fish finder, as I don't catch live bait often I usually leave my cast net behind.
I then make use of the d rings and tie downs to secure my Glide cooler/seat combo. In the front storage space I keep the dry bag with essentials, including a first aid kit, copy of my fishing license just in case I have issues pulling it up on my cell phone. The tackle box also gets stored there. If I am fishing with others who are not on a Glide paddle board I will also bring a repair kit and a pump. And my life jacket is often stored up front if I am not using an inflatable belt style. I also use a dry bag on the board's nose that has camping gear in it with the important camp chair, sometimes a nice shady stretch of beach wants you to sit and fish from it.
The rear storage space is where I store my anchor pole, and leash. While mid board I have my net to help land the fish, and a fishing gaff especially when sup fishing offshore. On occasion a second cooler as well for live bait and the fish of the day. With the durability and premium build of the 02 Angler I have never felt nervous using a gaff or other sharp objects on the fishing sup board.
Once you reach the fishing spot and get the fishing experience from the inflatable sup you will understand what it means to fish from the best paddle board. And why the weight capacity of this board is so important as you will be able to fish for monster fish species. Trout and largemouth bass are fun for sure. Although fishing for grouper, red snapper, and watching the fishing pole bend is a thrill of its own. Grab an 02 Angler and see what paddle board fishing is supposed to be like.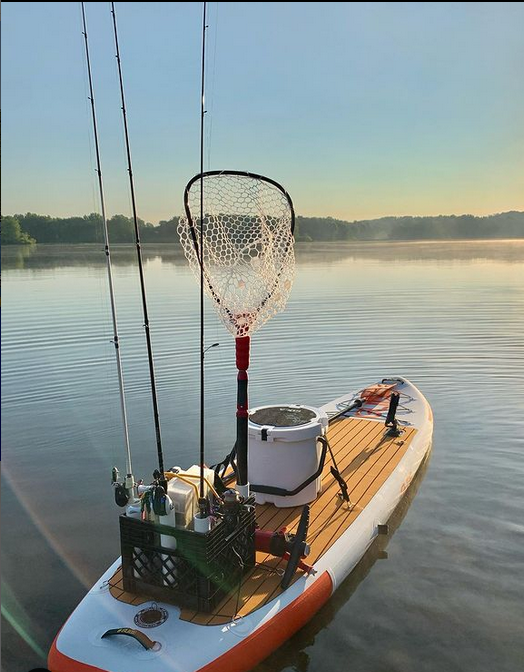 Where do you like to do paddle board fishing? Or where would you like to do some sup fishing? For me, I am thinking I want to paddle board the rainbow river this October and get some paddle boarding in around the keys. Do some sup fishing for bonefish, where ever you are fishing, I hope it is with the best paddle boards made. If not, we still wish you a good time fishing, paddle boarding, and making great memories.
Check out these great accessories Glide offers for paddle board fishing and general paddle boarding.
The Outdoor Master Shark II Electric Pump.
This electric pump is rated to handle 3 paddle boards at a time (meaning before needing to cool down) And features set and forget technollogy.
Glide Electric Pump Battery.
With Glides electric pump battery you can take the convenience of an electric pump with you. You are no longer tethered to a car or other power source.
The Glide 16qt (15L) Cooler.
This cooler weighs in at only 12lbs and is built with heavy duty/stay dry technology that will keep your beverages and food cooler longer. Molded tie-down slots and non slip feet keep your cooler in place. Quick drain water release valve, and a handle that locks up right for easy one handed carry. The coolers come in four colors. Orange, white, tan and blue.
Anchor Pole
With a comfortable t handle, this anchor pole will keep you in place while you fish your favorite spot. It can also be used as a push pole.
Glide Bamboo Lifeguard Hat.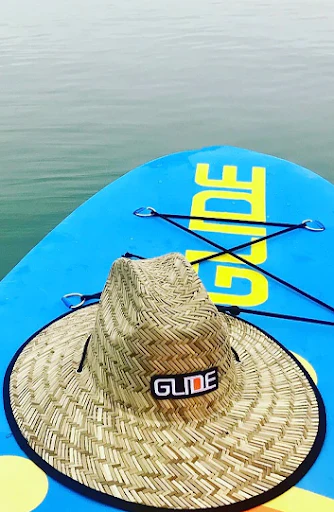 These go quickly, so be sure to grab one when you can. The perfect accessory for a day of sup fishing or paddle boarding. Keep the sun off you with this eco-friendly sustainable lifeguard hat.
For more on sup fishing check this article out. Let us know where you went sup fishing and if it was a success at #glidesup on Instagram.
Glide Paddle Boards SUP Fishing Tips.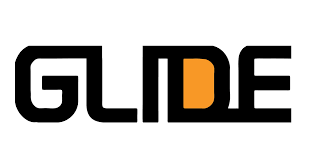 Paddle board fishing a comprehensive guide.