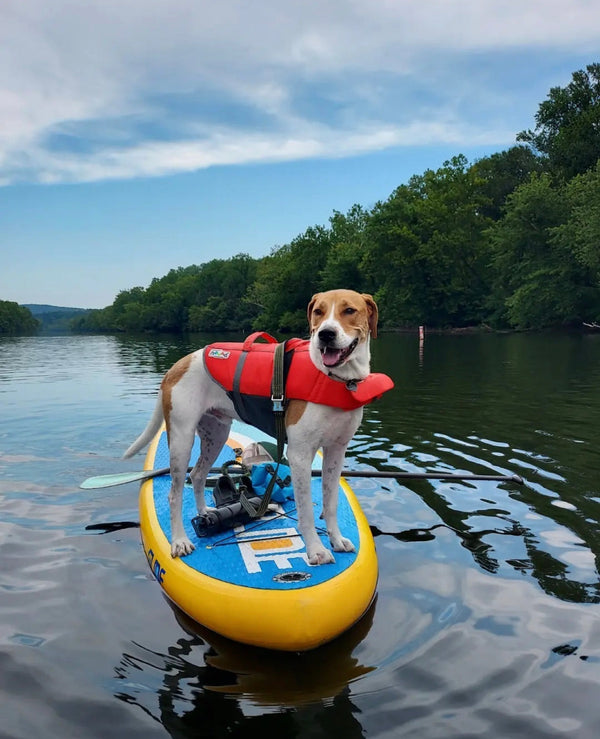 Taking Your Dog Paddle Boarding
Here is our experience paddle boarding with a dog. If you're dying to try paddling with your pup this spring, check out the Angler, the Lotus and the Lochsa. All three are very stable boards that are some of the best paddleboards for dogs!
Otherwise, go ahead and read our tips for paddling with your dog for the first time.
Everyone who has a dog who loves water knows how fun it is to go out and have a day in the sun with their best canine friend and what better way is there to do that than on a paddle board!
With a little bit of training, going paddle boarding with your dog can be fun, easy and safe. Here are some tips to have the best experience taking your pup out for a paddle.
Equipment
The first piece of equipment to talk about is the board. Both hard boards and inflatables will be able to handle having a dog on them. Personally, I love taking my dog out on an inflatable SUP and the fusion bonded PVC is tougher than anything that a dog will be able to dish out.
I prefer a board that is stable and has a full deck pad (a fishing paddle board or yoga board work great) when I take my dog out. The Glide Lotus is amazingly stable and the full length deck pad gives me and my pup plenty of room to spread out on the board.
Make sure to trim those nails though! The soft deck pad is really the only part of the board that your dog could hurt and you can easily minimize any damage by keeping your dog's nails trimmed. 
Another important piece of gear is a life jacket for your dog. Most dogs naturally know how to doggy paddle but if you are on the ocean, river or lake, your dog could potentially become separated from you and get tired of swimming or get caught up in some waves or the wake of a boat.
I love doggie life jackets with a handle on the back so I can easily lift my dog out of the water if he is having trouble getting back on the board.
Get your dog familiar with the board at home
If your dog has never been on a boat before, they may be a little nervous about it the first couple times. You can help familiarize your dog with the board at home by inflating it and setting it out in a familiar area and letting them sniff and walk around on the board. Put treats on the board where you would like your dog to sit and teach them to get on the board and lay down when you call them.
Your first time on the water
A lot of dogs are nervous their first time on the water (and a lot of them are a bit too excited to be in it instead of on it) so when I take new dogs out I always like to start them off in a calm spot near a dock or with me or their owner standing next to them in the water.
This lets you go through everything you taught your dog at your house and lets them get used to the way that a board shifts and moves around in the water. For some dogs it's even best to run through getting your dog to lay down on the board on shore a few times before trying in the water.
Once you are your dog feel confident you are good to go! Take things easy at first so that you can both get used to the way the board feels with both of you on it and consider paddling on your knees until you are confident that your dog is comfortable on the board. 
Most dogs I have tried this with have gotten the hang of staying on the board and being calm surprisingly fast so don't be afraid to go paddle boarding with your pup!
My first time taking a dog on a paddle board
In Salt Lake City, where I live, there is a slow, smallish river that runs through the city. I had wanted to paddle it for a while but I was nervous about how clean it was and I didn't know if it had any areas with rapids or bridges that would be dangerous to pass under.
I did some research and found a section of the river that didn't have any hazards that I would have to worry about where all of the bridges would be easy to pass under and I called up my brother and his wife to go with me.
They had a golden retriever that loved water and wanted to bring him along. I had never tried the dog paddle board combo before but Redd, the dog, had been on boats plenty of times and had a good life jacket so I figured that it would be ok.
I went to the put-in spot and started inflating our Lochsa boards while I waited for my brother and sister-in-law and then ran the shuttle with them to get a car to the take-out spot. Redd was very excited and very curious about the boards and the paddles.
We didn't know how to get him used to being on the board before going on the water so we just let him sniff around until we were ready to go. He was immediately pretty wobbly on the board and didn't want to sit or lay down on the board at all so it was a lot harder for my sister-in-law to keep the board steady and she had to stay on her knees the whole time. 
After about half an hour on the water, Redd chilled out and started laying down and enjoying the view until he started seeing massive catfish in the water. He got really excited looking at them on the edge of the board and then decided he wanted to jump into the water to try and catch one of them.
He is a great swimmer and was wearing his life jacket so he was totally ok in the water but he swam to shore instead of going back to us on our boards so we had to spend fifteen minutes getting to calm down and get back on the board laying down. 
This short little river run was a great experience for everyone involved (including Redd) but in retrospect I might have chosen a different location like a lake for Redd's first time on a paddle board and done a little more training with him before our adventure.
The current of the river added some extra stress when he jumped off the board because we were floating past him and paddling upstream as he was swimming to the river bank. 
Conclusion
If you're dying to try paddling with your pup this spring, check out the Angler, the Lotus and the Lochsa. All three are very stable boards that are some of the best paddleboards for dogs!
Related Topics
Improving Fitness on Paddle Board
How Inflatable Paddle Board Technology Changed The SUP Industry
Your Comprehensive Guide to Inflatable Stand Up Paddle Boards