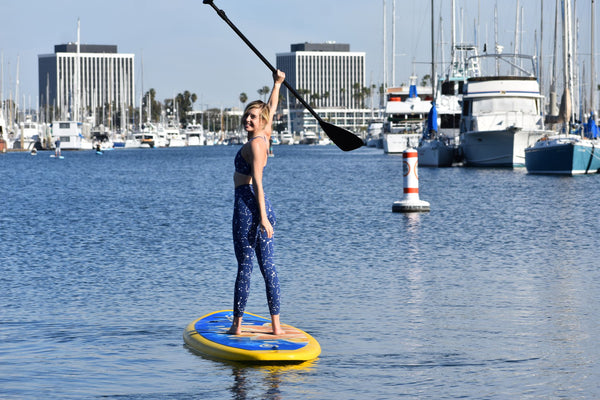 Hidden Gems to Paddle Board in California
California has lot of options for your SUP adventures, but we're here to give you the skinny on our absolute favorite paddle boarding spots that won't be as crowded.
Introduction
Sure you are familiar with paddle boarding on Lake Tahoe, the San Francisco Bay, Santa Cruz, La Jolla and Newport Beach but we've found some flat water paddle board locations that you are just going to love in both Northern and Southern California. Paddle boards have exploded in popularity in recent years with inflatable paddle boards replacing hard SUPs in many cases and California has been the epicenter for all of these trends.
Stand up paddle board Tenaya Lake
Tenaya Lake is located in a region of astonishing beauty, at 8,150' elevation in Yosemite National Park, between Yosemite Valley and Tuolumne Meadows on Tioga Pass Road, which closes in the wintertime.
The stand up paddle board season is typically in the months of June to October, depending on when the snow melts.
If a gorgeous setting is what you yearn for, there is no better place to be than paddle boarding on a windless day, with water so still one can see flawless reflections of the majestic mountains. Surrounded by granite peaks on three sides, Tenaya Lakes sparkling blue water and two-and-a-half miles of shoreline offer a short, leisurely paddle board session.

It's a wonderland combination of activity and tranquility that will both relax and excite you. It is a tiny lake, but what it lacks in size, it makes up for in beauty.
Known for outstanding hiking opportunities, in recent years this enchanting alpine lake has drawn many flat water paddle board and SUP yoga enthusiasts.
Paddle boards on Lake Almanor

Located about three hours north of Sacramento between Lassen National Forest and Plumas National Forest, Lake Almanor is one of the most beautiful places to stand up paddle board in northern California.
The lake is actually a man-made reservoir built in the early 1900s. That doesn't make it any less majestic, though. If you want a peaceful place to paddle board and view blue skies and evergreen trees, Lake Almanor is one of California's top spots.
At 13 miles long and 6 miles wide, Lake Almanor is a popular Northern California summer get-away offering clear blue water, excellent water-skiing, full service marinas and boat rentals.
Due to its huge size, be sure to pace yourself and plan your trip with a companion to car shuttle between boat launch locations to avoid being stranded.

The eleven boat launches are located at North Shore Campground, Lake Almanor Resort, Big Cove Resort, Lassen View Resort, Camp Prattville, Knotty Pine Resort, Lake Cove Resort, North Shore Campground, Lake Haven Resort, and Little Norway Resort.
Lake Almanor Kayak Rentals is a Glide dealer and provides all of the equipment you need, so don't worry about bringing your own inflatable SUP or solid board. Other activities to enjoy on or around the lake include fishing, hiking and camping.
Paddle boarding Big Bear Lake

Just two hours from Los Angeles, the San Bernardino Mountains offer a cool, pine-scented escape. At an altitude of 6,750, Big Bear Lake is a hub for alpine recreation and offers 22-miles of shoreline which is highlighted by the six marinas located around the lake.
Paddle boarding on Big Bear Lake is truly a beautiful experience on a pristine mountain lake. It's quite the antidote to the hustle and bustle of Southern California.
You are able to paddle into the shallowest of water in calm hidden coves and see fish beneath you and the beautiful Mallard ducks beside you. You can view sandy beaches and little hidden streams that you normally wouldn't see.

You can paddle your SUP board along the edge of the rocks near China Island aka Garstin Island and you can test your skill by trying to maneuver between narrow rock passages.
Paddling anywhere around the edge of the lake is fun, but paddle boarding around the rocks in the Boulder Bay Park area and the China Island aka Garstin Island area is special.
Paddling on Big Bear Lake is a great way to get introduced to the SUP, and is fun and safe for people of all ages and athletic abilities; just remember to wear your life vest. Get Boards has loads of Glide boards to rent and has a beautiful spot to launch from next to Boulder Bay Park.
Rent your Glide paddle board from Get Boards.
Inflatable paddle boards on the Mokelumne River

Paddling a flatwater river is a great way to enjoy the outdoors and is typically more peaceful than whitewater SUP. It enables the paddler to take in the scenic views and wildlife in its natural habitat.
The Mokelumne River which runs from the Fish Hatchery to Stillman L. Magee Park is a flatwater paddler's paradise on hot summer days, with its cool, refreshing water, and scenery so beautiful that it's hard to remember you are only thirty minutes from Stockton.
Flatwater paddle boarding down the Mokelumne River is one of the most relaxing things you can do. You ease into a soothing, rhythmic motion as you paddle through ripples and eddies.

As the river winds its way along picturesque foothills and canyons, you can catch a glimpse of a variety of birds, such as great white herons, geese, ducks, and turkey vultures.
The area is also home to an abundance of wildlife, so it should come as no surprise to see raccoons, opossums, beavers, deer, river otters and skunks.
Headwaters Boathouse is a fantastic spot to rent your Glide SUP and is located right in downtown Lodi. It's located on the damned portion of the river and they have a knowledgeable and helpful staff.
Solid board on Lake Natoma

Lake Natoma's 500 acres of surface water are formed by the expansion of the American River as Nimbus Dam backs up the river to slow the flows of water from Folsom Dam. The slender five-mile lake alongside the City of Folsom is a favorite of stand up paddlers.
This is a quiet lake, home to paddlers, rowers and sailors of small boats. In contrast to Folsom Lake, where waterskiing, wakeboarding and large sail boating are enjoyed, Lake Natoma has a 5 mph speed limit for motorized watercraft. College crew competitions are held here annually because it lends itself so well to flat water paddling.
Lake Natoma can be enjoyed by paddle boarders of all ages and skill levels.
On the five miles from Nimbus Dam upstream to the Folsom Prison property, paddlers pass a series of picturesque natural sights and, depending on the time of day and season, might sight the local birdlife: egrets, merganser ducks, herons, gulls, kingfishers, osprey, and even eagles.
Since the area surrounding Lake Natoma is part of Folsom Lake Recreation Area, paddlers glide by native trees and vegetation, home to several species of wildlife.

The large wall of bluffs along the way has another sort of beauty, and also act as a windscreen, keeping the waters calm. Along the way there are coves and islands where paddle boarders can stop to rest and enjoy the scenery.
The Sacramento State Aquatic Center has roughly 120 rental Glide boards to choose from. They are right on the Lake next to the dam and there is a nice little beach next door where you can park it once your paddle is done. Whether you go with a hard paddle board or an inflatable SUP, you will have a blast here.
Conclusion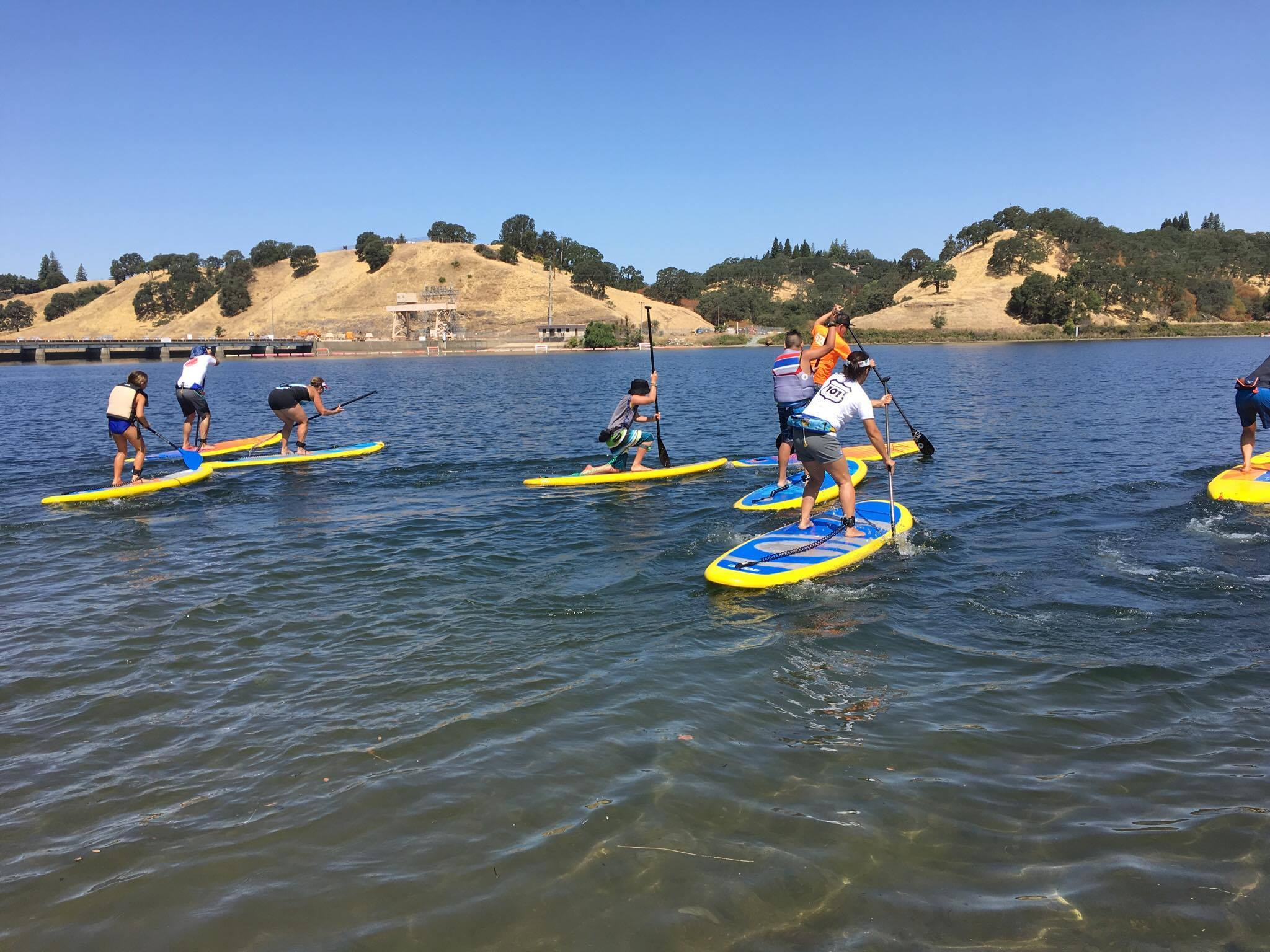 California offers a bevy of beautiful locations to take your paddle board to but we think you are going to really enjoy these hidden SUP paradises in the Golden State.
Related Topics
Stand Up Paddle Boarding Surges During Pandemic