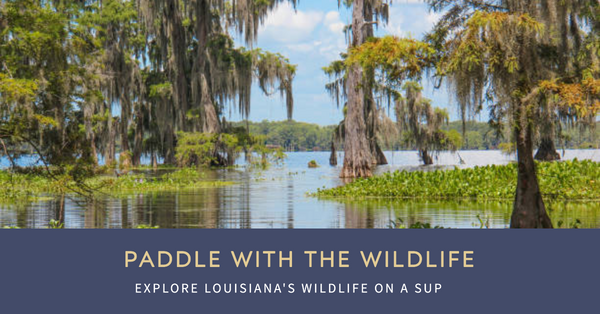 Louisiana's Uncharted Wilderness: 20 Captivating Paddle Boarding Spots for Wildlife Enthusiasts!
Introduction: Louisiana, known for its rich natural diversity, is a hidden gem for wildlife enthusiasts seeking an unforgettable paddle boarding experience. The tranquil bayous, meandering rivers, and lush marshlands create a haven for a variety of unique wildlife, both on shore and in the water. From elusive mammals to vibrant avian species, this article will take you on a journey through the 20 best places to view wildlife from a paddle board in Louisiana, providing captivating descriptions that will transport you to these untouched natural wonders. So lets explore some of the best places to view wildlife from a sup in Louisiana.
Lake Martin:

Lake Martin, situated in the heart of the Cypress Island Preserve, is a haven for birdwatchers and paddlers alike. As you glide through the calm waters, keep an eye out for the striking great blue heron and the colorful roseate spoonbill. Ospreys may soar above, and if you're lucky, you might spot an alligator lazily basking in the sun along the shoreline. The best time to visit is during spring and early summer when the migratory birds return to nest.

Atchafalaya Basin:

Embrace the serenity of Atchafalaya Basin, the largest swamp in the United States, as you paddle through its labyrinthine waterways. Glide past ancient cypress trees draped with Spanish moss, and encounter playful river otters diving beneath your board. During fall and winter, keep your eyes peeled for bald eagles soaring majestically overhead, while turtles and alligators sunbathe on logs.

Manchac Swamp:

Manchac Swamp boasts eerie beauty, draped in moss-covered cypress trees that line the water's edge. Prepare to be captivated by the chorus of cicadas and the haunting calls of barred owls. Watch for the secretive bobcats and raccoons prowling along the banks and sunbathing American alligators, and keep your gaze skyward for the mesmerizing dance of swallow-tailed kites during the summer months.

Bayou Sauvage National Wildlife Refuge:

Located just outside of New Orleans, Bayou Sauvage is a prime spot for birdwatchers on paddle boards. Glide silently through shallow waters and observe egrets, herons, and pelicans. During the winter, migratory waterfowl like snow geese and ducks fill the skies. This refuge is a sanctuary for marsh rabbits and the elusive nutria, a semi-aquatic rodent native to South America.

Caddo Lake:

Bordering Texas and Louisiana, Caddo Lake is a mystical realm of enchanting beauty. The hauntingly beautiful Spanish moss-draped trees provide a picturesque backdrop for your wildlife adventure. Paddle among the ancient cypress trees and spot river otters frolicking. With luck, you might even glimpse the elusive black bear making its way along the shore.

Lake Fausse Pointe State Park:

For a peaceful paddle board experience, head to Lake Fausse Pointe State Park. Glide through the calm waters and spot alligators lurking beneath the lily pads. Keep an eye out for deer grazing along the banks and listen for the trilling calls of prothonotary warblers that nest in the cypress trees.

Sabine National Wildlife Refuge:

Nestled along the Gulf Coast, Sabine National Wildlife Refuge offers a diverse range of wildlife sightings. Paddle through the marshlands and witness the incredible acrobatics of dolphins playing in the estuaries. Flocks of migratory birds, such as sandhill cranes and Canada geese, pass through during the fall and spring, adding to the magic of this paddle board paradise.

Black Bayou Lake National Wildlife Refuge:

Experience the enchantment of Black Bayou Lake as you meander through its placid waters. Glide past cypress trees and witness the courtship rituals of colorful painted buntings. In the summer, the lake comes alive with dragonflies and butterflies, while in the cooler months, you can spot white-tailed deer grazing along the shoreline.

Pearl River Wildlife Management Area:

Venture to the Pearl River Wildlife Management Area for a truly immersive wildlife encounter. Paddle amidst the tupelo and cypress forests, where barred owls hoot melodiously. Along the riverbanks, you might catch a glimpse of the elusive river otters, and don't be surprised if you spot a majestic river turtle basking in the sun.

Lake Pontchartrain:

The largest inland body of water in Louisiana, Lake Pontchartrain offers ample opportunities to spot wildlife while paddle boarding. Ospreys and brown pelicans gracefully soar above the water, while blue crabs and sheepshead fish glide beneath your board. The fall is the best time to view the seasonal migratory birds that stopover on their journey south. Alligators and bull sharks have also been seen in the waters.

Toledo Bend Reservoir:

As you paddle through the Toledo Bend Reservoir, keep an eye on the water's surface for the iconic American alligator, lurking with just its eyes and nostrils above the waterline. The reservoir is also a haven for largemouth bass and catfish, making it a great destination for fishing enthusiasts.

Grand Isle:

Located on the Gulf of Mexico, Grand Isle is a haven for seabirds and shorebirds. As you paddle along the coast, watch for pelicans diving to catch fish and seagulls patrolling the shore for scraps. In the spring, you may even spot nesting least terns and Wilson's plovers among the sand dunes.

Jean Lafitte National Historical Park and Preserve:

Immerse yourself in the wild beauty of Jean Lafitte National Historical Park and Preserve. Paddle through the Barataria Preserve, and you'll likely encounter marsh rabbits, armadillos, and raccoons. The wetlands are teeming with fish, attracting majestic birds of prey like the red-shouldered hawk and Cooper's hawk.

Bayou Teche:

Step back in time as you paddle along the picturesque Bayou Teche. Experience the charm of the historic towns that dot the shoreline and keep an eye out for great egrets wading gracefully in the shallows. During the summer, you might spot an elusive American mink darting through the cypress roots.

Kisatchie National Forest:

Embark on a unique paddle boarding adventure through the scenic Kisatchie National Forest. Paddle along the Kisatchie Bayou, where beavers build their lodges and otters play in the water. In the spring, the forest comes alive with a symphony of birdsong, including the melodic notes of the wood thrush.

Lake Claiborne:

Lake Claiborne, surrounded by pine forests, offers a serene paddle boarding experience. Admire the abundant birdlife, including great blue herons and kingfishers. In the autumn, the lake becomes a hotspot for monarch butterflies as they migrate southward.

Caney Lake:

With its crystal-clear waters, Caney Lake provides a unique paddling experience. Gaze into the depths to spot fish species like largemouth bass and crappie swimming beneath your board. If you're lucky, you might witness the iconic sight of a majestic bald eagle diving to catch its prey.

Bayou D'Arbonne:

Bayou D'Arbonne is a haven for paddlers seeking an escape into nature. Paddle through a tapestry of green, where herons and egrets strike elegant poses on the water's edge. Keep an eye on the shoreline for the charming sight of playful river otters.

Red River:

The mighty Red River offers an exciting paddling adventure for wildlife enthusiasts. Glide along the water's surface and watch for the iconic paddlefish, a prehistoric-looking species with a long, paddle-like snout. During the fall and spring, witness flocks of white pelicans as they migrate through the area.

Lake Bistineau State Park:

Explore the scenic beauty of Lake Bistineau State Park as you paddle amidst the stunning bald cypress trees. Watch for the lively Eastern bluebirds and the elusive fox squirrels that inhabit the park. With patience and a bit of luck, you might even spot a regal white-tailed deer emerging from the forest.
Conclusion:
Louisiana's untamed wilderness provides an unparalleled opportunity to view wildlife from a paddle board. Whether you're a seasoned paddler or a novice adventurer, these 20 captivating locations offer a window into the diverse and thriving ecosystem of the Pelican State. From the striking birds that grace the skies to the playful otters that frolic in the water, each destination promises an unforgettable wildlife encounter. As you immerse yourself in the serene beauty of these locations, you'll develop a profound appreciation for the delicate balance of nature and the importance of preserving these precious habitats for generations to come. And as a reminder alligator, snakes and various insects will probably be found in each of these locations, some areas may also have bull sharks and other creatures. These are some of the best spots to view wildlife and you can find much much more than the few species we listed.
Tips, Tricks, and Fun Articles await.
Here are a few quick links to help you keep going, don't forget to check our blog out for more tips and expert advice. For wildlife tips check out our blog and this article on Beginners Guide To Bird Watching. And don't forget to read our article on Stand Up Paddle Boarding and Wildlife Encounters. For a complete guide of where to paddle board in every state, this one is for you! The best places to paddle board in the United States a state by state tour of where to paddle board with Glide Paddle Boards.
Or perhaps something international is what you are looking for, then these two articles will help out. Check out the ultimate guide on finding places to paddle board near you for tips and tricks on finding new and exciting places near you! And for international spots Epic Spots Globally To Paddle Board is for you! And check out the Glide O2 Angler and why it makes an incredible platform for birding and wildlife viewing.