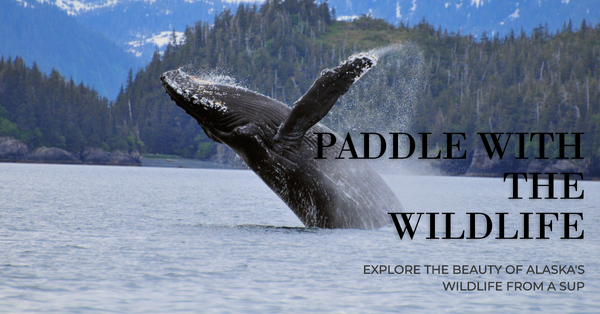 Paddle Boarding Alaska: 20 Enchanting Wildlife Viewing Spots.
Alaska, the untamed wilderness of the United States, is a paradise for wildlife enthusiasts and adventurers. If you are looking for a unique and intimate way to connect with nature, paddle boarding in Alaska offers a mesmerizing opportunity. The state's pristine waters, rugged coastline, and abundant wildlife make it a dream destination for any outdoor enthusiast seeking an unforgettable experience. Lets begin our journey on some of the best places to view wildlife from a sup in Alaska!
Mendenhall Glacier:

Paddle among icebergs and glaciers, keeping your eyes peeled for bald eagles soaring overhead and harbor seals lounging on floating ice. The breathtaking Mendenhall Glacier, located near Juneau, provides a stunning backdrop to your wildlife journey. Visit in late spring or early summer to witness the annual salmon run, attracting bears and other predators to the area.

Kenai Fjords National Park:

Exploring the serene waters of Kenai Fjords National Park on a paddle board is like stepping into a postcard. Encounter stunning orca's, playful sea otters, majestic humpback whales, and graceful sea lions. The park's glaciers calve dramatically, creating a spectacle of ice crashing into the ocean. Summer months are the best time to catch the wildlife at its most active.

Resurrection Bay:

Just south of Kenai Fjords, Resurrection Bay is a haven for marine life. Glide along the bay's emerald waters while spotting orcas, Dall's porpoises, and sea birds nesting on towering cliffs. The bay's sheltered coves and islets are also frequented by curious harbor seals. Spring and early summer offer the best chance to witness wildlife activity.

Denali State Park:

Venture inland to Denali State Park and discover the raw beauty of Alaska's interior. Paddle along the Susitna River, and you may spot moose grazing on the riverbanks or eagles perched in towering spruce trees. Keep your eyes skyward for the elusive golden eagle. Late summer provides the best opportunity to observe young moose calves.

Tongass National Forest:

As the largest national forest in the U.S., Tongass is a paddler's dream. Head to Ketchikan and explore the tranquil waters, where you can see black bears fishing for salmon at the rivers' edges. Marvel at the vibrant underwater world teeming with fish, sea stars, and even colorful nudibranchs. Spring and early fall offer the best conditions for paddle boarding in this area.

Chilkoot Lake:

Nestled between snow-capped peaks, Chilkoot Lake in Haines is a serene spot to paddle. Glide along the mirrored waters while watching for foraging black bears and elegant trumpeter swans. If you're lucky, you might catch a glimpse of a moose meandering through the surrounding forest. Late summer is the prime time for wildlife sightings in this area.

Chugach State Park:

Just outside of Anchorage, Chugach State Park is a wilderness playground. Eklutna Lake, with its turquoise waters, provides an idyllic setting for paddle boarding. Look for Dall sheep scaling the rocky slopes and listen to the haunting calls of loons echoing across the lake. Late spring to early summer is the best time to witness wildlife in action.

Matanuska Glacier:

Experience the breathtaking grandeur of Matanuska Glacier while paddle boarding on Matanuska Lake. Surrounded by jagged peaks, the glacier offers a chance to spot mountain goats and dall sheep that often graze in the nearby alpine meadows. Keep an eye out for soaring golden eagles hunting from above. Midsummer to early fall is ideal for wildlife viewing.

Worthington Glacier:

In the coastal town of Valdez, paddle on the tranquil waters of Worthington Glacier Lake. The glacier's icy-blue hues and towering ice walls create a surreal atmosphere. Look for mountain goats perched on the cliffs, and watch for bald eagles swooping down to snatch fish from the lake. Summer is the best season to explore this glacial wonderland.

Gates of the Arctic National Park:

Embark on an extraordinary journey to the remote Gates of the Arctic National Park in Bettles. The Noatak River, winding through the park's rugged terrain, is a paddler's paradise. Encounter massive grizzly bears foraging for food, gray wolves on the hunt, and peregrine falcons swooping through the skies. Midsummer allows for extended daylight hours, enhancing your wildlife encounters.

Chena River:

The Chena River meanders through Fairbanks, offering a unique urban paddle boarding experience. Keep an eye out for beavers busy constructing their lodges and river otters playfully swimming in the water. The northern lights may grace the sky in the winter, providing a captivating celestial display.

Kobuk Valley National Park:

Another remote gem, Kobuk Valley National Park, offers a surreal experience. Paddle along the Kobuk River, surrounded by vast sand dunes and tundra. Witness the massive caribou migration, as thousands of these majestic creatures traverse the landscape. Late June is the best time to witness this awe-inspiring spectacle.

Kachemak Bay:

Homer is known as the "Halibut Fishing Capital of the World," but it's also a haven for wildlife. Paddle along the shores of Kachemak Bay to spot sea otters, puffins, and bald eagles. Orcas and humpback whales also frequent the bay during their summer feeding season.

Anan Creek:

Seeking an unforgettable bear-watching experience? Anan Creek, near Wrangell, is your destination. Witness brown bears fishing for salmon at the creek's waterfall during late summer. Bald eagles and seals are also common visitors to this area.

Prince William Sound:

A paddler's paradise, Prince William Sound is a breathtaking maze of fjords, glaciers, and islands. Paddle along the tranquil waters, and you might spot sea otters floating in the kelp forests or orcas cruising through the channels. Keep an eye on the skies for bald eagles soaring above the pristine landscape.

Bristol Bay:

Discover the abundant wildlife of Bristol Bay while paddle boarding its pristine waters. Look for the massive dorsal fins of migrating gray whales and the playful antics of sea lions. If you're fortunate, you might spot a rare coastal wolf exploring the shoreline.

Yakutat Bay:

Yakutat Bay offers a magnificent backdrop of towering glaciers and snow-capped peaks. Paddle in the bay's calm waters and be on the lookout for massive humpback whales breaching nearby. The bay also provides an opportunity to see playful sea otters and seabirds, such as puffins and cormorants.

Alagnak River:

Known as the "Alaska Wild River," the Alagnak River is a prime location for spotting brown bears as they fish for salmon during the summer. The river teems with other wildlife as well, including bald eagles, beavers, and river otters and moose.

Talkeetna River:

Nestled at the base of Denali, Talkeetna is a charming town with an abundance of wildlife nearby. Paddle along the Talkeetna River, where you might spot moose grazing in the marshy areas and catch glimpses of beluga whales swimming upstream from Cook Inlet.

Kanuti National Wildlife Refuge:

Immerse yourself in the untouched wilderness of Kanuti National Wildlife Refuge. Paddle along the Kanuti River, and you might spot elusive wolves prowling the forest edges or catch a glimpse of the rare and majestic wolverine.
In conclusion, Alaska's vast and diverse landscape offers endless opportunities for wildlife viewing from a paddle board. Whether you venture to the coastal fjords, serene lakes, or remote rivers, the state's rich biodiversity ensures a captivating and unforgettable experience. From observing marine mammals in their natural habitats to encountering grizzly bears in the wild, paddle boarding in Alaska is a gateway to connecting with the wilderness on a whole new level. Just remember to practice responsible wildlife viewing and leave no trace, ensuring that future generations can cherish these pristine habitats as well. Happy paddling!
Tips, Tricks, and Fun Articles await.
Here are a few quick links to help you keep going, don't forget to check our blog out for more tips and expert advice. For wildlife tips check out our blog and this article on Beginners Guide To Bird Watching. And don't forget to read our article on Stand Up Paddle Boarding and Wildlife Encounters. For a complete guide of where to paddle board in every state, this one is for you! The best places to paddle board in the United States a state by state tour of where to paddle board with Glide Paddle Boards.
Or perhaps something international is what you are looking for, then these two articles will help out. Check out the ultimate guide on finding places to paddle board near you for tips and tricks on finding new and exciting places near you! And for international spots Epic Spots Globally To Paddle Board is for you! And check out the Glide O2 Angler and why it makes an incredible platform for birding and wildlife viewing.