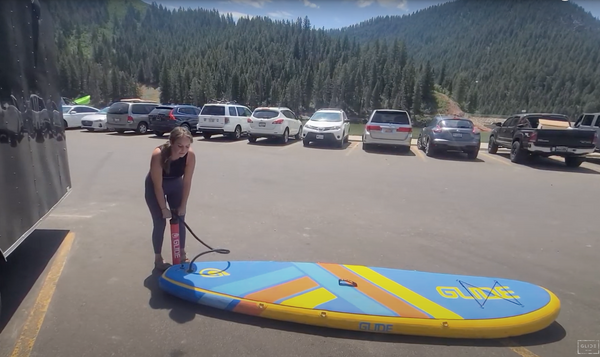 How to use the Glide 2021 Hand Pump
Inflatable paddle boards have pros and cons, and for us hand pumping can be a huge con if you don't know how to use the pump properly. We're here to take you over how to get your board inflated fast with the Glide 2021 Hand Pump.
If you're reading this, I apologize that you don't already own a Glide Electric Pump and you're stuck doing the manual labor just to get out on the water.
For our visual/verbal learners we filmed a tutorial on our YouTube channel which you can find here!
Now, let's get started.
Step 1: Change the O-Ring
An unfortunate event has occurred with our hand pump manufacturer this year in that when you receive your new board and all is packaged up and the hand pump itself is still in the plastic wrap, there is a little O-Ring that is floating in the bag that you will have to switch the one that's already on the hose.
Step 2: Attach the hose
Once the O-Ring has been switched properly you will attach the hose to the hand pump itself. You will then make sure the inflatable paddleboard's valve stem is in the up position so that the air once detached won't escape.
You will now attach the other end of the hose to the board by inserting it into the valve and turning it clockwise. If you need more instruction on inflating the board itself you can read about here.
Tip: You can make sure it's secured by lifting the board up by pulling on the hose and if it doesn't fall out then you've done it properly. See picture below as an example.
Step 3: Pump it up!
Now, this process can feel really slow especially if it's your first time. Glide's Inflatable Paddleboards are made with great construction that set us apart from other company's (read more about that here) that once you're pumping it up you'll think it's done after a few minutes because it already seems super rigid. 
However, for the average person it will be about 13-15 minutes of continuous pumping before the board is finished.
Tip: It's best to grab a friend to keep switching off with so you don't wear yourself out. 
You will notice after some time of pumping that pushing down the bar will get incredibly difficult. At this time you will find the little cap right below where you attached your hose and unscrew it which will kick your pump into high gear!
Glide Inflatable Paddleboards can reach up to 25 PSI, but the recommended is 12-15 PSI.
In addition, most people believe there gage is broken as it doesn't seem to register what PSI the board is at, but with all hand pumps the gage won't register until you get to 7-9 PSI which is estimated around 8 minutes of continuous pumping.
Here is an example of the gage below 7 PSI and what it looks like:
Here is a photo showing what it looks like when you're up to 12 PSI:
Now that you've inflated the paddle board you are ready to set off! You will just go ahead and detach the hose from the board, screw the cap back on and head out onto the water.
We promise that each time you inflate your iSUP that it'll get easier, and eventually it'll be faster! But, for those of you not interested in hand-pumping your board there is always the option of purchasing our Glide Electric Pump with the option of adding the Glide Portable Battery for the pump so you can inflate/deflate your board right on the water.
If you have any questions or concerns you are always welcome to reach out to info@glidesup.com, call 888-927-9405 or chat with us on the website!
Related Topics
Improving Fitness on Paddle Board
How Inflatable Paddle Board Technology Changed The SUP Industry
Your Comprehensive Guide to Inflatable Stand Up Paddle Boards